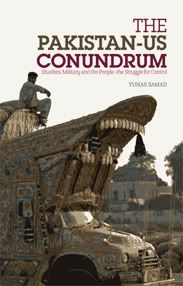 The Pakistan-US Conundrum
Jihadists, the Military and the People -- The Struggle for Control
Yunas Samad
Order Your Copy Now and Save 30%!
We'd like to offer you 20% off orders of The Pakistan-US Conundrum. To save 30%, add the book to your shopping cart, and enter code PAKSA.
"An important book that needs to be read for its deep understanding of Pakistan's history and its analytical brilliance on the country's contemporary social and political situation. It challenges the internationally sponsored security-driven agenda for the region and provokes us to think seriously about Pakistan and its people with empathy and in solidarity. In doing so, this study shows a way out of the current quagmire by encouraging the deepening of democracy and initiating meaningful social and economic reforms that benefit the people of Pakistan." - Kamran Asdar Ali, University of Texas, Austin (Read more reviews)
Yunas Samad's trenchant analysis of contemporary Pakistan illuminates five key players: the country's people, army, Islamists, and politicians, and the American forces struggling to maintain Pakistan's social and political stability. Samad describes the alliances borne of political and strategic expediency that continually undermine the legitimacy of the state, and he measures the extent to which the country's existence is now in jeopardy.
Samad follows these provocative issues in detail before returning to his key themes: the mistreatment of ordinary Pakistanis by military and civilian rulers, the steady decline of citizens' material circumstances over the past twenty years or more, and the grand designs of Islamabad and Washington that continue to undermine Pakistani political life while ushering in new forms of Islamist and sectarian politics.
ORDER THE BOOK