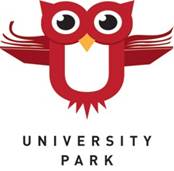 2300 S. St. Paul St., Denver, CO 80210
720-424-3410
Principal
Silent Auction
April 21, 2017
Last chance to buy discounted tickets to the UPark Silent Auction!
Buy tickets TODAY for $30, click
HERE
. This price is good until Friday, April 7th at midnight. After that, the price increases to $40.
When: Friday, April 21st from 6:30 pm - 10:30 pm

Where: The Gold Club above Magness Arena at the University of Denver
Why: It's Fun and All Proceeds Benefit UPark
What: Dinner, laughter, community, cash bar and fun games, auction items only available at the live event including: Class Art Projects, Teacher and Parent Hosted Experiences, One of a Kind Art and Much More!

Cost: $30 (price increases to $40 on April 8th)



*Don't forget to download the UPark App
HERE
!
Please join us on Tuesday, April 11th at 6pm for a special presentation on education funding from the advocacy group, Great Education Colorado. We will meet in the
UPark Auditorium

to learn more about the K-12 education funding deficit in Colorado and how we can work

together to fix the problem.
This presentation is open to the community, so please spread the
word with friends and neighbors who might be interested. Click
HERE
for more details. If you plan to attend, let us know HERE. Thank you!
Meet New Parents & Enjoy L
unch
The start of UPark's online auction is only one week away! We need help organizing items on Tuesday, April 11th from 9:15am - noon. This is a fun morning and a great way to meet new parents. Enjoy a free lunch while helping out!
Where: Julia Gold's Home at
2615 S Monroe Street
Click HERE to sign up. List your name in column B. Thank you!
Bicycle Help
Do you know how to assemble a bicycle? We need your help!
A cool cruiser bicycle was donated to the UPark auction, but it needs to be assembled. If you have the skills and tools to help us, email Dana O'Connor. Thank you!
Silent Auction - First Timers
Are you attending the auction for the first time?

Are you new to UPark?

Just looking to meet new people? Join other UPark families for a pre-auction cocktail and break the ice. Join us and make new friends before heading to the auction.
Friday, April 21 at 5:30 PM
Please RSVP to Melissa Gray.
Free Cake!
"Nothing Bundt Cakes" is providing dessert for the UPark Silent Auction. They have been great supporters of UPark and are offering our community a free bundlet. Bring this
FLYER
in to pick up your free cake.
Nothing Bundt Cakes is located at
1685 S. Colorado Blvd.,
Suite #Q3
Spelling Bee
It's time for the UPark School Wide Spelling Bee!
Teachers in 1st-5th grades are distributing spelling word lists this week to students interested in participating.
All classroom spelling bees will take place by Friday, May 5th. Once classrooms in each grade level have completed their bees, I will hold a grade level spelling bee in my classroom for each grade level's TOP 15 students on Thursday, May 11th or Friday, May 12th. The TOP FIVE from each grade level spelling bee will then participate in the school wide spelling bee on Wednesday, May 24th from 4:30-6:00PM!
Thank you and Happy Spelling!
Heather Wise, UPark GT Teacher
University Park Community Council
Our school is located in a neighborhood with a very active neighborhood association, The University Park Community Council (UPCC).
UPCC is working with Denver Transportation and Mobility to pinpoint areas of safety concern and areas of safety excellence. If you have experienced a close call, noticed troublesome areas for pedestrians and bicyclists, or an unsafe intersection, please let Denver Vision Zero know HERE by April 30th.
Let's keep areas around UPark safe for walking and bicycling, thank you!
Staffing Updates
We have hired three teachers for the 2017-18 school year. Please welcome them as they join the UPark Team!
Tyler Joyce will join our Kindergarten Team. He is currently finishing his fourth year teaching in Columbus, OH.
Rachael Kaplan will join our 2nd Grade Team. She is currently finishing her student teaching here at UPark.
Dana Jackett will join our 3rd Grade Team. Dana currently teaches 3rd Grade at Grant Ranch (in DPS).
University Park Elementary Calendar
*At the end of each month we will be donating all clothing in the lost and found and anything left in the halls (all clothing will go into our little red school house in our parking lot).
5 Star Wizard Hat Students
Congratulations to last week's 5 Star Wizard Hat students! They were recognized by their teachers for positive behavior.
Last week's students include: Adrianna Panella, Emerson Cord, Chris Trujillo, Charlotte Mahlin, Harrison Hemenway, Chloe Huffman, Chase Cestra, Dawensley Hornak, Shyla Trinen, Lujain Zayed, Juliette Rusin, Owen Fairchild, Devin Vest-Moore, Albert Rees, Eilee Brutsch, Luke Vialpando, Harrison Marino, Sheridan Wetherall, Rhyden Stiltner, Connor Spiegel, Charlie Gold, Matthew Lee, Kaiden Enloe, Declan Todd, Sadie Woglom, John Paul Merkle, Milo Pollack, and Ari Fillerup.
Wizard Hats are given throughout UPark to celebrate students' good choices and positive behavior. We use a common vocabulary and teach Critical Thinking skills using the BrainWise curriculum.
Each week there is a random drawing of 2 students done by classroom teachers. These children are photographed and receive a token of our appreciation.