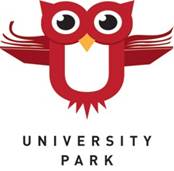 2300 S. St. Paul St., Denver, CO 80210
720-424-3410
Principal
Silent Auction
The 7th Annual UPark Silent Auction opens ONLINE TONIGHT! Starting at 5 pm, you can bid on tons of great items before they're snatched up at the live event. There is something for everyone! Bid on an Ace Hardware tool set, an American Girl Doll, 2 pounds of Enstrom's almond toffee or a HON office chair where you'll want to spend the rest of your life! There are restaurant gift cards, gymnastics passes, sports and music camps, photography sessions, UPark enrichment classes and club-level tickets for the Broncos' preseason. Prepare to get into some bidding wars!
With more than $45,000 worth of goods and 100% of the proceeds going directly to UPark, we can make this silent auction a HUGE success, raising money for our students! Go online and start bidding!
Thanks for your support!
*Don't forget to download the UPark App
HERE
!
Neighborhood Center
Join us on Saturday, May 13th for the
2nd Annual University Park Golf Tournament!!
For more information and how to register, please click
HERE
!
Summer Enrichments at UPark!! Sign up
HERE
!
Discovery Link 2017-2018 Registration
Current Families can register 4/17 - 4/28
New Families can register 5/8 - 5/12
Options for submitting 2017-2018 Discovery Link Registration:
Bring registration paperwork to UPark at these days & times ONLY
Bring registration paperwork to: 1617 S. Acoma St., weekdays 8am - 4pm
Email registration paperwork to: discovery_link@dpsk12.org
If you have any questions, please contact
Jesse
.
Thank you to everyone who came to our PTA meeting on Tuesday evening! If you are interested in learning more about the presentation by Great Education Colorado or would like to attend the Great Education Colorado: 2017 Great Futures Summit on April 21st at the University of Denver, please visit their website HERE for more information.


Green Team & Earth Day

- April 21st, 8:15-8:45am
See "Earth Day" block below for more details!
Don't forget our online auction starts TODAY at 5pm! Go online HERE to bid on one of the many fantastic donations such as pizza for a year from Anthony's Pizza! The online auction runs through next Thursday, April 20th and then the live event starts on April 21st from 6:30-10:30pm at the University of Denver, Gold Room. You can still purchase tickets HERE!

5th Grade Project
In keeping with tradition, our 5th graders will sell snacks after school.
The purpose is to raise money and purchase a legacy gift for UPark. This gift will represent a Culture of Kindness.
We will sell a variety of delicious snacks on the playground. So, please stop by for a snack and support our 5th graders! We
will continue daily sales as the weather cooperates. We thank you for all your support!
Silent Auction - First Timers
Are you attending the auction for the first time?

Are you new to UPark?

Just looking to meet new people? Join other UPark families for a pre-auction cocktail and break the ice. Join us and make new friends before heading to the auction.
Friday, April 21 at 5:30 PM
Please RSVP to Melissa Gray.
Earth Day Celebration
April 21st, 8:15 - 8:45am
Green Team welcomes the UPark Community to the playground on Friday April 21st, from

8:15- 8:45

! C
reate chalk and "green" leaf promises to care for our Earth and our school grounds. Check out our new c
ompost tumbler!
Green Team Survey
UPark Families and Students, please answer questions from our Student Green Team to help make UPark a greater, greener place! Click
HERE
for the survey.
Red Apple Recycling (the little red house by the staff parking lot) is holding a spring recycling drive. They are focusing this drive on SHOES.
Over 300 million children around the world are without shoes. Red Apple Recycling will collect shoes and send them to countries in need, such as Chile, Guatemala, Kenya and Mexico.
Drop your shoes off at the "little red house" April 17 - May 17. You will be helping a great cause while supporting UPark. Red Apple Recycling gives a percentage donated back to UPark!
This
FLYER
contains more information.

Thank you!
Stuffed Animal Update
Thank You!
Our 2nd graders have completed their March service project, collecting stuffed animals for the Child Rescue Foundation. We want to thank the UPark Community for all their support, you are appreciated! We collected over 600 stuffed animals for children in need. Thank you!
Spelling Bee
It's time for the UPark School Wide Spelling Bee!
Teachers in 1st-5th grades are distributing spelling word lists this week to students interested in participating.
All classroom spelling bees will take place by Friday, May 5th. Once classrooms in each grade level have completed their bees, I will hold a grade level spelling bee in my classroom for each grade level's TOP 15 students on Thursday, May 11th or Friday, May 12th. The TOP FIVE from each grade level spelling bee will then participate in the school wide spelling bee on Wednesday, May 24th from 4:30-6:00PM!
Thank you and Happy Spelling!
Heather Wise, UPark GT Teacher
University Park Community Council
Our school is located in a neighborhood with a very active neighborhood association, The University Park Community Council (UPCC).
UPCC is working with Denver Transportation and Mobility to pinpoint areas of safety concern and areas of safety excellence. If you have experienced a close call, noticed troublesome areas for pedestrians and bicyclists, or an unsafe intersection, please let Denver Vision Zero know HERE by April 30th.
Let's keep areas around UPark safe for walking and bicycling, thank you!
Free Cake!
"Nothing Bundt Cakes" is providing dessert for the UPark Silent Auction. They have been great supporters of UPark and are offering our community a free bundlet. Bring this
FLYER
in to pick up your free cake.
Nothing Bundt Cakes is located at
1685 S. Colorado Blvd.,
Suite #Q3
Staffing Updates
We have hired three teachers for the 2017-18 school year. Please welcome them as they join the UPark Team!
Tyler Joyce will join our Kindergarten Team. He is currently finishing his fourth year teaching in Columbus, OH.
Rachael Kaplan will join our 2nd Grade Team. She is currently finishing her student teaching here at UPark.
Dana Jackett will join our 3rd Grade Team. Dana currently teaches 3rd Grade at Grant Ranch (in DPS).
University Park Elementary Calendar
*At the end of each month we will be donating all clothing in the lost and found and anything left in the halls (all clothing will go into our little red school house in our parking lot).
5 Star Wizard Hat Students
Congratulations to last week's 5 Star Wizard Hat students! They were recognized by their teachers for positive behavior.
Last week's students include: Viola Vopi-Swank, Mattias Cubides, Olive Davis, Maxine Dokken, Juliette Rusin, Peyton Green, Luciana Salgado, Jayden Reed, Dalia Gutierrez, Jeremiah Simpson, Dean Frenkel, Isaac Rivas-Pinedo, Ramsey White, Saiya Langefels, Akira Nieft, Patrick Monahan, Ella Sudar, Lukas Daniels, Emerson Bieschke, and Armonie Campion.
Wizard Hats are given throughout UPark to celebrate students' good choices and positive behavior. We use a common vocabulary and teach Critical Thinking skills using the BrainWise curriculum.
Each week there is a random drawing of 2 students done by classroom teachers. These children are photographed and receive a token of our appreciation.