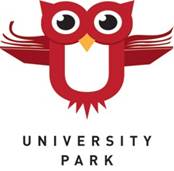 2300 S. St. Paul St., Denver, CO 80210
720-424-3410
Principal
The date is set! We are preparing for a great event to support a great school, UPark!
When:

Friday, April 21, 2017 from 6:30pm - 10:30pm

Where:

The University of Denver Gold Club, located above Magness Arena (under the gold spire)

What:

Dinner, laughter, community, cash bar, fun games, and auction items only available at the live event...such as class art projects, teacher and parent hosted experiences, one of a kind art and other surprises

Why:

It's fun! All proceeds benefit University Park Elementary School.

Cost:

$30 (price increases to $40 on April 8, 2017)
Both the online auction (April 13 - April 20) and live event (April 21) are open to all supporters of UPark and its surrounding community. Start spreading the word! Participation in the online auction is free!
*Don't forget to download the UPark App
HERE
!
The Apple Campaign is PTA's direct check writing campaign. Money raised goes directly to UPark Elementary for 2.5 teaching positions not covered by the district.
We are currently $12,000 short of our goal of $70,000.
Without generous donations from our community, UPark will have to cut one
5th grade teaching position, one Kindergarten teaching position, AND our half time a
rt teacher. State budget restrictions under the TABOR and Gallagher A
mendments have created a situation where the State of Colorado is not able to fund
K-12 education adequately. Did you know Colorado currently ranks 42nd in the
nation in per pupil funding adjusted for regional cost differences? (Source: Ed Week
2016 Quality Counts, 2013 data)
To date, we have received contributions from approximately 20% of our families at

UPark. We realize not everyone can give, and many families give their time and money in other ways to the school. However, if you have the means to contribute, we ask you to consider a donation in any amount that fits your family's budget. If you have already given, thank you and please consider giving more if possible!
Remember, our PTA is a 501(c)3 organization and your Apple Campaign donation is tax deductible and anonymous. You may drop a check off at the office in the Apple Campaign box or donate online
HERE
.
Please help the PTA keep small class sizes and art at UPark!


Thank you for your consideration and all you do to make this a great school for ALL students at UPark.
Spring Enrichment Registration is OPEN!
Click
HERE
to view the online course catalog.
*NEW* Summer Enrichment Camps
June 5-9th and June 12-16th
To view the online course catalog and for more information, click HERE and scroll down to "Summer Enrichment Camps @ UPark. To register, click HERE.
Citywide Honor Band
Congratulations to the following students for their nomination and participation in the 2017 DPS Citywide Honor Band: Isis de la Cruz, Duncan Monroe, Carson Smith, Raphael Wieland, Rodion Khristoforova, Angelina Holm, Austen Ford, Sophia Homburger, Lucy Noble, Juliette Rusin, Julia Elsner, Andy Smith and Ben Blackmun.
Join us at Kunsmiller Art Academy for The Citywide Honor Band Concert on Saturday, February 25th at 3pm.
The concert will be a fabulous showcase of our DPS Elementary, Middle and High School musical talent.

The performance is free and the auditorium is small, so get there early!
Immunization Reminder
Our school nurse, Antoinette Schmitz, is sending out letters to children who need their immunization records updated.
If you do not receive a letter, your child is up to date. Thank you!
You can contact Antoinette
at (720) 424-3415 or by
EMAIL
.
How can you market your business or place of work while supporting the UPark auction?
The Annual UPark Silent Auction begins April 13th (online) and ends with a live event on Friday, April 21st. Planning is in full swing and we are looking for businesses or families to support UPark through
donating or sponsoring the event.
We are looking for the following items:
Donations can be left in the front office or EMAIL us
to coordinate a drop off or pick up.
Learn more about the UPark Silent Auction HERE.
Questions? Feel free to CONTACT us. Thank you!
Spring Book Fair
Just in time to purchase books for Spring Break!
Online ordering starts March 8th - Click HERE
Parent Volunteers, we need YOU!!
Book Fair Set Up - March 10th at 3pm

Book Fair Help - March 13th - 16th, during book fair hours

Book Fair Breakdown - March 17th at 7:30am
To volunteer, go to the volunteer tab
HERE
and fill out the form with your preferred date and time.
Girl Scouts
The UPark Girl Scouts and Deiter's Chocolates are partnering to support the UPark Silent Auction!
Visit Deiter's Chocolates, February 16th - March 12th and purchase an exclusive Troop 63006 Chocolate Bar made with Girl Scout Cookies! A large portion of the sale will be donated to the UPark Silent Auction!
Flavors include: Thin Mints, Samoas and DoSiDos offered in milk or dark rich chocolate! Buy some for yourself or gifts and support a local business, our Girl Scouts AND our school, all at the same time!

Deiter's Chocolates - located at 1734 East Evans Ave (right next to Illegal Pete's)
Staffing Updates for 2017-2018
We have several teachers retiring this year. We congratulate them on reaching this milestone!
Our goal is to hire new teachers for these open positions before spring break. As hiring decisions are made, we will be sure to share all information with you.
Staffing Changes and Updates:
Cara Havenar will be a full time Kindergarten Teacher
Kari Hale will be a full time Kindergarten Teacher
Mallory Moss will move to 1st Grade
Mindy Ostrom/Heather Wise will move to 4th Grade
University Park Elementary Calendar
*At the end of each month we will be donating all clothing in the lost and found and anything left in the halls (all clothing will go into our little red school house in our parking lot).
5 Star Wizard Hat Students
Congratulations to last week's 5 Star Wizard Hat students! They were recognized by their teachers for positive behavior.
Last week's students include: Kaydence Howell, Giovanna Golan, Armonie Campion, Maria Elgadi, Luca Inghilterra, Aliza Summerour, Remy MacDonald, Ella Jackson, Meriah Martinez, Jack Billingsley, Ben Bignell, Henry Ford, Bauer Bodhaine, Juliet Montanaro, Brinley Bourke, Amelia Hall, Gabrielle Panella, Mona Smith, Zander Chao, Soleil Simpson, Evelyn Tamminga, Akira Nieft, Carter Hammond, Addison Blackwood, Jackson Trinen, Hudsyn Hargis, Benjamin Davis, Cooper Morton and Xavier Pena.
Wizard Hats are given throughout UPark to celebrate students' good choices and positive behavior. We use a common vocabulary and teach Critical Thinking skills using the BrainWise curriculum.
Each week there is a random drawing of 2 students done by classroom teachers. These children are photographed and receive a token of our appreciation.