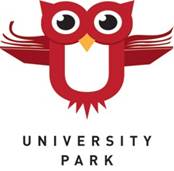 2300 S. St. Paul St., Denver, CO 80210
720-424-3410
Principal
As we begin to prepare for the 2017-2018 school year, we would like to give you the opportunity to tell us about your child and their learning needs. You can learn more about the class placement process and fill out the Student Information Sheet
HERE
.
We have hired three teachers for the 2017-18 school year. Please welcome them as they join the UPark Team!
Tyler Joyce will join our Kindergarten Team. He is currently finishing his fourth year teaching in Columbus, OH.
Rachael Kaplan will join our 2nd Grade Team. She is currently finishing her student teaching here at UPark.
Dana Jackett will join our 3rd Grade Team. Dana currently teaches 3rd Grade at Grant Ranch (in DPS).
*Don't forget to download the UPark App
HERE
!
2nd Annual University Park Golf Tournament
May 13th at Wellshire Golf Course
For more information and to register, click HERE.
Congratulations to 5th grader, Charlie Murphy (left) and 3rd grader, Zander Chao (right) on winning the NBA Math Hoops Denver Championship! They competed against 25 teams from Denver area elementary and middle schools and went undefeated! The competition was held on the Denver Nuggets' practice court, they had a great time!
Summer Enrichment Classes
June 5-9th and June 12-16th
The same great enrichment programs offered during the school year are now being offered during the summer. Have your child enjoy summer programs here at UPark!
To view the online course catalog, click HERE and scroll down to "Summer Enrichment Camps @ UPark". To register, click HERE.
Discovery Link Summer Camp
- Registration is open!
For more information and how to register, contact Jesse.
The PTA would like to thank the Wellness Committee and the Neighborhood Center for
organizing last night's UPark Wellness Fair! A big thank you goes to our parent
volunteers who shared their time and expertise with our community: Dr. Samantha
Stoler, Dr. Eric D'Hondt, Nina Newcomb and Maya Trinen!
Our next PTA meeting is on April 11th at 6pm in the
UPark Auditorium. The PTA is hosting a presentation from Greater Education Colorado. This presentation will talk about Colorado's K-12 education funding
and how we can work
together to fix the problem of being underfunded. Invite your friends and neighbors to come with you to this informational community event. Click HERE for more details.
We wish all families, teachers and staff a fun, relaxing and safe spring break!
Silent Auction
Mark your calendars and secure your tickets to the 7th Annual UPark Silent Auction!
The UPark Silent Auction is on Friday, April 21, 2017 from 6:30 - 10:30pm. This fun event not only supports UPark, but is also a night full of laughter, community, and games. It is the only place you can purchase class art projects, teacher and parent hosted experiences and other one of a kind art.
Buy your
TICKETS
now for only $30 (dinner included) before the price increases on April 8, 2017.
**Note: The ONLINE auction runs from April 13 - April 20. Both the online auction and the live event are open to all. Participation in the online auction is free! Learn more about the UPark Silent Auction

HERE.

PARENT AND TEACHER EXPERIENCES
What are Parent and Teacher Experiences?
Have you heard people talking about the Silent Auction Experiences and thought, "What in the world are these all about?"
To find out more about the "ONLY AT UPARK" events, visit
Experiences FAQs
. View
the dates for all UPark Experiences
HERE
.
Congratulations!
On March 18th, UPark's 4th and 5th grade DI Teams attended a district competition.
The 5th grade team: Owen Alleman, Maya Bartelt, Angelina Holm, Duncan Monroe and Carson Smith took 1st place in The Fine Arts Challenge!
They will
be competing at the state competition on April 22nd.
The 4th grade team: Max Newcomb, Max Henze, and John Paul Merkle earned a spot to compete at state in The Scientific Challenge!
Way to go UPark and good luck at state!
University Park Community Council
Our school is located in a neighborhood with a very active neighborhood association, The University Park Community Council (UPCC).
UPCC is working with Denver Transportation and Mobility to pinpoint areas of safety concern and areas of safety excellence. If you have experienced a close call, noticed troublesome areas for pedestrians and bicyclists, or a safe intersection, please let Denver Vision Zero know HERE by April 30th.
Let's keep areas around UPark safe for walking and bicycling, thank you!
Band Camp
If you want to join band next year, learn a new instrument over the summer or keep growing your skills, this is your chance! 3rd-8th graders can join us for Summer Band Camp to learn how to play the flute, clarinet, trumpet, french horn, saxophone, trombone, tuba or drums (and for daily water balloon fights)! You don't need to know how to play an instrument and you can rent an instrument for just $20! We will have a blast learning how to express the music inside us that is just waiting to get out!
These all day (9-3 p.m.), week-long camps are taught by DPS University Park and Slavens K-8 Band Director, Ms. Christmas. We will provide your child with a fabulous start on their musical journey. Each camp has a different theme, but you will learn to play an instrument at any of them.
World Music - Russia and Ireland (June 26th-June 30th)
Summer Blues (July 10th-14th)
University Park Elementary Calendar
*At the end of each month we will be donating all clothing in the lost and found and anything left in the halls (all clothing will go into our little red school house in our parking lot).
5 Star Wizard Hat Students
Congratulations to last week's 5 Star Wizard Hat students! They were recognized by their teachers for positive behavior.
Last week's students include: Saoirse Collins, Karma Montoya, Sabina Bower, Beau Kroger, Ethan Hale, Jack Norris, Connor Spiegel, Luke Yeh, Ronin Wise, Kyle Gutierrez-Carrasco, Cam Lewis, Leora Starks, Ella Fairchild, Ella Wagner, Abigail Jones, Connor Newcomb, Laudya Mikayla, Cynthia Tran, Sadie Austin, Claire Robinson, Annika Morton, Callie Dorsett, Elaf AlSaaid and Holly Mugisha.
Wizard Hats are given throughout UPark to celebrate students' good choices and positive behavior. We use a common vocabulary and teach Critical Thinking skills using the BrainWise curriculum.
Each week there is a random drawing of 2 students done by classroom teachers. These children are photographed and receive a token of our appreciation.