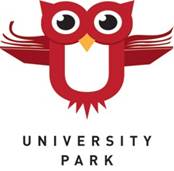 2300 S. St. Paul St., Denver, CO 80210
720-424-3410
Principal
University Park
Golf Tournament
Join us for the 2nd Annual University Park Golf Tournament on May 13th. All proceeds benefit UPark and specifically, our wonderful after-school programs provided by the
Neighborhood Center
.
Invite your friends and neighbors! There will be prizes, skins, longest drive, 50/50, and closest to the pin. We hope to see you there, rain or shine!
Where: WELLSHIRE GOLF COURSE
When: Saturday, May 13th
Shotgun Start: 8:00am
Format: 4 Person SCRAMBLE
Cost: $89 per golfer (includes green fees and cart)
*Don't forget to download the UPark App
HERE
!
Neighborhood Center
Summer Enrichments at UPark!! Sign up
HERE
!
Discovery Link 2017-2018 Registration
Current Families can register 4/17 - 4/28
New Families can register 5/8 - 5/12
Options for submitting 2017-2018 Discovery Link Registration:
Bring registration paperwork to UPark at these days & times ONLY
Bring registration paperwork to: 1617 S. Acoma St., weekdays 8am - 4pm
Email registration paperwork to: discovery_link@dpsk12.org
One Time Workshop Enrichment Offering!!!
*NEW* How to Build a Hologram - Silicon STEM Academy
A
hologram is a free-standing 3-D image created with photographic projection. In this workshop, we learn about holograms and build our own mini-projector to view holographic images using your smart phone. Join us for this fun, hands-on workshop and build your own hologram to show your friends!
When: Friday, May 12th from 3:45-5:15pm
Who: 4th/5th Graders and Parents
Cost: $24
To register, click
HERE
!
If you have any questions, please contact
Jesse
.
We want to send a HUGE "Thank You" to our awesome Silent Auction Committee for a fantastic event Friday night! It was our best attended and most lucrative auction to date. This great achievement would not have been possible without the leadership of Dana O'Connor and her amazing team! We want to recognize the Silent Auction Committee Members: Brooke Merkle, Julia Gold, Micah D'Hondt, Linsey Garcia, Jacqueline Cote, Alison Jones, Stacey Hauhuth, Jennifer Frenkel, Kathy Lee, Joanna Shear, Robyn Fairchild, Jenna Marino, Julia Layton, Camille Ford, Julie Brown, Candace Kristensson, Jackie Davis, Kristen
Jackson, Kath Quinn, Melissa Gray, Jessica Downs, Crystal
Moreno, Robyn Hodas, Katie Fitz-Gerald, Sean Spiegel, Julie
Tremont, Carrie Alleman,

Dot Ho

and all the parents who coordinated class art projects.

THANK YOU, UPark Community! We also want to thank YOU! We appreciate everyone who shopped online and came out to the live event! It was a great
night of community building that raised more than $70,000 for our great school!

If you weren't able to attend the auction or wish you would have signed up for one more thing, you're in luck! There are still some amazing parties and experiences available! Sign up by Monday, May 1st! Click HERE for a list of available events.
Note From Barb
I am sad to let you all know that after 18 years of serving University Park's students and families, I will be leaving my position as UPark's Social Worker at the end of this school year. I will be continuing my work next year within the Denver Public Schools at Traylor Academy. I will miss all of our students, staff and families, but look forward to what my new adventure will have in store.
University Park will have a social worker for four days a week next year. Central office is working on hiring someone asap and working towards a smooth transition. Please feel free to contact Grant with any questions.
Spelling Bee Dates and Tips
May 5th

- Classroom Spelling Bees (completed)
May 11th and 12th

- Grade Level Bees
(top 5 from each classroom)
*Thursday, May 11th
*
Friday, May 12th
3rd Grade, 9:15-10am 1

st Grade, 9:10-9:40am
May 24th
- School Wide Spelling Bee, 4:30-6pm in the UPark Auditorium
As you support your child through this experience, click
HERE
for a few tips and reminders.
If you have any questions, please reach out.
Heather Wise, GT Teacher, UPark
New To Kindergarten:
2017-2018
Is your student eager to start UPark Kindergarten?
Are they full of questions?
We have a great opportunity for all of these soon-to-be UPark Owls!
An enrichment camp, "Owl About Us", taught by two UPark teachers (Kindergarten and Reading Interventionist) will enhance incoming Kindergarten readiness skills, build your student's confidence and lessen any anxiety about starting a new school.
Students will have the opportunity to spend time in a Kindergarten classroom and tour other parts of our building. D
aily activities will be creative, early-childhood friendly, educational, student centered, and FUN.
For more details and how to register, click HERE.
Bike to School Day
May 10th
Join in the fun as UPark rides and strides to school! Bike to school on Wednesday, May 10th, as we celebrate National Bike Month with schools, around Denver and around the country. Biking to school creates a fun, safe, and physically active environment. UPark is proud to promote and participate in Bike to School Day! So, save the date and join the fun as we gather together and bike to school.
5th Grade Project
In keeping with tradition, our 5th graders will sell snacks after school.
The purpose is to raise money and purchase a legacy gift for UPark. This gift will represent a Culture of Kindness.
We will sell a variety of delicious snacks on the playground. So, please stop by for a snack and support our 5th graders! We
will continue daily sales as the weather cooperates. We thank you for all your support!
Red Apple Recycling (the little red house by the staff parking lot) is holding a spring recycling drive. They are focusing this drive on SHOES.
Over 300 million children around the world are without shoes. Red Apple Recycling will collect shoes and send them to countries in need, such as Chile, Guatemala, Kenya and Mexico.
Drop your shoes off at the "little red house" April 17 - May 17. You will be helping a great cause while supporting UPark. Red Apple Recycling gives a percentage donated back to UPark!
This
FLYER
contains more information.

Thank you!
School Nurse Reminder
If your child's immunization paperwork needs to be updated, please turn this in to the nurse. For any questions, contact Antoinette by EMAIL. Thank you!
Superintendent Parent Forum
May 2nd
DPS invites families to the Superintendent Parent Forum and ELA-DAC from 9:15-11:15am on May 2nd at the PPA Event Center located at 2105 Decatur St. The topic for this forum is "Closing the Opportunity Gap."
DPS is committed to eliminating opportunity gaps and improving student literacy and graduation rates. Academic success strategies for ALL students, including those with diverse cultural and language backgrounds, and those with learning differences will be discussed.
Since this is the last Superintendent Forum of the year, DPS Family Leadership Awards will be celebrated.
If you would like to attend, please register
HERE
.
University Park Elementary Calendar
*At the end of each month we will be donating all clothing in the lost and found and anything left in the halls (all clothing will go into our little red school house in our parking lot).
5 Star Wizard Hat Students
Congratulations to last week's 5 Star Wizard Hat students! They were recognized by their teachers for positive behavior.
Last week's students include: Ally Shi, Carl Kristensson, Madeleine Blair, Dylan Boal, Julian LeClaire, Alex Inghilterra, Lara Olsthoorn, Holly Mugisha, Joey Roedel, Kate Hauhuth, Grayson Johnson, Samara Mendez, Kate Choughari, Noah Hayes, Denis Zlatanov, Zain Arafin, Emery Boyle, Maia Ottenbrite, Luca Inghilterra, Olivia Jones, Fox Long-Pearlman, James Merkle, Logan Shirey, and Marley Stoler.
Wizard Hats are given throughout UPark to celebrate students' good choices and positive behavior. We use a common vocabulary and teach Critical Thinking skills using the BrainWise curriculum.
Each week there is a random drawing of 2 students done by classroom teachers. These children are photographed and receive a token of our appreciation.