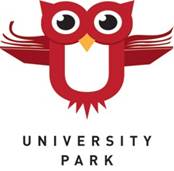 2300 S. St. Paul St., Denver, CO 80210
720-424-3410
Principal
Field Day
Please join us for Field day on Friday, May 26th. The rain date will be Tuesday, May 30th. Field day will be held on our school grounds this year. Session one is 9:30-11:00 and session two is 1:30-3:00. Student lunches will be at the normally scheduled times and families are welcome to stay and picnic with their children. Look for more information next week as we get closer to the event.
If you are interested in helping with field day, please sign up here.
*Don't forget to download the UPark App
HERE
!

Thanks to everyone who attended our last PTA meeting of the school year on Tuesday night. We appreciate families taking time out of your busy schedules to be a part of your children's school! If you were unable to attend, or would like to read what we discussed, please look for our meeting minutes next week HERE.

Calling all database gurus!
We need someone to take over the database piece of producing the UPark Student Directory in the fall. This person will use PTA Pal software to collect, organize, and check families' contact info before it's sent to another parent for layout and printing. Please email uparkpta@gmail.com for more information.
Restaurant Night TONIGHT!
Eat at Pizzeria Locale (550 Brodaway) TODAY, May 11th from 4:00-9:00pm and they'll give
50%
of sales to support UPark! Click
here
for more information.
Spirit Week
University Park is having a spirit week to celebrate the end of the school year! Spirit week is a week where your child will dress differently for every day of the week. Spirit Week is Monday, May 22nd- Friday, May 26th.
Monday: Mismatch Monday: Wear mismatched/wacky clothing
Tuesday: Crazy Hair Day/Hat Day: Show off your craziest hair style or wear a hat to school!
Wednesday: PJ Day: Come to school in your pajamas. Pajamas must follow the school dress code and no slippers allowed
Thursday: Career Day/College Day: Dress up as the job you want to have when you grow up or wear your favorite college gear
Friday: Class Color Day/Field Day: wear your class colors at Field Day!
Kindergarten: Red
1st: Yellow
2nd: Blue
3rd: Green
4th: Orange
5th: Neon
From,
The UPark Student Council
Remember your child does NOT have to participate if they don't want to, it is optional, but we hope they will. Thank you!
University Park Library Inventory
University Park has been charged with completing an inventory of all books in our library. We are looking for volunteers to assist with this task. No special skills are required. Inventory is as simple as removing books from the shelves, scanning the barcodes with a small, portable device and returning the book to the shelf. With enough volunteers we are hoping to complete the inventory by Friday, May 19th.
Please click here to volunteer. Thank you for your support and help.
Deanne's Retirement Party
May 23rd, 3:45pm
After 20 years at UPark, Deanne is retiring. We want to give her all of our best wishes! Join us on Tuesday, May 23rd at 3:45 pm in the gym for this celebration. Deanne has touched so many lives during her time here. Please spread the word and invite UPark alumni, neighbors and community friends who would like attend.
Click
HERE
for more details.
Spelling Bee Dates and Tips
May 5th

- Classroom Spelling Bees (completed)
May 11th and 12th

- Grade Level Bees
(top 5 from each classroom)
*Thursday, May 11th
*
Friday, May 12th
3rd Grade, 9:15-10am 1

st Grade, 9:10-9:40am
May 24th
- School Wide Spelling Bee, 4:30-6pm in the UPark Auditorium
As you support your child through this experience, click
HERE
for a few tips and reminders.
If you have any questions, please reach out.
Heather Wise, GT Teacher, UPark
New To Kindergarten:
2017-2018
Is your student eager to start UPark Kindergarten?
Are they full of questions?
We have a great opportunity for all of these soon-to-be UPark Owls!
An enrichment camp, "Owl About Us", taught by two UPark teachers (Kindergarten and Reading Interventionist) will enhance incoming Kindergarten readiness skills, build your student's confidence and lessen any anxiety about starting a new school.
Students will have the opportunity to spend time in a Kindergarten classroom and tour other parts of our building. D
aily activities will be creative, early-childhood friendly, educational, student centered, and FUN.
For more details and how to register, click HERE. The registration deadline has been extended! Sign up today!
5th Grade Project
In keeping with tradition, our 5th graders will sell snacks after school.
The purpose is to raise money and purchase a legacy gift for UPark. This gift will represent a Culture of Kindness.
We will sell a variety of delicious snacks on the playground. So, please stop by for a snack and support our 5th graders! We
will continue daily sales as the weather cooperates. We thank you for all your support!
SUMMER ENRICHMENTS AT UPARK!
One Time Workshop Enrichment Offering!!!
Glass Fused Pendants: This glass workshop will focus on creating 2-3 glass pendants. Students will be introduced to the art of glass fusing in a fun and safe space. Creativity is encouraged and students will have plenty of inspiration from the variety of glass materials introduced in this class. One of our points of inspiration will be to learn how to make faces or animals out of glass. Artists will learn how to layer glass, cut glass, arrange class in interesting ways, and use decals. This is a fun workshop for artists new to glass and artists who have taken prior classes!
When: Friday, May 19th from 3:45-5:00pm
Who: 3rd - 5th Graders and Parents
To register, click
HERE
!
Enrichment Classes Ending Early:
If you have any questions, please contact
Jesse.
University Park Elementary Calendar
5 Star Wizard Hat Students
Congratulations to last week's 5 Star Wizard Hat students! They were recognized by their teachers for positive behavior.
Last week's students include: Rafan Dinata, Aaralyn Gonzalez, Eileen Zheng, Brendan Seitz, Abigail Jones, Addison Blackwood, Jackson Trinen, Angelo Alas, Peyton Green, Alex Locia-Anota, Andrew Johnson, Denis Zlatanov, Mohamed Shukry, Charlie Gold, Mona Smith, Chloe Choughari, Jacob White, Jayme Cairns, Annika Morton, Remy MacDonald, Akira Nieft, Neil Morris, Gabrielle Panella, Xavier Pena, Kate Hauhuth, Cooper Bullock, Charlie Davis, Max Wagner, Ben Bignell, Jack Carmichael, Adia Stoler, Kyra Hornung Standell, Jake Nederveld.
Wizard Hats are given throughout UPark to celebrate students' good choices and positive behavior. We use a common vocabulary and teach Critical Thinking skills using the BrainWise curriculum.
Each week there is a random drawing of 2 students done by classroom teachers. These children are photographed and receive a token of our appreciation.
*At the end of each month we will be donating all clothing in the lost and found and anything left in the halls (all clothing will go into our little red school house in our parking lot).