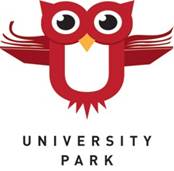 2300 S. St. Paul St., Denver, CO 80210
720-424-3410
Principal
Spirit Week
University Park is having a spirit week to celebrate the end of the school year! Spirit week is a week where your child will dress differently for every day of the week. Spirit Week is Monday, May 22nd- Friday, May 26th.
Monday: Mismatch Monday: Wear mismatched/wacky clothing
Tuesday: Crazy Hair Day/Hat Day: Show off your craziest hair style or wear a hat to school!
Wednesday: PJ Day: Come to school in your pajamas. Pajamas must follow the school dress code and no slippers allowed
Thursday: Career Day/College Day: Dress up as the job you want to have when you grow up or wear your favorite college gear
Friday: Class Color Day/Field Day: wear your class colors at Field Day!
Kindergarten: Red
1st: Yellow
2nd: Blue
3rd: Green
4th: Orange
5th: Neon
From,
The UPark Student Council
Remember your child does NOT have to participate if they don't want to, it is optional, but we hope they will. Thank you!
*Don't forget to download the UPark App
HERE
!
Volunteers for Next Year
As we wrap up another successful year of supporting our teachers and kids, we are
already planning ahead for next school year! We have filled many of our volunteer
positions already, but we have two key volunteer roles we need to fill before the start of
school in August. Please consider volunteering if your interests and your availability
match the descriptions below:
1. UPark Backpack Program:
This program provides a weekly bag of food to
families in need at UPark throughout the school year. Our school social worker is in
charge of outreach to the families and handles the distribution of the bags to the
children of the families he/she has identified.
One volunteer is needed to assist our existing volunteer lead on a weekly basis for 2-3
hours total per week. Our PTA volunteers work to secure food donations and
supplement donations with food purchases (through PTA funds). The volunteers then
meet on Thursday mornings to assemble the bags for delivery through our school
social worker. If you are interested in helping with this program, please email Stacey
Hauhuth HERE
.
2. UPark Green Team/Sustainability Program
: Kindergarten teacher Judy
Cardenas oversees this student-led effort to reduce waste and use of energy through
recycling, composting, and reusing. The program's primary areas of focus are "green"
lunchroom practices and student-led annual waste reduction projects. Mrs. Cardenas is
looking for two parent volunteers to help her with the student-led team and their
program activities throughout the year. Volunteer hours for each volunteer position are
approximately 5 hours per month.
If you are interested in helping with this program, please email Stacey Hauhuth HERE
.
Yearbooks

Yearbook order forms are coming home with your students this week! Please send forms back to school no later than May 25th. Checks should be made out to University Park PTA.


University Park Library Inventory
The library still needs parent volunteers to assist with the library inventory. This task must be completed by the end of next week, Friday, May 26. The best times to come in are in the mornings from 8 to 9:45 everyday and 3:00 to 4 p.m. on Monday, Wednesday and Friday this week and next. This is a very simple process which involves simply scanning books on the shelves and replacing them. The results is a plus for both the school and kids as it will let us know what we have and what we are missing, allowing us to add quality books to our shelves.
Warm up those legs for field day and join the Before School Fun Run Program May 22-26. Each morning at 8:40, kids can run the track to earn charms (K-2) or compete for a class party and individual prizes (3-5). Please consider volunteering a morning or two and keep UPark "The Healthiest School in Denver"! Sign up here to volunteer!
Citywide Honor Choir
Congratulations to our amazing 4th and 5th grade students who represented UPark at the DPS Citywide Honor Choir. Their hearts were full of song as they performed beautifully Thursday, May 11th at West High School. Thanks for your hard work:

Sophia Homburger,

Amielia Lauritano,

Helen Reichert,

Logan Shirey,

Marlowe Connors,

Olivia Jones,

Everett White,

Sheridan Wetherall.
Deanne's Retirement Party
May 23rd, 3:45pm
After 20 years at UPark, Deanne is retiring. We want to give her all of our best wishes! Join us on Tuesday, May 23rd at 3:45 pm in the gym for this celebration. Deanne has touched so many lives during her time here. Please spread the word and invite UPark alumni, neighbors and community friends who would like attend.
Click
HERE
for more details.
New To Kindergarten:
2017-2018
Is your student eager to start UPark Kindergarten?
Are they full of questions?
We have a great opportunity for all of these soon-to-be UPark Owls!
An enrichment camp, "Owl About Us", taught by two UPark teachers (Kindergarten and Reading Interventionist) will enhance incoming Kindergarten readiness skills, build your student's confidence and lessen any anxiety about starting a new school.
Students will have the opportunity to spend time in a Kindergarten classroom and tour other parts of our building. D
aily activities will be creative, early-childhood friendly, educational, student centered, and FUN.
For more details and how to register, click HERE. The registration deadline has been extended! Sign up today!
5th Grade Project
In keeping with tradition, our 5th graders will sell snacks after school.
The purpose is to raise money and purchase a legacy gift for UPark. This gift will represent a Culture of Kindness.
We will sell a variety of delicious snacks on the playground. So, please stop by for a snack and support our 5th graders! We
will continue daily sales as the weather cooperates. We thank you for all your support!
University Park Elementary Calendar
5 Star Wizard Hat Students
Congratulations to last week's 5 Star Wizard Hat students! They were recognized by their teachers for positive behavior.
Last week's students include: Cassidy Michas, Ronin Wise, Nola Lake, Kenna Whorton, Chase Cestra, Sullivan LeClaire, Yassmine Birouk, Ezdeen Alghweel, Larkin Fitz-Gerald, Marley Stoler, Lukas Daniels, Julian LeClaire, Nona Slevin, Erion Muji, Amelia Hall, Meriah Martinez, William Bollmann, Kaden Frank, Ellieana Moreno, Amelia Babbitt, Logan Stow, Teddy Rogala, Reese MacDonald, Angi Cairns, Beau Kroger, Khalid Aljebreen, Miguel (Yueyang) Hao.
Wizard Hats are given throughout UPark to celebrate students' good choices and positive behavior. We use a common vocabulary and teach Critical Thinking skills using the BrainWise curriculum.
Each week there is a random drawing of 2 students done by classroom teachers. These children are photographed and receive a token of our appreciation.
*At the end of each month we will be donating all clothing in the lost and found and anything left in the halls (all clothing will go into our little red school house in our parking lot).