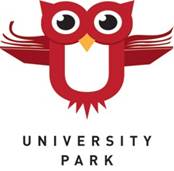 2300 S. St. Paul St., Denver, CO 80210
720-424-3410
Principal
University Park
Golf Tournament
Join us for the 2nd Annual University Park Golf Tournament on May 13th. All proceeds benefit UPark and specifically, our wonderful after-school programs provided by the
Neighborhood Center
.
Invite your friends and neighbors! There will be prizes, skins, longest drive, 50/50, and closest to the pin. We hope to see you there, rain or shine!
Where: WELLSHIRE GOLF COURSE
When: Saturday, May 13th
Shotgun Start: 8:00am
Format: 4 Person SCRAMBLE
Cost: $89 per golfer (includes green fees and cart)
*Don't forget to download the UPark App
HERE
!
Neighborhood Center
One Time Workshop Enrichment Offering!!!
*NEW* How to Build a Hologram - Silicon STEM Academy
A hologram is a free-standing 3-D image created with photographic projection. In this workshop, we learn about holograms and build our own mini-projector to view holographic images using your smart phone. Join us for this fun, hands-on workshop and build your own hologram to show your friends!
When: Friday, May 12th from 3:45-5:15pm
Where: Library
Who: 4th/5th Graders and Parents
Cost: $24
Discovery Link 2017-2018 Registration
New Families can register 5/8 - 5/12
Options for submitting 2017-2018 Discovery Link Registration:
Bring registration paperwork to UPark at these days & times ONLY
Mondays 4pm - 6pm
Tuesdays 4pm - 6pm
Thursdays 8am - 10am
Bring registration paperwork to: 1617 S. Acoma St., weekdays 8am - 4pm
Email registration paperwork to: discovery_link@dpsk12.org
Enrichment Classes Ending Early:
Percussion 4/25
Yoga (R) 5/4
Yoga (T) 5/9
If you have any questions, please contact
Jesse
.
Bike to School Day
May 10th, 8:45am
UPark will celebrate Bike to School day on Wednesday, May 10th. Join us at 8:45 am for a bike parade on the school yard track!
If you can help with the bike parade, please let Rebekah Brown/Mrs. Hartin know HERE. We are looking for 5 volunteers. Thank you!
May is National Bike Month. Bik
ing to school creates a fun, safe, and physically active environment. UPark is proud to promote and participate in Bike to School Day!
Deanne's Retirement Party
May 23rd, 3:45pm
After 20 years at UPark, Deanne is retiring. We want to give her all of our best wishes! Join us on Tuesday, May 23rd at 3:45 pm in the gym for this celebration. Deanne has touched so many lives during her time here. Please spread the word and invite UPark alumni, neighbors and community friends who would like attend.
Click
HERE
for more details.
Note From Barb
I am sad to let you all know that after 18 years of serving University Park's students and families, I will be leaving my position as UPark's Social Worker at the end of this school year. I will be continuing my work next year within the Denver Public Schools at Traylor Academy. I will miss all of our students, staff and families, but look forward to what my new adventure will have in store.
University Park will have a social worker for four days a week next year. Central office is working on hiring someone asap and working towards a smooth transition. Please feel free to contact Grant with any questions.
Spelling Bee Dates and Tips
May 5th

- Classroom Spelling Bees (completed)
May 11th and 12th

- Grade Level Bees
(top 5 from each classroom)
*Thursday, May 11th
*
Friday, May 12th
3rd Grade, 9:15-10am 1

st Grade, 9:10-9:40am
May 24th
- School Wide Spelling Bee, 4:30-6pm in the UPark Auditorium
As you support your child through this experience, click
HERE
for a few tips and reminders.
If you have any questions, please reach out.
Heather Wise, GT Teacher, UPark
New To Kindergarten:
2017-2018
Is your student eager to start UPark Kindergarten?
Are they full of questions?
We have a great opportunity for all of these soon-to-be UPark Owls!
An enrichment camp, "Owl About Us", taught by two UPark teachers (Kindergarten and Reading Interventionist) will enhance incoming Kindergarten readiness skills, build your student's confidence and lessen any anxiety about starting a new school.
Students will have the opportunity to spend time in a Kindergarten classroom and tour other parts of our building. D
aily activities will be creative, early-childhood friendly, educational, student centered, and FUN.
For more details and how to register, click HERE. The registration deadline has been extended! Sign up today!
Red Apple Recycling (the little red house by the staff parking lot) is holding a spring recycling drive. They are focusing this drive on SHOES.
Over 300 million children around the world are without shoes. Red Apple Recycling will collect shoes and send them to countries in need, such as Chile, Guatemala, Kenya and Mexico.
Drop your shoes off at the "little red house" April 17 - May 17. You will be helping a great cause while supporting UPark. Red Apple Recycling gives a percentage donated back to UPark!
This
FLYER
contains more information.

Thank you!
5th Grade Project
In keeping with tradition, our 5th graders will sell snacks after school.
The purpose is to raise money and purchase a legacy gift for UPark. This gift will represent a Culture of Kindness.
We will sell a variety of delicious snacks on the playground. So, please stop by for a snack and support our 5th graders! We
will continue daily sales as the weather cooperates. We thank you for all your support!
University Park Elementary Calendar
*At the end of each month we will be donating all clothing in the lost and found and anything left in the halls (all clothing will go into our little red school house in our parking lot).
5 Star Wizard Hat Students
Congratulations to last week's 5 Star Wizard Hat students! They were recognized by their teachers for positive behavior.
Last week's students include: Oliver Colson, Madelyn Combs, Shunlin Zeng, Eliza Helgerson-Rahn, Miles Noble, Daniella Starks, Drake Miller, Mohamed Shukry, Riley Haggard, Olivia Jones, Lukas Daniels, Yassmine Birouk, Leaira Harris, Amelia Hall, Khloe Brown, Christopher Trujillo, Karis Boroughs, Owen Becker, Dawensley Hornak, Sheyden Kyser, Eliana Menkis, Leora Starks, Eilee Brutsch, Zander Chao, Kole Roberts and Jillian Samaras.
Wizard Hats are given throughout UPark to celebrate students' good choices and positive behavior. We use a common vocabulary and teach Critical Thinking skills using the BrainWise curriculum.
Each week there is a random drawing of 2 students done by classroom teachers. These children are photographed and receive a token of our appreciation.