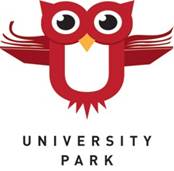 2300 S. St. Paul St., Denver, CO 80210
720-424-3410
Principal
UPark Spirit Wear Shop Open Online!
The UPark spirit wear shop is now open online! Check out the website HERE.
Find holiday gifts galore including: UPark class of 2018-2023 t-shirts, future UPark owl shirts, sweatshirts, hoodies, golfballs, home goods, bags, baseball hats, and more! This is not a fundraiser, just a way to show our school spirit!
Thank you,
*Don't forget to download the UPark App
HERE
!
School Tours
UPark school tours for prospective families have started! We will hold tours on the dates below. Please let your friends know to RSVP by calling the main office at 720-424-3410.
November 10th-

9:15am and 2:30pm

December 8th-

9:15am and 2:30pm

January 12th-

9:15am and 2:30pm

January 26th-

9:15am and 2:30pm

February 9th-

9:15am and 2:30pm

February 10th- Open House 10:00am
February 23rd-

9:15am and 2:30pm
Silent Auction Committee Meeting
If you would like to volunteer on the 2018 Auction Committee, the next committee meeting is on
Tuesday, November 7, 2017 at 6:30PM
at Becky MacDonald's house (2500 South Josephine Street, Denver, CO 80210).
We want to thank each and every one of you who have donated big or small to the Apple Campaign. We currently have received $67,000
in donations! We are only $3,000 short of our $70,000 goal. If you haven't already donated, will you please consider a donation before

November 10th

so we can meet our goal? Remember that this campaign helps us keep our amazing teachers and smaller class sizes than any other Denver Public School. We couldn't do it without family participation.
Second grade is pulling ahead. Which grade will become an Apple All-Star and enjoy a party?
You can donate online HERE
or drop a check made out to UPark PTA in the front office. Thank you.
Wellness Committee
We had a great turnout for the before school running program. Super fantastic to see so many energetic runners each morning! Thank you to all the parent volunteers who helped out each morning. Our younger grades were running to collect fun charms, and the upper grades competed for prizes, and a class parfait party.
Congrats to the top runners and the class winner!!
Top 3rd grade runner - Emery Boyle (ran over 3 miles for the week).

Top 4th/5th grade runners: Jaymes Keenan (ran over 10 miles for the week) and Augie Reichert, Jack Billingsley and Ryder O'Keefe (all ran over 4 miles for the week.)

Ostrom/Wise 4th grade class completed the most laps.
Way to go all you amazing runners!!
Thank you!
November PTA Meeting
Our November meeting will be a morning meeting. Please join us in the Art room on
Tuesday, November 14th at 9:15am.
We will have coffee and pastries and look forward to seeing you there!
Kindergarten and 1st Grade Art Exhibit
Come celebrate the creativity of UPark's youngest artists by attending an opening reception for the Kindergarten/First Grade Art Show! On Wednesday, November 8th, from 3:45 to 4:45, we'll be gathering in the 2nd floor hallway to see artwork from all of our K-1 students, including glittering fish, self-portraits, animal puppets and colorful accordion books. We hope to see you there!
Mark your calendars! The fall University Park Book Fair is Monday, November 13 through Thursday, November 16 in the library. Shopping hours will be 8 a.m. - 9:00 a.m. and 3:45 p.m. - 6 p.m. each day. Our book fair is a great time to pick up a hot new book, some holiday gifts or something special to read over winter break. You can also shop online from November 3rd-26th by clicking HERE.
The University Park Book Fair needs volunteers! Click HERE to sign up.

Picture Retakes
Picture retake day is
Tuesday, November 14th
!
If your child missed picture day or you would like a new image, do not miss out on ordering pictures for your student. You can pre-order online HERE using UPark's access key,

V35TGH9T, or come to the main office for an order envelope. To exchange your previously purchased order with a new image, your student will turn in the purchased package on retake day.

Online orders using the above access key are available up to 4 days after retake day.



Annual Thanksgiving Lunch
University Park welcomes students and families to celebrate the Thanksgiving holiday with a turkey lunch in the school cafeteria on Thursday, November 16th. The lunch will be held at your student's regularly scheduled lunch time.
Prices for guests:
Child (Non-Student) $3.00
Adult $5.00
Guests, please visit the school cafeteria to purchase your meal tickets no later than Wednesday, November 15th. Cafeteria staff will be available each morning until 11:00am. Contact the main office at 720-424-3410 with questions.
Crayola ColorCycle
Dear Parents,
We're excited to tell you about a very special program we are coordinating at our school in conjunction with Crayola. It's called Crayola ColorCycle - an amazing program devised to turn used markers into energy!
All around University Park students and teachers will be collecting used markers that are ready to be discarded. The markers will be sent to a facility where they will be converted into clean fuel. This fuel can be used to power vehicles, heat homes, cook meals and more!
Please help support our efforts by sending your kids in with any used markers you may have around the house - even non-Crayola brands. Drop-off bags will be located around the school for your child to deposit the markers.
Thank you in advance for participating! With the help of parents like you across the country, the Crayola ColorCycle program can keep tons of plastic out of landfills each year.
Remember, don't throw out that used marker-ColorCycle it!
Sincerely,
Chase Cestra - 5th grade
Mateo Gochman Moreno - 5th grade
Sohpia Caple - 5th grade
Nona Slevin - 4th grade
Luke Combs - 4th grade
Coats and Clothing for Kids
Dependable Cleaners Coats:
1701 S. Broadway Denver, CO: 303-777-2673
Coats offered at no cost for those in need.
Parents do not need to bring children to receive children's coat. Bring bags to put coats in.
Call to learn more!
Coats for Colorado:
Those interested in receiving a coat can call 303.777.2673 to schedule an appointment.
Clothes to Kids, Denver:
Please contact Steve Nederveld (
Steven_Nederveld@dpsk12.org
or 720-424-3458) as Clothes for Kids requires that school referrals come from school social worker/school psychologist
.
Each student receives 5 outfits, 1 coat, 1 pair of shoes and 5 pairs each of new socks and new underwear from Clothes To Kids of Denver. To shop, students must be ages 3 - 21 and enrolled in preschool - 12th grade, or working toward a GED.
Yearbook Photo Submissions
Got Photos? We are always in need of great photos from UPark events for the yearbook. With the Fun Run and Carnival this past weekend and Halloween right around the corner, please upload photos through the University Park App. It is simple to do! Go to the app, click menu, click on "submit a yearbook photo" and then upload your photo. You can also email them directly to
breevialpando@hotmail.com
. Thank you!
Fall Enrichments that End Early:
Pottery - 10/30
Yoga (M) - 10/30
Yoga (T) - 10/31
Percussion - 10/31
Rock Climbing - 11/2
Yoga (R) - 11/9
*All other Fall Enrichments end the week of 11/13.
Important Winter Enrichment Dates:
Winter Registration Goes Live Online - 11/7 @ 10am
Winter Session Begins - 11/27
November 20th- 21st Discovery Camp @ UPark Registration, click here.
If you have any questions, please contact Jesse.
University Park Elementary Calendar
Click on the the calendar icon to the right, look below, or visit the
University Park Website
to access calendar information!
*At the end of each month we will be donating all clothing in the lost and found and anything left in the halls (all clothing will go into our little red school house in our parking lot).