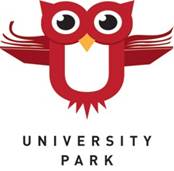 2300 S. St. Paul St., Denver, CO 80210
720-424-3410
Principal
UPark Spirit Wear Shop Open Online!
The UPark spirit wear shop is now open online! Check out the website HERE.
Find holiday gifts galore including: UPark class of 2018-2023 t-shirts, future UPark owl shirts, sweatshirts, hoodies, golfballs, home goods, bags, baseball hats, and more! This is not a fundraiser, just a way to show our school spirit!
Thank you,
*Don't forget to download the UPark App
HERE
!
Thank YOU for coming out to the12th Annual Upark Fun Run and Carnival!
Special thanks to all who helped make the event possible including:
Fun Run and Carnival Committee

Mr. Varveris, Front Office Staff, Ms. Hartin, Mr. Herman, Ms. Redmond, Ms. Reynolds, & Mr. Nederveld

Geoff Babbitt

Fire Station 24

Denver PD

Radio Band

South High School Students

All the Grill Daddys

All parent volunteers
And thank you to our sponsors:
We are approaching the end of our Apple Campaign promotion period. On November 10th we will tally the votes to see which grade had the MOST PARTICIPATION. The grade with the most number of donations will win a popcorn party. Right now our school is averaging a low 18% overall contribution rate, and we haven't met our $70,000 goal. Please consider a donation of any amount, and help your child's grade win a popcorn party for being an Apple All-Star!
Donate in the office with a check made out to UPark PTA or online HERE.
Do you have questions, comments, or want to help with the Apple Campaign? Talk to a PTA member or email the Apple Chair, Traci Samaras at
traci@samaras.us
Make it a green Halloween! Save $$ too. Check out these tips to have fun, save money, keeping it clean and green this Halloween!
Shop around to find costume inspirations ... then make'em at home

Reuse old shirts & pillowcases as stylish craft candy bags!

Use reusable bags when shopping for treats and buy candy in recyclable boxes

Compost pumpkins and gourds (please email your Green Team Reps if you can help UPark compost our families' pumpkins this season at Judith_cardenas@dspk12.org).

Costume Exchange: friends & family can recycle, donate, or create DIY gear.
Kindergarten and 1st Grade Art Exhibit
Come celebrate the creativity of UPark's youngest artists by attending an opening reception for the Kindergarten/First Grade Art Show! On Wednesday, November 8th, from 3:45 to 4:45, we'll be gathering in the 2nd floor hallway to see artwork from all of our K-1 students, including glittering fish, self-portraits, animal puppets and colorful accordion books. We hope to see you there!
Mark your calendars! The fall University Park Book Fair is Monday, November 13 through Thursday, November 16 in the library. Shopping hours will be 8 a.m. - 9:00 a.m. and 3:45 p.m. - 6 p.m. each day. Our book fair is a great time to pick up a hot new book, some holiday gifts or something special to read over winter break. S
upport University Park Elementary School by attending the Fall Book Fair!
The University Park Book Fair needs volunteers! Click HERE to sign up.

Annual Thanksgiving Lunch
University Park welcomes students and families to celebrate the Thanksgiving holiday with a turkey lunch in the school cafeteria on Thursday, November 16th. The lunch will be held at your student's regularly scheduled lunch time.
Prices for guests:
Child (Non-Student) $3.00
Adult $5.00
Guests, please visit the school cafeteria to purchase your meal tickets no later than Wednesday, November 15th. Cafeteria staff will be available each morning until 11:00am. Contact the main office at 720-424-3410 with questions.
Yearbook Photo Submissions
Got Photos? We are always in need of great photos from UPark events for the yearbook. With the Fun Run and Carnival this past weekend and Halloween right around the corner, please upload photos through the University Park App. It is simple to do! Go to the app, click menu, click on "submit a yearbook photo" and then upload your photo. You can also email them directly to
breevialpando@hotmail.com
. Thank you!
Fall Enrichments that End Early:
Pottery - 10/30
Yoga (M) - 10/30
Yoga (T) - 10/31
Percussion - 10/31
Rock Climbing - 11/2
Yoga (R) - 11/9
Important Winter Enrichment Dates:
Paper/Online Brochures Available - 10/30
Winter Registration Goes Live Online - 11/7 @ 10am
Winter Session Begins - 11/27
November 3rd Discovery Camp @ UPark Registration, click here.
Registration closes Friday October 27th @ 5pm
November 20th- 21st Discovery Camp @ UPark Registration, click here.
If you have any questions, please contact Jesse.
School Tours
UPark school tours for prospective families have started! We will hold tours on the dates below. Please let your friends know to RSVP by calling the main office at 720-424-3410.
November 10th-

9:15am and 2:30pm

December 8th-

9:15am and 2:30pm

January 12th-

9:15am and 2:30pm

January 26th-

9:15am and 2:30pm

February 9th-

9:15am and 2:30pm

February 10th- Open House 10:00am
February 23rd-

9:15am and 2:30pm
University Park Elementary Calendar
Click on the the calendar icon to the right, look below, or visit the
University Park Website
to access calendar information!
5 Star Wizard Hat Students
Congratulations to last week's 5 Star Wizard Hat students! They were recognized by their teachers for positive behavior.
Last week's students include: Alejandro Adame, Grayson Johnson, Joey Roedel, Dana AlZubi, Valana Thompson, Jack Billingsley, Grace Kittelson, Rowan Schneider, Evan Lewis, Sullivan LeClaire, Ella Jackson, Sheyden Kyser, Luciana Salgado, Adrianna Panella, Jude Crowley, Henry Ford, Max Grimes-Medina, Matthew Lee, Taya Jeffries, Jayme Cairns, Abigail Jones, Jillian Samaras, Max Wagner, Daniel Urbach, Evie Lillyblad, Otis Metz, Zain Arafin, Bennet Shear, Owen Reese, Ariel Adame, Julian Maldonado, Hannah Pramita, Aria Burrows, Nola Lake, Oliver Waldo, Jack Stallworthy, Connor Newcomb.
Wizard Hats are given throughout UPark to celebrate students' good choices and positive behavior. We use a common vocabulary and teach Critical Thinking skills using the BrainWise curriculum.
Each week there is a random drawing of 2 students done by classroom teachers. These children are photographed and receive a token of our appreciation.
*At the end of each month we will be donating all clothing in the lost and found and anything left in the halls (all clothing will go into our little red school house in our parking lot).