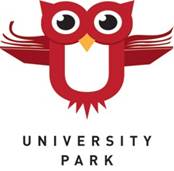 2300 S. St. Paul St., Denver, CO 80210
720-424-3410
Principal
Thank you for a great turnout at this year's first PTA meeting! Great information was provided about the following:
Apple Campaign
Silent Auction
Garden Committee
Wellness Committee
Green Team
Backpack Program
UPark Neighborhood Center
Community Events
Advocacy Work
*Don't forget to download the UPark App
HERE
!
PTA Halloween Costume Exchange
Are you looking for a place to donate your kid(s) old Halloween costumes? Are you on the hunt for your kid(s) Halloween costume for this October 31st? Join us for our second annual PTA Halloween Costume Exchange on September 29th after pick up on the blacktop (weather permitting)! You do not have to donate a costume to come find a new costume. If you would like to donate a costume to the exchange, please bring it to the front office before September 29th.
Thursday, September 28, 8:30-9AM OR 3:50-4:20PM
Does your child love spelling, learning new words and their origins? Does your child enjoy competitive experiences? If so, Semantics Team tryouts are coming soon!
Tryouts for the UPark Semantics Team are listed above - please click HERE for more information and to register your child!
Destination Imagination
Have you been looking for a program for kids who
are creative and love to solve problems? We
have an amazing opportunity for you. There will be an informational meeting about Destination
Imagination on Friday, September 22 from 4:00-4:30 in room 207. The meeting is open to all
interested parents along with their students. Click here for more information.
The Apple Campaign would like to thank everyone who donated money on Back To School Night. The school raised $17,770. We still have a long way to go to get to $70,000 - but if everyone helps we can get there quickly. Remember this money is for next year's staffing to keep our class sizes the lowest in all of DPS.
Our raffle winners from Back To School Night have been notified. Don't forget, there is still one more way to win if you donate before November 10th. See the details for this promotion on the playground in the PTA display. Checks can be dropped off in the office made payable to "UPark PTA" or donate HERE.
Auction Committee Members Needed
The date for the 2018 Auction has been set. Now it is time to start planning! The Auction Committee is looking for additional members to assist with the following:
If you are interested in joining the committee, please email Katie Fitz-Gerald at
auction@uparkelementary.org
. The first committee meeting will be held the week of October 2, 2017. More information to follow.
UPark Fun Run and Carnival
Mark your calendars
for the
12th Annual UPark Fun Run and Carnival
Sunday, October 22nd from
11:30 to 2:30.

Register online beginning 9/28
This is a NOT TO MISS event at UPark that includes:
1 mile fun run

Tee shirt designed by 5th grade student

Bouncy castles

Live music from The Radio Band

Barbecue lunch

Wow bubbles

Art

12+ carnival games

Dunk tank for teachers

Cotton candy and much, much more...
Click
here
for more information.
Help UPark by Shopping at King Soopers and Loaf and Jug!
Last year, UPark raised over $10,000 through this program, and it didn't cost our families a single cent!

How it Works
2. Hand your card to your cashier before he rings up your groceries and tell him how much money you'd like to load on the card, up to $500. It is preloaded with $2.50, which is yours to spend.
3. Use your card like a gift card to purchase groceries or gas, and when it's empty, load more money on it. The UPark PTA will receive a 5% donation from King Soopers every time you reload!
Wellness Committee
Please join us for the Wellness Committee meeting on Tuesday, September 19th at 9am in the Art Room. All are welcome! If you're interested in promoting healthy eating, the garden, our backpack program, or greening up our school then this is the place for you. We're always looking for fresh ideas so join us!
Please see this flyer for more information on highly gifted and talented characteristics, testing and more.
Enrichment Pick up and Drop off
Morning-please walk your students in the building and sign in with enrichment teachers
Afternoon
-students will be dismissed on the playground black top. Please do not go inside the building to pick up.
If you haven't paid for your student's Fall Enrichment class please contact Jesse ASAP.
Please contact Jesse with questions.
University Park Elementary Calendar
Click on the the calendar icon to the right, look below, or visit the
University Park Website
to access calendar information!
5 Star Wizard Hat Students
Congratulations to last week's 5 Star Wizard Hat students! They were recognized by their teachers for positive behavior.
Last week's students include: Shener Zhang, Ayham Alghweel, Brendan Seitz, Abigail Jones, Gabrielle Panella, Lyla Quinn, Christopher Reaves, Zain Arafin, Ronnie Tucker, McKain Shirey, Armonie Campion, Dana AlZubi, Leora Starks, Ryder Ward, Mateo Gochman-Moreno, Beckett Rathbun, Hadley Paben, Evan Carmichael, Dalia Gutierrez, Seamus Slevin, Kaden Frank, Jaymes Keenan, Lincoln Barber, Elizabeth Pischell, Claire Robinson, Saiya Langefels, Delaney Muilenburg, Isaac Rivas, Izabella Castanon, Shyla Trinen, Donoma Pacheco, Linden Ernewein, Cooper Stone, Liam Sturgeon, Kyle Kojima, Chase Cestra, Fabian Bustos, Otis Metz, Lucas Lipke, Ella Wagner, Abigail Heider, Bailey Hodas, Jillian Samaras, Viola Volpi-Swank, Charlotte Hayes, Luke Vialpando, Layla Hurd.
Wizard Hats are given throughout UPark to celebrate students' good choices and positive behavior. We use a common vocabulary and teach Critical Thinking skills using the BrainWise curriculum.
Each week there is a random drawing of 2 students done by classroom teachers. These children are photographed and receive a token of our appreciation.
*At the end of each month we will be donating all clothing in the lost and found and anything left in the halls (all clothing will go into our little red school house in our parking lot).