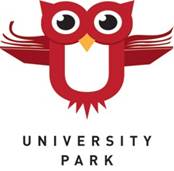 2300 S. St. Paul St., Denver, CO 80210
720-424-3410
Principal
The Apple campaign is now in progress! Have you had time to donate? The grade that receives the most number of donations will receive a popcorn party. Please make sure to drop off your check before November 10th to have it count towards the party. We are only 1/2 way to our $70,000 goal. Checks payable to UPark PTA can be left in the office or donate online
HERE
.
Thank you,
*Don't forget to download the UPark App
HERE
!
Thank you to everyone who came to our first PTA Meeting last week. It was great to see so many new faces at the meeting! If you would like to read the minutes of the meeting, you can find them
HERE
. Mark your calendar for next month's PTA Meeting on Tuesday, October 10th at 6pm in the Art Room.
2nd Annual Halloween Costume Exchange
Please remember to bring in your gently used Halloween Costumes to the front office if you would like to donate to our annual Halloween Costume Exchange. You don't have to donate a costume to come find a new costume for your child. We will hold the exchange outside after school next Friday, September 29th (weather permitting)!
Restaurant Night TONIGHT!
Support the Band by not making dinner tonight!
Our first Restaurant Night of the year is tonight at Pei Wei (3970 Buchtel Blvd). Arrive any time after 5pm and don't forget to let them know that you are a UPark parent.
Destination Imagination
Have you been looking for a program for kids who
are creative and love to solve problems? We
have an amazing opportunity for you. There will be an informational meeting about Destination
Imagination on Friday, September 22 from 4:00-4:30 in room 207. The meeting is open to all
interested parents along with their students. Click here for more information.
Thursday, September 28, 8:30-9AM OR 3:50-4:20PM
Does your child love spelling, learning new words and their origins? Does your child enjoy competitive experiences? If so, Semantics Team tryouts are coming soon!
Tryouts for the UPark Semantics Team are listed above - please click HERE for more information and to register your child!
Auction Committee Members Needed
The date for the 2018 Auction has been set. It is now time to start planning! The Auction Committee is looking for additional members to assist with the following:
If you are interested in joining the committee, please email Katie Fitz-Gerald or Becky MacDonald at
auction@uparkelementary.org
. The first committee meeting will be held on Tuesday, October 3, 2017 at 6:30PM at Becky MacDonald's house (2500 South Josephine Street, Denver, CO 80210).
Looking for a healthy way to start the day? Jump-start your morning by walking or biking with your child to school. Take some time to promote health, safety and the environment by walking with your child to school - or just simply taking a walk together. When you get to school look for the table and sign the banner to get a free sticker to show you walked to school today.
If you live too far from your child's school to walk, you can drive part of the distance, then park and walk the rest of the way. If you ride the bus meet us on the track before school and show your support.
Walking to school is a great way to be a part of a global event and to promote health, to identify safer routes for walking and to improve air quality.
Walk for fitness and walk for fun! See you on the track!
Picture Day is Almost Here!
University Park picture day is October 4, 2017. Picture order forms will come home in this week's Thursday folders.
Please make sure they are returned to your student's teacher with payment no later than October 4th if you plan to order pictures. Picture retakes will be Tuesday, November 14th. Please click here for more information.
UPark Fun Run and Carnival
Mark your calendars
for the
12th Annual UPark Fun Run and Carnival
Sunday, October 22nd from
11:30 to 2:30.

Register online beginning 9/28
This is a NOT TO MISS event at UPark that includes:
1 mile fun run

Tee shirt designed by 5th grade student

Bouncy castles

Live music from The Radio Band

Barbecue lunch

Wow bubbles

Art

12+ carnival games

Dunk tank for teachers

Cotton candy and much, much more...
Click
here
for more information.
Production of the 2017-18 UPark Student Directory is underway!
If you did verify/update your contact information and/or did NOT opt out by the 9/15 deadline, you can expect to receive a directory for your household sometime in October. Thank you for your support in this effort to benefit the students!
Enrichment Pick up and Drop off
Parents picking up for after school enrichments, please have your IDs on you to show the instructors. If you have someone who is not an authorized pick up person picking your student up please email
Jesse
their First and Last name and relation to student.
Morning-please walk your students in the building and sign in with enrichment teachers
Afternoon
-students will be dismissed on the playground black top. Please do not go inside the building to pick up.
University Park Elementary Calendar
Click on the the calendar icon to the right, look below, or visit the
University Park Website
to access calendar information!
5 Star Wizard Hat Students
Congratulations to last week's 5 Star Wizard Hat students! They were recognized by their teachers for positive behavior.
Last week's students include: Remy MacDonald, Logan Shirey, Salem Bendawi, Amelia Babbitt, Madeleine Blair, Olivia Babbitt, Anna Stokesbury, Beau Kroger, Bennett Ruchaber, Elise Cooley, Jude Crowley, Noor Malik, Ronin Wise, Kennon Lamm, Ford Kanafani, Ruby Dokken, Valana Thompson, Nola Lake, Ali Yassin, Bryan Wills, Tyson Wands, Akira Nieft, Zachary Collisson, Franzi Henze, Collier Miller, Charlotte Hammond.
Wizard Hats are given throughout UPark to celebrate students' good choices and positive behavior. We use a common vocabulary and teach Critical Thinking skills using the BrainWise curriculum.
Each week there is a random drawing of 2 students done by classroom teachers. These children are photographed and receive a token of our appreciation.
*At the end of each month we will be donating all clothing in the lost and found and anything left in the halls (all clothing will go into our little red school house in our parking lot).