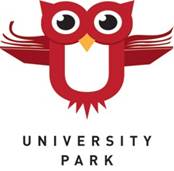 2300 S. St. Paul St., Denver, CO 80210
720-424-3410
Principal
Thanks for a great start to the new year! Mark your calendars for Back to School Night Wednesday, September 6th from 6:00-7:30 pm. Click
here
for the Back to School Night schedule.
*Don't forget to download the UPark App
HERE
!
1st PTA Meeting
We would like to invite you to join us for our first PTA meeting on Sept. 12th at 6pm in the school gym. Childcare and pizza will be provided courtesy of the PTA. We will be discussing and voting on our budget for the 2017-2018 school year.
We would love to see new faces and returning families as well! You can join the PTA at our first meeting or online HERE
(please note, membership is not required to attend the meetings). Your $10 annual membership allows you to vote on our annual PTA budget, and your participation in PTA helps to keep our school community strong and vibrant!
Apple Campaign Begins!
By the end of this week, each UPark family will receive a letter from our annual Apple Campaign. The Apple Campaign is our PTA's direct check writing campaign, and one of our two fundraisers that allow us to provide University Park Elementary with a yearly $120,000 grant. Our yearly grant to the school covers the cost of 2.5 full-time teachers. The 2017-18 Apple Campaign hopes to raise $70,000 towards this grant by November 30th. Please consider giving to this direct check writing campaign in any amount that might fit your family's budget. You can bring a check to Back to School Night on Sept. 6th or donate online HERE.
Help UPark by Shopping at King Soopers and Loaf and Jug!
Last year, UPark raised over $10,000 through this program, and it didn't cost our families a single cent!

How it Works
2. Hand your card to your cashier before he rings up your groceries and tell him how much money you'd like to load on the card, up to $500. It is preloaded with $2.50, which is yours to spend.
3. Use your card like a gift card to purchase groceries or gas, and when it's empty, load more money on it. The UPark PTA will receive a 5% donation from King Soopers every time you reload!
Email Verification for the UPark 2017-18 Directory Coming Soon!
Be on the lookout in for an email from "support@ptapal.com" that contains a link to verify your child(ren)'s contact information for the UPark 2017-18 directory. This link also contains an option for you to opt out of the 2017-18 UPark Directory completely. If you do not receive an email by September 8th, email directory@uparkelementary.org with your name, your child's name and teacher.
Looking for Library Volunteers
The University Park Library is looking for volunteers to help with general library tasks:
Shelving Books

Organizing the stacks
Click here for an update on our classroom compost and recycling program as well as our lunchroom waste stations.
The UPark Green Team is looking for parent volunteers! Please contact Judy Cardenas at judith_cardenas@dpsk12.org to help out this year. We will continue to have Waste Free Wednesdays as well as Zero Waste Party Kits that can be reserved for classroom events. There will be more information to come!
Also new this year, find our Student Green Team member application in the Neighborhood Center section of our website after the August 28 Enrichment Fair. We would love at least 2 students from each class to become a part of the Green Team, working on projects that reduce waste and create sustainability.
If you are in 4th-5th grade, don't miss the opportunity to join the UPark Band! No experience needed. You could play the flute, oboe, clarinet, saxophone, trumpet, french horn, trombone, tuba or percussion! Join us for fun and exciting classes, before school on Mondays/Wednesdays for beginning band and Tuesdays/Thursdays for Intermediate Band from 8:00-8:50 a.m. Wake up your brain with music! Scholarships are available, so plan on making music with us all year long! Our program is thriving with over 70 children who perform music in the community at Coffee House Night, with the DU Basketball Pep Band, flash mobs, presentations at the Music Educators Conference (CMEA) at the Broadmoor and the DPS Citywide Honor Band.
Registration for Girls on the Run is open!
Practice meets every Monday and Friday from 3:45-5:15 the weeks of September 11th through November 18th.
Fee: $170 (includes 20 practices, 5k entry and a t-shirt!).
Click on "Registration Open".

Find and select your school name in the drop down box.

Complete the registration.

Check your email for a registration confirmation email. This means registration is complete.
University Park Elementary Calendar
Click on the the calendar icon to the right, look below, or visit the
University Park Website
to access calendar information!
5 Star Wizard Hat Students
Congratulations to last week's 5 Star Wizard Hat students! They were recognized by their teachers for positive behavior.
Last week's students include: Dawensley Hornak, Sydney Goude, Cassidy Michas, Rachel Garcia-Villatoro, Noah Hayes, Gavan Littman, Zain Arafin, Natasha Nensel, Sadie Woglom, Mateo Gochman-Moreno, William Bollmann, Bristol Betts, Lara Olsthoorn, Abby Baker, Carter Hammond, Ben Blackmun, Meriah Martinez, Jack Carmichael, Reese MacDonald, Eve Robinson, Ian Stow, Clessie Mugisha, Dyson Landy-Hemley, Max Henze, Karma Montoya, Leora Starks, Drea Dickman, Nicoletta Leathers, Noble Stewart.
Wizard Hats are given throughout UPark to celebrate students' good choices and positive behavior. We use a common vocabulary and teach Critical Thinking skills using the BrainWise curriculum.
Each week there is a random drawing of 2 students done by classroom teachers. These children are photographed and receive a token of our appreciation.
Wednesday, September 6: Back to School Night (6:00-7:30)
Click
here
for the 2017-18 UPark Calendar.
*At the end of each month we will be donating all clothing in the lost and found and anything left in the halls (all clothing will go into our little red school house in our parking lot).