February Special: Jim Thorpe,
The World's Greatest Athlete

This documentary focuses on Jim Thorpe, a Native who was an outstanding athlete in the early 1900's. Jim Thorpe was born on a farm in Oklahoma and not extraordinary wealthy. His opportunity to compete in sports became available in his late teens. Later Jim Thorpe would become The World's Greatest Athlete. He was the first Native American to win two Olympic gold medals at the summer Olympics.
For a limited time only, both the home and educational DVDs are available at a
20% discount
. Visit
www.visionmaker.org
today to order this and other DVDs from our online catalog.
Check out these and other specials
New Release: Playing for the World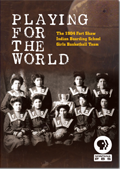 In 1902, a unique combination of Native women came together at a Montana boarding school. They used the new sport of basketball to help adjust to a rapidly changing world. Their travels and experiences led them to places they never imagined. Ultimately, they played for something much bigger than themselves.



Celebrate Black History Month: American Cowboys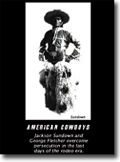 In honor of Black History Month, NAPT wants to spotlight American Cowboys, a documentary about two African-Americans--one from Native descent and the other with a strong Native connection.

Jackson Sundown was of Flathead and Nez Pierce Native American descent. Sundown lived on the Flathead reservation as a child then later moved to the Nez Pierce Reservation and made a living breaking horses.

George Fletcher was born in Kansas and later migrated to Oregon where he was one of very few African-Americans in the area. When George was accepted by the Umatilla Tribe, he adopted their language, traditions and methods of survival. While there, the elders of the Umatilla also taught him how to break horses.

These two young men broke the color barrier of the time to be a part of the rodeo circuit. American Cowboys is a fantastic documentary about defying obstacles and making history.

Check out the promo and other great Native themed titles at www.visionmaker.org.

Print Catalog for Educators

VisionMaker Video now has our print catalog for educators available online. Downloading our print catalog is simple and saves time. It includes brief descriptions of our feature films and documentaries.

Our catalog also has producer profiles, which gives you the chance to meet the creative men and women behind these great films.

Download our educational print catalog.

If your school or university would rather be mailed a hard copy, e-mail us at visionmaker@unl.edu
Past Favorites Re-Released on DVD

NAPT is happy to re-release on DVD some documentaries that were previously only available on VHS.
Great American Foot Race
: Documents an extraordinary 3,422-mile cross-country trek, won by 19-year-old Cherokee Indian Andy Payne.
Home DVD
|
Educational DVD
Hand Game
: An inside view of an ancient form of gambling that combines strategy, wit and skill.
Home DVD
|
Educational DVD
Harold of Orange:
This comedy explores the interaction of two Minnesota cultural groups, American Indians and philanthropic foundations. Stars Charlie Hill (Oneida).
Home DVD
|
Educational DVD
We Want to Hear from You