What's Happening Past Issues
READ OUR MONTHLY NEWSLETTER
More About
Church Outreach Programs
I want to thank you all so very much for my wonderful tim
e at FCCSR. My tenure as your Office Manager has be
en
such a pleasant experience from start to finish, and I want you all to know that you will be missed. I am sad to go, and especially after the blessing by Pastor Tracy and the warm celebration that you all put together for me on January 10th. Thank you for my gifts as well and for your warmth and friendship. I promise I will not be a stranger, and will be popping in on you from time to time. Thank you all for making me feel so valued and so welcome, and I wish you all the very best.
Eric Rowe
SPECIAL GUEST REV. PHYLLIS RICHARDS JANUARY 17
Rev. Richards comes to us from the UCC National Office in Cleveland, Ohio. She is coming to talk with us about her work with One Great Hour of Sharing and how our youth and congregation can help to address the plight of the refugees from Syria and around the world.
Please join us for three special events:
10 AM Worship in the Sanctuary
1:00 PM Youth Event in the Sanctuary
4:00 PM Lecture and Reception in the Sanctuary
Rev. Phyllis Richards
is a graduate of Case Western Reserve University a
nd the Chaplaincy Internship Program of On One Accord Ministry. She works as the Program Associate for the Global Sharing of Resources Team of the United Church of Christ (UCC). She has dedicated her life to helping others.
Rev. Richards works for the UCC promoting the One Great Hour of Sharing offering, an ecumenical offering in which several denominations and Church World Service are participants. Working together, they share Gods love around the world raising funds and sharing funds where needed most. Approximately $12 Million is raised annually, to respond to disasters in the States and around the world, to support sustainable development in the areas of health, education, and agriculture internationally, and to address and support refugee and immigration concerns. Rev. Richards, as part of the National Headquarters of the UCC helps its 5,300+ churches promote the offering.
MARIN HUNGER WALK MEETING JANUARY 21 at 6:00 PM
Oak Room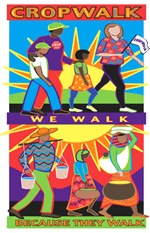 This year, Rev. Tracy Barnowe has been asked to lead the coordination of the Marin Hunger Walk. In an effort to rejuvenate the Walk, we are making two major changes:
1. Youth will be an integral part of the planning team
2. The Walk will be a Treasure Hunt
Mark your calendars! The Marin Hunger Walk will be held Sunday, June 12!
Please join us as we begin coordinating the walk at this initial meeting. Click here for a full agenda and more information.
NEW REFRESHMENTS ASSIGNMENT SYSTEM
Coffee hour and refreshments after worship are an important social time for our church where we reconnect each week, get to know newcomers, and share how the spirit moves in church life and in worship.
It has been challenging to find enough volunteers to coordinate this important aspect of our church life. We give a big thanks to
Lucinda Ray, who has volunteered to manage this important time in our community life and is pioneering a new system in which everyone helps. Watch for a call soon from Cindy asking for your help on one Sunday between now and April!
Thank you to everyone for pitching in to keep Refreshment Hour fun, sociable, and manageable.
Click here
for more information.
As we enter into 2016, we will be preparing a new church directory. Please keep an eye out on Sunday mornings for a directory in the Community Room so that you can double check that all your address and phone number information is correct for the new edition!! Please call or email the church office if you have any questions.
Pixar's "Inside Out" has been hailed as "A thrilling return to form for Pixar" and "a flat-out masterpiece." It deals brilliantly and seriously with how we grow up and learn resilience; It's full of uproariously funny moments; and it's a shoe-in to win big at the Oscars in February.
"Inside Out" takes place inside the head of an 11 year-old girl named Riley. There we meet the crew of emotions - Joy, Fear, Anger, Disgust, and Sadness - who negotiate how she will respond to life's challenges. Their job threatens to overwhelm them when Riley's family moves from Minnesota to San Francisco, and she has a rough time adjusting.
This is a perfect movie for pre-teen and older kids to share with parents and anyone else who's survived growing up. This movie night will be a joint production with the FCCSR Youth Group, and
Pizza will be served!
7 PM Friday January 22 In the DeHaan Center at Pilgrim Park
JANUARY 24 - 11:30am - Board of Ministry Meeting
Sunday, January 24, 11:30 AM in the Plum Room
JANUARY 25 - TIE DEADLINE
The deadline for articles and news for the February 2016 issue of The TIE is Monday, January 25. Please have all articles for the February issue at the church office by Sunday, January 24th. Or, email your articles to lucindaray@aol.com.
ANNUAL MEETING JANUARY 31
What is two days before Groundhog Day, seven days before that American football extravaganza, and the same day as Jackie Robinson's birthday? Save the date for these celebrations, and more importantly, for the church congregation annual meeting immediately after church. In the United Church of Christ denomination, the congregation is the final authority. In this annual meeting, the congregation reviews and approves the budget and elects officers for the coming year. Following the meeting, the congregation's important task will be to enjoy the comradery and food of our classic church potluck.
SAVE THE DATE! MARIN HUNGER WALK JUNE 12
HOMEWORK CLUB MEETS on WEDNESDAYS AND THURSDAYS
Sponsored by the Board of Mission, the Homework Club serves children from Pilgrim Park and provides support and tutoring as they complete their school homework assignments. About 10-12 children attend each Wednesday and Thursday from 4-5 PM in the Oak Room. We are definitely in need of more tutors to help staff this vital program. If you are able to volunteer as a homework helper, please contact Mission Board chair Sue Spofford or Pastor Tracy
FROM ALAN MILLER
Janeth Paz - Who has provided household help to the Millers for 15 years, the Fullers and Spoffords, needs a job on Tuesdays, preferably 12:30-4:30pm. For info call Alan 415-479-5467, or Janeth at 415-261-1743.