WELCOME
The Roundtable welcomes Professionals for Nonprofits (PNP) as a corporate member. PNP provides a full array of employment services to nonprofits - ranging from temporary to direct hiring.

UPCOMING EVENTS & OPPORTUNITIES

July 27 - Anybill Webinar
Learn how you can seamlessly automate your entire accounts payable process with Anybill. Roundtable Members save with a 15% discount.
Click here for more information.
Nonprofit Energy Alliance: Learn how your organization can save 10-15% on energy costs. Register for one of our informational webinars today!
Sept. 19 - 2011 Nonprofit Montgomery Annual Meeting:
SHAPING OUR FUTURE

Join Nonprofit Montgomery for an interactive discussion on the changing demographics of Montgomery County, and what it means for the work of nonprofits. Click here for more information.
Our Twitter Member feed has the latest news on members.

The Arlington Community Foundation is accepting nominations for the William T. Newman, Jr. Spirit of Community Award, according to The Sun Gazette.

A Wider Circle's softball fundraiser was mentioned in Silver Spring Patch.

The Boys and Girls Clubs of Greater Washington benefited from the annual Congressional baseball game, which was won by the Democrats, according to ABC News.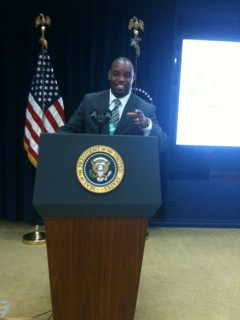 The Capital Area Food Bank's Brian Banks spoke at the White House Community Leaders Briefing Series, according to the CAFB blog.


CASA de Maryland's Kim Propeack, speaking of the 63K signatures that have been collected to put the Dream Act on the ballot in 2012, said that CASA "is certain that there are signatures that can be challenged" in The Annapolis Capital Gazette. Separately, CASA's Gustavo Torres was extensively profiled in The Washington Post.

Casey Trees is one of seven environmental organization to receive funds from DC's plastic bag charges, reports Georgetown Patch .
Separately, Casey Trees' information on shaded homes receiving 10-30% more savings in air conditioning costs than unshaded homes was mentioned on NBC Washington.

The Catalogue for Philanthropy's partnership with CGI Group was mentioned in The Washington Post.

The Community Foundation for the National Capital Area's "Putting Race on the Table" discussion was mentioned in a press release.

The DC Fiscal Policy Institute's recommendation that the DC Council schedule at least 48 hours between a tax change proposal and a vote was mentioned in The DCist.

DC Vote said it was "disappointed" that the trial of a DC Advisory Neighborhood Commissioner could not go forward, due to the mayor not showing up as a witness, on WUSA9.

Deloitte held its National Leadership Conference for top performing undergraduates in New York recently, according to a press release.


Enterprise Community Partner

s

partnered with architect Bruce Toler to create a community of "Katrina cottages" in Mississippi, according to Grist. Separately, Enterprise Community Partners' work with the Natural Resources Defense Council's Kaid Benfield to create the Green Communities program was mentioned on the NRDC blog.

Fight for Children's exemption from DC's smoking ban for its annual Fight Night is going in front of the DC Council once more, according to NBC Washington.

Scouts from the Girl Scout Council of the Nation's Capital greeted a contingent of veterans on an Honor Flight trip, who flew into Dulles to see the WWII memorial, according to Ashburn Patch.


Good Shepherd Housing's Shannon Steene penned an opinion piece on what it means for nonprofits to act like a business in Mount Vernon Patch.


GuideStar's Lindsay Nichols praised the IRS's move to strip tax-exempt status from nonprofits that are no longer functioning in Roll Call .

The Human Services Coalition of Prince George's County's capacity building programs and networking opportunities are credited with helping the county's nonprofits make improvements in The Gazette.


The Latino Economic Development Corporation, CARECEN, ONE DC, and the Washington Legal Clinic for the Homeless are among the organizations participating in the 4th Annual Citywide Tenant Town Hall, according to the LEDC blog. In other news, the LEDC organized a Before and After Neighborhood Tour to showcase ways to preserve affordable housing in areas affected by gentrification, according to The Examiner.

Leadership Arlington announced that its Young Professionals Program is seeking "rising stars" in ARL Now. Also, LA has appointed Robin Norman the new Chair of the Board of Regents, according to The Sun Gazette.


Mary's Center has been recognized with the 2011 Affiliate of the Year Award by the National Council of La Raza, according to a press release.




Miriam's Kitchen has adopted a "Meat-free Monday" resolution to encourage clients to choose healthier food options, according to Voices of Compassion.

The National Coalition for the Homeless's Neil Donovan commented on the death of the founder of Rosie's Place, the first homeless shelter for women, in The New York Times.

A New Hope Housing shelter in Alexandria was recently renovated with the help of dozens of volunteers, according to Old Town Alexandria Patch.

Northern Virginia Community College's Automotive Training program, which recently received a visit from President Obama, was featured on NPR. NVCC is also preparing to unveil a plaque marking a Civil War trail according to The Washington Post.



The Northern Virginia Health Foundation has invested more than $760K in grants focused on health and healthcare, reports The Loudoun Times.
The Piedmont Environmental Council's assistance to a farmer working to both grow organically and increase biodiversity was mentioned in The Rappahannock News.

Reston Interfaith has funds available to help families facing foreclosure, according to Reston Patch.

Voices for Virginia's Children's Margaret Nimmo Crowe said that money for mental health services is not reaching all the kids that need those services in The Virginian-Pilot.

August 2: Rosetta Thurman will speak at the Silver Spring Civic Building in a special program sponsored by Maryland Nonprofits.
August 3:
Join
Serve DC -The Mayor's Office on Volunteerism for a full-day professional development workshop on service-learning.

August 7: Join The Quality Trust for their 10th Anniversary Dinner Cruise and Celebration
August 12: HomeAid Northern Virginia hosts a "Night at the Park" for homeless children and their families, sending 200 people to a Washington Nationals game in Woodbridge, VA.