Children's Easter Program
Video of last night's Easter program by our children's choir is now online at YouTube. A special thanks to Benita, Tommy, and all the children and parents who made last night a success.
On Wednesday, April 4th, we will have our fellowship meal at 6:00, with the business meeting to follow at 7:00 pm. Remember to bring your potluck meal and join in this time of fellowship.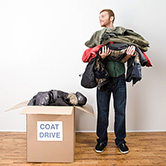 Don't forget to donate to our Clothes Closet ministry. Also, volunteers are needed on April 13th and 14th. Please see Rhonda Blackburn for more details.
Farmdale Baptist Church
5610 U.S. 127 South
Frankfort, KY 40601