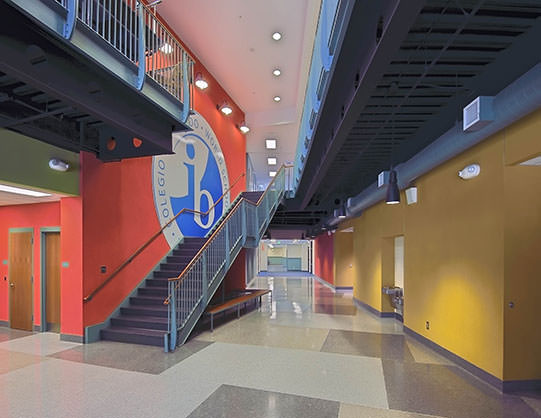 ---

Buist Academy Wins Regional Design Award


Craig Gaulden Davis does not start projects with the thought of winning design awards. We believe that whatever budget or program, the right solution offers beauty, functionality and longevity. We consider it such a privilege to be recognized for the creating inspiring spaces and an honor for the entire team because design and construction is a collaborative process that necessitates the owner, engineers, contractors and users working together.

In March, Buist Academy, a K-8 school in downtown Charleston, won a Honor Award from the South Carolina Chapter of the Council of Educational Facilities Planners International (CEFPI). Based on the success of the project at the state level, the design team lead by CGD and Stubbs Muldrow Herin architects in Mt. Pleasant submitted the project for a regional CEFPI design award. Last week in Asheville, Buist Academy received a "Best Design Award." Of the seven states in the region, Buist is the only project in South Carolina to receive recognition. Buist is the first regional award for Craig Gaulden Davis, but our team has been recognized five times by the state chapter of CEFPI for the following projects:

| | | | | |
| --- | --- | --- | --- | --- |
| Carolina High | Mount Lebanon Elementary | Mt. Pleasant Academy | A.J. Whittenberg Elementary School of Engineering | Buist Academy |
| | | | | |
| Greenville County Schools | Anderson School District Four | Charleston County School District | Greenville County Schools | Charleston County School District |
| In association with Perkins + Will | | In association with Stubbs Muldrow Herin architects | | In association with Stubbs Muldrow Herin architects |

Susan Zeigler

CGD's Financial Manager, Susan Zeigler, is a low-key, organized and efficient numbers person working in the middle of thirteen animated design professionals. She never envisioned herself working alongside her husband, CGD President Ed Zeigler, but thoroughly enjoys the creativity and fun of CGD's architects and interior designers. She joined the firm in 1998, exactly fifteen years after Ed was hired by the original founders. Her primary focus is to manage the financial and HR details so they can concentrate on design and project management. She strives to maintain strong relationships with our clients and consultants by being attentive to their concerns.

Susan and Ed met while students at Clemson University, and have been married for 35 years. They enjoy spending time with their family, daughter Claire and her husband Jared, and their son Tate.

Susan has relished the adventure of travel and meeting new friends through involvement with AIA on the national level. Her favorite thing is to learn something new, from a recent watercolor class and hike at The Swag in western North Carolina to a cooking class on Greenville's Main Street. She and Ed just returned from SC ETV's A Chef's Life tour of Kinston, NC where they dined at PBS sensation Vivian Howard's restaurants, Chef and the Farmer and The Boiler Room. Her idea of relaxation is a long walk, a hearty political debate, reading biographies, or a competitive game of Scrabble.

Stenger Wins Inagural CGD Masters

Stuart Stenger carded dramatic birdies on the last two holes at the famed Coalyard East Course and claimed his place in history as the inaugural winner of the CGD Masters during an exciting final round Wednesday. Attributing his gutsy finish to ""a lot of hard work,"" Stenger turned a sluggish start into a torrid finish by mastering the perilous final hole that nearly took him out of contention during an earlier round. His dramatic finish allowed him to post a score of 2 under par immediately prior to the opening tee shot of leader Kim Poole, who had led the field through all three rounds and was seeking a historic "wire to wire" finish. Poole confidently birdied the second hole and appeared steady, but as she turned toward the homeward three holes, the final round pressure began to fray the edges of her steely demeanor. She drew an unfortunate gnarly lie at the back of the fifth green leading to a double bogey that brought Stenger back into contention. Needing a birdie on the final hole, her tee shot succumbed to "the "narrows"" and ended her inspiring run. While disappointed but proud of her effort, Kim was gracious in defeat and acknowledged that these joyous and painful experiences always find a home at the major championships and that she will "learn from the experience."

The final round drama - set amid the beautiful flora that defines Coalyard East and augmented by tangy pimento cheese sandwiches, free flowing beer and uncharacteristically raucous fans - concluded with the presentation of the revered green jacket and the sterling trophy to Stenger, who until that moment had long been considered the best architect on the planet without a major championship. By overcoming the challenge of the lightning fast greens, demanding pin placements and spirited charges by talented putters from around the globe, Stenger firmly established himself as the firm's Number One Putter.


CGD Team Picked by Anderson School District Three

Craig Gaulden Davis was delighted to be selected to work in collaboration with MB Kahn on the building program for Anderson School District Three. CGD has completed fifteen successful educational projects with MB Kahn in Anderson County, including the award-winning Mount Lebanon Elementary School. CGD and MB Kahn will integrate the design and construction to meet the programmatic needs of the district while bringing the projects in on time and on budget.

On the Boards: CGD Helps Limestone Solve Housing Need

The combination of a quality education, the addition of a football team and a second national championship in men's lacrosse has contributed to a spike in enrollment at Limestone College. To meet this demand, the four year liberal arts institution in Gaffney, SC commissioned Craig Gaulden Davis to design a 204 bed dormitory on campus. The design features multiple common spaces in each wing of the multi-story structure which seeks to encourage interaction and collaboration among students and to provide a diverse mix of unit types within the structure. CGD has a long history of campus housing design having recently completed five new dormitories for Anderson University and developing a master plan for a 1500 bed mixed use development now underway at Clemson University.


Craig Gaulden Davis
19 Washington Park, Greenville, SC 29601
T: +1 864.242.0761
E: design@cgdarch.com

You have received this newsletter from Craig Gaulden Davis because you have provided your email address to us.