About Us



The San Luis Obispo Downtown Association is a non-profit membership organization working--through programs, services and advocacy--for the economic, social, cultural and environmental vitality and beautification of Downtown."
Downtown Association Hosts State of the Downtown Breakfast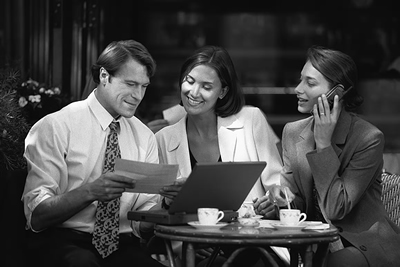 The Downtown Association will host its first annual State of the Downtown Breakfast on Wednesday, August 15, 7:30 at MoTav (formerly Mothers' Tavern) in Downtown SLO.
This special event is being offered to give members and the general public a glimpse into the current state of affairs in Downtown as well as review the annual report and year in review. A panel discussion featuring business and community leaders will cover a range of topics affecting Downtown including transient-related concerns, parking, business education and assistance, development projects and other issues identified by Downtown Association members in a recent survey as relevant to working, visiting and living in the Downtown core.
Attendees will gain insight into ongoing programs and activities conducted by the Downtown Association to deliver a safe, clean and viable Downtown as well as City and other community organizations' efforts in supporting a strong and beautiful Downtown.
A full, hearty breakfast will be served and all attendees will receive a copy of the Annual Report. Cost for the breakfast is $25 and reservations must be made in advance.
Call 541-0286 to make a reservation or for more information; or visit www.downtownslo.com to reserve online.
TASTE OF SAN LUIS® ~ Tickets Available
The Taste of San Luis® is celebrating its twentieth year as the premier epicurean affair in Mission Plaza.
This year's theme, "Spanish Nights, Spanish Lights," reflects the fundraising goal of the event to assist in paying for the beautiful Downtown Tree Lighting project completed in June.
Featured at Taste of San Luis® is a wide assortment of over 60 of the Central Coast's best wine, beer and food vendors. A hallmark of the event is the spectacular live entertainment and floor show that sets the event apart from others of its kind. Reserved/signed tables of 8 or 10 are available for $125 per ticket.
A new feature to this year's event is tiered ticket pricing; we are offering non-seated entry for $75 per ticket in an effort to bring the tastes of San Luis to a new audience.
For more information or to purchase tickets, please contact the Downtown Association at 541-0286, brent@downtownslo.com or visit www.DowntownSLO.com.
National Library Card Sign-Up Month
In celebration of Library Card Sign-Up Month, SLO County Public Libraries are offering a free "library card upgrade" to local library fans. The new library card, depicting a beautiful "Seven Sisters" design created by Cambria Library employee, Destiny Carter, offers both a wallet-sized card and matching keychain card. You can even show off your new card online at the SLO Library website. We will be featuring a slideshow of SLO folks with their library cards at www.slolibrary.org during the month of September.

"We are so fortunate to have such talented library staff. Destiny's design celebrates the beauty of the county. Your library card now provides a sense of pride for all who support libraries and for residents who appreciate the beauty of this wonderful area. This month you can show off your card in a gorgeous SLO location or somewhere fabulous in another part of the world. " said youth services coordinator Margaret Kensinger-Klopfer.

September is the month when the American Library Association (ALA) and libraries across the country remind parents and caregivers that a library card is the smartest card you can own.
When it comes to achieving academic success a library card provides students with access to a world of both print and electronic resources. Students can access free databases and attend programs, activities and clubs that provide an added value to the educational experience. No wonder that 84-percent of Americans agree that the public library is important to education.

Today's libraries also provide tools for learning computer skills, trying out new languages, getting travel information, watching free movies, trying out the newest video games, downloading ebooks, working on your job hunt, or just enjoying the latest great book. Not only that, but the library comes with an expert in developing original programs and honing these new skills - a librarian. What better place is there to explore and develop new interests than at the library?

Just come into your local SLO County Library, located in 15 locations in the county, and upgrade your card to one that has a matching key card and wallet card. Lost cards can also be replaced for free throughout the entire month of September. Fans of the library can send in pictures of themselves with their library card, to be featured on the library's Facebook and webpage by uploading their picture to: http://www.flickr.com/groups/slolibrarycardmonth. For more information take a look at the San Luis Obispo County Library website
"Downtown Brown Gets Down"
On August 2 at TNP Farmers Market, Downtown Brown joined one of the market's regular performers Music Motives "Bucket Busters" for a demonstration of his talents. For a listing of entertainment at the market, view the weekly ad in the Tribune's Ticket or online at www.downtownslo.com.
Way to go, Brown!
T

HURSDAY NIGHT FARMERS' MARKET ENTERTAINMENT
MAIN STAGE AT

FARMERS' MARKET
CONCERTS IN THE PLAZA
- CRITICNUE -
Concerts in the Plaza presented by Sunset Honda welcomes Criticnue (Critic-in-you) to the stage this week. Their unique version of rock & roll will have you tapping your feet along with the tune in no time! Come on out and enjoy another great evening in the Plaza! The band is sponsored by Wells Fargo.

With overflowing crowds and a buzzing Downtown created by Concerts in the Plaza, take this opportunity to stay open later and encourage patrons to visit your business. Click here to visit our Concerts in the Plaza website form more information or contact Sarah Ragan at 541-0286.
San Luis Obispo Downtown Association
1108 Garden Street, Suite 210
San Luis Obispo, CA 93401