Wednesday, August 15 7:30 AM MO | TAV

Interested in issues that affect Downtown businesses? Want information about how trends and the economy will shape your business in the future? Care to know more about ongoing programs your Downtown Association delivers to keep Downtown safe, clean and viable?
If you have a business in - or any connection at all to - Downtown SLO, then you won't want to miss this informative, insightful and strictly no-nonsense event programmed especially for you.
As attendees, you will gain access to perspectives from your peers and community leaders as to the current snapshot and future vision of Downtown's success as a commercial district and magnet for visitors.
You will also have a chance to ask questions, get answers and enjoy an interactive dialogue with experienced panel members who share your concerns. You'll receive a copy of the Downtown Association's annual report, offered in hard copy only to those who attend the breakfast. (The report will also be posted online for public access.)
Lastly, you'll enjoy a d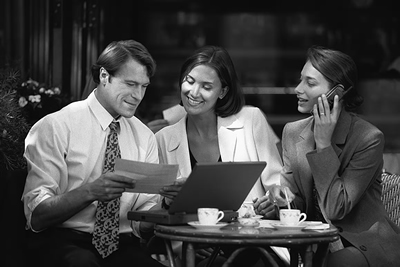 elicious morning meal, interact with your peers and meet new Downtown acquaintances in the hour-and-a-half session.
Seating is limited so please register right away. We are interested in the health, progress and success of all Downtown businesses-including yours. Please join us and become part of the movement to keep Downtown SLO as one of the best places anywhere to do business.
PROGRAM
State of the Downtown Address Dominic Tartaglia, Board President
Deborah Cash, Executive Director
Annual Report Deborah Cash, Executive Director
Panel Discussion
SLO Police Chief Steve Gesell provides insight on transient-related and problem behaviors in Downtown SLO. What are the issues, what are the solutions?
Doug Davidson, Deputy Director Community Development: In the past few years, a number of development projects including Garden Street Terraces and Chinatown have been proposed and are moving forward. Marsh Street Commons is already underway. What is the status of these and other projects?
Mike Chaney, Owner and founder of Central Coast Surfboards: Observations from a long-time Downtown business owner who's rolled with the punches and changed with the times including a major relocation and remodel. Hear his story, his suggestions and vision for Downtown.
Israel Dominguez, Director of Business and Entrepreneurship Center at Cuesta College: So you're in business for yourself--is it going the way you planned? Do you have a plan? Are you current on the trends and basics of your industry? Business education is an important component of understanding how to achieve your goals and stay current, learn about programs and classes available locally, many at no or low cost.
Robert Horch, Parking Services Manager and Downtown Champion: There've been some changes to the meters, rates and Sunday parking this past year. These are all part of parking management systems to ensure that our inventory and user friendliness are all up to date; learn how these newly implemented programs are working to benefit our parking situation in Downtown.
Ron Meier, Owner, Mo Tav: For the past two years, nightlife in Downtown has been a hot topic. But out of those discussions was born Safe Night Life and the collaboration of restaurant and bar owners wanting to change perceptions through actions and awareness. Hear about this program and how things are going in 'the other 9 - 5' in Downtown SLO.
Ermina Karim, President/CEO, SLO Chamber of Commerce: To be clear, the Downtown Association and Chamber have similar desires when it comes to the health of Downtown but our programs and services are distinctly different. Find out how the SLO Chamber of Commerce strives to serve the unique needs of Downtown and why membership in both organizations is critical to business success in Downtown.
Jay Beck, Senior Vice President/Branch Manager Founders Community Bank: Can you read your financial statement? Do you know if you are sufficiently capitalized or not? How can you work with your lender to grow your profits and recognize areas in your business and financial plans that need fine tuning? Learn about the dollars and sense of knowing your numbers.
Questions and Answers
Menu
Mo Tav's delicious buffet features egg scrambles, breakfast meats, potatoes, pastries, fruit, coffee, tea and juices.