Wicker Park Bucktown Pipeline 7.05.2011




Having trouble viewing this email? For optimal viewing, use Safari, Chrome, IE 7/8, or Firefox browsers.

June 21 Pipeline

Thank you to the following Sponsors who make this e-newsletter possible:

Eva Bergant, Realtor

Jackson Junge Gallery & Framing


Pipeline's website
Pipeline's YouTube Channel Pipeline's blog
Pipeline on Twitter, @thelocalfeed
Philin Phlash's Photo blog

THANK YOU TO ALL PIPELINE BOOKLET

Sponsors AND

COUPLES CORNER

2014 W. Division

(Damen/Division)

15% off CC's already-low prices thru 7-15-11 when you mention "pipeline!"




Happy Belated Fourth From The Pipeline!

We hope you had an enjoyable Independence Day Holiday!

Though we were not planning to send out a pipeline, we returned home to an in-box brimming with news/events, along with a visit from Philin Phlash, who popped by 'HQ' with no less than a few hundred images, so we selected a few standouts, now running as a slide-show on our home page, along with snapshots that we (Alisa) snapped of festive performers at the corner of Armitage and Milwaukee, above.

Flat Iron artists Jo-Jo Baby, Sal-E, and photographer Bernard Colbert, right, were spotted around 10PM on Fourth of July evening near Six Corners as we walked to the bank to deposit booklet advertising checks, speaking of which, the printed booklet is at the printer!!!!!!!!!!!!!

Thanks to ALL who elected to take part in our first printed effort! We could not have done it without your support and belief in the pipeline.

On the way to the Wicker Park Committee's 'Animal Forum' meeting last night, we ran into a local business owner who asked, "Is it too late to be in the booklet?"

Our answer was (finally) "YES!"

Thanks for reading.

Your Pipeline Team
Alisa, Joe, Phlash, Nandika, Harris



RESIDENTIAL SPACES is Made Possible by Eva Bergant,
@properties Realtor




Eva is very busy bringing together the many parts of thel BCO Bucktown Tree and GardenWalk, so she will be back in full swing next week, but in the meantime visit Eva and her garden at the Garden Walk THIS WEEKEND, July 9-10. The gardens are open from 11 am to 5pm and you can start your journey at the walk's presenting sponsor, Club Lucky.

A Gingko tree grows in Bucktown. For more photos we snapped during a Bucktown Tree Tour led by Janet Mworka, click here

In addition to touring over 100 local Bucktown gardens, be sure to check out the 100 local trees featured in a Neighborhood Tree Inventory. Learn all about this year's 'Tree of the Year,' Gingko Biloba, in this Our Urban Times story by Jim Edminster.

Eva Bergant i

s a

Bucktown resident and local Realtor with a community driven style. In addition to being president of the Bucktown Community Organization (BCO), Eva has long served as the chair of the Bucktown Garden Walk.. You can reach Eva by email, or 312-543-6819.




LINKYPOOS is Sponsored by

2212 W. Armitage, p: 773-384-4454

Tues. 10AM-10PM; Wed 10AM-8PM;

Thurs.-Sat 10AM-7PM; Sun. 11AM-5PM

Lots of great new products and restocks have been pouring into the store these days; we almost don't know what to play with first! Here's a quick look at some of the recent arrivals that are capturing our attention.

Think Galacticon 2011, the social activism and science fiction/fantasy readers convention which grew out of a weekly meet-up at Wicker Park's Myopic Books, is coming to Roosevelt University July 8-10. Read more about the convention in this write-up by Time Out.

Racked Chicago covered opening day at Chrome Bags, 1529 N. Milwaukee Ave. The store, which carries a large line of cycling apparel, also has a sewing station where you can customize your new biker threads.

CBS Chicago has a one-day guide to Wicker Park's most family-friendly locations along Division Ave. The guide points you to destinations such as Building Blocks Toy Store, 2130 W. Division, Milk & Honey Cafe, 1920 W. Division, and Crust at 2056 W. Division.

Read the rest of this column on our new website!

-Nandika Gervais, Alisa Hauser
COMMUNITY NEWS is looking for a section sponsor. Call 773-960-3997 or email us.

Phlash snapped this shot of a happy just-hitched couple at St. Hedwig's Church in Bucktown, above. We elected to include this photo over the one Phlash submitted of a man in a stretcher going into an ambulance at Division and Ashland. If you were headed into an ambulance, would you want to be in a newsletter? Let us know your thoughts on that. Phlash also documented an action shot of his good-spirited wife, Suzanne, dropping her ice cream on the sidewalk in front of Margie's Candies, and then picking it up. The man is on the scene, always, and we love him for it-- and hope you do too!

Do you have milestones (graduations, marriages, births, business or personal anniversaries, deaths) to share? Let us know!
Do you have a car? The city's grace period for purchasing and displaying your city sticker ends next Friday, July 15. Avoid a steep $120 ticket and an additional $40 late fee by popping into City Hall, since it might be too late to get your sticker in by the deadline if you purchase it online. (You can also avoid lines by taking advantage of a newly launched 'will call window' for city stickers, per theexpiredmeter.com)
The latest chamber e-newsletter contains news on various upcoming events, including a paper and shredding recycling event this Saturday, July 9. Check it out here. Also chock full of new news is the July 1st Edition of Holstein Happenings, from Friends of Holstein Park.
Headed West? West Town's West Fest and Kid's Fest are this weekend, July 9-10. It's out of our coverage area (find The Pipeline at the BCO Garden Walk!), but you can read more about the annual festival in First Ward Alderman 'Proco' Joe Moreno's July 7 e-newsletter.
The Holstein Park Pool opened a few weeks back. There is a Chicago Park District swimming class for youths ages 6-12 years, which takes place on weekends from 5 to 6PM. Get the updated (as of 7/ 2011) pool schedule HERE.
Doug of the Wicker Park Garden Club working in the park, '10. There is an interview with Doug in the We're in the Neighborhood printed booket, due out July 15!
The Wicker Park Garden Club welcomes volunteers to assist with gardening in the park on Saturday mornings, from 10AM-1PM, through the fall. In other park news, there's softball every Monday (more on this 16" blog) and Magic Boat puppet shows run on Saturday July 17, and 31st, 11AM at the playground. The next Movie in the Park, Indiana Jones and the Temple of Doom, sponsored by The Wormhole, goes down/up at dusk on Monday, July 18.
There's no need to trek to your nearest grocery store for produce in the summertime when you can pop in on a great local market... The Wicker Park's Farmers' Market, 1425 N. Damen, occurs every Sunday from 8AM-2PM now through Oct. 30 and has many participating vendors.
Looking for even MORE market excitement? The first day of the weekly Thursday Polish Triangle market yielded over 150 shoppers last week, per this newsletter. Check out the photos.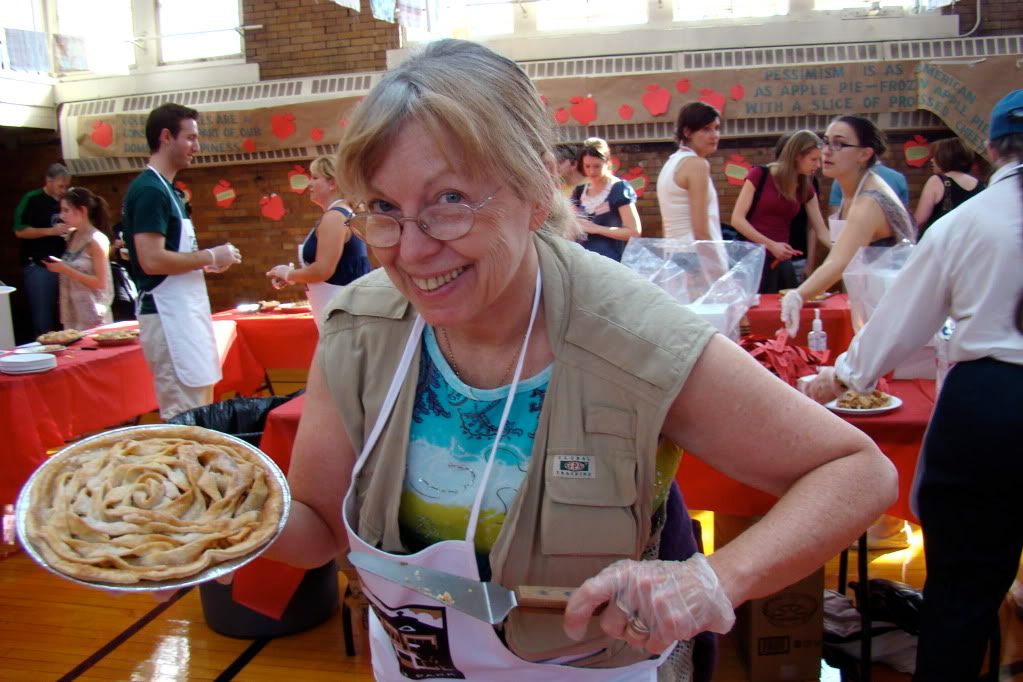 One of many pie contest volunteers... won't you join her?
In volunteer opportunities, THE BUCKTOWN APPLE PIE CONTEST needs you! Visit FOHP to learn more about how you can help make this event a reality. The next meeting is slated for Tues. July 19 at 6:30PM in the field house, 2200 N. Oakley. Check out a few of the photos that The Pipeline snapped at last year's event. Send an email to contest organizer Michelle to get involved.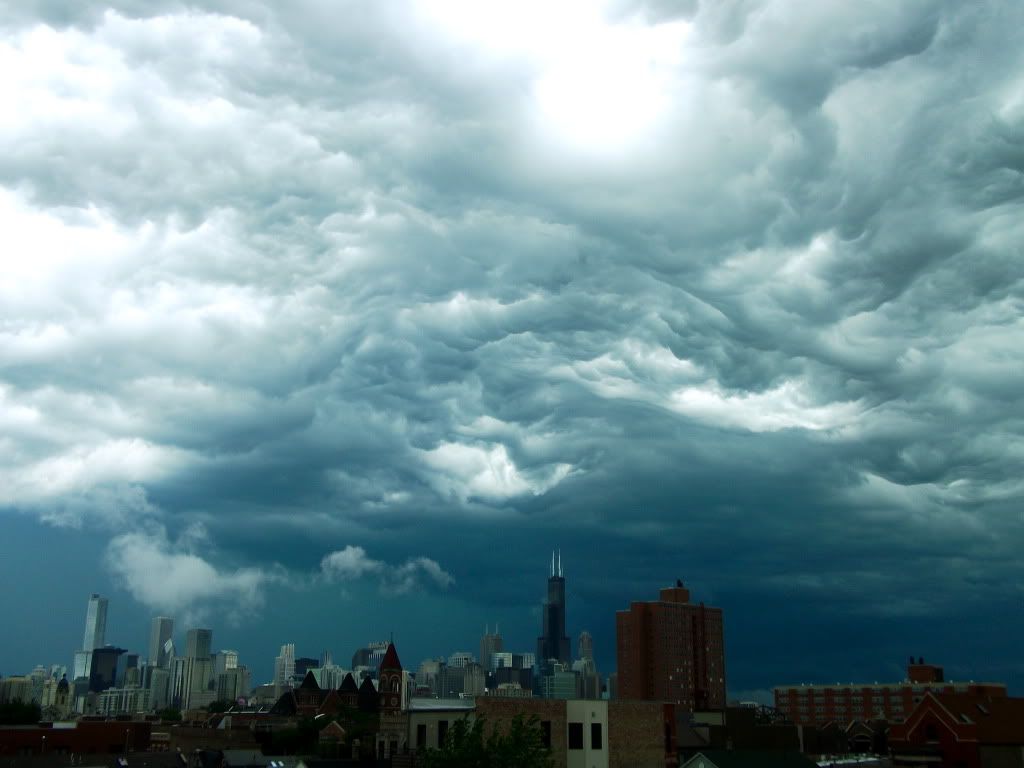 Pipeline reader Brian Jansen captured these image around 1:30PM this past Friday, on a rooftop deck near Ashland and Cortez
Brian sent in some amazing storm photos, and while the plan was initially to post an album here, we were tied up with the printed booklet.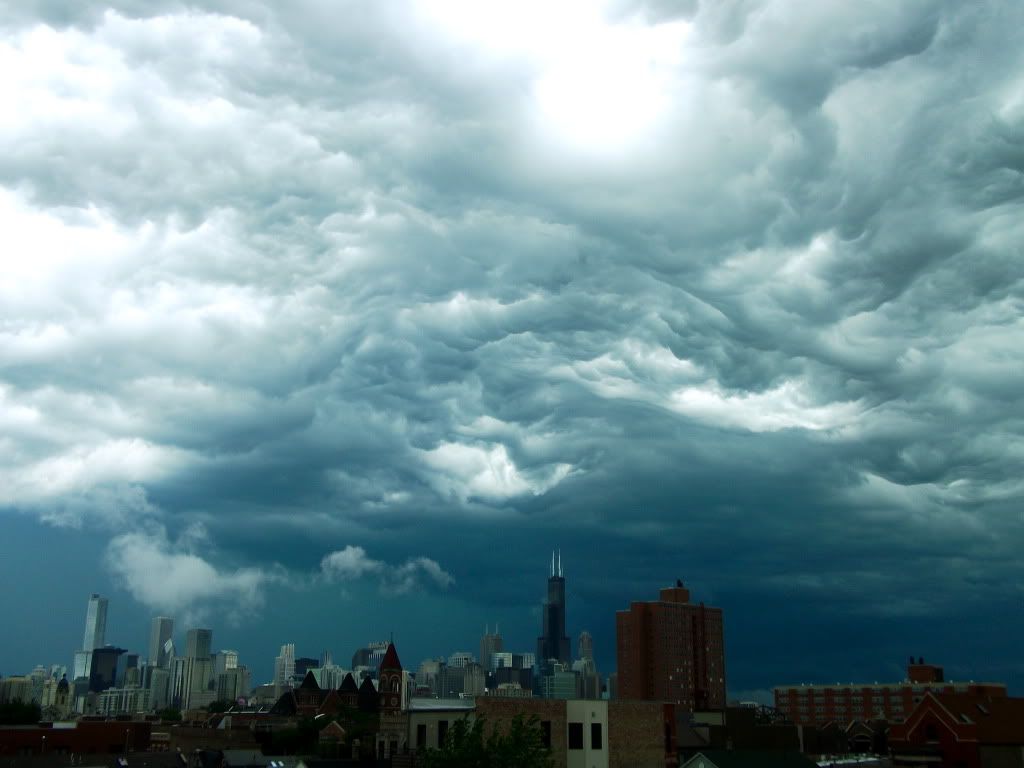 RETAIL SPACES is Sponsored By
UPS STORE #3173, Open 7 Days/Wk!
1658 N. Milw, 773-486-5700
M-FRI 8AM-7PM, SAT 9AM-5PM
SUN noon-4PM
West on North is opening soon!


Ah, the best laid plans of mice and men... West on North, West Bucktown's newest restaurant, with full bar, and featuring the art of Carlos Jimenez, was hoping to open tomorrow, at 2509 W. North, but instead is shooting for a soft opening on Monday, July 18, and a grand opening on Friday, July 22. Go inside West on North here!

Native Foods is opening in August and looking to fill JOBS in July! Yes, there's work available. Read all about the on-site HIRING FAIR here.

Though out of the neighborhood, a Mickey D's in Logan Square is getting a facelift. Read all about the remodeling in 35th Ald. Rey Colon's latest e-newsletter.


Longtime Division street stationary staple Paper Doll, will be moving from the North side of Division Street to the South side in mid-July, literally from 2048 W. Division to 2027 W. Division. (Thanks to Stacy who tried valiantly to get us a camera-ready ad announcing the move in time, though it did not make the deadline. However, we were sure to update Paper Doll's listing in our booklet's listings, along with the listing for Solao Fitness, which will be moving soon to a bigger studio at 1800 N. Western!)


There's paper on the windows at the former Spring space on North, so we're thinking something new might be in the works, and the gossip mill tells us that the former Pizza Hut space at Ashland and Division might possibly be a fitness club soon, though we have not had a chance to confirm this yet. Also on the horizon is a pending sale of the historic St. Paul Church at 2215 W. North, left, reportedly to a foundation. We're hoping the space will continue to host lots of community events like Learnapalooza-- speaking of which, we finally posted our 'dispatch from Learnapalooza. On that same belated note, here's a few Green Fest images too!

Join our Wordpress network and help us out, why don't you? Thanks!



Got news to share regarding a new space? You will receive a byline, credit, and oodles of thanks. Currently we're wondering about lots of spaces, so reach out, or call 773-960-3997!
The Week Ahead is

sponsored by
Jackson Junge
Gallery and Framing
1389 N. Milw.
P: 773-227-7900;
Tues-Sa. 11AM-8PM;
Sun. Noon-5PM

Through SUNDAY July 10:


Grand Opening Special: Buckwick Organix is offering 10% off any purchase (excluding cigarettes) through July 10th (1562 N. Milw. next to Myopic Books)

Thurs. July 7

2-8PM: Polish Triangle Marketplace (Ashland/Division/Milw.)

8PM (At Dusk): Sing-Along-Grease, Movies-in-the-Park (Churchill Park)

Fri. July 8
6-11PM:

ART

Fundraiser

to

support 9th Annual Soundsystem Block Party

:
100 Canvasses/100 Artists/$100 The Silver Room)


Sat. July 9
10AM-1PM: Volunteer Gardening (Wicker Park Grounds)
10AM-Noon: Free Shredding and Recycling (Jewel/K-Mart Lot)
11AM-5PM: BCO Annual Garden Walk
Noon-10PM: West Fest (West Town, Chicago Ave.)
1-4PM: Pet Adoptions (Forte Framing)


1-6PM: Vintage Heaven Saturday Market (Heaven Gallery)

5-6PM: Free Learn-to-Swim, for Youths 6-12 y.o. (Holstein Park)

Sun. July 10
4PM: Pretty in Pink Fundraiser (Zaraz Collection)
8AM-2PM: Wicker Park Farmers' Market
11AM: Magic Boat Puppet Show (Park Grounds)
5-6PM: Free Learn to Swim Class, Youths 6-12 y.o. (Holstein Park)

$6.95 Daily Special at M-C, a sandwich with tap beer


Wed. July 13
6-9PM: Bustlines & Bodacious Burlesque (VLF)

Thurs. July 14
6PM: First Ward (second) Thursdays (M-C Restaurant)

Fri. July 15


6-9PM: Art Opening: 'Momentum Wild'

(Jackson Junge Gallery; read a prequel by Harris Bell!)

SAT 7/16: TSR 9th Annual Sound System


Wed. July 20
7:30PM: Theatre Opening (and closing):
Marijuanarama! (Gorilla Tango)
(read a prequel by Harris Bell here!)

ART GALLERY WATCH*:


Just extended:

A Year in Humboldt Park (Birchwood Kitchen)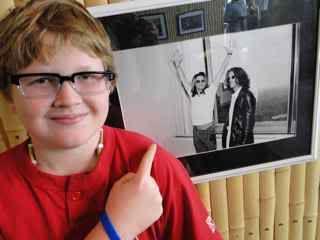 Fun times inside the new Phlash gallery at Skewerz
Stephanie Owen (Three Birds Gallery)
Philin Phlash Retrospective Photo Gallery (Skewerz)
Teresa Peterson: "They Call Me Mellow Jellow" (Eyeporium)
Through July 30:
Kendell Carter: Liberation Summer
(monique meloche)
PERFORMANCES:
The cast of Bus Stop at The Den Theatre, Winter 2011. Read all about new developments at the Den Theatre in their new e-newsletter!
* There's no shortage of performances in the 'hood, but we've chosen to mostly feature art here. If you'd like to volunteer to assist us with covering the performance/arts scene, send an email. We encourage you to visit the websites of Pipeline supporters Gorilla Tango Theatre, The Den Theatre, Chopin Theatre and the Congress Theatre to check out what's playing. Thanks!
Sneak peek of the booklet proof, snapped during a pop-in to Duplic-Graphic today (7/7)!
SAT/SUN: 7/23-24
Wicker Park Fest/Sidewalk Sales
SAT: 7/30: We're in the Neighborhood Booklet Party (6:30-8PM) Conan Writer's Show (8PM)
SAT/SUN: 8/27-28: Bucktown Arts Fest
*Do you have an event to share? Let us know!
Dispatch from First Ward 'Proco' Joe Moreno Fundraiser

by Dina Petrakis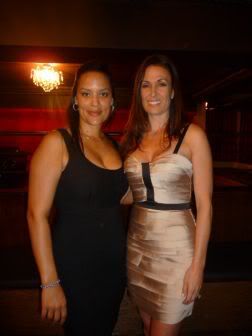 Photo by Dina Petrakis


Alisa was overbooked for Alderman Moreno's fundraiser at VLive, so I went to photograph and channel my inner society page editor: Great food and cocktails were liberally served, stimulating conviviality in the mirrored room with coffered ceiling and egg-and-dart edged beams.



Joe thanked contributors by name, talked about First Ward First (which I'm sure we will be hearing more about soon), gave a shout out to Manny Flores, who "started it all" as Joe said, and concluded with how diverse his support AND the ward is- something he is very proud of and what makes the First Ward special. Read/See more here.

-DP
BOOKLET UPDATE: Coming Soon!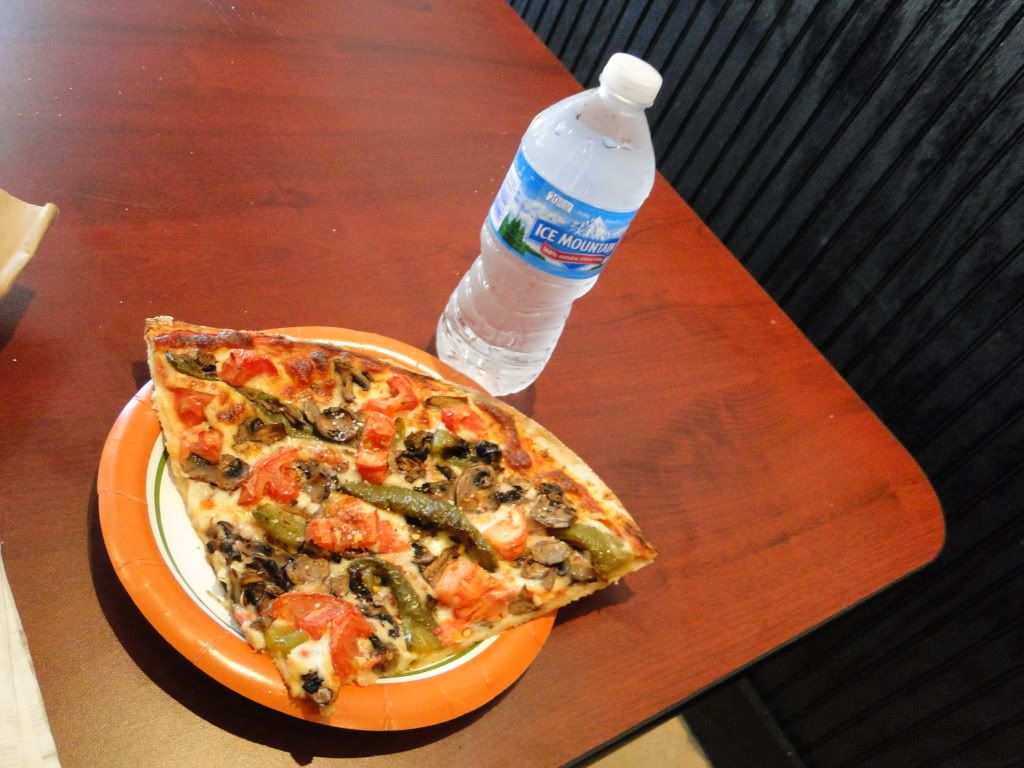 Ask for the 'Grand Opening' $4 drink and beverage special at Armand's Pizzeria, 2121 W. Division
We went (YES, that IS past tense) to press yesterday! THANKS to booklet newcomers Armand's Pizza on Division, Sacco Bruno, MaZi Fitness & Dance Studio, Grown Folks Stories at The Silver Room, Propaganda T-Shirts, Tree House Animal Adoption Center, Friends of Holstein Park, and Bill and Joy of Olivia's Market on Wabansia.
Olivia's Market carries the distinction of being our final booklet advertiser. Having never spoken to anyone at Olivia's, and hoping to fill one final space in the booklet, we placed a frantic and somewhat spazzy "cold call" an hour or so before Dupli-Graphic printers was scheduled to pick up the entire file. It turned out Bill had already been reading this e-newsletter and had a camera-ready ad to boot.
Over 130 LOCAL participants are included in the booklet (along with one out-of-neighborhood destination like The Red Apple Polish Buffet in nearby Avondale). No one advertiser carried more than 10% of our printing costs, which means it truly was a mass effort. We are so thankful to so many people!
Just seconds after Joe of Odd Obsession laid out a photo collage page, Wally of Dupli-Graphic, above, popped by to pick up the file! Thanks to Wally for stopping by our 'satellite office,' and to Brian, owner of Odd Obsession, who is likely ecstatic the booklet design is complete since The Pipeline hijacked his video shop during the production of the booklet. Joe of Odd Obsession, pictured behind Wally, worked on the booklet all weekend long over the holiday.
The 84-page full color booklet is at Dupli-Graphic, as we type this.... We will be giving booklets away at the We're in the Neighborhood launch party at Congress Theatre, July 30, as well as at three upcoming festivals. Participants will receive a stack of copies for their counters (in proportion to their level of sponsorship). Though the booklets are free, we came very close to achieving almost no profit, thanks to the uber-low-rates like $10 listings that we offered to encourage participation, thus The Pipeline might reserve a few hundred copies to sell, perhaps on the counter of Crespo's, which just discontinued selling newspapers (we know because we tried to buy one).
If you are featured in the booklet, we encourage you to attend the launch party to pick up your copies. We will do our best to get booklets out to participants before the 30th, between myself and Philin Phlash.
On Sat. July 30, Conan O'Brien writers Laurie Kilmartin and Deon Cole will perform at the Congress Theatre! Check out this clip of Kilmartin and of Cole and send an email with header, "Comedy" if you'd like to be our guest for an evening of much needed laughter. The show kicks off at 8PM. There will be pre-show mingling in the lobby of the Congress between 6:30-8PM. Beer/food sponsors are encouraged to get in touch. Our booklet designer has informed us that he will only show up if there is some sort of food there, and since Joe did a great job with not just laying out the booklet, but designing over 25 custom ads, copy editing, and contributing a story or two, we want him to be there. Along with you. See you there!