Wicker Park Bucktown Pipeline 7.22.11



Having trouble viewing this email? For optimal viewing, use Safari, Chrome, IE 7/8, or Firefox browsers.

June 21 Pipeline

Pipeline's website
Pipeline's YouTube Channel Pipeline's blog
Pipeline on Twitter, @thelocalfeed

Philin Phlash's Photo blog

Mistakes occur through haste, never through doing a thing leisurely. -Chinese Proverb




Welcome to today's Special Edition, which was inspired by the above proverb and the fact we

made many errors

in this past Tuesday's (7/19) edition,

as well as in the printed booklet.

Need something hauled? Concrete pouring? Moving? Call Kohlheim Construction at 773-942-3928

We could not have survived this past week without help from Kohlheim Construction, as well as Robert, Phlash and Nandika, who all hauled boxes. Thanks also to Joe of West on North, which is celebrating its Grand Opening tonight, for hosting some boxes. And to the half dozen or so booklet sponsors who personally picked up boxes, giving us a few less boxes to haul, you are all superstars!

We will be distributing booklets at the Wicker Park Fest , along with comp. tickets to the Bizarre Bazaar, Sat. July 30, 6:30PM at the Congress Theatre.

A Not-for-Sale piece by Robert Sollar. Click to enlarge, and check out some of Robert's other work here.

Robert Sollar's Art Bike will be making its way from Division and Leavitt to the Congress Theatre that evening, so look for the bicycle and take a spin on it at the Congress! Robert will also be donating a print to the raffle, which includes unique items like a 'tortoise and hare' necktie from De Louice Custom Tailor & Design , a fashion piece from Renovar, a Philin Phlash print, fresh sausages from The Butcher & Larder, and- breaking news!- cat toys from Treehouse's Bucktown Adoption Center! (With 14 folks RSVP'd on the evening's Facebook page, the prize-to-attendee ratio is looking good. Please help us spread the word. All welcome. Tickets can be purchased here.)

Back to the booklet, we regret that we made more errors than we'd have liked. Thus, apologies to

Re-Girl Apparel

and

Urban Canine Doggy Day Spa

,

whose listings we inadvertently omitted. We've added both businesses to the links on the left-hand side of this newsletter. Links from those who participated in the booklet will remain active through December, 2011.

In other news, we somehow missed including a display ad for Cumin Restaurant,1414 N. Milw. Thus, for the next four weekly pipelines we will be including Cumin's booklet advertisement in this e-newsletter. Do you like Cumin, which was featured as one of 22 Best New Restaurants in Chicago, too? Pop by for the lunch buffet and enjoy $1 off with mention of pipeline's mistake!

RETAIL SPACES is sponsored by Eva Bergant @properties Realtor.


A 3-bed, 2-bath, 1-garage condo found a new buyer this past week, at 1645 N. Oakley

There were 12 closings this past week in Wicker Park Bucktown, and the interesting thing is that all were attached condos.




The highest closing was a 3-bedroom, 2-bath, one garage condo, at 2028 W. Division, which sold for $517,000, and the lowest closing was a 2-bedroom duplex condo foreclosure in the 2000 block of N. Wood.




Get the full rundown as well as a few other images

HERE.




Eva


Eva Bergant i

s a

Bucktown resident and local Realtor with a community driven style. In addition to being president of the Bucktown Community Organization (BCO), Eva has long served as the chair of the Bucktown Garden Walk.

Do you have a real estate topic that you'd like explored in a future column? You can reach Eva by email, or 312-543-6819.

Weekend Deal Alert: Sidewalk Sale, Wicker Park Fest

le Dress is one of many chamber member merchants participating in the sidewalk sale. Per a friendly clerk, above, the new eyelet dress in the window of le Dress will not marked down for the sidewalk sale, but lots of other summer dresses will be!

Headed to Wicker Park Fest this weekend? Be sure to check out the many street-side sales which will be included in a neighborhood-wide Summer Sidewalk Sale, organized by the Wicker Park Bucktown Chamber of Commerce.

With over 40 participating vendors--44 to be exact!--this two-day sale is gearing up to be one of the biggest and best yet! Check out the list of where to shop in the poster, below, and visit the event's Facebook page.



Headed to the Fest and wondering where to get a copy of the We're in the Neighborhood booklet? Copies will be available at the WPB Chamber booth, specifically booth #60, at Milw. and Honore. Stop by to check out all the community information, as well as LIVE Poetry-on-Demand provided by Rose Metal Press poetry cooperative.

Photo by Philin Phlash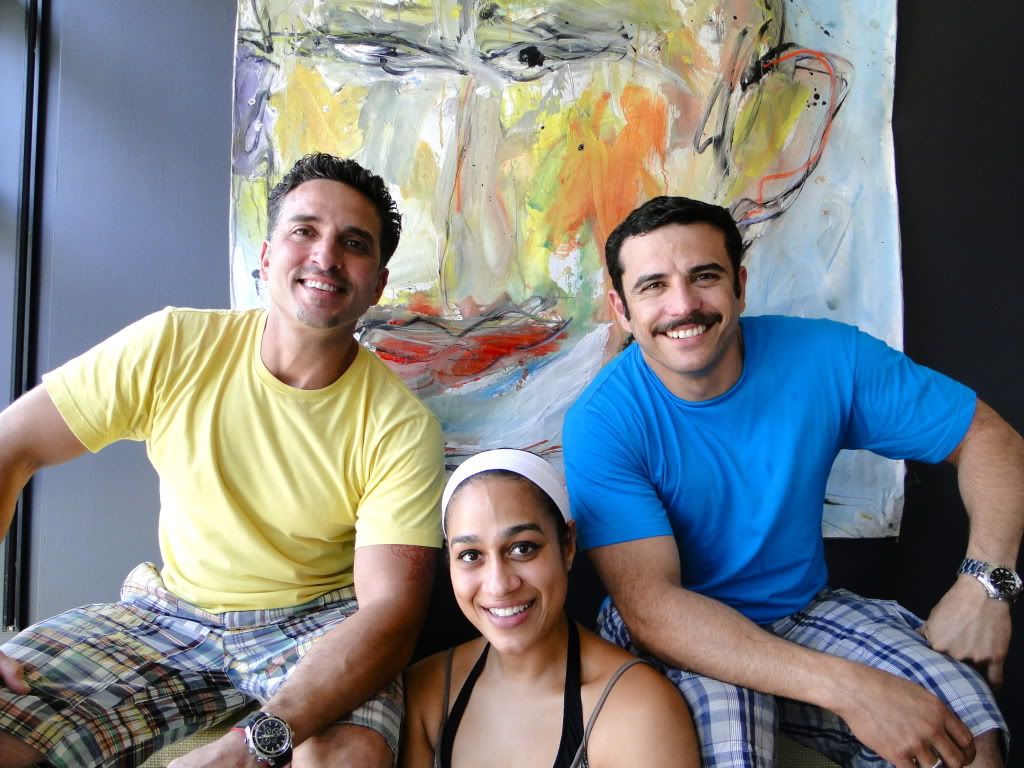 l-r: Willy, Toya, and Alex welcome you to Yuca Cafe
COMMUNITY NEWS is proudly sponsored by Yuca Cafe, 2257 W. North (at the corner of Oakley and North). Seven years ago this space was an upscale pet boutique, then a much-loved Korean Restaurant, then Pannenkoeken, and now, finally, Yuca Cafe, which serves up delicious Cuban-Mexican fusion food, great art, along with a serene back patio, and lots of healthy blooming orchids everywhere!
Yuca Cafe Offers Free Wi-Fi, A/C, and BYOB too! Check out a recent brunch on video appetizer.
Visit Yuca Cafe Monday-Sunday, 7AM-5PM
It's over 100-degrees today. Stay cool. Read more about the Heat Advisory in 32nd Ward Ald. Scott Waguespack's latest e-update.
An artist on the set of Powers smiles at the quick save on the spelling of 'Botanica.' Mum's the word on what the sign is for, though. We'll have to watch the pilot!

Working hard in the heat yesterday were the cast and crew of Powers, a new F/X TV pilot which just added actor Titus Welliver of Lost fame, per this July 18 Hollywoodreporter.com story.

In last week's Pipeline

,

we chatted up Ed, of Fare Adventures Catering, who was gearing up to cook up a day's worth of catered food. Last night we happened across a set artist making a sign. We did not get the artist's name, but his big smile stems from the fact that a crew worker named Julia corrected the spelling on the word Botanica, just in time!

Yahoo! contributor Gina Pisano posted this article about Pulaski Park's Sports Camp for kids aged 6 through 12. Camp themes include floor hockey, biking, basketball, gymnastics, tennis, in-line skating, soccer and volleyball. Running from Aug 8 to Aug 19, the camp meets weekdays, 10 a.m. to 4 p.m. For more information, call (312)742-7559.

The latest edition of the Bucktown Community Organization's e-newsletter contains lots of useful information, particularly on a new WPB mural project looking for walls, as well as a call for volunteers for upcoming Garden Walks and a 32nd Ward Clean-Up, June 30.

A graffiti tagger was chased down by three officers and arrested on the evening of Sunday, July 17, while vandalizing trash cans in the 1500 block of N. Wood and a garage on the 1500 block of N. Paulina, per this July 21 e-update from Ald. 'Proco' Joe Moreno.
Joe E.
We received an email yesterday from Joe E., a good Samaritan that we featured around this time last year when he intervened during a purse snatching and used jiu jitsu moves to hold down an attacker until police arrived (the story is in our archives, somewhere), a feat that earned him a certificate of honor from the CPD. This time, Joe intervened on a robbery wherein an elderly gentleman was being robbed and dragged back into his house while crying for help. There were four men involved in the robbery and Joe caught one of the four a couple of blocks away after chasing him down an alley. "He was charged with three felonies," Joe wrote. "Robbery, unlawful restraint and home invasion. $400,000.00 bond and an initial court date was set. Someone bailed him out and he did not show up to court."
Chock full of new news is the July 1st Edition of Holstein Happenings, from Friends of Holstein Park. The Holstein Park Pool opened a few weeks back. There is a Chicago Park District swimming class for youths ages 6-12 years, which takes place on weekends from 5 to 6PM. Get the updated (as of 7/1/2011) pool schedule HERE.
The Wicker Park Garden Club welcomes volunteers to assist with gardening in the park on Saturday mornings, from 10AM-1PM, through the fall. NOTE: Gardening this weekend has been canceled, due to the extreme heat and Wicker Park Fest. In other Wicker Park news, there's softball every Monday (more on this 16" blog) and the next FREE Magic Boat puppet show occurs on Sun. July 31st, 11AM at the playground.
There's no need to trek to your nearest grocery store for produce in the summertime when you can pop in on a great local market... The Wicker Park's Farmers' Market, 1425 N. Damen, occurs every Sunday from 8AM-2PM now through Oct. 30 and has many participating vendors.
Polish Triangle Market, 7/14/2011
Looking for even MORE local market excitement? The Polish Triangle market occurs every Thursday from 2-8PM at Ashland/Division.
THE BUCKTOWN APPLE PIE CONTEST needs you! Visit FOHP to learn more about how you can help make this October event a reality. Check out a few of the photos that The Pipeline snapped at last year's event. Send an email to contest organizer Michelle to get involved. In other Holstein Park news, there will be a Park Cleanup at Holstein Park this Sat. July 23 from 8AM-Noon. Email Christopher to RSVP.
Up Close: Meet The Forces Behind Dupli-Graphic, a North Center Neighbor
Tanya

The weirdest project that prepress layout designer Tanya Knezvic Knezevic remembers working on for her employer, Dupli-Graphic, was a Christmas card featuring an entire family in diapers.

"It was pretty funny, and it actually turned out looking really nice," Tanya recalled of the card.

In recent years, Christmas cards have shifted to the Internet, or, if they are published, the print runs are smaller due to budget cutbacks. Even bookmarks, literally once printed on glossy 80-pound-card stock, now refer more so to the verb bookmark, as in 'book marking' a website.

Technology and digital presses have eliminated cameramen, strippers, manual typesetters, and about a third of the jobs in the printing industry, according to Wally McCormack, president of Dupli-Graphic, the company his father, Walter, Sr., started in 1948.


Coming next week... A 'Where is She Now?' with Paula Barrington

At its peak, Dupli-Graphic had 19 full-time employees, including three full-time messengers. Today it has fewer employees and no messengers due to virtual file uploading.



Despite what could be perceived as a gloomy forecast, Wally says that he and a small number of industry peers are seeing hope for the future of printing, which is experiencing a resurgence due to a desire among consumers to achieve a better balance between Internet and printing. Read more.
LINKYPOOS is Sponsored by
2212 W. Armitage, p: 773-384-4454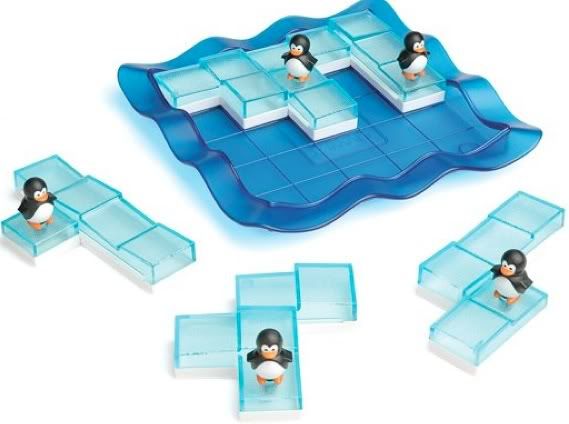 Cool off with a cool game from Cat & Mouse
Gamers, Puzzlers, Teachers, Birthday-Present-Stocker-Uppers, and Bargain Hunters everywhere, this one's for you! Stop by our Super Summer Clearance Sale and discover boatloads of bargains!
We'll be clearing out lots of merchandise so that we can bring in fun new products for the rest of the year. Starting Fri. July 29 and through Sun. July 31, our clearance tables will be overflowing with board games, card games, puzzles, brainteasers, and more, at savings up to 70% off. Find your next great game at a great price!
Artist Krista Wortendyke

A few links of note that we noticed over the past few days include this informative preview of the upcoming fest's music line up by Luca Cimarusti in the Chicago Reader, a CBS Local Guide to Wicker Park Fest , and

a Redeye

story by Ruthie Kott about a new

m

ural,

Chicago: Killing Season 2010, at The Violet Hour, by artist Krista Wortendyke.



Got a link to share? Email it to Nandika.
The Week Ahead is

sponsored by
Jackson Junge
Gallery and Framing
1389 N. Milw.
P: 773-227-7900;
Tues-Sa. 11AM-8PM;
Sun. Noon-5PM
Fri. July 22
Karaoke at West on North/Photo by Philin Phlash

7PM: Grand Opening: West on North

(2509 W. North)

7-11PM: Anniversary: Heaven Gallery Turns 11 (1550 N. Milw. 2nd Floor)


8PM: Comedy:

Astronaut Theatre (Gorilla Tango)

Sat. July 23

8AM-Noon: Holstein Park Cleanup

(RSVP via email)

11AM-6PM: Sizzling Summer Sidewalk Sale

Noon-6PM: Wicker Park Fest Kids

Noon-10PM: Wicker Park Fest

1-6PM: Vintage Heaven Market (Heaven Gallery)

2-5PM: Poems-While-You-Wait (Booth #60, at Honore/Milw., Wicker Park Fest)

6-9PM: Poems-While-You-Wait (Booth #60, at Honore/Milw., Wicker Park Fest)


Sun. July 24
11AM-6PM: Sizzling Simmer Sidewalk Sale
Noon-6PM: Wicker Park Fest Kids
Noon-10PM: Wicker Park Fest
8AM-2PM: Wicker Park Farmers' Market
10AM-3PM: Logan Square Farmers' Market )

Thurs. July 28
6-11PM: Third Year Anniversary, Atomic Sketch (Green Eye Lounge)

Fri. July 29
6-9PM: Wicker Mic (Wicker Park)
7-11PM: Art Opening: Reframing Ruin: A prelude to the Bloomingdale Trail Photo Exhibit (2644 N. Milw.)

Super 70% Off Clearance Sale Begins (Cat & Mouse)


Sat. July 30
6:30PM:

FUNdraiser:


Bizarre Bazaar
(Congress Theatre)

Sun. July 31
8AM-2PM:
Wicker Park Farmers Market
11AM: Magic Boat Puppet Show

Thurs. Aug. 11
First Ward Meet-and-Greet (Jackson Junge)

Mon. Aug. 15

Click to Enlarge

Dusk: Movies-in-the-Park, Scott Pilgrim (Wicker Park)



Fri. Aug. 12- Sat. Aug. 13

BUILT Festival by FUZE (Aldi Parking Lot)

SAT/SUN: 8/27-28: Bucktown Arts Fest


ART GALLERY WATCH:


Extended:

A Year in Humboldt Park (Birchwood Kitchen)

Stephanie Owen (Three Birds Gallery)

Philin Phlash Retrospective Photo Gallery (Skewerz)

Through July 30:

Kendell Carter: Liberation Summer

(monique meloche)

ART Teachers: Redefined (FIAA bldg; 3rd Floor Gallery)

Out of Darkness: stef sola (RGB Lounge)

Through Aug. 25:

Momentum Wild (Jackson Junge Gallery)

PERFORMANCES OF NOTE:

Through July 31:

The Rose of Stambul (Chopin Theatre)

*Do you have an event to share? Let us know!
PLACES TO FIND BOOKLETS
Get your booklet on at Yuca Cafe... Cassanda, pictured, is a jazz vocalist. If she's free, she might join the Bizarre Bazaar talent line up on the 30!
Yuca Cafe, 2257 W. North
Bucktown Fitness Club
, 2100 W. North
West on North Restaurant
, 2509 W. North
Bon Bon Vietnamese Sandwiches
, 2333 W. North
See more spots
here*.
Out-of-the-Hood:
VAS Foremost Liquors
, 2300 N. Milw.
The Red Apple Buffet
, 3161 N Milw.
** Are we missing your establishment? We are in the process of distributing booklets. Call 773-960-3997 to pick up a box, or a partial box. Thank you!