SUBSCRIBE

Follow us on Twitter



If you have not yet been featured in our Spotlight section and would like to be, please email me at
rmann@bcwood.com
or call 604-882-7100. You must be a value-added wood manufacturer in BC; however, you do not have to be a member of BC Wood, or any other association to participate - and it is free of charge!
If you are using Microsoft Outlook to view this email, you may not be able to see all of the images. In this case, you can view the webpage version of this email by clicking on the link at the top of this email "Having trouble viewing this email?
F
eel free to send me news stories that you think our readers would be interested in. You can email them to
rmann@bcwood.com

Further to our earlier communication to you about
Wood Innovates BC
- hosted by
naturally:wood
- we wanted to share with you that we have recently updated the platform to enable us to expand its offering of resources and information available to profile and connect the latest B.C. expertise, wood design resources and events.
Other resources include a project gallery, case studies, mass timber technical guides, a directory of local suppliers and upcoming events.
We encourage you to visit the updated Wood Innovates BC and welcome your feedback for future featured topics, resources or events that you are involved with that could be profiled.
Investment in Wood Science Supports Student Innovation, Research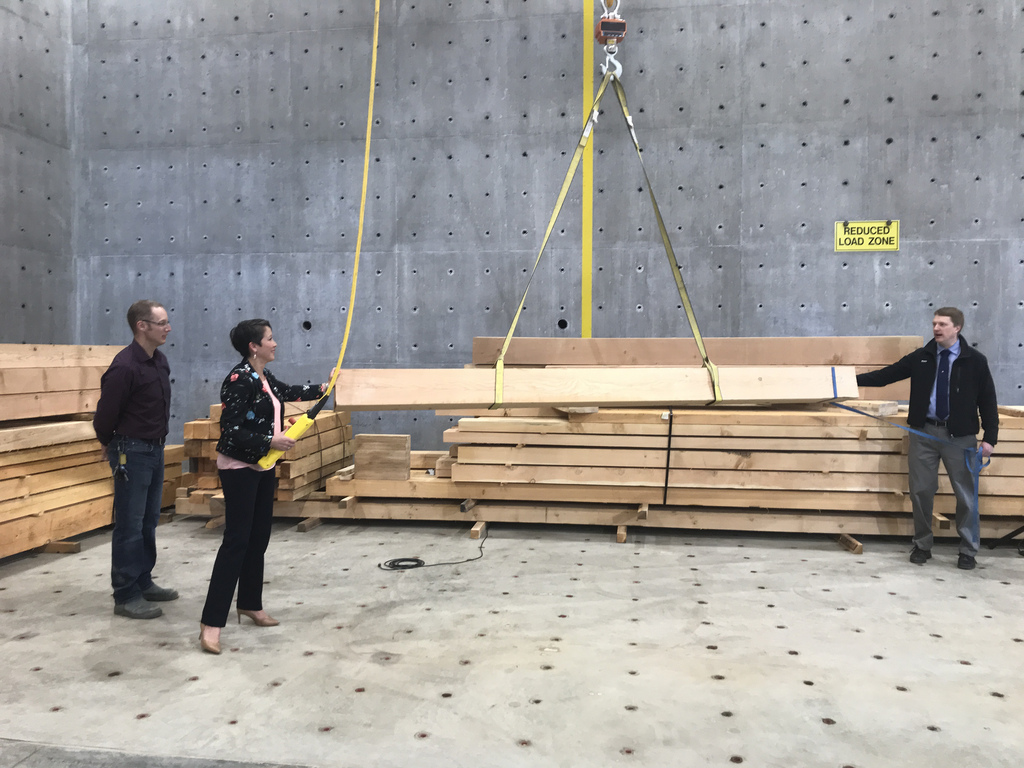 PRINCE GEORGE - Engineering students in Prince George now have access to a state-of-the-art research facility to create sustainable wood engineering solutions, with the opening of the Wood Innovation Research Laboratory at the University of Northern British Columbia (UNBC).
The lab provides students, researchers and faculty members from UNBC with the ability to build and test large-scale wood structures, using engineered wood products, which complements the Wood Innovation and Design Centre next door. Features of the 1,070 square-metre lab include a wood conditioning and processing room, and office and classroom space for research and teaching.
The research lab is one of the most energy-efficient buildings in the province, on track to meeting strict passive house criteria. The building cuts heating energy consumption by up to 90%, and uses up to 70% less energy overall, when compared to a similar standard building.
Industry News
2018 Marketing and Branding Program


Three-Part Marketing & Branding Lunch & Learn Series From May to September Hosted by Laura Tetzlaff from Sandbox Marketing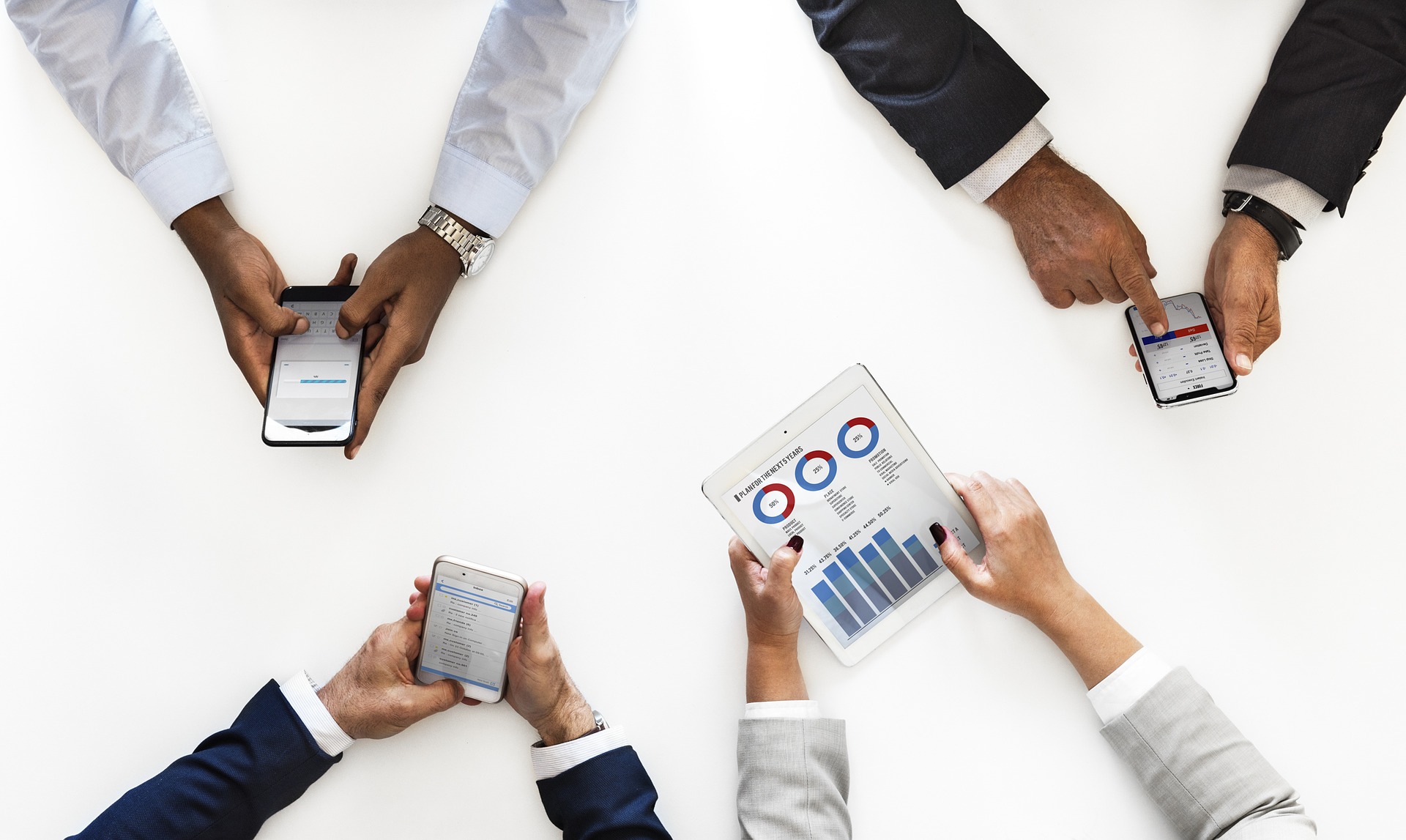 Join our upcoming marketing workshops! These events take the form of 3 separate Lunch & Learn-style workshops spread over a few months. Participants also receive an additional 3 x 1hour personal coaching sessions for individual support. Maximum 10 participants for this program mean highly personalized help and results.
Key Lunch & Learn Takeaways:
when, where, and how to engage with new and existing customers
how to clarify your message and connect with your customers
how to turn existing customers into loyal brand advocates
how to apply basic marketing principles to your marketing program
how to make some simple and impactful changes to your website copy and design
how to apply basic design principles and message strategies to your brochure
Personal Coaching Sessions:
This program includes three 1 hour personal coaching sessions.

Build on the new skills you learned and get the support you need with a one-on-one coaching session with our brand marketing specialist following each lunch and learn.


Each 1 hour session will be conducted within eight weeks following each lunch and learn via telephone, Skype or similar digital chat. Appointments will be booked on a first come, first serve basis.


DATES:
Lunch and Learn 1: May 22, 2018

Lunch and Learn 2: Late June 2018

Lunch and Learn 3: Late September 2018
TIMES:
11:30am - 1:30pm
LOCATION:
Third floor of the KPMG Building,
8506 200 St, Langley, BC
Your Valuable Input is Needed
We'd like your input on labour market conditions in your industry and region.
Key themes we will be discussing:
Impact of innovation and technology on your sector and the pressures it puts on productivity and finding the right employee

Key occupations that are important to your business' success

Employee attraction and retention concerns and challenges

Education and training gaps to improve worker skills, knowledge and abilities.
Please join BC Wood at a Roundtable Discussion to share your concerns and issues.
Kelowna

June 15th, 2018

8:00 to 10:30 am




Eldorado Hotel

500 Cook Road
Kelowna, BC

Duncan

June 13th, 2018

8:00 to 10:30 am




Ramada Duncan Hotel

140 Trans Canada Hwy,

Duncan, BC

Langley

June 18th, 2018

8:15 to 10:30 am




KPMG Langley Office

8506 200 Street (3rd Floor)

Langley, BC
Travel Expenses: Please let us know if you will require travel expense support as the project has some budget to reimburse mileage and hotel.
As well, if you know of anyone else in the industry who may be interested in providing input, please let me know and I will send them an invitation
.
If you are unable to attend, we are holding a virtual on-line session June 19th, 8 am to 10 am. Please RSVP if you can make time for this.
Industry News
Do you understand how the U.S. tax reform may affect your privately held business?
The recent tax reform package represents the biggest change to the U.S. tax system since the 1980s. With significant effects on cross-border taxation, it is important for Canadian corporations to understand how these tax changes could affect their current business operations and strategies for U.S. growth.


Join us at one of our sessions as we discuss the implications of U.S. tax reform on Canadian private companies and how businesses can optimize their cross-border structure in the new U.S. tax environment. Our tax professionals will also provide an update to the recent changes to the Tax on Split Income (TOSI) and passive investment rules in Canada.
Langley Session:
7:30 am - 8:00 am | Registration and hot breakfast

8:00 am - 9:00 am | Seminar

The Coast Hotel & Convention Centre |

20393 Fraser Highway, Langley
Burnaby Session:
Date:

Time:

7:30 am - 8:00 am | Registration and hot breakfast

8:00 am - 9:00 am | Seminar

Location:

Hilton Vancouver Metrotown |

6083 McKay Ave, Burnaby
Please register for the location of your choice by June 1st. Space is limited.
If you have any questions about this event, please contact Emily Hou at (604) 691-3523 or by email emilyhou@kpmg.ca.
Market Development Activities for 2018-19
BC

Wood has received confirmation of funding for our 201

8

-201

9

market development activities. Last November, BC Wood's staff began the process with sector meetings that were intended to gather input on Industry's marketing priorities. BC Wood took this input and put together a comprehensive package of market development activities. The proposals that resulted were submitted in mid-December to both Federal and Provincial funders for review and eventual approval.

The Global Buyers Mission,

celebrating

our 15th

year

, will be

bigger and better than ever

, with

an anticipated

3

5

0

+

buyers

and specifiers

coming to Whistler September

6th to 8th

.

For those of you wanting to see the updated list of trade show activities,

click here

.

Any comments or questions regarding these planned activities can be directed to me at

bhawrysh@bcwood.com

or by calling our office at 604-882-7100.
BC Wood's Wood First Activities for 2018-19!
BC Wood just received funding approval for the 2018-19 Wood First Program. Beginning April 1st, 2018, we will be coordinating and delivering an exciting line up of activities to assist you in your marketing and business development! These activities include:
Marketing Training & Support Program (May 22 to late Sept. 2018):
This workshop includes three lunch and learn sessions and three one-on-one personal coaching sessions with Brand Specialist, Laura Tetzlaff.
Effective Selling at Tradeshows (June 20, 2018):
Topics include: how to question people to qualify true leads; effective booth layout and design; how to sell at tradeshows; and how to sell to different cultures (China, Japan, Mexico, India, and Korea). Follow up 90 webinar in August prior to the Global Buyers Mission. (There will be a special discount price for GBM exhibitors.)
Management Training Series (Fall/Winter 2018):
Four group coaching sessions with Randy Hnatko on recruiting, interviewing, assessing, and decision making; different roles of leaders; coaching and mentoring employees.
Strategic Customer Care (Fall/Winter 2018):
A full day workshop with Randy Hnatko on building customer relationships, communication, profiling, upselling, telephone/email etiquette, dealing with difficult customers, and questioning techniques.
Marketing and Business Coaching:
This program consists of working one-on-one with a marketing coach on developing a strategic branding program for your company. This will consist of an initial marketing assessment, designing a brand blueprint (a personalized roadmap to support your marketing decisions), and creating a one year strategic plan.
These are only a few of the many activities we have lined up for the upcoming year. To find out how BC Wood can assist you with your marketing and business development, contact Rumin at
rmann@bcwood.com
or 604-882-7100.
Industry News - CAWP Update

WMC Management Skill Training Program
UBC - Centre for Advanced Wood Processing (CAWP) will be offering two "online" courses; New Product Development and Safety & Human Resources Management. Both these courses will run for 8 weeks starting May 14th to June 25th, 2018. These wood products industry specific courses are designed for owners, manager, supervisors or management tracked employees. These are not academic courses and the skills learned can be applied immediately to the work place. Each part time course is led by a tutor with extensive industry experience.
For more information on the courses, please click on the following link:
Management Skill Training or call Jason Chiu at 604 822-0082.
Spotlight: International Timberframes Inc.
International Timberframes Inc.
Founded in 2003 in Golden, BC, International Timberframes Inc. is a timber-frame company with its passion in sustainability by working with natural solid wood. Their expertise combines the use of state-of-the-art technologies in design and planning, with traditional hand-cutting skills. Although they are primarily offering full timber-frame packages for homes or commercial application, they also produce and install 100% wood Dowel Laminated Timber (DLT), both cross laminated and stacked.
Owner, Sigi Liebmann, did his timber-frame apprenticeship in 1986 in Switzerland, followed by a Master's in the field. In 1992, he worked in a company developing DLT for commercial and residential projects. In 1999, he moved to Canada with the goal of bringing his wood expertise to the Canadian market. After several years supporting other timber framing companies in Canada he founded International Timberframes.
The company offers a full range of services and expertise from design, through wood selection, hand-cutting, preparation and installation of natural solid wood. Sigi is excited to see DLT finally being recognised as a beneficial building system in Canada. "We are committed to taking a sustainable approach to our projects and DLT offers not just environmental benefits by way of 100% recyclability, but benefits in health of the occupants and energy efficiency." Their cross-laminated DLT, which is 3 - 11 layers of wood, stacked on one another at various angles and dowel-pegged together, are great for wall applications. Their stacked DLT panels are great for applications like ceilings. Absolutely no glue is used in the manufacture and installation of DLT - it really is 100% solid wood.
In 2017 the Town of Radium invited contractors from the region to explore ideas for the type of wood (sourced locally) to be used in a new Community Centre. Sigi says, "we proposed stacked DLT for the ceiling panels and roof overhangs. We felt it would be an ideal fit for the modern design of the building and as a public space 100% wood, non-glued DLT is a healthy and sustainable material."
For more information on International Timberframes you can contact them at
info@itimberf.com
or check out their website at
www.itimberf.com
. They have an additional website
www.wood100.ca
which provides a range of information from technical specifications to general suggestion and advice on building with 100% wood.
Trade Show Freight Costs Are Rising. This Is Why.
Scott Young | Skyline Trade Show Tips
Y
ou may have already noticed that trade show freight costs are rising - significantly.
If not, you will.
There are so many contributing factors affecting trade show shipping prices right now that it is hard to determine if any one specific thing makes up the bulk of the increases we are experiencing. But the fact is, the trade show freight market is already experiencing record high prices and there is no immediate relief in sight.
Registration Open for the 2018 Global Buyers Mission™ (GBM) EVENT!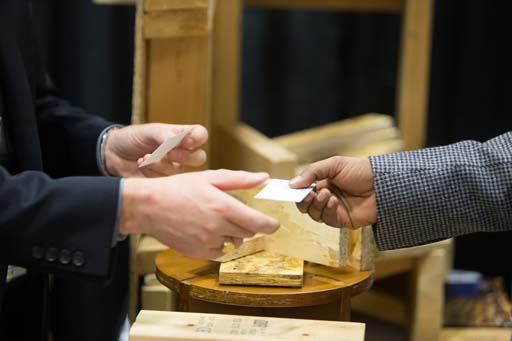 If you haven't experienced the GBM, or had to miss it this past year, you should be aware that this is the greatest opportunity of the year to showcase your products to over 300 pre-qualified international buyers and North American Architects, Designers, Builders, Contractors, Developers & Engineers.
We will be opening the registration for new exhibitors on May 15th and if you would like to be added to this list, please contact me at
gbm@bcwood.com
or call Randi at 604-882-7100.
Here is a link to a short video from last year's event you may find interesting.
Last year, over $43 million in new business was developed at this event alone. A few returning exhibitors had this to say:
"The GBM provides a good platform for meeting with our stakeholders, suppliers and an opportunity to see what our competitors are offering with regards to products and markets." Interex Forest Products
"The Whistler GBM offers many great opportunities to network and connect with industry professionals and students from both locally and abroad. The event was well attended, and gave our new mass timber product, Dowel Laminated Timber, some great exposure." StructureCraft
"At the BC Wood Specialties GBM, our company sales team was able to mingle with an interesting mix of prospective customers and suppliers, industry peers, and government officials. The GBM provides a rare and valuable opportunity for wood specialty companies to develop new business while reconnecting with industry peers. On top of that it's a lot of fun in a great setting. Thanks to Randi and all her team for putting together a world class wood show." Kermode Forest Products
We anticipate pre-qualified Buyers from the US, Australia, Western Europe, China, Vietnam, Japan, Korea, India, Mexico, Pakistan, Taiwan and some newer markets like Malaysia.
"Mexicans consider this event as an important opportunity to have direct contact with new Canadian suppliers and to have a better understanding of the market, as for some of them, this was the first time they visit Canada for wood business. All the Mexicans consider essential the follow up and hope to receive quotations soon. Some of them have even informed that as a result from GBM they have already purchased lumber from Canadian companies." G & G Gestoria, Mission Leader
BC Wood once again returned to the Interzum Show in Guangzhou, China from March 28th to 31st. This is the largest wood working show in Asia and an excellent entry point for members targeting China's remanufacturing industry, as well as the construction lumber market. Every time I go, I am still amazed by the sheer size of this event. The Guangzhou exhibition site is one of the largest in the world and the entire facility is used for Interzum. Every imaginable material, component, and machine used for the manufacture of furniture and millwork is on display here.
Interzum is also a very international show in terms of both visitors and exhibitors. Once again, the United States had a very large presence anchored by the American Hardwood Export Council, but their area also included softwood producers. Germany and Turkey also once again had large presences, while countries such as France, Chile, Poland, Italy, etc. were represented with smaller booths. In the BC Wood booth, we were able to meet with buyers from all parts of Asia, the Middle East, as well as Europe. Overall, the show was busier than last year and participating members reported having received very good inquiries.
BC Wood organized the Canada Wood Pavilion at the show and we were able to secure a more central location parallel to the large USA pavilion this year. Clients were able to easily find us in this spot along the hall's main aisle. We once again used an open concept for our pavilion which not only maintains a professional appearance, but also maximizes a smaller pavilion footprint.
Interzum continues to be an extremely important trade show for BC Wood in promoting Canadian softwood to the Chinese remanufacturing industry and we plan on participating again next year.
Industry News

"Building Lasting Change Conference and Expo

" -
Toronto, ON - June 5-7, 2018
The Trade Commissioner Services will participate with a trade delegation in "Building Lasting Change Conference and Expo" in Toronto, June 5-7, 2018. Canadian companies attending this important event, will have the opportunity to meet with the Central American delegation and learn about opportunities in these markets.
For a list of participants and to schedule a B2B meeting, please contact Jennifer Chac

ó

n, Trade Commissioner in Guatemala
Canada Market Update
A few comments, suggestions, and ideas...
The 2018 Assembly of First Nation's (AFN) Conference and Circle of Trade Show will take place July 24 -26 in our own backyard, here in Vancouver. Circle of Trade provides manufacturers the opportunity to meet, network and showcase products to over 4,500 key decision makers and influencers from a growing market within the First Nations communities across Canada. This event is an excellent opportunity for BC Industry to develop inroads working with First Nations.
There continues to be an urgent need for housing and community infrastructure for First Nations here in BC and across the country. Due to the remote locations of some of these communities, short building season, an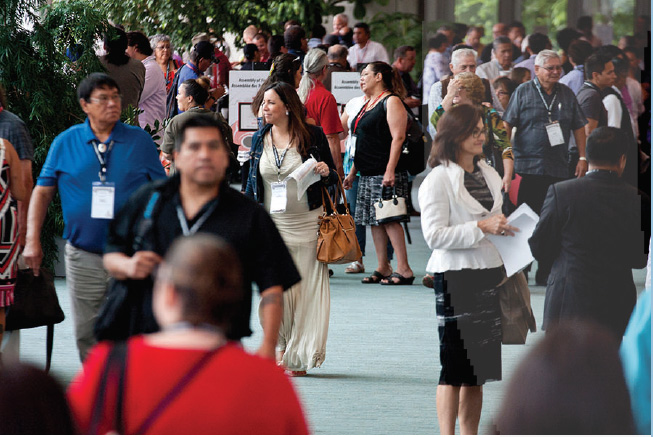 d the desire to improve the quality of the housing stock in First Nations communities, there is significant opportunity for manufacturers in prefabricated, log-home and timber-frame housing, and finished building material. Other potential opportunities exist in partnering with communities on fibre procurement and development of small manufacturing enterprises.
BC Wood will organize and coordinate a "Wood Products Pavilion" at this year's Circle of Trade. If this event sounds of interest please contact me at
dfarley@bcwood.com
or on my cell at 604-728-8786 to further discuss. As usual space is limited and is expected to sell out.
Mexico Market Update
Next Mexico Trade Mission: Aug 15-18, 2018
BC Wood will be participating at the Tecno Mueble trade show In Guadalajara, August 15-18, 2018. In conjunction with the trade show week, business-to-business meetings with targeted customers in Mexico will be arranged. For more information contact Ken Hori at BC Wood,
khori@bcwood.com
, T: 604-882-7100
Japan Market Update
Japan Home & Building Show 2018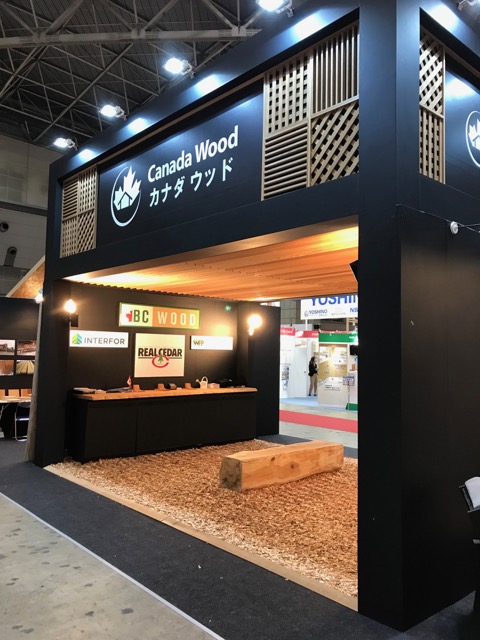 BC Wood is once again organizing the Canadian Pavilion at the Japan Home & Building Show on behalf of the wood industry. This show is held at Tokyo Big Sight and this year it will run from November 20th to 22nd. We are expecting to have the largest Canadian pavilion at the show in over 10 years. This is still the best show for companies looking to enter the Japanese market.
For the past few years, the organizers of the Japan Home Show have been targeting the hospitality industry with a new zone for interior fixtures. This is of course because of the rush to build and refurbish hotels and resorts to accommodate the growing number of inbound travelers. Last year almost 30 million people visited Japan and this number is expected to grow to 40 million annual visitors by the 2020 Tokyo Olympics so there is a great need to expand Japan
'
s tourism infrastructure.
Those interested in learning more about the show should contact Jim Ivanoff at ivanoff@bcwood.jp.
Europe Market Update
BC Wood at the BAU 2019 Show

Munich, German - January 14-19, 2019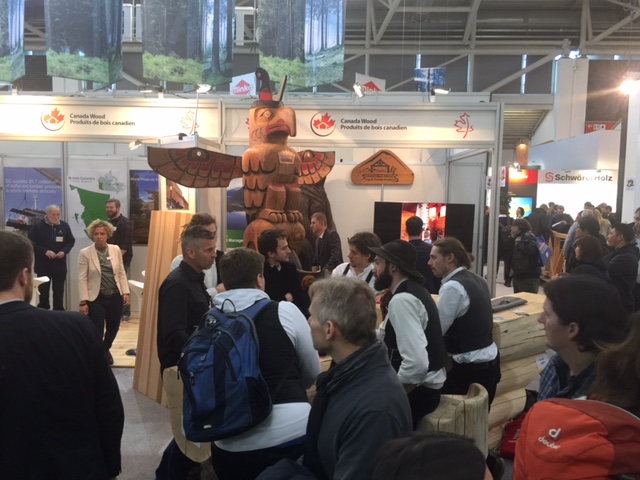 BAU is the largest and best known building products show in the European market. The BAU fair, held every two years, attracts over 270,000 attendees. Some 55,000 of these attendees come from neighboring Western European countries and the ex-Soviet Bloc countries. A unique feature of the BAU show is that it consolidates companies featuring wood products and wood building systems in one of its sixteen halls. So while the show is very large, the majority of potential customers for wood based products and building systems are concentrated in one display hall.
While the show is not for another ten months, its' high-profile means that the show sells out quickly and our organizational efforts need to start now.
Throughout Western Europe and particularly in resort regions that have a high percentage of second luxury homes (such as the Alps in France, Germany, and Italy and the Pyrenees region of Spain and France), there exists good potential for manufacturers of log and timber frame homes. The BC handcrafted style, featuring large diameter logs and heavy timbers, have a unique appeal to these wealthy homeowners.
High quality finished building materials such as decking, siding, roofing, flooring and millwork are all in demand. Specialty lumber such as Douglas-Fir, Hemlock, and a range of hardwoods are also highly sought after by manufacturers in the emerging markets of the post-Soviet bloc countries.
BC Wood plans to organize a large display at the BAU fair for member companies and other Canadian forest products associations. Space is limited, so, for more information regarding the BAU show, BC Wood's participation and costs, please contact Brian Hawrysh at 604-882-7100 or directly at bhawrysh@bcwood.com.
Marketplace
In this se

ction, you can post for free anything from job listings (for employees looking f

or work, and employers looking for new staff), to machinery for sale/wanted, to a request for a particular type of wood or service.

If you would like to include a posting in our Marketplace section, please email me at rmann@bcwood.com

or call 604-882-7100 and ask for Rumin.
Upcoming Events

June 27-28, 2018: PCBC, San Francisco, USA

July 24-26, 2018: AFN Circle of Trade, Vancouver, BC

August 15-18, 2018: Tecno Mueble International, Guadalajara, Mexico

September 6-8, 2018: Global Buyers Mission, Whistler, BC

September 20-23, 2018: IDS West, Vancouver, BC

October 10-12, 2018: Osaka Living and Design Show, Osaka, Japan

October 11 - 14, 2018: Bond Custom Home, Palm Beach, USA

October 18-21, 2018: West Edge Design Fair, Santa Monica, USA

November 6, 2018: Wood Solutions Conference, Vancouver, BC

November 20-22, 2018: Japan Home and Building Show, Tokyo, Japan



For a list of all trade and industry events, please visit

Rumin Mann
BC Wood