SUBSCRIBE

Keep up-to-date
with BC Wood




If you have not yet been featured in our Spotlight section and would like to be, please email me at kcrowe@bcwood.com
or call 604-882-7100. You must be a value-added wood manufacturer in BC; however, you do not have to be a member of BC Wood, or any other association to participate - and it is free of charge!
If you are using Microsoft Outlook to view this email, you may not be able to see all of the images. In this case, you can view the webpage version of this email by clicking on the link at the top of this email "Having trouble viewing this email?
F
eel free to send me news stories that you think our readers would be interested in. You can email them to kcrowe@bcwood.com.
Industry News
Funding Programs For Reaching New Markets
Presented by Export Navigator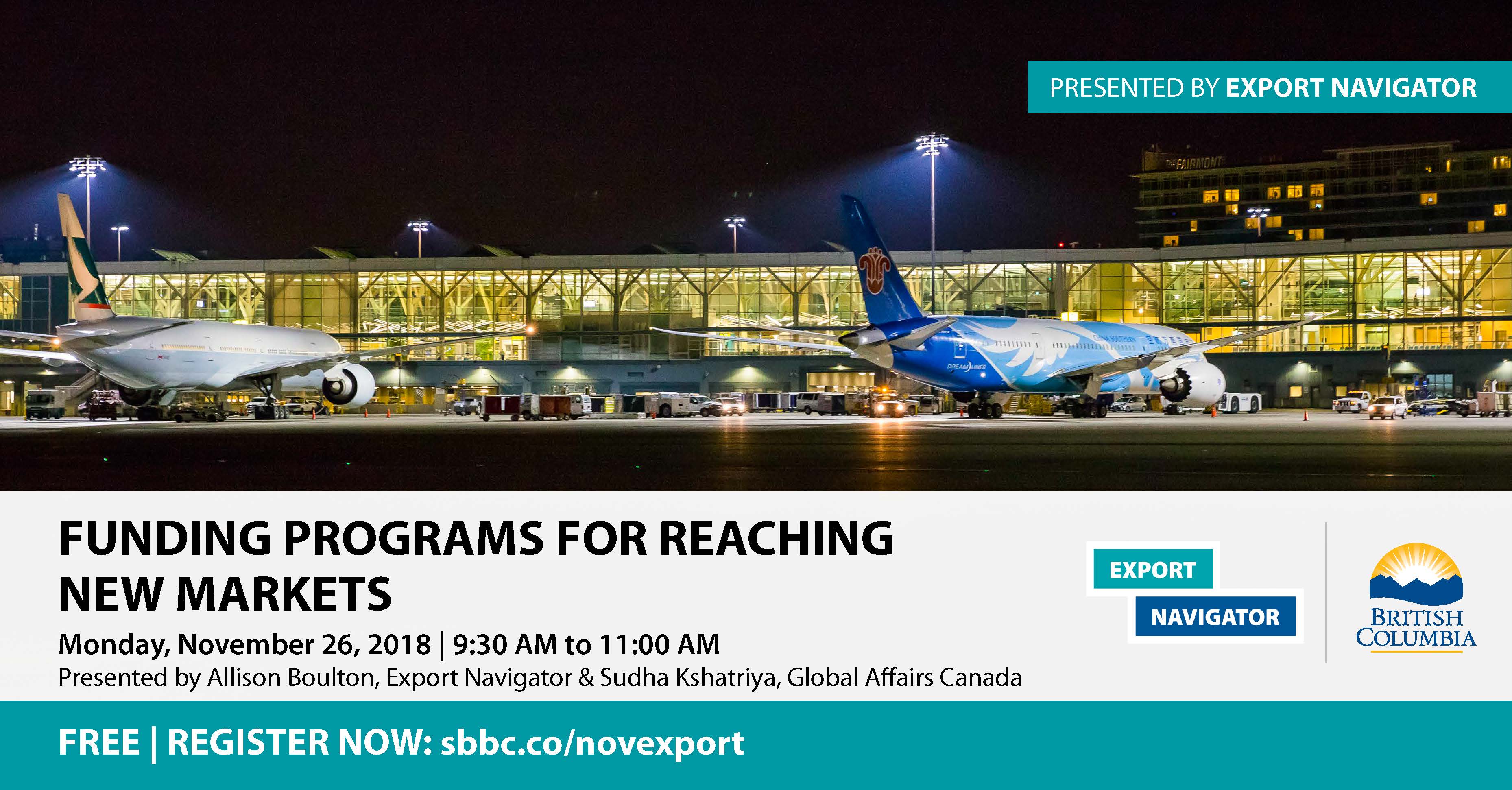 Are you interested in attending trade events outside Canada? Are you contemplating market research to find new international customers for your products or services?
Join us to learn about the Government of Canada's funding programs to help small and medium-sized enterprises (SMEs) diversify sales and succeed in the global marketplace.
CanExport

offers small and medium-sized enterprises an incentive to diversify their export markets by providing eligible companies with financial support to tackle new business opportunities, particularly in high-growth markets.

Going Global Innovation (GGI)

supports researchers who aim to commercialize technology by pursuing collaborative international R&D opportunities.
This free seminar will help you:
Learn about federal options for export-related funding for non-agrifood businesses

Understand eligibility requirements and funded activities

Become familiar with the application process
Funding is available to SMEs with a minimum of one full-time employee and no less than $200,000 in annual declared revenue in Canada. All businesses are welcome to attend and learn about the opportunities available.
PRESENTED BY

Allison Boulton, Program Manager, Export Navigator
Sudha Kshatriya, Trade Commissioner, Global Affairs Canada

DATE & TIME

Monday, November 26, 2018 | 9:30 AM to 11:00 AM

REGISTER NOW

Register for this FREE seminar & webinar now at sbbc.co/novexport
This seminar is hosted at Small Business BC in Vancouver and delivered to other locations via live webinar. All webinar participants will receive access to a recording for seven days after the live session.

QUESTIONS

Contact us at info@exportnavigator.ca
Learn more about how Export Navigator can help your business at www.exportnavigator.ca

T
he Government of Canada created the Green Construction through Wood (GCWood) Program to encourage greater use of wood in construction projects in Canada. We want to catalyze a broader awareness of, and domestic capacity for, innovative tall wood buildings, timber bridges and low-rise non-residential wood buildings. Building with wood offers many benefits, including GHG emission reductions and opportunities for economic growth.
GCWood provides non-repayable contributions of up to 100% of a project's eligible incremental costs for the demonstration of innovative mass timber products and systems. The funding is intended to offset the cost of being the "first mover" of wood-intensive projects, and to support the development of knowledge and tools to support the success of future projects.
Knowledge and information developed using GCWood funding will fall under a Creative Commons license to allow for knowledge sharing. For details about what information could be made available, please contact a
GCWood team member
.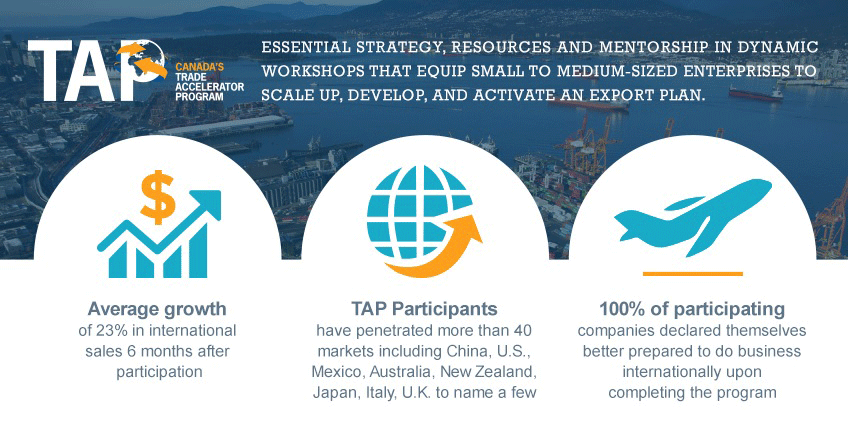 Upcoming Kelowna Workshop, starts

February 4, 2019
Application Deadline:
January 14, 2019
Schedule:
Registrations: 8:30-9:00am
Workshop program: 9:00am - 5:00pm
Location:
Downtown Kelowna
Participation Fee:

*

Full bursaries available for qualified BC wood products manufacturers. Inquire at BC Wood for details.
New trade agreements and a competitive Canadian dollar make it an ideal time to extend your company's reach through the export of goods and services.

World Trade Centre Vancouver has successfully delivered Canada's Trade Accelerator Program (TAP), in B.C. since 2017.

The Trade Accelerator Program is designed to help SMEs TAP into their full export potential. It has a proven track record helping participants get results.

Deadline to receive the catalogues for the show is January 10, 2019
Event: Canadian Lumber Catalogue Show
Date: to be confirmed (Feb/March 2019)
Venue: Beach Luxury Hotel
Location: Karachi, Pakistan
Target Audience: Canadian Softwood suppliers, saw mills and manufacturers of value added wood products
Sector
: Forestry and Wood Products
The Trade Commissioner Service is pleased to invite interested Canadian lumber companies to participate in the Virtual Lumber Catalogue Show in Karachi, Pakistan.
It offers a convenient and cost free opportunity to Canadian companies to connect with the local market without the need to be physically present. We encourage you to participate just by sending us printed materials, sample products and catalogues.
The Canadian Commercial Office Karachi will organise this one day event to identify potential end users of Canadian wood products including architects, construction and housing industry players and lumber importers.
UBC's B.Sc. Wood Products Processing program is now
accepting co-op postings
for the Summer 2019 term (May 2019 start). Attached you will find our program overview, a few examples of co-op positions for Wood Products Processing students and a job template in case you need one. Our students are available for 4 month (May to August) or 8 month (May to December).
There are still a few students available for a Winter 2019 term (January to April/August).
Students are qualified for positions related to marketing/sales, business process analyses/improvements, engineering processes, manufacturing, quality control, research, testing and technical analysis.
CAWP's Open House event is an opportunity for interested individuals to learn more about the education, training, research and industry assistance programs that go on in our building. In the afternoon we have a few short presentations on topics of interest to the wood products industry community. After presentations, visitors can walk around and view practical demonstrations and exhibits in our machine lab areas, as well as talk to some of our machinery, software and educational partners.
When:
Thursday, January 31st, 2019, 12:30pm to 5:00pm
Where:
UBC Forest Sciences Centre (2424 Main Mall, Vancouver) -Sign in at main Wood Science reception, CAWP 2900
Please note that the program for the day and further details will be available at a later date.
UBC - Online Certificate in Industrial Wood Finishing
A Unique Industry Training Program
Part-time online training program with a one-week hands-on practical session - t
his is North America's most comprehensive wood finishing certificate program.
The certificate program provides participants with a broad understanding of the field of wood finishing. It's designed for individuals who have some general experience in wood finishing and would like to expand their knowledge.
Once completed, learners will have the knowledge and experience to do the following:
Understand why finish is applied to wood and how wood properties affect finishing
To be able to identify the best finishing system based on the end use
Trouble-shoot wood finishing problems
Design a safe and efficient finishing facility
This course will provide you with the knowledge and tools to start a finishing business or to improve an existing one.
Starts January 7, 2019 - April 5, 2019
One week intensive practical - April 1-5, 2019
Space is Limited, Register Now!
Tel: 604 822-0082
Event type:
In-class seminar
Date:
Friday, November 30, 2018
Time:
8:00 am - 12:00 pm Pacific Time
Place:
Civic Hotel 13475 Central Avenue, Surrey, BC
Fee:
$75.00 CAD plus GST (per attendee)
Registration deadline: November 26, 2018
Join us on November 30th for a fast-paced guide to expanding your sales into the United States. Whether opening a store front with a U.S. address or partnering with a distribution centre for your eCommerce activity, our seasoned cross-border lawyers, accountants, customs brokers and logistics professionals will present options that will help you determine your export strategy and understand your responsibilities with government agencies such as the U.S. Customs and Border Protection and Immigration.
Tradeshow Tips/Advice
Protecting Your Trade Show Exhibit
Kristie Jones-Damalas | Skyline Trade Show Tips
So, you just finished nailing down the booth design and budget. So now what?
How can it continue to look as good as it does the first time after 10 more shows? Did you confirm that your investment was protected? How long do you plan to keep those assets? Shipping, transporting, install, dismantle and storing all can take a toll on the exhibit. Make sure you are investing in quality crates to protect those assets. Crates can come in a variety of materials. You will need to determine what will be best for you.
Are you storing these in your facility or with your vendor? Is your facility equipped with the proper freight doors/ramps/etc.? Will you need wheels, or will skids work for you? As well, be sure you know the venue that you are shipping to. Some hotels do not have the ability to accept large skids or crates. Be sure to do your homework.
What about other items that go along with my exhibit?

Join the BC Wood Pavilion at Buildex!
BC Wood will once again be hosting a pavilion at Buildex Vancouver, from February 13-14, 2018.
BUILDEX Vancouver is Western Canada's largest tradeshow and conference for the Construction, Renovation, Architecture, Interior Design and Property Management industries. With over 600 exhibits, and more than 80 educational seminars, BUILDEX attracts over 14,000 attendees annually.
For a space in the popular BC Wood pavilion, please contact Ken Hori at 604-882-7100 or
khori@bcwood.com
.
Korea Market Update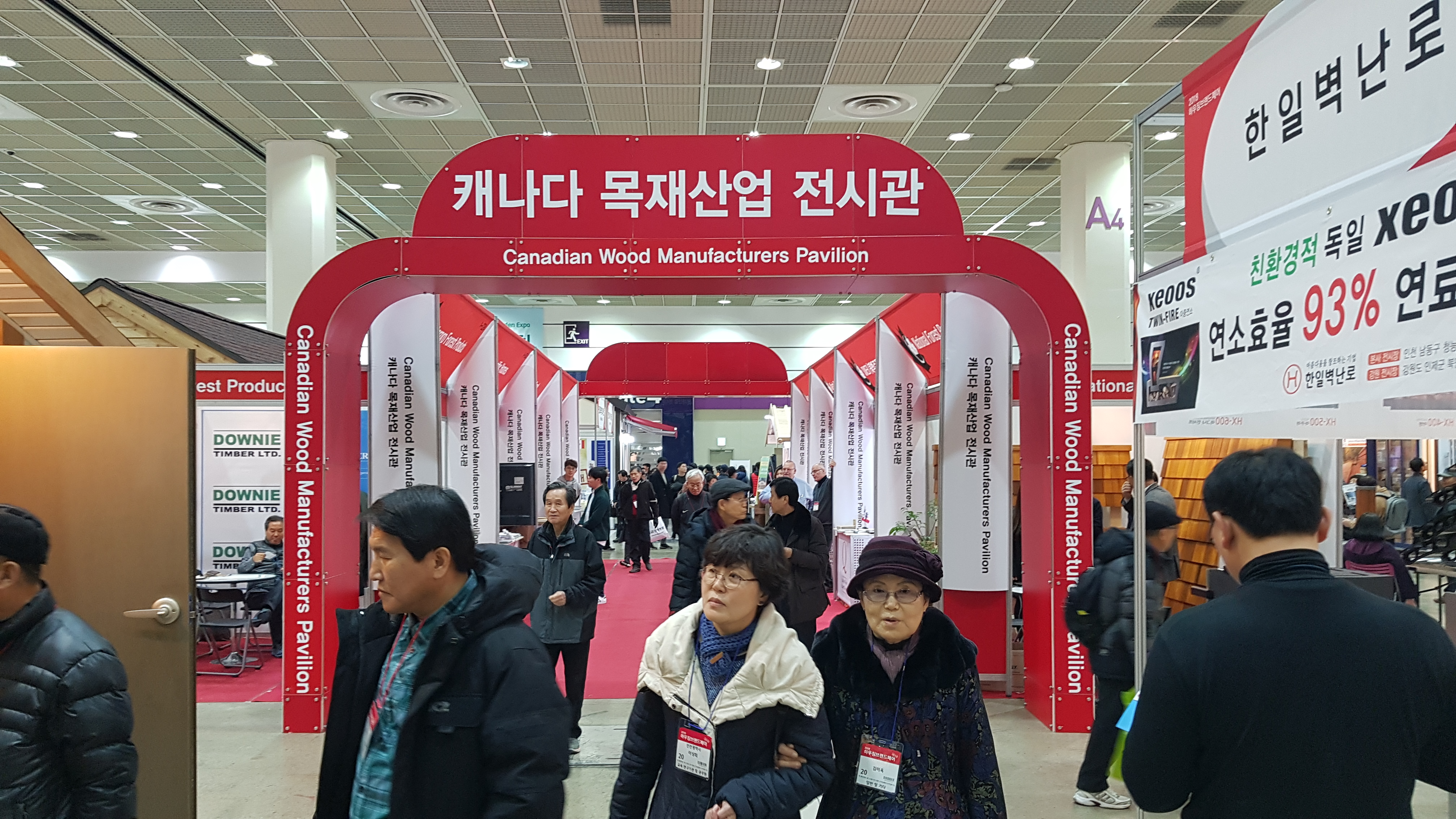 BC Wood will be organizing a pavilion for members at the next Housing Brand Fair to be held from February 14th to 17th at the very convenient COEX Exhibition Facility in Seoul's Gangnam district. The show's strong promotional backing and central location attracts most of the major players in Korea's wood and construction industries. A wide range of products are covered at the show including lumber, millwork, kitchens, furniture, and house packages. Therefore, this show is ideal for a large cross-section of BC Wood members interested in targeting professionals in the Korean construction industry.
On behalf of BC Wood members interested in attending the show, BC Wood's Korean Representative JC Lee has been negotiating with the
show
organizers
to cover some of our members' travel costs for the show. For more information on this and the show, please contact Jim Ivanoff at ivanoff@bcwood.jp.
Japan Market Update
BC Wood will once again be coordinating the Canadian Pavilion at the Nikkei Architectural and Construction Materials Show that will be held at Tokyo's Big Sight from March 5th through 8th, 2019. The Nikkei Show is already sold-out, but with BC Wood's longstanding participation in the show we have been able to secure a pavilion in a prime location on behalf of our members.
The Nikkei Show is the largest show of its kind in Japan and sees over 250,000 industry professionals over the show's four days. The show attracts a great number of architects, but is also well attended by importers, distributors, and both residential and commercial builders. Therefore, the show is a good fit for producers of cabinetry, millwork, house packages including log and timberframe, as well as lumber and remanufactured products. For more information, please e-mail me at
Ivanoff@bcwood.jp.
Canada Market Update
Spring Cottage Life Show, Toronto -

March 21 - 24, 2019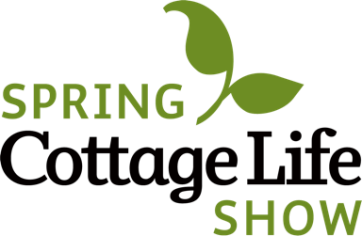 BC Wood will once again be hosting with a large BC wood presence at the Spring Cottage Life Show.
The Spring Cottage Life Show attracts 39,000 visitors from one of Canada's hottest recreational property markets. These hard-core cottagers arrive at the show with a plan to upgrade, improve, build new, or to buy property, boats, furniture, and accessories. Over 525 exhibitors come together for one great weekend to celebrate and prepare for all things cottage related. Exhibitors include boats, docks, builders, contractors, innovative building products, green solutions, décor, arts and crafts, food and entertainment, and water toys.
If you are interested in finding out more about this event, please contact Ken Hori at 604-882-7100 or
khori@bcwood.com.
Marketplace
If you would like to include a posting in our Marketplace section, please email me at
kcrowe@bcwood.com
or call 604-882-7100 and ask for Kit.
Upcoming Events
January 14 - 19, 2019:
BAU
, Munich, Germany

February 13 -14, 2019: Buildex, Vancouver, BC

February 14 -17, 2019: Housing Brand Fair, Seoul, South Korea

February 19 - 21, 2019: International Building Show (IBS), Las Vegas, USA



February 19 - 22, 2019:

Hotel-Res Expo, Tokyo, Japan

March 5-8, 2019: Nikkei Architectural & Construction Materials Show, Tokyo, Japan

March 21-24, 2019: Spring Cottage Life Show, Mississauga, ON

March 28-31, 2019: Interzum Guangzhou, Guangzhou, China

For a list of all trade and industry events, please visit
If you have any questions, comments, suggestions, or feedback, feel free to email me at

kcrowe@bcwood.com

.

Kit Crowe
BC Wood