SUBSCRIBE

Follow us on Twitter



If you have not yet been featured in our Spotlight section and would like to be, please email me at
rmann@bcwood.com
or call 604-882-7100. You must be a value-added wood manufacturer in BC; however, you do not have to be a member of BC Wood, or any other association to participate - and it is free of charge!
If you are using Microsoft Outlook to view this email, you may not be able to see all of the images. In this case, you can view the webpage version of this email by clicking on the link at the top of this email "Having trouble viewing this email?
F
eel free to send me news stories that you think our readers would be interested in. You can email them to
rmann@bcwood.com
Industry News
Canadian Forest Service Survey
The Canadian Forest Service in collaboration with the BC Wood Specialties Group survey is conducting a survey to better understand the secondary wood manufacturing sector's challenges and contributions. Participation will contribute to an accurate information base on the structure, performance, and needs of the secondary manufacturing sector. Also, it will assist decision-making on timber supply and access, and investments in marketing, technology transfer, product development, and worker training.
We ask for detailed information on production, employment, wood use, markets, marketing, and constraints to expansion. This information is being collected for the 2016 production year. Our past studies have quantified the sector's importance in producing jobs and value per unit of fibre used and allow us to analyse sector trends since 1990.
Trends in British Columbia secondary manufacturing:
1990

1994

1997

1999

2006

2012

Firms

Sales ($ billions)

Employment

565

1.54

11,660

525

1.93

14,010

683

2.69

14,457

703

2.90

14,410

660

3.15

14,800

547

2.8

12,417
If you wish, you can request an electronic fillable survey by contacting us by email at
nrcan.bcsurvey@canada.ca
. The information collected in the survey will remain strictly confidential and no individual firm information will be shared or reported on.
Industry News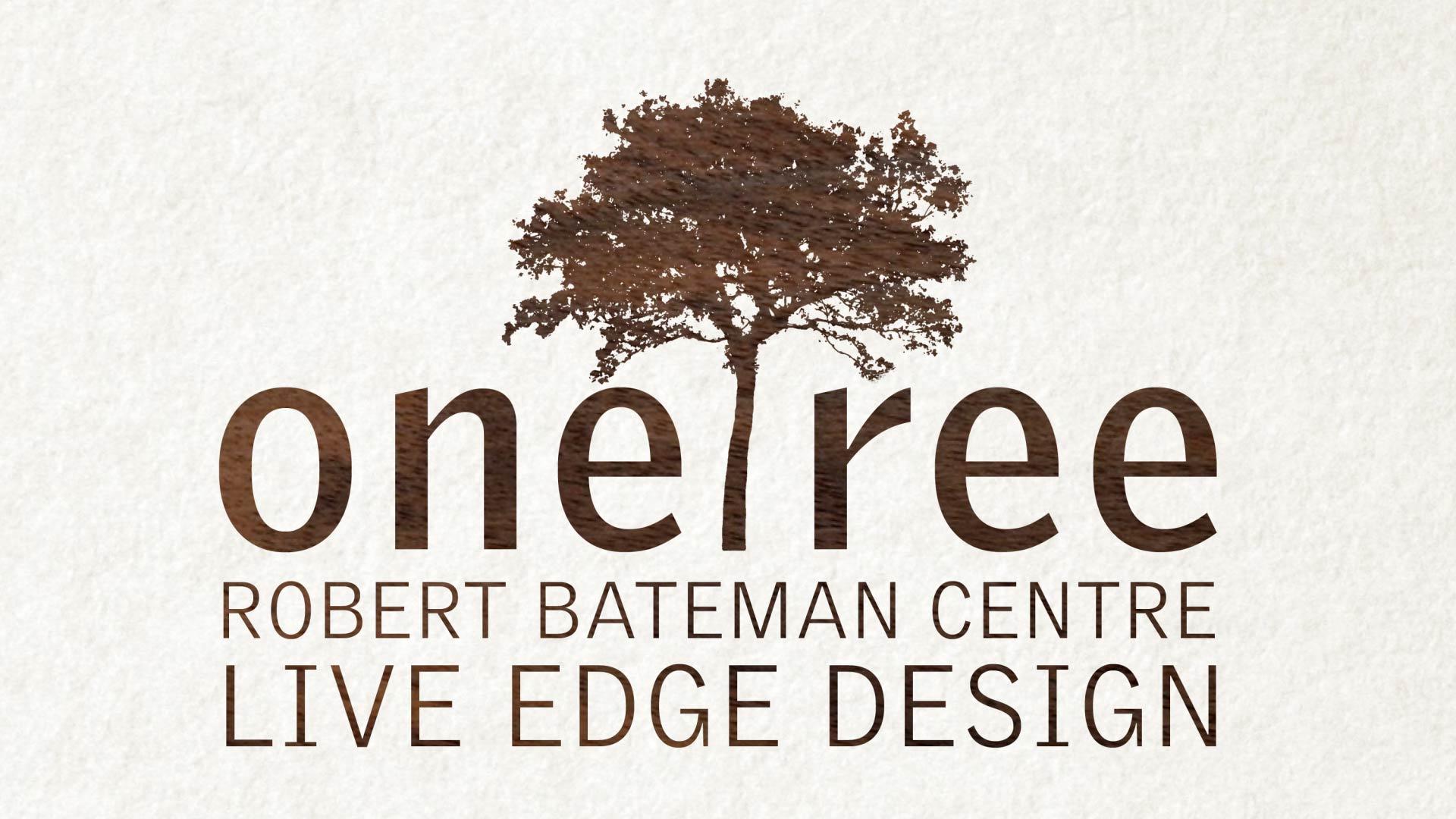 TONIGHT:
oneTree Seminar & Workshop
IDCEC: 2.5 GENERAL | AIBC: 2.5 CORE LUs

BC Wood is pleased to partner with Live Edge Design to offer a unique interactive seminar and workshop around the oneTree exhibition.
The oneTree exhibit project on display at the Bateman Centre in Victoria illustrates the fascinating interrelationship between art and nature by celebrating the past, present, and future of one particular Walnut Tree by salvaging its wood, making functional art from it, and recording the creative process. Intimacy with the life of this oneTree will enhance our relationship with nature as a whole.

Learning Objectives:
Understand wood species-their aesthetics and requirements

Learn to discern "quality" in the design and production of wood furniture

Understand the process of producing high-quality slab furniture, from tree to table

Learn more about the benefits of using local wood products
Details:
5:00 - 8:00pm

The Bateman Centre, 470
Belleville Street, Victoria, BC V8V 1W9


$20

Industry News
Nail-Laminated Timber Canadian Design and Construction Guide Now Available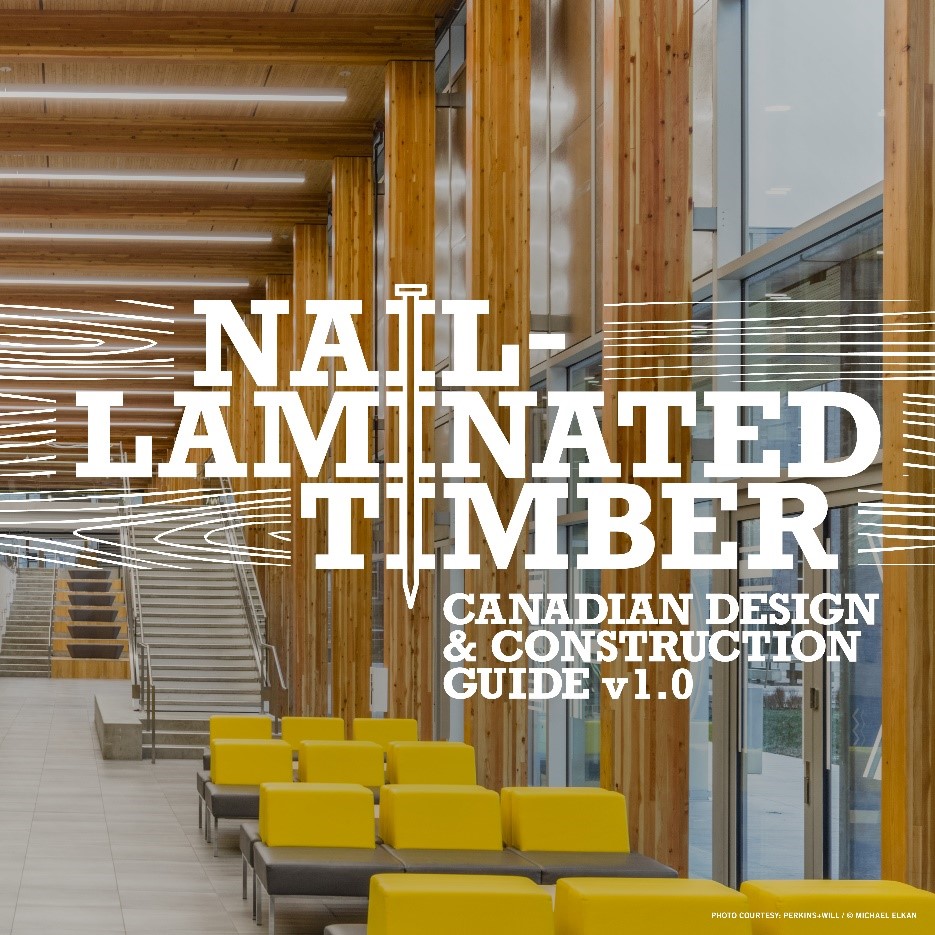 Canada's design and construction community will now have free access to detailed expert advice available in the Canadian Nail-Laminated Construction Guide. NLT is inspiring new and innovative opportunities for tall and commercial-scale buildings. Highlighting Canadian innovation and leadership, this guide offers practical strategies and lessons learned from real-life projects.
Industry News

2018 Marketing and Sales Boot Camp
For Business Owners with Neil Godin
Three-Month Business Coaching Program from January through March, 2018
This unique three-month program
is designed for business owners who want a substantial - and rapid - boost in sales. It focuses on the knowledge and skills (and the support) you need to build - and implement - a powerful Marketing and Sales Plan for the coming year.
Topics include:
How to get real action - and a solid R.O.I. - from every advertising and business promotion dollar

How to turn telephone and web inquiries into sales - systematically

How to avoid losing touch with prospects after quoting - so you're not left wondering what happened - and so you close more sales!

How to use Guerrilla Marketing to boost sales - rapidly and at very little cost

How to counter price competition - by getting customers coming to you!
Registration includes:
A half hour initial telephone consultation; a full day opening workshop; three monthly follow-through webinars (live, and recorded for future reference); three private monthly one-hour coaching calls with Neil; more than $400 in reference materials - and a copy of Neil's book, "Selling in the (Comfort) Zone," a comprehensive guide to marketing and sales for business owners.
Details:
| | |
| --- | --- |
| Dates: | Mid-January through March, 2018 |
| Location: | Location of the Opening Workshop is to be determined |
| Cost: | $330 + GST for up to two people from the same company |
This bootcamp is open to everyone in the wood products industry including non BC Wood members. However, registration is limited to 10 non-competing BC companies.
About the Presenter:
Neil Godin is a Vancouver based marketing, sales and leadership trainer, speaker and author. He has worked with more than 30 wood product manufacturers across Canada (including architectural woodwork; wood windows and doors; flooring; kitchens/cabinets; molding; factory built custom homes; closets and organizing; timber frame and log homes; trusses, and wine cellars). He has also worked with larger organizations including Fletcher Challenge, Tolko, FPInnovations, AWMAC, EB Eddy Forest Products and others.
Industry News
Brock Commons Tallwood House: Extraordinarily Ordinary
World's Tallest Mass Timber Tower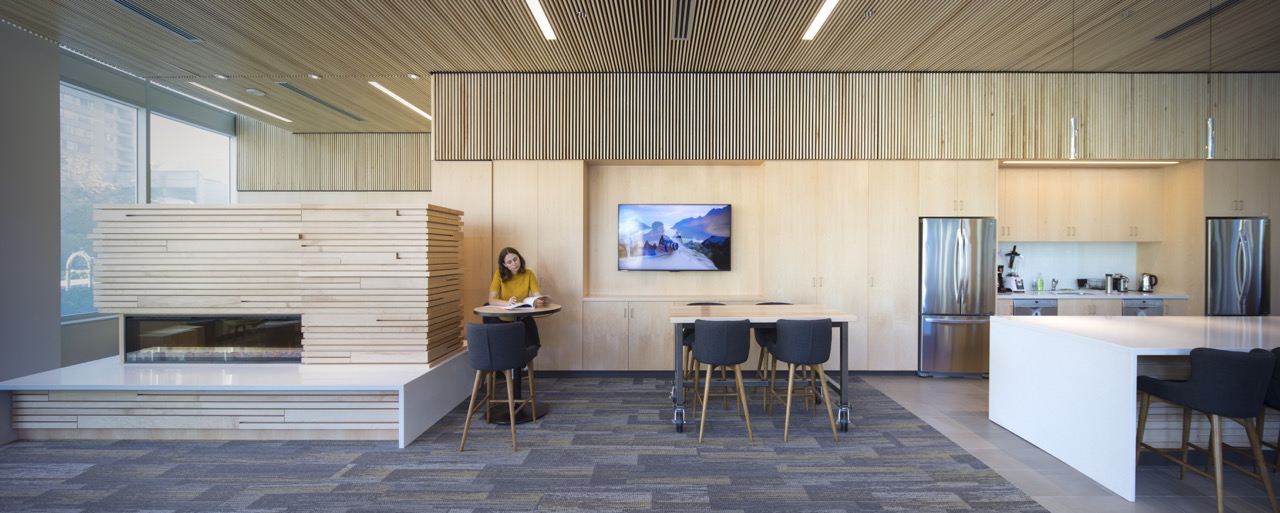 At 18 storeys and 53 meters in height, Brock Commons Tallwood House is a 404-bed student residence building located on The University of British Columbia Point Grey campus in Vancouver, BC, Canada that officially opened for students in July of 2017. The project is the first completed in Canada under the 2013 Tall Wood Building Demonstration Project Initiative
sponsored by Natural Resources Canada. Brock Commons aspires to be a model for a future that features extraordinarily ordinary mass wood buildings that are quick, clean and cost effective to construct and which maximize carbon sequestering and reduction of greenhouse gas emissions in cities.
Extraordinary for its height-which makes Brock Commons the world's current tallest mass timber tower-the building is also extraordinary for the speed at which its structure of glue laminated timber, cross laminated timber (CLT), and prefabricated facade went up in only 66 days. At 2,233 cubic meters, the building utilizes an extraordinary amount of timber that
stores an impressive 1,753 metric tons of carbon dioxide and avoids production of 679 metric tons of greenhouse gas emissions. Another extraordinary achievement is that the innovative project demonstrates a mass wood building can be comparable in cost to a traditional concrete building.
Industry News
UBC - Part-Time Online Industrial Wood Finishing Certificate Course
January 2 to April 7, 2018
North America's most comprehensive wood finishing certificate program which includes p

art-time online training program with a one week hands-on practical session.
The certificate program provides participants with a broad understanding of the field of wood finishing. It's designed for individuals who have some general experience in wood finishing and would like to expand their knowledge. Once completed, learners will have knowledge and experience to do the following:
Understand why finish is applied to wood and how wood properties affect finishing

To be able to identify the best finishing system based on the end use

Trouble-shoot wood finishing problems

Design a safe and efficient finishing facility
This course will provide you with the knowledge and tools to start a finishing business or to improve an existing one.
Starts January 2 to April 7, 2018
One week intensive practical - April 2-6, 2018
Space is Limited, Register Now!
Tel: 604 822-0082
Industry News
Expo Edificación Verde in San Jose, Costa Rica - May 17-18, 2018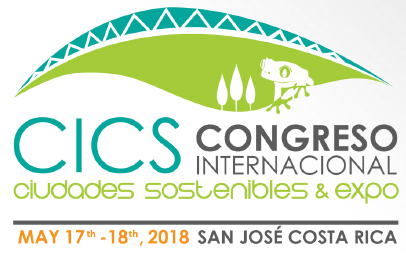 The Green Building Council de Costa Rica (GBCCR) invites you to participate in the green expo: "
Expo Edificación Verde" under the framework of the 5th edition of the Sustainable Cities International Conference that will take place on May 17 and 18, 2018 in San Jose, Costa Rica.
Your products can stand out among a distinguished audience that includes leader companies from the construction and susainability sector. Your brand can obtain presence and visibility among nationally and internationally recognized participants and speakers.
Tradeshow Tips

Eric Schwartz | Skyline Trade Show Tips
Without proper ROI measurement, marketing endeavors such as trade shows can become the proverbial redheaded stepchildren of the organizational budget: feeling shunned for their differences and prone to being omitted when economic conditions get tough. But by following the steps below, it can be easy to justify your exhibit expenses to your key stakeholders.
Pick the Right Event. This sounds like a no-brainer, but a surprising number of exhibit managers devote too much time and budget to events with limited potential. Consider the costs of exhibiting, the number of qualified prospects likely to attend, and the often-overlooked costs of travel lodging, shipping, etc. to that particular destination. Just because a given show was lucrative three years ago doesn't mean it's worth attending this year.

Always Look for Effective Cost-Saving Opportunities. Mindfulness toward exhibit expenses can go a long way toward preventing painful, emergency spending cuts down the road. Signage replacement or booth rental

can be viable alternatives to a more expensive booth replacement over a larger design overhaul.


Have Quantifiable Goals. To be able to attach a dollar figure to an abstract goal, you need to correlate it with a specific outcome. For a goal such a brand awareness, you can arm yourself with information by knowing how many people visited your booth, or how many people visited your website as a result of your exhibit. We have found that this latter figure is often the one missing from most trade show manager's datasets, often because they don't use tracking URLs and Google Analytics to prove exhibitor's contribution to inbound marketing.
Strong Japanese Economy Powers the Japan Home and Building Show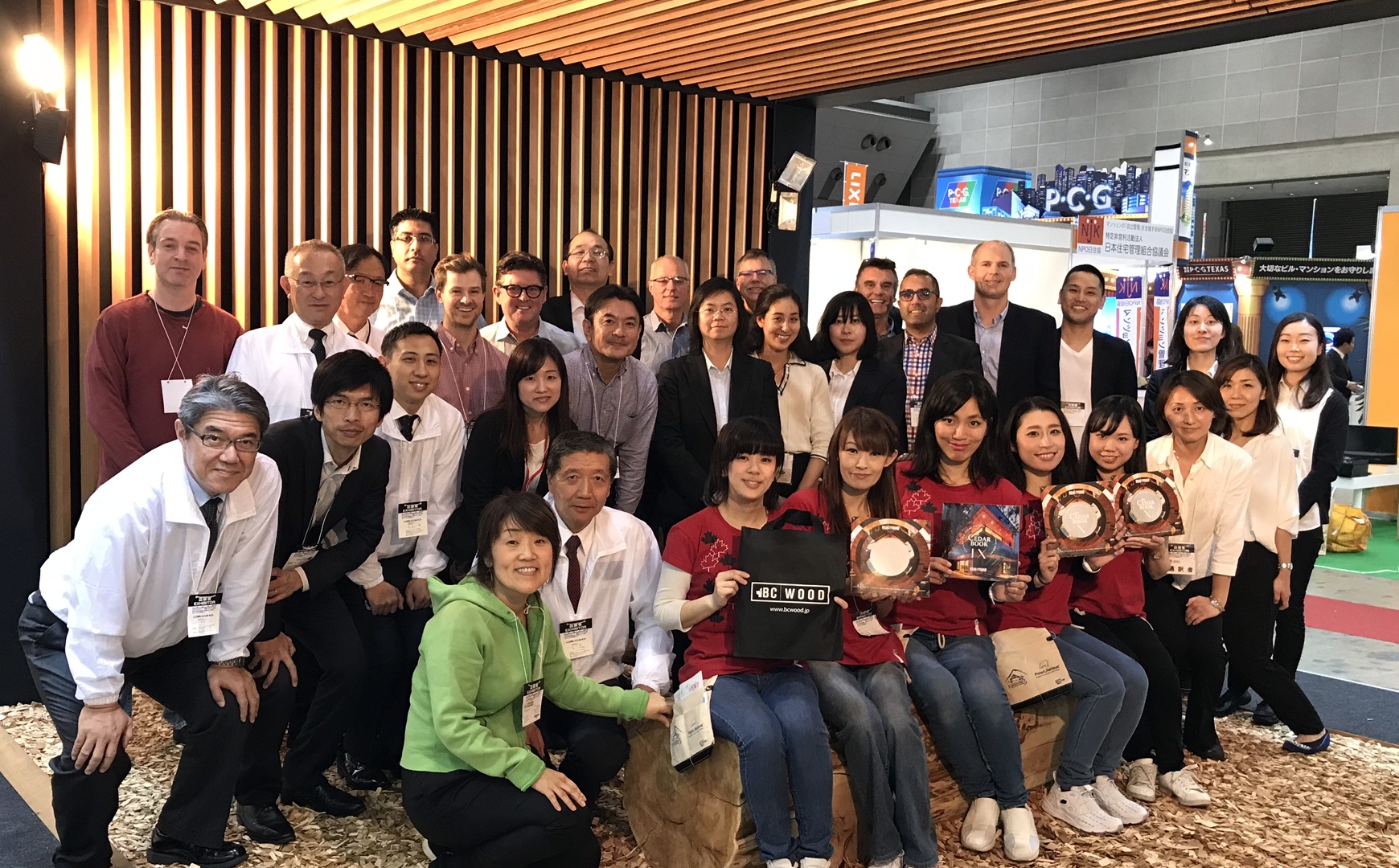 For 2017, the Japan Home and Building Show was bigger and more diversified than ever. The growth in the Japanese hospitality sector has led the show organizers to target commercial construction and architecture. New zones devoted to the commercial sector helped the show fill all six of Tokyo Big Sight's East Halls. Japan's strong economy has also brought more foreign companies back into the market. This included the BC Wood organized Canadian zone which with the help of a strong contingent from Ontario, grew to 26 booths, making it the biggest in recent memory.
Since such a large group was coming from Canada and it also being Canada
'
s 150th anniversary, we decided to organize Canada 150 themed "client connection" events together with the Government of Ontario, the Government of Alberta, and the Canadian Consulate in Nagoya. The events were held in Osaka and Nagoya on the days immediately before the Big Sight show. That way participating companies could meet with potential clients in all three of Japan's major markets. Instead of a seminar set-up, the events were organized as "mini-trade shows" in conference rooms so that the invited Japanese guests could walk around and meet with companies they were interested in. It has been a few years since BC Wood has organized this type of event in Japan, but based on the positive feedback this time, we will be looking at organizing them again in the future.
Another special event for us at the Japan Home & Building Show this year was the visit by Minister Doug Donaldson. He led the BC industry delegation to the show to meet our members and see what products were on display. During his visit, the Minister also presented a certificate of appreciation to the president of Takahiro Mokuzai for his company's long support of the Canadian wood products industry (pictured below). It was an honour to be a part of this and help recognize one of our industry's good friends in Japan.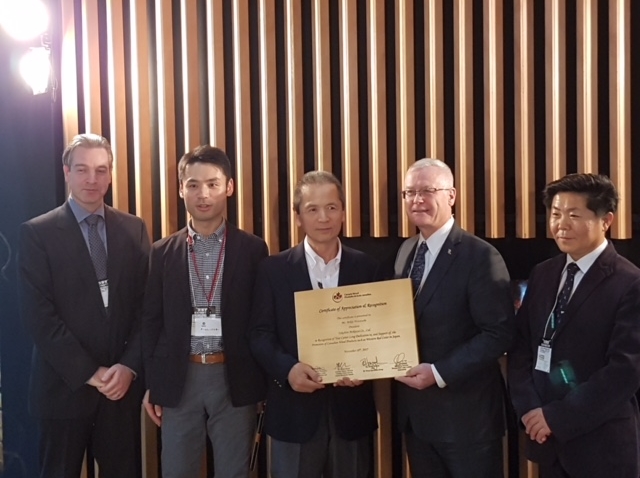 The JH&BS exhibitors have long been very international, but over the past few years, the show's visitors have also become more international with many buyers in particular from Korea, Taiwan, and China. For this reason, we had JC Lee from our Korean office come to Tokyo to help connect our members with Korean visitors. JC was busy throughout the show as there more Korean visitors than we had anticipated. Most were from the wood construction field and came to learn about wood construction technologies and products in Japan. With JC's help, they were also able to learn about Canadian solutions.
Overall, the Japan Home & Building Show 2017 was a very productive week for our participating members. BC Wood also learned from the new things we tried during the show which will help us develop new market development programs both in Japan and other Asian markets.
Industry News
The 14th annual Global Buyers Mission™ (GBM) took place in Whistler, September 7th to 9th, 2017. Over 850 delegates from around the world came together to participate in this three-day, invitation only networking/tradeshow event. The GBM brings together qualified international buyers of wood products, with Canadian manufacturers of that include finished materials, building supplies and remanufacturing products.
Industry News
In conjunction with the 14th annual Global Buyers Mission in Whistler, we presented WoodTALKS which included seminars and program information delivered by industry leaders and specialists -- designed specifically for architects, builders, contractors, designers, developers, municipal planners, engineers, and other specifiers in the Province. Part of the program included meeting many wood products manufacturers and suppliers that will be helpful when it comes to sourcing materials for building projects, particularly those compliant with the Wood First Act.
A few comments, suggestions, and ideas...
November is traditionally the month that we find ourselves buried deep in writing proposals to our funding partners. This year alas, is no different. The proposals give us an opportunity to reflect on our market development activities and evaluate what was effective and what may need to be changed.
As an example, in the US, we have been active in organizing and delivering the WoodTALKS Workshops in the Pacific Northwest (pictured below). Over the past 3 years, my colleague, Roy Manion, has done a bang up job introducing BC Industry to architects at WoodTALKS events in Seattle, Tacoma, and Portland. Due to the success of this program, our plan for next year is to expand the WoodTALKS to new regions that may include the Napa-Sonoma region of Northern California and possibly the Mountain State regions of Big Sky, Montana and Jackson Hole, Wyoming. These markets are experiencing considerable construction activity and the WoodTALKS event provides an excellent opportunity to get directly in front of the key builders and architects in those regions.
As always, for more information on these events or other activities in the US, please contact me at
dfarley@bcwood.com
. Now back to the writing!
BC Wood Mexico Trade Mission & Trade Show - January 14th - 20th, 2018
BC Wood and members will be traveling in January 2018 to Mexico for one-on-one meetings and trade show participation in Mexico City, and one-on-one meetings in Guadalajara and Monterrey.
After 23 years of evolution, Magna Expo Mueblera Industrial is the leading trade fair in Mexico for wood processing, woodworking and furniture manufacturing. The four day event takes place at Centro Citibanamex, the largest exhibition centre in Mexico City. This event is combined with Magna Expo Mobiliaro which is the leading trade fair for furnishings, decoration, appliances and flooring. The majority of the 8000 visitors attending Magna Expo Mueblera will be industry professionals, while the Mobiliaro side will attract some public.
www.hfmexico.mx
For more information:
Korea Market Update

Housing
Brand
Fair - January 18-21, 201
8
BC Wood will be organizing a pavilion for members at the next Housing Brand Fair from January 18th to 21st at the very convenient COEX Exhibition Facility in Seoul's Gangnam district. The show's strong promotional backing and central location attracts most of the major players in Korea's wood and construction industries. A wide range of products are covered at the show including lumber, millwork, kitchens, furniture, and house packages. Therefore, this show is ideal for a large cross-section of BC Wood members interested in targeting professionals in the Korean construction industry.
On behalf of BC Wood members interested in attending the show, BC Wood's Korean Representative, Mr. JC Lee, has been negotiating with the
show
organizers
to cover some of our members' travel costs for the show.
For more information on this and the show, please contact Jim Ivanoff at ivanoff@bcwood.jp.
BUILDEX Vancouver - Feb 14 & 15, 2018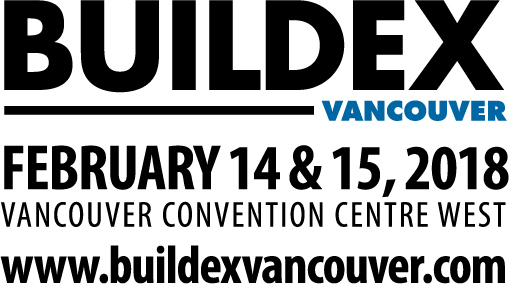 BUILDEX Vancouver is Western Canada's largest tradeshow and conference for the construction, renovation, architecture, interior design, and property management industries. With over 600 exhibits and more than 80 educational seminars, BUILDEX attracts over 14,000 attendees annually.
Join the BC Wood Pavilion. More details will be advised soon.

For more information, please contact Ken Hori at 604-882-7100 or
khori@bcwood.com
.

Japan Market Update

Nikkei Show - March 6-9, 2018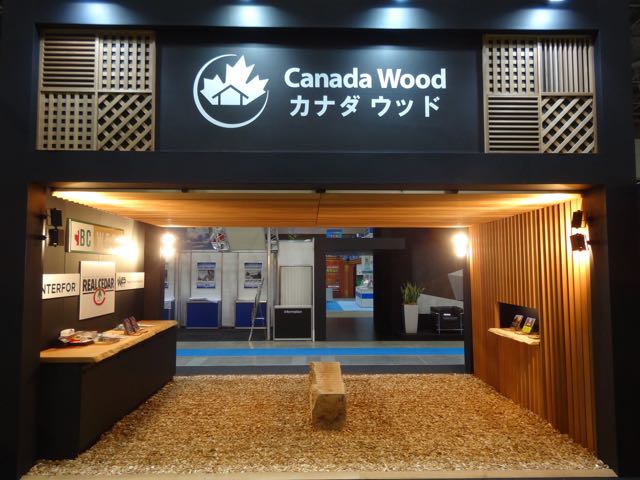 BC Wood will once again be coordinating the Canadian Pavilion at the Nikkei Architectural and Construction Materials Show at Tokyo's Big Sight from March 6th through 9th, 2018. The Nikkei Show is already sold-out, but with BC Wood's longstanding participation in the show, we have been able to secure a pavilion in a prime location on behalf of our members.
The Nikkei Show is the largest show of its kind in Japan and sees over 250,000 industry professionals over the show's four days. The show attracts a great number of architects, but is also well attended by importers, distributors, and both residential and commercial builders. Therefore, the show is a good fit for producers of cabinetry, millwork, house packages including log and timberframe, as well as lumber and reman products.
Spring Cottage Life Show, Toronto -
Mar 23-25, 2018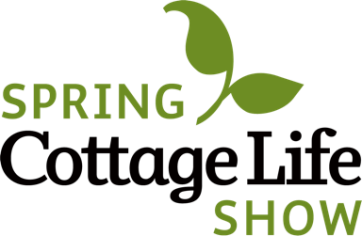 The Spring Cottage Life Show attracts 37,000 visitors and 86% of the attendees own a cottage. These hard-core cottagers arrive at the show with a plan to upgrade, improve, build new, or to buy property, boats, furniture, and accessories. Over 525 exhibitors come together for one great weekend to celebrate and prepare for all things cottage related. Exhibitors include boats, docks, builders, contractors, innovative building products, green solutions, décor, arts and crafts, food and entertainment, and water toys.
For more information and to reserve your space, please contact Ken Hori at 604-882-7100 or
khori@bcwood.com

China Market Update

Interzum Guangzhou - March 28-31, 2018
Once again, BC Wood will be exhibiting at Interzum Guangzhou from March 28th to 31st to give members the opportunity to build and expand their businesses in the large Chinese market. This annual event covers every facet of wood furniture and building products manufacturing including both machinery and raw materials. It is said to be the largest woodworking show in Asia. Over 1,100 manufacturers and suppliers are expected to occupy the 130,000-square meter venue with 60,000 visitors expected.
Interzum has been attracting pavilions from Germany, the US, Italy, Turkey, Spain, Sweden, etc over the past ten years covering a wide variety of both softwood and hardwood species. Due to the show's importance to the Chinese woodworking industry, buyers/ importers of all types of wood products visit. Therefore, this show will be of interest to members supplying a wide variety of softwood & hardwood lumber including for uses such as remanufacturing, concrete forming, as well as wood construction.
Marketplace
HELP WANTED
Industry Liaison/Special Projects Manager - UBC
Responsible for the day-to-day coordination and management of major curriculum development and training projects at CAWP, as well as planning, development, assessment and delivery of a diverse range of industry educational and outreach activities. Coordinates and conducts marketing and promotion for continuing education and training programs. Leads skills development projects for industry clients, instructs some training and education programs.
Jason Chiu
Managing Director
UBC - Centre for Advanced Wood Processing
Tel: 604 822-0082
---
In this se

ction, you can post for free anything from job listings (for employees looking f

or work, and employers looking for new staff), to machinery for sale/wanted, to a request for a particular type of wood or service.

If you would like to include a posting in our Marketplace section, please email me at rmann@bcwood.com

or call 604-882-7100 and ask for Rumin.
Upcoming Events
January 2018: BIA Hawaii, Honolulu, USA
January 9-11, 2018: International Builders Show, Orlando, USA
January 14-20, 2018: Expo CIHAC, Mexico City, Mexico
January 18-21 2018: Housing Brand Fair, Seoul, Korea
February 2018: Hotel-Res Expo, Tokyo, Japan
February 14-15, 2018: Buildex Vancouver, Canada
March 6-9, 2018: Nikkei Architectural & Construction Materials Show, Tokyo, Japan
March 23-25, 2018: Spring Cottage Life Show, Mississauga, Canada
March 28-31, 2018: Interzum Guangzhou, China

For a list of all trade and industry events, please visit

Rumin Mann
BC Wood