January 12, 2018

25th of Tevet, 5778













Candle Lighting at 5:30 PM



Passion and Commitment

-the motto of many KYHS students

How do you inspire passion and commitment? How do you teach someone to love what they're doing?

Our parsha begins by describing how God appeared (

וארא

) to our forefathers, "And I appeared to Avraham, Yitzchak, and Yaakov" (Shmot 6:3). Rashi offers a two-word cryptic comment on the word

וארא

, "appeared." Rashi says:

״אל

האבות״

. God appeared to the Avot, our forefathers. This comment appears to be superfluous; why does Rashi feel it is significant?

The Chatam Sofer offers a beautiful homiletic interpretation. The word "avot" can be interpreted not as referring to "forefathers" as it would typically be translated, but in a more novel way. The word

אבה

elsewhere in Tanach means "to want." The Chatam Sofer suggests that Rashi is not simply stating the obvious, that God appeared to the Avot -- our forefathers. Instead Rashi is telling us that God appears to the "avot" -- those who

want

God to appear to them, those who

seek

God, those who

long

for transcendence.

It is our job as a school to help our students be "avot," to be seekers, to search, to long for deeper meaning and a connection to Hashem. There are many ways to inspire this attitude of seeking and of passion. I have always been greatly inspired by watching our students commit themselves to co-curricular activities like sports and drama. Students spend countless hours devoted to their crafts. This sort of commitment to excellence in areas outside of Torah can have a real impact on our religious lives. Commitment and passion are contagious qualities. A student who is passionate about focusing on their free throws can more easily become passionate about focusing on their tefila. A student who perfects her delivery of her lines in a play can more easily focus on perfecting her reading of Gemara.

The way to inspire passion in school is to allow students to pursue their passions. I want to thank all the athletes on the winter sports teams as well as the entire cast and crew of the girls' musical for their commitment and passion and for inspiring us all to strive for excellence in everything we do.

Rabbi Jonathan Kroll

Head of School

Upcoming Events

Good and Welfare

Rivka (Fuchs '10) and Yonatan Siev on the birth of a daughter, Maayan Emunah

Megan (Wasserstrom '13) and Lee Schwartz on the birth of a son, Aron Lieb Nachum

Yael (Rotenberg '02) and Rafi Kupferman on the birth of a son, Yakir Shlomo

Nechama (Horowitz '02) and Iddo Gutman on the birth of a daughter, Avigail Bracha




Beauty and the Beast
KYHS Girls Return to the Stage for Annual Musical
Graphic by Sydney Freedman ('20)

Article by Libby Weingarten ('19)
Our girls have amazed us once again! Seemingly impossible, the KYHS Girls Musical gets better each and every year. This year's
Beauty and the Beast
was unsurprisingly a huge success. From start to finish, the excited audience sat, laughed, and clapped. The teamwork of our talented cast alongside the hidden figures behind the scenes was unparalleled. The already exceptional night ended with a beautiful message from director, Ms. Jill Lustig. Bravo and congratulations to the whole cast and crew!
Strongman Jon Pritikin Brings Feats of Strength and Words of Inspiration to KYHS
Graphic by Justin Isaacs ('19)
This Wednesday, KYHS students had the incredible opportunity to hear from motivational speaker Jon Pritikin. Mr. Pritikin's message of inclusion was brilliantly delivered through his telling of his own life story. Tears flowed as Mr. Pritikin spoke about being bullied and ostracized for being different
.
He inspired us with his own perseverance and inner strength, and he also demonstrated his incredible outer strength as he rolled up a frying pan and bent a steel bar, among other amazing feats.
Startup Samaria
Hillel Fuld Speaks to Students About Technology in Israel and the Endless Possibilities Ahead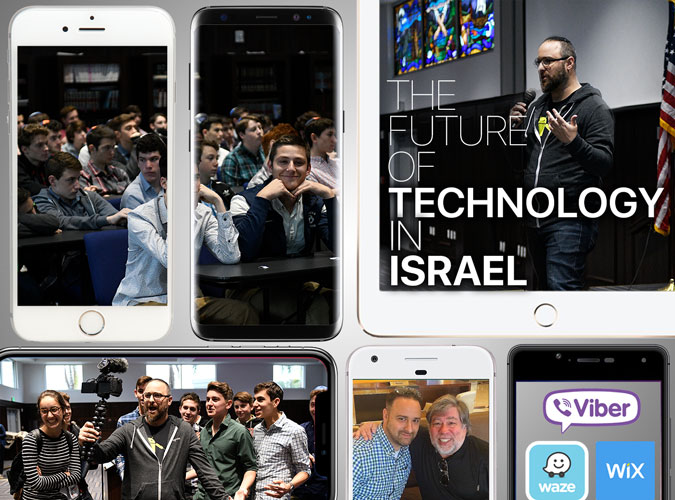 Graphic by Akiva Stadlan ('19)

Article by Adina Hirsch ('19)

While KYHS students have always admired and loved Israel, hearing from Israel's
leading startup advisor, Hillel Fuld, further fueled each students' love and pride for Israel. Hillel explained that his job is to help entrepreneurs in Israel turn their ideas turn into reality. Fuld has had the incredible opportunity to work with countless inventors and investors from Israel and worldwide, including
Steve Wozniak
,

the cofounder of Apple.
Billions of dollars have been invested into Israel's startup companies from numerous countries. It is miraculous to think that Israel, a small country the size of New Jersey, can be the leading startup nation in the world. Kayla Bensmihen is one of many students in awe of Fuld and Israel, saying, "His stories strengthened my love for Israel and deepened my appreciation for having a Jewish state that is viewed positively through all their innovation." We are blessed to have a such an innovative and inspiring homeland.
Drug and Alcohol Panel
KYHS Hosts Narcotics Detectives, Forensic Scientists, Sheriff Officers, and Others in Drug and Alcohol Info Panel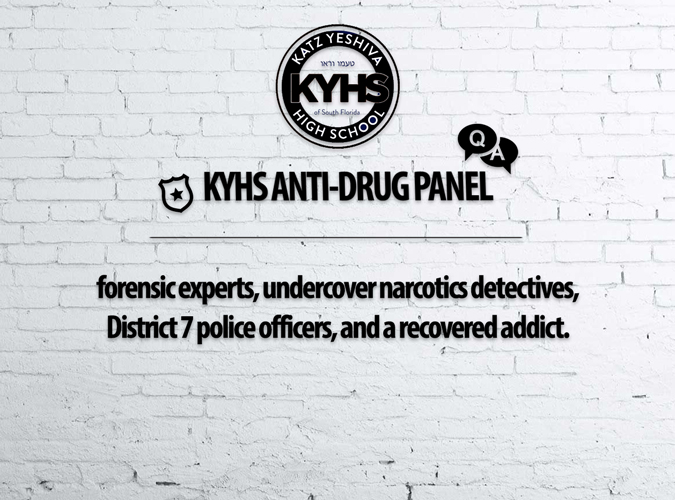 Graphic by Justin Isaacs ('19)
Article by Eli Litwin ('18)
This past Wednesday, the entire KYHS student body had the privilege of hearing an amazing panel discussion arranged by the Palm Beach County Sheriff's Office regarding drug and alcohol use. The panel consisted of experienced professionals, such as homicide detectives, undercover narcotics agents, a forensic scientist, a vehicular homicide investigator, and a recovering addict.
What made the discussion so unique was that the topics of conversation were driven by the students. Students wrote questions anonymously on sticky notes and teachers brought the notes to the panelists the entire duration of the panel. It was amazing to witness how one question could elicit a response from almost every individual at the table; each guest speaker was able to share how their specific profession and field addressed the question in a unique way. Some of the many topics discussed included driving under the influence, the dangers of marijuana use, as well as how to help individuals with drug and/or alcohol problems. The panel discussion was both informative and interesting.
Star Trainer Shimmy Hacker Sits Down for Exclusive Face-to-Face Interview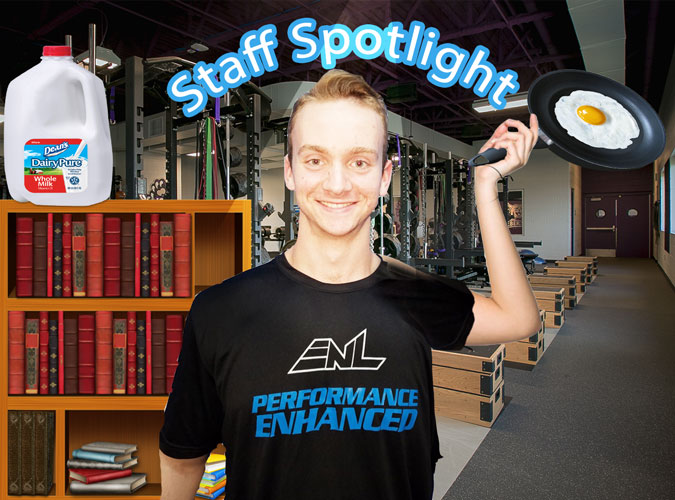 Graphic by Akiva Splaver ('18)

Interview by Max Weiderhorn ('18)
Max Weiderhorn: Where are you from?
Shimmy Hacker: I was born in London, UK and raised in Boca Raton.
M.W:
What are your main hobbies?
S.H:
My main hobbies are training, cooking, reading about training, and kicking David Lugassy out of my class.
M.W:
What/who is your source of inspiration to teach?
S.H:
My source of inspiration to teach is the confidence that I'm making an impact on someone's life that's not mine, however big or small that impact is.
M.W:
What do you like most about your field of expertise?
S.H:
What I like most about my field of expertise is the camaraderie. Individuals can come from different backgrounds, different upbringings, and even have different favorite flavors of ice cream. But as soon as the topics of training and nutrition come up, immediately the playing field is leveled and everyone becomes equal because of their passion for the craft.
M.W: Tell us something that nobody knows about you.
S.H: I prefer whole milk to skim milk.
The Yeshiva Highlites Staff