Zentangle Treats from around this World

I was so enthralled with ellish, I just had to have a go.
Thank you for this elegant tangle.
-----+-----
Hello Rick and Maria,
Sunday morning my husband perceived a big Weinberg snailin our garden. It is the 2nd time within 16 years we had such a cute visitor.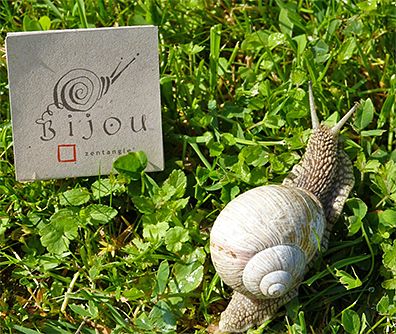 Warmest regards from Bavaria, Inge Frasch, CZT21
-----+-----


I appreciate your personal note!
I am new to art, and new to Zentangle.
I 'bumped into' Zentangle, and decided "I can do this" -- so I am embarking on this just because I am retired and need something artistic to at least try. I've NEVER been at all good at creating things artistically, can't draw much, etc. But -- this was something I felt I might be able to do since it has some structure in it and, it doesn't have to be perfect! LOL.
Thanks!
Richard
-----+-----
It's completely my pleasure to be a part of this app [Zentangle Mosaic] and the Zentangle community.......I am honoured.

regards
D Narayana, India
-----+-----


I just wanted to touch base with you about my latest Zentangle experience AND more importantly express my sincerest gratitude to you. Several years ago, [someone close to me] was in inpatient recovery at an addiction and recovery center.
Because of that experience, I sincerely wanted to teach Zentangle there after hearing the Dr. from India at my CZT training in Providence. He said, "the body is like a hospital. Take it out of the shame of the past and the worry of the future and put it in the present and it can heal." (paraphrased of course)
I have been teaching there every other Sunday! They love it. This past Sunday, a gentlemen produced a beautiful Zentangle that took him 36 hours to make. Each pattern was one hour as he LISTENED at a 12 Step Meeting.
He said his focus was 100% on the words of the meeting. It was outstanding and a full on testimony to the power of Zentangle.
Thank you. DS