We recently celebrated a CZT reunion in Newport, RI. We called it zenAgain and its theme was focused on wings and taking flight.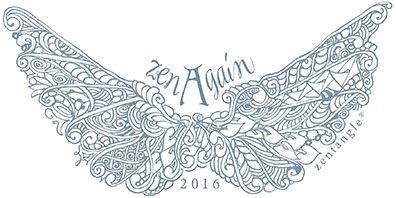 Over 220 Certified Zentangle Teachers from about 14 countries shared a wonderful few days. We made and renewed many friendships; and we introduced many new ideas, tangles and products.
Given the season of giving that we're approaching, we are thrilled to share with you the new products we released at zenAgain.
Our goal in developing these products is to support, inspire and celebrate your Zentangle practice with beautifully crafted, high quality, tools and images.
So pour yourself some tea, get comfy, and . . .
Enjoy!
3Z Tiles
Over the years, many people asked us about creating a three sided tile. We liked this idea and had been talking about it ourselves.
We get so excited about geometry. Tripoli happens to be a tangle that we explore often and enjoy how its fragments create infinite possibilities. So when we finally caught our breath we decided we couldn't wait any longer, it was time to make this idea a reality.
We spent quite a bit of time researching and developing the size and proportion of such a tile. How would they relate with each other and our other tiles. This is what we came up with:
The Zentangle 3Z Tile is a 3.5" x 3.5" x 3.5" equilateral triangle. It is die cut with a deckle edge and rounded corners much like our other tiles.

3Z tiles fit elegantly together as well as with alongside our 3.5" square tiles. The potential of mosaics with these tiles is going to be extraordinary.
We are offering this tile in all three colors made from the white Fabriano Tiepolo, the black Rives BFK and the Renaissance Rives BFK. All 100% cotton, archival, mould made papers. 3Z tiles come in two retail packages:
3Z Pack of 55 Tiles
This package of 55 blank tiles (shown above) includes 15 Renaissance, 10 Black and 30 White tiles and is packaged in a lovely sturdy box. Put a border and string on these and tangle like any other tile. Mix and match colors and techniques. They also play well with our original 3.5" (89 cm) square tiles.
We think you are going to fun exploring these -- we certainly are!
Multi-Color Pack of 55 blank 3Z Tiles
-----+-----


3Z Pre-Strung Tiles
This package of 42 white tiles includes six each of six unique pre-strung tiles, plus 6 blank white 3Z tiles.
The strings on these tiles may seem random, but they have a unique way of relating to each other:
Each tile's string aligns with all the others. So have fun playing with these as both individual pieces of art and as a magical way of creating amazing ensembles and mosaics.
It's fun to watch how different things appear as you move tiles around in the mosaics.
3Z Pre-Strung Set
Zentangle Apprentice Kit
This project has been percolating for quite a while and we're thrilled to finally present it to you.
When we first came up with the Apprentice line and put together the first Classroom Pack, we thought, this is great for the whole class but what about that individual student who wants to explore the Zentangle Method?
Our Zentangle Apprentice Kit (or, "ZAK" for short) is the student version of our original Zentangle Kit.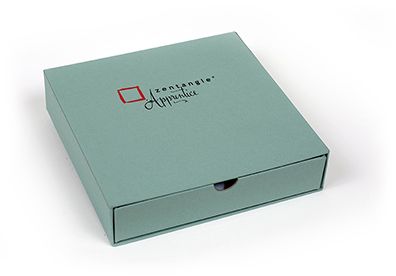 This beautiful kit is designed to align with many of the qualities of our original kit but with some new details that fit with our Zentangle Apprentice line.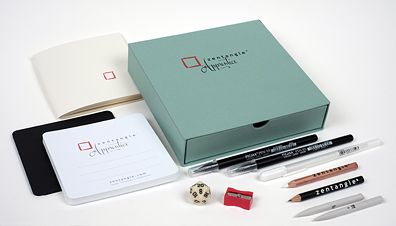 Enclosed in a lovely Zentangle green, drawer-style box, this kit includes both white and [drum roll] . . .
If you enjoy working (or exploring) with Gel pens, these tiles' smooth Bristol surface nurtures that medium with a bubbly, sit on the paper's surface quality.
This personal Zentangle Apprentice Kit also includes a Black Pigma Pen 05 fine point pen, a black Pigma Pen 10 bullet tip pen and a white GellyRoll. Also included are a graphite pencil, a white charcoal pencil, a pencil sharpener and two tortillions. And in Zentangle Kit tradition, you will find an icosahedron die.
The kit is complete with a brand new instructional booklet written specifically for the Zentangle Apprentice student and includes lessons, step-outs and a legend. What you will not find in this kit is a DVD. The kit is a truly unplugged box of creative goodies.
Zentangle Apprentice Kit
ZAK Tile Refill Packs- 24 white and 10 black

Black Apprentice Tiles - 140 tile brick
-----+-----
Pigma Pen 10
The Pigma Pen 10 is a bullet tip pen that we include in our Zentangle Apprentice Kit. It uses the same barrel as the Pigma Pen 05 that we call our Apprentice Pen. It is filled will the same wonderful pigment ink that is in all the Sakura Pigma products. This pen is a great thicker alternative to the Pigma Pen 05.
Black Pigma Pen 10
See the full line of our Zentangle Apprentice® products on our website
here
.
But Wait . . . There's More!

Zentangle Scarf
We are so excited about this one. Is it art? Is it an accessory? It's both!
This beautiful scarf is made from
Modal®, known as the new "wonder" fabric. It is a processed, bio-based textile made from the reconstituted cellulose of beech trees. This fabric combines the benefits of natural fiber and the fantastically soft feel of modern microforms. It is soft and smooth, with a texture similar to that of cotton or silk.
This scarf measures 20 x 70 inches (50 x 178 cm).
This Zentangle scarf not only feels amazing but it is covered with a beautiful digital print of Zentangle tiles. The surface of the scarf appears to be scattered with actual size tiles done by Rick, Maria and a few more from the Z-crew. All original and unique tiles cover the surface. Spend some time exploring, there is so much to see. Wear this awesome piece or hang it up as a work of art. This was a major hit at zenAgain!
Zentangle Scarf
-----+-----
Tangle Wheel Print
This is a stunning new piece in the Zentangle Print Collection. The print of original art by Rick and Maria is a playful interpretation of how tangles are like colors.
This print displays elements of a traditional color wheel layered below a powerful collection of tangles. Watch how each tangle truly plays the role of unique colors. Working your way around the wheel, see how each tangle mixes with the next to create other tangles. An amazing resource and a beautiful piece of art.
Print measures 17 x 18.5 inches (43 x 47 cm) and is digitally printed on Epson® velvet fine art paper and signed by Rick and Maria.
Tangle Wheel Print
-----+-----
Koi Brush Pen - Light Cool Gray
Dye-based, Koi® Coloring Brush pens function like an artist's brush. Make fine, medium or bold brush strokes just by changing the amount of pressure to the nib.
The durable tip quickly springs back to its original shape. The odorless ink is made from a water-based solvent that facilitates smooth blending and layering.
This pen is a great alternative to the Fabrico gray marker.
Have fun exploring your shades of gray with a new medium.
Koi Brush Pen - Light Cool Gray



Sakura Scholarship offer for CZT 2017
We are excited to announce a special opportunity for K-12 educators in the United States.
In 2017,

TWO

lucky educators will receive a scholarship to attend a Certified Zentangle Teacher (CZT) training seminar and become a CZT.
We have seen how educators throughout the United States have integrated the Zentangle Method into their classrooms to encourage and foster focus, self-confidence, hand-eye coordination, creativity, problem solving, and so much more.
Sakura of America makes the Pigma® Micron™ pen found in the official Zentangle kit and also markets our Zentangle Apprentice Class Pack and Zentangle Tool Sets.
Zentangle and Sakura are partnering to offer these scholarships to attend a Certified Zentangle Teacher Training Seminar in Providence, RI during 2017 (dates below). This scholarship covers tuition, a shared room for 3 nights, supplies, and meals. (Scholarships do not cover travel expenses.)
To Apply
Application deadline is Friday, January 12, 2017.
Our hope is that this scholarship gives enthusiastic teachers the tools to use the Zentangle Method in their classrooms to its fullest potential. We want to see where the Zentangle Method takes you and your students and watch as young artists discover that "Anything is possible, one stroke at a time.™"
Please forward this to any educator you think may be interested in becoming a CZT.
Our 2017
CZT training Seminar
dates are:
Thank you for all your support and for being part of this exciting Zentangle adventure!
Bijou insists (and we agree) that anyone who orders more than $50.00 for the remainder of 2016 should get a free Bijou Decal! (about 3.5 inches square).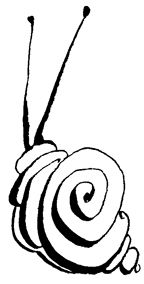 We also have some fun planned for the blog in the next few days. We'll let you know in another newsletter that will come out in the next day or so.
See you soon!

Best from us all,
Rick, Maria, Bijou and everyone at Zentangle