Was this forwarded to you?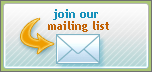 Consulting Services
IT Strategy
Enterprise Architecture Roadmap
Business Process Modeling & Analysis
Enterprise Software Selection
IT Innovation Briefings
IT Due Diligence
Executive IT Seminars
Cloud Computing
Security Maturity
Software Process
Knowledge Strategy
Technical Communities
Knowledge Capture
Taxonomy development
Enterprise Social Media
Contact Us:
Forward this newsletter to colleagues and friends: use the "forward email" link below at left, rather than "Forward" in your email software, to preserve your privacy, give the recipient more options (their own unsubscribe link, etc.) and to give us better click-through data from ConstantContact. Thanks!
Erratum
The original copy of this issue went out with the correct e-mail subject (Issue No. 93, April 1) but a title banner left over from No. 92, March 15. Apologies for the confusion!

Gmail Shutdown Announced
In a move that left users of the popular hosted mail service puzzled, Google announced today... Alright, no, it didn't, but that's probably one of the most popular IT-related April Fool's jokes this year. The reason is that in mid-March, Google announced the retirement of Google Reader, its RSS feed tracking application. While there are replacements for Google Reader, including some that will "suck in" your existing feed list, Google's habit of dropping certain applications even after they gathered considerable following (Google Wave and Buzz were earlier examples) does leave many people confused. Gmail is probably "too big to fail," but these things make people nervous. Business users of cloud applications, take note: look at how much time you will be given to migrate if a cloud provider decides to end a service.
A Tax on SaaS Usage?
Idaho has ruled that the mere usage, within the state, of SaaS cloud software is subject to the state's 6% sales tax, even though the software was not acquired in tangible form by the user. Six other states have made the opposite determination, five states are developing a tax policy for services in the cloud, and the remaining 38 are presumably in a gray area where sales tax is not collected today, but might be in the future. Again, customers beware!
(See article in the Westlaw Insider, brought to our attention by Vince Polley's Miscellaneous IT-Related Legal News)
Business Architecture Grows Up

The two-day Business Architecture Innovation Summit, held March 19-20 in Reston, Virginia, demonstrated several things about the discipline of business architecture (BA):

There are now dedicated BA teams or departments in all sorts of (typically large) organizations: Ford, Boeing, MasterCard, Nordstrom, TIAA-CREF, and more. When the Summit repeats in Berlin on June 18-19, expect to hear European case studies.
The Business Architecture Guild continues to evolve a Business Book of Knowledge (BIZBOK™), a practical guide to applying the discipline.
The components of a BA, including value streams, capability maps, and other modeling artifacts, are getting more common across user organizations, a sign of maturation.
The modeling tool vendors (including Troux, Sparx, Mega, IBM Rational, and others) increasingly support the corresponding graphical notations.
BA presentations repeat the mantras "we need to align IT with the business" and "we need to speak the language of the business," then present very busy diagrams filled with 6-pt font text. Does anyone else see a contradiction here?
SMAC: There's an App for That

"Social, Mobile, (Big Data) Analytics, Cloud": this is the new acronym for modern enterprise architecture. Whether you are addressing your mobile sales and service personnel, or the consumer market, smart phone apps are now required, and they gather so much information about usage that you can use big data analytics to learn about your users, forecast their behavior, etc.

Most e-commerce startups include an app as a central component of their plan. But not everyone can do a professional design job, and the multiplicity of operating systems (Android, iOS, Windows Mobile) complicates things. Small boutique companies fill that space - see for example Bamoo, based in Cambridge, UK, which sells its own apps as well as contracts for clients.

Seen Recently...


"If LinkedIn endorsements were honest"

-- "Dan," on his "Thinkin' Ain't Easy" blog

"Not sure I buy 'lazy sales rep' rationale for Oracle earnings miss. In my experience, their sales reps are relentless."

-- Bernard Golden, @bernardgolden