Maximize Your Membership: Tools for New & Renewing Members
WHEN:
Tue, April 10 from 4:00PM to 5:00PM
WHERE:

Chamber Office - 580 Castro St.,
Mountain View
Are you using our website & social media to showcase your business?
-Are you or your team participating in the over 90 events that the Chamber hosts each year?
-When was the last time that you visited ILoveMV.org?
-Where IS the Mountain View Visitor Center?
Join us for information speed sessions on mastering the member portal, leveraging our marketing & communication tools, understanding how our Government Affairs efforts impact your business and understanding which of our programs and events are the best use of your time.
Is Your Business ADA Compliant?
WHEN:
Wed, April 11 from 12:00PM to 1:30PM
WHERE:

Historic Adobe Building - 157 Moffett Blvd.,
Mountain View
Come join the conversation at BIPP....


Business ConneXions Leads Group
WHEN:
Wed, April 18 from 11:30AM to 1:00PM
WHERE:
Chamber Boardroom - 580 Castro Street, Mountain View
BX Wednesday | 1st & 3rd Wednesday of the Month | 11:30 am - 1:00 pm
Business ConneXions is the perfect vehicle for exchanging leads and referrals while developing your network of business connections. Guests and visitors are encouraged to attend 2 meetings for FREE. Only one seat, per industry, per group! Open seats are available in our Wednesday lunch group. Contact Dawn Maher at dawn@chambermv.org for more information.
Must be an active chamber member to become a member of Business ConneXions.

2018 All Chambers Mega Networking Mixer
WHEN:
Thu, April 19 from 5:00PM to 7:30PM
WHERE:
Roaring Camp Railroads - 5401 Graham Hill Road, Felton, CA 95018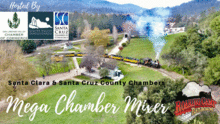 The Santa Cruz Area, San Lorenzo Valley and Scotts Valley Chambers' of Commerce are co-hosting an All Chambers Mega Business Networking Mixer at Roaring Camp Railroads in Felton.
Come experience a scenic steam train ride through the redwoods and stroll through the 1880s logging town replica. From 5pm-6pm Listen to music in the beautiful valley surrounded by a redwood forest and enjoy "Taste of Santa Cruz" culinary delights from participating restaurants, Craft Breweries and Santa Cruz Wine Growers Association who will be pouring local varietals.
Learn More
WHEN:
Wed, April 25 from 5:30PM to 8:00PM
WHERE:
Santa Clara Convention Center - 5001 Great America Pkwy, Santa Clara
Attend the 2018 Silicon Valley Chamber Business XPO, featuring over 100 exhibitors. Learn about their business while networking with other business professionals. Participate in the Passport program to enter for a chance to win prizes from local businesses and organizations! Advance registration is suggested so that you can avoid any delay in getting into the XPO.

Be one of the 150 exhibitors! Contact Dawn Maher for a registration form.
4th Annual Technology Showcase
WHEN:
Wed, July 18 from 11:30AM to 3:00PM
WHERE:
Civic Center Plaza - 500 Castro Street, Mountain View