Programs in 2017
At the Avatar Meher Baba Center of So. California
M e h e r a b o d e
1214 South Van Ness Avenue

Los Angeles, California 90019

telephone: (323) 731-3737
All Programs open to the Public
All Programs free of charge
(unless otherwise noted)
THIS WEEK
Sunday,
Dec. 10:
"Mehermas"
(a Meherabode Christmas Celebration)
NEXT WEEK
Sunday,
Dec. 17:
"Celebrating the Purest Soul in the Universe:
Beloved Baba's Mehera"
(hosted by Lois Jones)
AT MEHERABODE
(Los Angeles)
Sunday, Dec. 10:
"Mehermas" (a Meherabode
Christmas Celebration)
Tuesday, Dec. 12:
Young Adults' Discourses Group
Sunday, Dec. 17:
"Celebrating the Purest Soul
in the Universe: Beloved Baba's
Mehera" (hosted by Lois Jones)
Tuesday, Dec. 19 :

Young Adults' Discourses Group
11:00 am - 11:30 am: Coffee / Tea / Fellowship
11:30 am - 1:00 pm:
"Mehermas"
(a Meherabode Christmas Celebration)
The Joyful Celebration Continues!
Chris and Pris are back and will lead us in carols!
(Plus other surprise singers! )
Everybody come join us in celebrating the Advents of the Avatar, which will culminate in a celebration of the birth of Christ!
Let us sing carols, hear beautiful music and join in "creative" singalongs.
Lois will be hosting this favorite annual event and there will be lots of great food and much fun and festiveness to be shared by all! Our "Gift Exchange" is optional, but for those who choose to participate a simple gift suitable for a man or a woman is suggested.
| | |
| --- | --- |
| | |
| Artwork by Teri Adams. | |
If children wish to take part in this they should bring a gift for another child. We encourage you to invite friends and/or relatives and we welcome those who are not familiar with or have ever heard of Meher Baba.
We will be trimming the tree at the beginning so if you would like to help with that feel free to bring an ornament, or you can simply
choose one or two from those that will be available here. Come join us for our happy and unique expression of the glory of the Avatar in the figure of the Christ!
Also Happening at Meherabode
Tuesday, December 12
YOUNG ADULTS' DISCOURSES

The Young Adults' Discourses Group continues its weekly meetings, which are open to younger-generation Baba-lovers & Seekers.
7:00 - 7:30 pm
Fellowship & tea
7:30 - 9:00 pm
Reading & Discussion
The subject of study and discussion is Meher Baba's
Discourses
, which are available in print (e.g. at
Meher Baba Books
). The
Discourses
are also accessible online here:
Each week we chronologically read a Discourse and discuss how it relates to our daily lives. Come join us and delve into Meher Baba's amazing Discourses like never before!
Here's our Facebook page:
If you have any questions please contact Aaron Hemeon:
Jai Baba!
The NEW 2018 Meher Baba Calendar has arrived!
Available now in our bookstore or to order online!
Makes a Great Christmas Gift!!!
MEHER BABA BOOKS has a New Look in 2018!
Come Visit Our Newly Redesigned and Redecorated Bookstore!
(talk to Behnaz about any special requests or suggestions)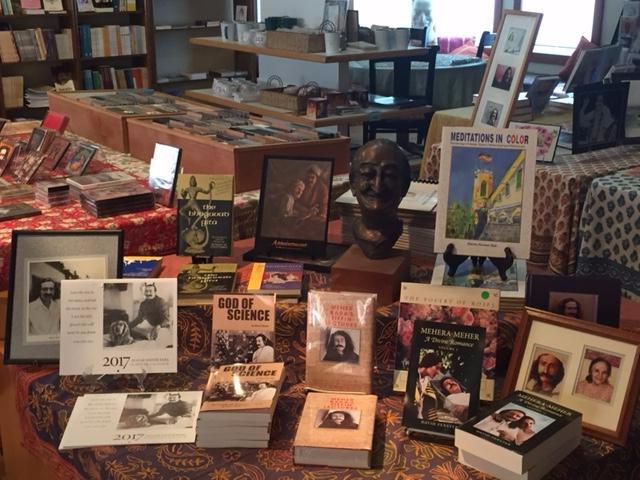 Photo by Brent Carter
Meher Baba Books exists both in the brick & mortar real world and also online as a purveyor of books, CDs, DVDs, and specialty items relating to Avatar Meher Baba -- including Baba's major published works, biographies chronicling his life and work, and diverse offerings. The bookstore is a successor to a sequence of Meher Baba Bookstores that have been a feature of Southern California since the late 1960s onward.
This bookstore is a public-service activity of the Avatar Meher Baba Center of Southern California (AMBCSC). The most essential aim of Meher Baba Books, consistent with AMBCSC's Mission Statement, involves the spread of Meher Baba's message of Love and Truth.
www.meherbababooks.com
Avatar Meher Baba Center of Southern California
1214 S. Van Ness Avenue
Los Angeles, CA 90019
You can also help our Center by shopping at Smile.Amazon.com and choosing AMBCSC to receive a
small percentage of each purchase you make!
December is the final month of our Food Drive. Please bring non-perishable food donations to our Center!
"Real Happiness Lies in Making Others Happy"
(Avatar Meher Baba)
Food Donaton Box at Meherabode.
Your dried or canned food donations will be given out to the needy this Holliday Season.
More Southern California Meetings
Mondays

at 7 PM in

South Bay

(San Pedro)
Call Glenn and Payam Russ: (310) 519-7776
Santa Barbara

:
Monthly Meetings
Call Donnalyn Karpeles: (805) 682-1877
DONATION OPPORTUNITY
The Avatar Meher Baba Center gratefully appreciates
donations, large or small, that help sustain our Center and all its activities.
The Avatar Meher Baba Center of Southern California is a nonprofit tax exempt

organization as defined in section 501(c) (3) of the Internal Revenue Code.
Donations are tax deductible to the extent allowed by law.
All donations are acknowledged.
=================================
For an alternate route to up-to-date information, like us on Facebook!