CADENCE VILLAGE APARTMENT COMMUNITY SELLS FOR $19.8 MILLION
The 216-unit Cadence Village has sold for $91,754 per unit.

ASHEVILLE, N.C.
--

CBRE's Carolinas multi-housing group has brokered the sale of the 216-unit Cadence Village, a Class A apartment community in Asheville, for approximately $19.8 million. The neighborhood-style complex was built in 2002. The property sold for $91,754 per unit. Hal Kern and Richard Montana represented the seller, RCG Woodland Hills LLC, an affiliate of Somerville, Mass.-based RCG LCC. The buyer was undisclosed.

FORMER WACHOVIA BANK BUILDING SELLS IN DOWNTOWN RALEIGH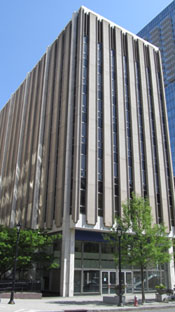 The former Wachovia regional headquarters building in Raleigh

RALEIGH, N.C.
--

The 10-story, former Wachovia regional headquarters building, located at 227 Fayetteville St. in downtown Raleigh, has sold to LRC Opportunity Fund LLC for an undisclosed purchase price. The 113,628-square-foot, Class B high-rise was built in 1964. Ben Kilgore of CBRE represented the seller, 227 Fayetteville Street LLC, 223 Fayetteville Street LLC and Lehmann Properties LLC, in the transaction.

ELLER CAPITAL PARTNERS BUYS ALTA SURF APARTMENTS FOR $17 MILLION
Built in 2007, the Alta Surf Apartments includes 216 units.

MYRTLE BEACH, S.C.
--

Eller Capital Partners, based in Chapel Hill, N.C., has purchased the 216-unit Alta Surf Apartments in Myrtle Beach for $17 million. The community is located at 101 Breakers Drive in the Carolina Forest Town Center development. Alta Surf Apartments was built in 2007 and is 94 percent occupied. The complex features a resort-style pool, clubhouse, billiards room, business center and 24-hour fitness center. Other amenities include storage units and enclosed garages. NorthMarq Capital's Raleigh, N.C. office arranged acquisition financing, which Fannie Mae provided, on behalf of the purchaser. The seller was North Miami, Fla.-based TP Real Estate Solutions Holdings I LLC. Coastal Apartment Advisors of Hilton Head, S.C., and Atlanta-based Multi Housing Advisors brokered the transaction.

SALEM STREET STATION RECEIVES $4.85 MILLION LOAN
Food Lion anchors Salem Street Station.

THOMASVILLE, N.C.
--
Capital Advisors has arranged $4.85 million in refinancing for Salem Street Station, a 46,128-square-foot retail center in Thomasville. The Food Lion-anchored property is located at 900-902 W. Cooksey Drive. The 10-year, fixed-rate loan amortizes over 30 years. Clark Jenkins with Capital Advisors' Raleigh office secured the financing on behalf of the borrower, Salem Street Station LLC, through a CMBS lender.
NAIOP Piedmont Triad: January 16

January Luncheon
12 - 1:15 p.m., Wednesday, January 16
2875 Old Town Club Road
Cost: Free/Members, $45/Nonmembers
NAIOP Research Triangle: January 17

January Breakfast Event
North Hills: "What It Is and What It Will Be"
Featuring John Kane, chairman and CEO of Kane Realty
7:30 - 9 a.m., Thursday, January 17
Renaissance Raleigh North Hills Hotel
4100 Main at North Hills St.
Cost: $30/Members, $45/Guests
NAIOP Research Triangle: January 24

Membership Mixer
5:30 - 7:30 p.m., Thursday, January 24
Cost: $10/Members, $15/Nonmembers
Do you have an upcoming event you would like to see listed here? Send an email to ccp@francemediainc.com.

Contact Us
Brittany Biddy
Associate Editor
Carolinas Commercial Properties
France Media, Inc.