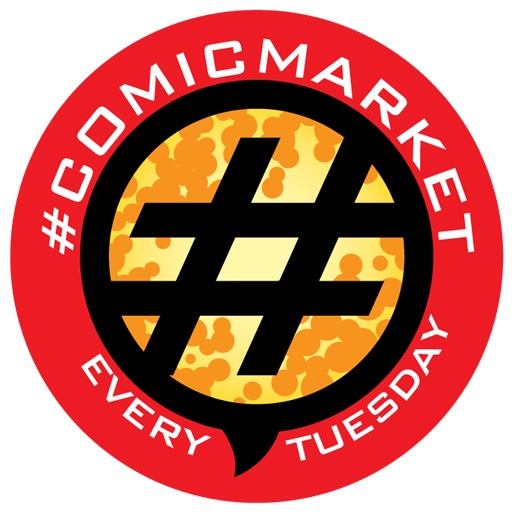 #comicmarket 2011 Top Ten ( kinda) awards

Every Tuesday you'll find a Twitterstorm of retailers, publishers, creators and fans using the #comicmarket hash tag. #comicmarket is a break through comic industry initiative to engage anyone with any interest in comics in real-time conversation. An open forum where anyone can discuss anything comic related. With nearly a year under our belt every week has grown in the number of posts and contributors. It's a place to market, ask questions, listen to complaints, and offer solutions. In a very short amount of time #comicmarket has become a valuable tool for the comic industry.

#comicmarket is an open forum, unedited, un-moderated type of discussion the industry has needed for years. Every week you will find useful information and great interaction. Sometimes heated, often funny and always informative #comicmarket can only help you if you participate. Chime in with your insights, ask questions and help the #comicmarket grow, to help the comic market grow!

Retailers




#2-@jimmysjay: #comicmarket founder provided weekly commentary from the front lines of retail.


#3-@gccomics:

One of the Nation's most successful retailers provides valuable insight.

#4-@ryanhigginsryan: Daily spot-on commentary from a single storefront retailer.


#5-@jasonACS: Innovator, promoter, guerilla marketing expert.


#6-@HHComics

:

Perspective from top Canadian retailer. Eh?


#7-@thirdeyecomics

:

One of the fastest growing retailers in the country, ALWAYS insightful.

#8-@friendlyComics: Street smart marketing. Watch Ernie get his retail on!


#9-@SHQtallassee: Live tweets of a retailer placing his monthly order are a delight.


#10-@PGHComics: great insight from Pittsburg's premeire comic shop





Creators


#1-@steveniles: Tireless promoter of creator owned & comic book shops


#2-@mrmarkmillar: Mark Millar made very bold statements about digital & deserves our support.


#3-@robertliefeld: Honest. Real, energetic & fun. Refreshing creator that "IS" a fan.


#4- @TylerjamesComic: Guru for the small press & self published.

#5 @Joe_hill:

Witty, creative & fun. The past year he has kicked it up three notches.

#6 @Ssnyder1835: commentary from one of the industry's fastest rising stars.


#7 @larrymarder:

sage advice & insight.

#8 @zubkavich: perspective from a tireless self publishing marketing genius.


#9-@joekeatinge: Get ready for this young creators rocket ride to the top in 2012


#10-@niftymat: Street smart marketing guru.

Fans / Supporters
: Comic Market fans are simply the most passionate people in the industry. A pleasure to watch.
#

1-@willisbrian:
Wins trophy for his @comicsforheroes project. He helped kids & troops.Congrats.
#2-@CarlosAle: I wish the industry has 1,000 more just like him.

Publishers: Top Comic Market Publishers not only produce best selling, innovative

material but they support the print comic book market with vigor.

#1-@dccomics: bold innovative "all in" relaunch was THE event of 2011.
#2-@mrmarkmillar: Millar World, made very bold statements about digital & deserves our support.
#3- @idwpublishing: Friend to the creator and local comic shop
#4- @imagecomics: A pallette of diversity never seen before.
#5- @avatarpress #comicmarket founders & supporters of industry leading Bleeding Cool News.
#6-@dynamitecomics: tirelessly searching for new properties.
#7- @Th3rdworld: The little guy with BIG plans for 2012
Comics simply the best titles of 2011.
#1-Justice League: Nothing outsold this gem worldwide.

#2-The Strange talent of Luthor Strode:
#3-Teenage Mutant Ninja Turtles
#4-The Stuff of Legend
#5-The Cape
#6-Game of Thrones
#7-Amazing Spider-Man
#8-Batman
#9-Daredevil
#10-Batgirl


#1 Problem with #comicmarket in 2011: The Lambs & the Lurkers - Comic Market is passionate about comic
book retailing and its survival. Right or wrong is not an issue. Comic
Market is about vocalizing your opinion. Fight for it. It's your comic
market right. Just watching but not participating will be the end of the
comic market as we know it.
#COMICMARKET participants are bold, Innovative mavericks that will NOT be led like sheep.