Governor Visits Gardant Community
Illinois Governor Bruce Rauner along with State Senator Dale Fowler and State Rep. Dave Severin visited Heritage Woods of Benton in June. State Senator Neil Anderson and State Rep. Tony McCombie visited Heritage Woods of Sterling.
Opioids and the Risk of Death
A study by RAND Corporation ties the prescription of six types of opioids to a higher chance of death, says a report posted on the Science Daily website. The study also indicates that the likelihood of being prescribed a risky opioid increases with age.
Wii Bowling and Trivia Trophy Winners
Teams of residents from Gardant-managed communities in Illinois won trophies in the statewide 2018 Supportive Living Wii Bowling and Trivia Contests sponsored by the Affordable Assisted Living Coalition.
The Bowling Brooks from Heritage Woods of Bolingbrook took home the Second Place trophy for Wii Bowling. Residents Mike Malina, Albert Navarro and Peter Ortega competed for Heritage Woods of Bolingbrook.
The Charleston Roller Bowlers from Heritage Woods of Charleston finished in 4th Place. The community's Wii Bowling team was comprised of residents: Lily Gisondi, Burleigh Hocking, Nancy Kibler, Margaret Phillips and Ruth White.
Team M.A.S.A. (Make America Smart Again) from Cambridge House of Maryville garnered the 3rd Place Trophy in the Trivia Contest. Team members were residents Priscilla Hale, Johanna Koonce and Lynda Leggett.
Deer Path of Huntley was recognized for having the best team name - Hey Google! The affordable assisted living community serves adults 22 to 64 with physical disabilities.
Social Security Benefits and Payroll Taxes
The recently released 2018 Trustees
Report on Social Security indicates that the Trust Fund for Old Age and Survivor Benefits is pegged to be depleted by late 2034, notes a story posted on the Think Advisor website.
The story indicates that lawmakers are scheduled to hold hearings on legislation that would increase both Social Security benefits and payroll taxes and change the way cost-of-living adjustments are made.
Gardant Growth
Evergreen Village of Bloomington recently opened for occupancy. Located in Bloomington, Indiana, the affordable assisted living community features 125 studio and one-bedroom apartments. Gardant is the management company.
Also, Gardant has assumed the management of Berkeley Oaks, a 48-apartment memory care community in Williamsburg, Virginia.
Family Caregivers and Patients with Cancer
New research suggests that greater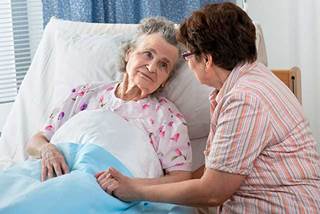 attention needs to be paid to the physical, psychological, social, spiritual and financial needs of family caregivers of patients with cancer, says a story posted on the Oncology Nurse Advisor website.
Tips for Success
June was National Alzheimer's Awareness Month. During an informational program at Heritage Woods of Charleston, a representative of ResCare Home Care reviewed 10 Tips for Success for communicating with an individual with Alzheimer's disease.
Expanded Private Care Options for Veterans
USA Today
reports that President Trump has signed into law legislation that was overwhelmingly passed by both Houses of Congress that expands access to VA-funded care in the private sector as an alternative to the Veterans health care system.
Keep Cool This Summer
With summer here, a reminder that high temperatures, especially when accompanied by high humidity, should be a concern to all of us. Older adults among those most at risk.
Mindful Breathing and Your Brain
Mindful breathing helps keep your brain healthy and young, and new research indicates why and how this occurs, notes a report posted recently on the Medical News Today website.
Middle Income Senior Housing
Rick Banas of Gardant led a roundtable discussion on "Building and Operating Middle Income Seniors Housing" at the 2018 Interface Seniors Housing Midwest conference held in Chicago in early June. He also served as a panelist for a session on "The Impact of Market Studies on New Development."
Age is Just a Number
A KSAZ-TV FOX 10 news story highlights a softball team in Arizona that has a 97-year-old catcher and a 90-year-old pitcher.
93 Years Young and Facing Her Fears
Share
Please share the e-newsletter with others and your comments with us. If you have not already done so, we invite you to subscribe to receive future Gardant E-Newsletters.