5 Tax Changes You Need to Know for 2018
| | |
| --- | --- |
| | It's that time of year-Uncle Sam is asking for money again. If you've kept up with the news, you probably know the tax laws have changed a bit. Here's five important changes you should know before Tax Day. |
1. Standard deductions increase.
If you're married and filing jointly, your standard deduction is now $24,000 - up from $13,000 under the previous law. If you're single, or married and filing separately, you'll have a $12,000 standard deduction, up from $6,500; and heads of households' deduction will be $18,000, up from $9,550.
2. Personal exemptions are no more.
In the new tax reform bill, personal exemption is being done away with.
3. Estate tax exemption doubles.
The estate exemption has doubled since the previous law to $11.2 million per individual, and $22.4 million per couple.
4. State and local tax rules re-done.
For both income and property taxes, the itemized deduction for these is limited to $10,000.
5. Rises in contribution limits for retirement savings.
Certain plans, such as 403(b), 401(k), and many 457 plans - along with the Thrift Savings Plan - see a $500 increase in contributions limits, from $18,000 the previous year to $18,500.
[1]
What other changes are there? Give us a call
at
(618) 398 6861
and we can assist you in understanding all your tax needs for 2018.


"Go to the edge of the cliff and jump off. Build your wings on the way down."

- Ray Bradbury


Pecan Crunch Coated Alaska Salmon Bake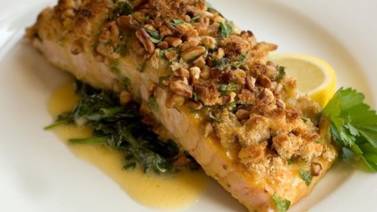 A zesty take on a seafood favorite!
Is your mouth watering? It should be. This salmon bake tastes just as delicious as it looks! An excellent choice for your main course, this entrée can be ready to eat in as little as 30 minutes. Give it a try for dinner this week!
Here's what you'll need:
3 tablespoons Dijon mustard
3 tablespoons melted butter
5 tablespoons honey
1/2 cup bread crumbs (fresh if possible)
1/2 cup finely chopped pecans
3 teaspoons chopped parsley
6 (4 oz.) salmon filets
Salt and pepper (to taste)
6 lemon wedges
Directions:
Preheat the oven to 400 degrees F (200 degrees C). In a small bowl, mix together the mustard, butter, and honey. In another bowl, mix together the bread crumbs, pecans, and parsley.

Season each salmon fillet with salt and pepper. Place on a lightly greased baking sheet. Brush with mustard-honey mixture. Cover the top of each fillet with bread crumb mixture.

Bake for 10 minutes per inch of thickness, measured at thickest part, or until salmon just flakes when tested with a fork. Serve garnished with lemon wedges.
Recipe adapted from All Recipes
[2]
Tips for Safeguarding Your Passwords


As we do more and more of our daily activities online, including filing taxes, we become more vulnerable to security compromises, such as breached data and identity theft. A key item that can put you at risk is the vulnerability of your passwords. Here are tips for taking better steps to safeguard your passwords to protect your important data.
1. Create long passwords
Breaking into a long password is more difficult to do than one with just a few characters and numbers. As such, you should create passwords that have a minimum of 8 characters.
2. Use combinations of characters and capitalization
Sometimes companies will control what types of characters you can use. When you have the freedom to choose a variety of characters, you can create a secure password using a combination of the following:
You should also vary using capitalized and lowercase letters. Be sure to include at the minimum one uppercase and one lowercase letter.
3. Avoid personal information
While details such as your children's name or pet can be memorable, they make guessing your password easy for criminals. Avoid using any personally identifying information in your chosen password.
Other details apply, and you can find more information on
the IRS website
.
* This information is not intended to be a substitute for specific individualized tax advice. We suggest that you discuss your specific tax issues with a qualified tax advisor.
Tip courtesy of IRS.gov
[3]
'Change' Your Putting for the Better

Turn your loose change into your personal putting aid. Here's a quick way to correct your putting speed on shorter putts that improves your moment of contact and increases your chances of sinking those often-tricky short putts. This two-step drill will improve your confidence when you make putts over old divots, spike marks, or fertilizing pebbles.

1. Place some loose change (3-4 coins) in your putting line, close to the hole.

2. From about three feet away, begin your putts. Focus on making solid contact where the ball goes over the coins, stays on your line, and drops in the hole. Simple, right?

Tips adapted from Alison Curdt | Golf Tips[4]
Even though kale is healthy, did you know it's full of oxalic acid which can contribute to kidney stones? By cooking your kale and draining the water, must of the oxalic acid will be removed. You can also opt for a kale that's lower in this kidney stone-inducing acid, like dinosaur kale.

Tips adapted from Prevention.com [5]

Don't Dump These Items Down the Drain


Pouring leftover items down the drain can be tempting, since it's easy to dump and watch the flow go down. But flushing things down to the toilet and pouring liquids into sinks, can introduce a slew of toxins into our streams and waterways. You can help the environment by avoiding dumping these common items down the drain:

Greasy foods to avoid in your sink drains:
Meat fats
Cooking oils
Butter or margarine
Sauces
Dairy products
Other items to avoid in your sink drains and toilets:
Coffee grinds
Prescription pills
Flushable cat litter
Motor oils or transmission fluids
Nail polish and polish remover
Tip courtesy of Care2.com[6]
Share the Wealth of Knowledge!
Please share this weekly update with family, friends, or colleagues. If you would like us to add them to our list, simply click on the "Forward email" link below. We love being introduced!
By clicking on these links, you will leave our server, as they are located on another server. We have not independently verified the information available through this link. The link is provided to you as a matter of interest. Please click on the links below to leave and proceed to the selected site.
This document is for educational purposes only and should not be construed as legal or tax advice. One should consult a legal or tax professional regarding their own personal situation. Any comments regarding safe and secure investments and guaranteed income streams refer only to fixed insurance products offered by an insurance company. They do not refer in any way to securities or investment advisory products. Fixed insurance and annuity product guarantees are subject to the claims paying ability of the issuing company. Variable annuities are considered securities products and require one to have proper FINRA registrations, in addition to proper state insurance licensing, prior to selling or discussing such products.

[1]https://www.cnbc.com/2018/02/16/10-tax-changes-you-need-to-know-for-2018.html
[2]http://allrecipes.com/recipe/9336/alaska-salmon-bake-with-pecan-crunch-coating/?internalSource=hub%20recipe&referringId=17221&referringContentType=recipe%20hub&clickId=cardslot%2017
[3]https://www.irs.gov/uac/safeguarding-taxpayer-data-create-strong-passwords
[4]https://www.golftipsmag.com/instruction/putting/putting-change/
[5]https://www.prevention.com/mind-body/10-minute-health-and-wellness-tips
[6]http://www.care2.com/greenliving/what-not-to-put-down-your-drain.html


Copyright © 2015. All Rights Reserved.