Leaving a Legacy and Passing the Torch: A Message from Stephanie Orlando
This year YP! celebrated it's 10 year anniversary an WOW it has been an amazing decade. YP! has grown to almost 600 active members and a diverse annual operating budget of over 1 million dollars. YP! has helped to make positive changes in child-serving systems and has ensured the voices of youth are heard at the highest levels of government. 2017 is coming to an end and so is my time as the Director of YOUTH POWER! I will be finishing up transition tasks within the next two weeks. It has been incredibly fulfilling to mentor young leaders working in peer services and public policy. I have seen the Youth Peer Movement grow in size, expertise, and opportunity. I have seen the passion and dedication the "next generation" of Youth Peer Leaders and I am confident YP! will continue to thrive in a new era of leadership.
For nearly 20 years, it has been my goal for to build a youth-run network that would be able to sustain itself indefinitely. I started in the peer movement in 1998 as a young person who struggled with mental health issues and was a high-school dropout. In 1999, I was trained and employed as a Youth Peer Advocate and was elected the Chairperson of the New York State Office of Mental Health Youth Advisory Council (OMH YAC). By the time I was graduating college I was offered a position as Statewide Youth Coordinator for Families Together in New York State. I spent 2 years traveling the state with a spending budget of about $8,000 and the task of empowering more young people to be advocates and change agents. To execute this task I worked with other experienced youth peer leaders who I had met in my time on the OMH YAC. In 2007, we invited a group of younger leaders to work with us as founding members of the YOUTH POWER! network and as the YP! Advisory Board.
As the only leader who has served the entire life of YP!, it was difficult to know when it was time to pass the torch to a new Director. This year all of the signs were there. YP! has a strong and resilient Board with a clear vision; we had the staff ready and able to serve as a management team; I heard the thoughtful, passionate advocacy of the Youth Peer Services Advisory Council, which will serve as the guiding force of Youth Peer Services; and I saw YP! staff and members taking up new causes and rallying others to join them.
It has been a great honor to build the YOUTH POWER! network and I am thrilled to have the opportunity to pass the torch to an outstanding set of young professionals. One of my slogans the past year or two has been "YOUTH POWER! is what you make it." I can't wait to see what our members do next. In the words of Justin Dart, the father of the Americans with Disabilities Act (ADA), "LEAD ON!"
DEADLINE TODAY: Seeking Member Submissions for Annual Newsletter
We are seeking member submissions for the YP! Annual Member Newsletter. This year's theme is
LEGACIES
!
Submit art, essays, poetry, photos, or short stories, graphic art, or inspirational quotes on what you want to be remembered for and how that impacts your leadership today. The deadline to submit is TODAY - Wednesday, December 6, 2017.
Send submissions with the subject line "2017 Newsletter" to: Info@YOUTHPOWERNY.org or mail to ATTN: YOUTH POWER! at 737 Madison Avenue, Albany NY 12208.
Questions? Contact info@youthpowerny.org or 518-432-0333 ext. 31.
Stomp Out Stigma with YP! on December 9
Stomp Out Stigma! : Hudson River Regional Youth Forum

The Regional Team is hosting a FREE event called STOMP OUT STIGMA! to take place on

December 9, 2017, from

12 p.m.

-

3 p.m

in Kingston.
Young people 12-29 with systems experience (mental health, disability, addiction, foster care, juvenile justice, etc.) are invited.
Are you marking your calendar?
Stigma. Discrimination. They affect young people. How? Why? What can we do? Young people will hang out with like-minded peers, find peer support, and share experiences they have had with stigma and discrimination so we can advance change.
What to expect: pizza (who doesn't like free pizza?), rock painting #ActivismRocks, human rock paper scissors (what's that, you ask? come find out), music, and other young people sharing their stories.
For more information or if you have any questions, Contact Brennan Williams at BWilliams@YOUTHPOWERNY.org or call/text 518-322-2096
YP! Now Accepting Applications for the New York Institute for Self-Advocacy
YOUTH POWER! is happy to announce that we are now accepting applications for the New York Institute for Self-Advocacy (NYISA). For those of you who don't know, NYISA is YP!'s newest initiative to train young adults (21+)
with developmental disabilities to advocate for themselves and their peers in community, systematic, and policy settings.

Graduates from the institute will go on to become part of the Emerging Leaders Network, taking what they have learned and helping others across New York State become fellow self-advocates.
The four day event takes place March 10-13, 2018, at the Hilton Garden Inn in Troy. To apply, visit
www.YOUTHPOWERNY.org/nyisaapp.
The deadline for applications is January 28, 2018. If you have any questions or require a Microsoft Word application form, please contact Zack Kilmer, NYISA Coordinator, at zkilmer@youthpowerny.org or 518-708-3808.
For more information on the New York Institute for Self-Advocacy, visit www.YOUTHPOWERNY.org/nyisa.
FTNYS Legislative Awareness Day Registration Open
Save the Date: FTNYS Annual Conference
FTNYS Job Posting: Program Coordinator, Department of Workforce Development
Job Title: Program Coordinator: Department of Workforce Development
Supervisor: Susan Burger, Director of Workforce Development
FTE: Full
The Program Coordinator works as part of the Department Workforce Development under the direction of the Director of Workforce Development. Responsibilities include overall coordinating of training and credentialing for Family Peer Advocates and Youth Peer Advocates.
Youth MOVE National Dare to Dream Grant Applications Due December 15th
The Dare to Dream America program provides an opportunity for youth (ages 13 to 25) or Youth MOVE Chapters to get involved in mental health awareness activities.
Successful applicants are awarded a grant up to $2500 to implement projects that promote mental health awareness.
You are able to apply for 1 of 2 types of Dare to Dream America grants: a $2500 grant or a $1250 grant. This year, 11 awards will be granted: Five (5) awards of $2500 and six (6) awards of $1250. Only one grant will be awarded per chapter or community, including individual applications from a chapter member. Grants will be awarded in January 2018 and all projects will conclude in June 2018.
You will also need to find a Supportive Adult, a person who is over the age of 18 and who works in the field of youth and young adult mental health, who will be your support through this program.
An informational webinar for groups interested in applying for a 2018 Dare to Dream award will be held on

December 6, 2017 at 4:00pm

. This webinar will review the application, project expectations and provide examples of projects. To register for the webinar or for more information, visit
FYSA Advocacy Day Registration Open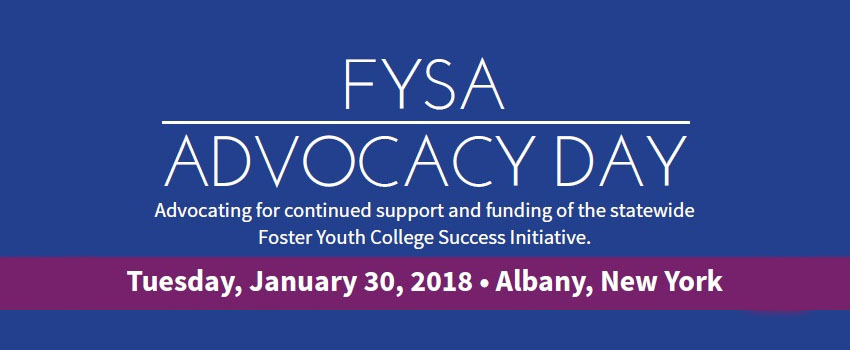 On Tuesday January 30
th
, Please Join the Fostering Youth Success Alliance for Advocacy Day in Albany, NY.
Foster Youth College Success Campaign
Help advocate for the continued funding support of the Foster Youth College Success Initiative (FYCSI). First established in April 2015, FYCSI aims to connect foster care youth and alumni to financial supports and comprehensive resources on college campuses through the opportunity programs. FYSA released their first report, Fostering Independence, in May 2014, which identifies the unique challenges youth face while transitioning from foster care to college. Just 18-24% of youth in care will enroll in college after high school. FYCSI aims to enable foster care youth and alumni with the resources necessary to achieve a college degree and become independent.
Advocacy Day Agenda

9:30am - 4pm

Legislative Office Building, Albany, NY

Lunch will be provided
Transportation will be provided via charter bus, you must RSVP for a space on the bus during your registration for advocacy day.
New York City: 150 E 45

th

Street, New York, NY 10017 (Children's Aid, Lord Memorial Building)
The bus will begin boarding at 6am and depart promptly at 6:15am
Westchester: 11 Ferris Avenue, White Plains, NY 10606 (White Plains Bus Terminal)
The bus will begin boarding at 6:45am, and depart promptly at 7:00am
Upcoming Webinar: Making Data Work For You
Thursday 14 December 2017, 03:30 PM - 05:00 PM
Direct Connect: Led by Youth M.O.V.E. National, this LC is a virtual forum for youth and young adults to develop professional skill sets via virtual training opportunities, connect as a community to share and gather new resources, and unite with other youth advocates and professional peers from across the country. December's Direct Connect offering will be presented by Youth MOVE National Team members Kristin Thorp and Brianne Masselli. Learn the basics of collecting data and utilizing data for your youth program's improvement, growth and sustainability.
New York State Juvenile Justice Advisory Group
Seeking Youth Members for the New York State Juvenile Justice Advisory Group (JJAG). Youth members must be under the age of 24 at the time of appointment and can fall under the following categories:
Volunteers who work with juvenile justice
Youth workers involved with programs that are alternatives to confinement, including organized recreation activities.
Persons have been or are currently under the jurisdiction of the juvenile justice system.
The New York State Juvenile Justice Advisory Group (
JJAG
), made up of the key players in juvenile justice in New York, is committed to supporting a fair and equitable juvenile justice system in New York State, one that is data driven and research based. Appointed by the Governor of New York, the
JJAG
serves to supervise the development and implementation of New York State's federal juvenile justice plan, review and approve all grant applications for federal juvenile justice and delinquency prevention funds. The
JJAG
convenes quarterly and the meetings alternate between NYC and Albany however, video conferencing is available at both sites.
DCJS, Office of Youth Justice
provides staff to the state's Juvenile Justice Advisory Group, which is required by federal law and oversees the strategic planning and federal grant funding allocation to organizations that address juvenile delinquency and prevention issues.
They are seeking to recommend at least three (3) new youth for appointment in the very near future. Any interested youth can contact Trista Deame at Trista.Deame@dcjs.ny.gov or 518-485-9166 for additional information and to get more details on what is required for the appointment process.
The views and opinions expressed in third party messages and external links included in this eNews are those of the organization or individual mentioned. They do not necessarily reflect the official positions of YOUTH POWER!.
YP!

YOUTH POWER! is the New York State network of young people who have been labeled and are seeking change. Together, we have decided to speak up about our experiences because no one knows what it is like for us better than we do. Through peer-to-peer mentoring, we empower young people to be active citizens who are aware of government operations, their rights and the ability to use their voices to influence policies, practices, regulations and laws. We are young people helping other people, ensuring availability of self-help and peer support while changing systems so that young people get the support they need with the respect and dignity they deserve.

Nothing About Us Without Us!