"Demonstrating Unity in the Power of the Spirit"
AG Member a Victim of Texas School Shooting, Church Responds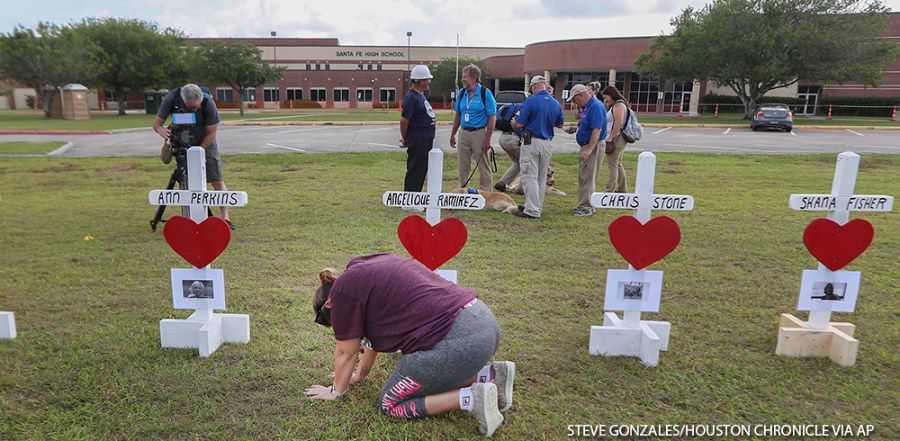 In the wake of yet another school shooting, this time in the small south Texas town of Santa Fe, Assemblies of God Pastor Brad Drake, who leads
Dayspring Church
, is preparing to bury one of their own.
Fifteen-year-old Angelique Ramirez, a member of the church's youth group, was one of eight students and two teachers shot and killed by another student at Santa Fe High School on May 18, 2018.
"I believe with all my heart Angelique had a personal relationship with God," says Richard Pourchot, who pastors the youth with his wife, Amber, at Dayspring,
The Pourchots have known Angelique and her parents for years and are close friends with her parents. The two couples served as co-children's ministries directors at another local church. The Pourchots have treated Angelique just like any of the other 25 to 30 youth group members - she was considered family.
Read more.
Ten Left Dead, Christian Leaders React to Santa Fe School Shooting
Well-known Christians and pro-family leaders took to Twitter May 18, 2018 to express their thoughts following a school shooting in Santa Fe, Texas, that left 10 dead.
"Praying for Texas, those killed, wounded and hurt. May God send His healing and peace down on all those hurting and grieving," wrote Lila Rose, president and founder of Live Action. "Mental health continues to decline for youth in our country. There are historic highs of suicides and outbursts of violence against others, like this latest horrific shooting in Texas.
"Why?" she asked before answering, "Our families are breaking down, as less people marry & stay true to marriage vows. More abortions, abuse, neglect, porn. Materialism exacerbates the pain. Many kids grow up, angry, hurt, attached to phones but isolated, addicted, without the experience of stable love."
Russell Moore, president of the Ethics and Religious Liberty Commission of the Southern Baptist Convention, wrote, "What a horrific act of violence in Texas. Jesus once told us the devil was 'a murderer from the beginning' (Jn. 8:44). He still is. Come, Lord Jesus."
Read more.
PAOC: Reflecting on a Century of Service
| | |
| --- | --- |
| | |
| Rev. David Wells, General Superintendent of the Pentecostal Assemblies of Canada | |
Moving Toward 100
By Rev. David Wells
I love to attend anniversaries for our PAOC churches and ministries. And, when asked, I love to speak at them. I love the family atmosphere, the sense of celebration, and the telling of stories that range from hilarious to serious. It's moving to hear how God has made a difference in people's lives. What I really love, though, is when the focus turns from the past to the present and into the future.
Remembering the past is a good thing. But realistically appraising the present and then picturing the future with a gift of faith is a great thing. Leaders who understand the value of past, present and future always impress me.
At our General Conference in Victoria, B.C., May 7 to 10, we kicked off our centenary year. The conference theme was "Picture This!" We looked into our PAOC family photo album and reflected on 99 years of faithful and fruitful ministry. We told our stories-both the hilarious and the serious-reflected on our present, and envisioned our future.
Read more.
Ministry Moment by Presiding Bishop Charles Blake
| | |
| --- | --- |
| | |
| | Presiding Bishop Charles Blake, Church of God in Christ |
My Kingdom Is Not of This World
Jesus asserted that His kingdom was not of an earthly nature; that it was postponed and set off for a future time. Yet, certainly, of all the men who had ever lived Jesus could have possessed an earthly kingdom; Jesus could have been an earthly king. No one surpassed Jesus in the ability to influence the masses; His words meant more to them than
food
itself.
Jesus was powerful. He was attractive to all sorts of people: from the Chief priests who came to see Him by night, to a harlot who washed His feet with her tears and dried them with her hair.
Christ alone could still violent storms, walk on water, raise dead men from the dead. He could turn water into wine, feed 5000, open blinded eyes and deaf ears, and heal sick of their afflictions. He produced money from the belly and mouth of a fish, called forth the spirit of Moses and Elijah, and
disposed
more than 12 legions of angels.
Read more.
" But you will receive power when the Holy Spirit comes on you; and you will be my witnesses in Jerusalem, and in all Judea and Samaria, and to the ends
of the earth." Acts 1:8 (NIV)
Jeff Farmer, President

Pentecostal/Charismatic Churches of North America