June 26, 2020
Please check our current newsletter for additional information about these and other events, or call AJ's main office for information.
Do you have good news to share? We sure can use it! Let us know and we'll include it in the weekly email.
IMPORTANT: If part of this column is cut off (for instance, only half of the Service Schedule is showing), it is because your email application can't display an email of this size. Scroll to the bottom of the email and click on "Show entire message."
Please note:
Due to coronavirus, the synagogue building will be closed until further notice. Until then, all services will be held virtually through Zoom. See below for the links. (All of the COVID-19-related information in this weekly email is
here
.)
Important Note About Shabbat Services This Summer
We have decided that, because Saturday morning Shabbat services are being conducted via Zoom, we will not be moving to summer hours this year. Services will begin at 9:30 AM until September.
Signs of Solidarity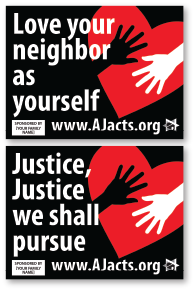 Adath
Jeshurun's
social action committee,
AJ Acts
, has launched a campaign called Signs of Solidarity to express our rejection of the injustices that are systemic throughout our country and which have been brought to the fore by the murder of George Floyd in Minneapolis on Memorial Day. You can sponsor the placement of an 18" x 24" lawn sign along the Old York Road corridor, or purchase a sign (or signs) for yourself, your neighbors, and/or friends by clicking here. There are two options available: "Love your neighbor as yourself" and "Justice, Justice we shall pursue". Any profits will be donated to
Project Home
.
Drive-In Havdalah Under the Stars!
Saturday, June 27, at 8:00 PM, at AJ!


Shake, rock, and roll on over for an inspirational Havdalah service, followed by Hairspray at the AJ Drive-In. Don't forget to wear your poodle skirt! There will be a prize for the best 50s hairdo! Goodie bags will be provided. Please bring your own beverages.
Please arrive at 8:00 PM to get settled in before the service begins. In keeping with guidelines set forth by the Commonwealth of Pennsylvania for the yellow phase of the reopening plan, there is a limit to the number of people who will be able to attend. Strict social distancing guidelines will be observed. Please know that the hope is to schedule another outdoor Havdalah and movie later this summer.
Min
h
ah-Ma'ariv at 8:15 PM; Havdalah at 9:15 PM
All slots have been filled. Thanks to all who have registered!
Summer Kick-off Trivia Event for Rising 4th to 9th Graders
Tuesday, June 30 at 7:30 PM

All rising 4th through 9th graders from AJ and Beth Sholom are invited to join teen congregants Anna and Becca on
Tuesday, June 30 at 7:30 PM
for a virtual summer kickoff of fun! There will be ice breakers, summer and Jewish trivia, and even a test of emoji knowledge. All winners will receive a Rita's delivery of their favorite water ice!
By phone:
Please dial 929.436.2866 or 301.715.8592.
Coping with COVID: Sharing and Support Bi-Weekly Sessions
Next Session: Wednesday, July 1, at 7:30 PM

We have introduced a new bi-weekly event, led by Rabbi Sandi Berliner. Come share and support each other during this challenging time. What's going on with you? How are you doing? Every other week we'll spend 45 to 60 minutes talking together about feelings and concerns in the age of COVID-19.
The meeting will following evening minyan at 7:30 PM. You can drop into any sessions you'd like. The next one will be on Wednesday, July 1.
Healing Services with Hazzan Glantz
Selected Thursdays, via Zoom; Next Service: Thursday, July 2
Hazzan Glantz has changed the night and time of the healing service he offers; he will now offer them on selected Thursdays, at 6:10 PM. The next healing service will be on Thurs
day, July 2
. Others are planned for

July 23, August 6, August 20, and September 10.
Why attend a healing service?
Some folks attend a healing service for themselves. Others may be motivated to be present for a loved one who is suffering. For some, wounds and ailments are visible and more obvious, but many people hurt and suffer from pain that cannot be so easily seen. The healing service has the potential to help participants seeking to find balance or solace or spirituality within.
Unlike a standard prayer service, there is no set structure that has been handed down through the generations. Although there will be a 'seder', an order to things, there is no haggadah that guides us in our choices. I like to include music, brief meditations, a ritual washing of hands, prayers that are both communal and personal, aloud and in silence. The service includes healing prayers that may be familiar, steeped in our ancient liturgy as well as more contemporary and current inclusions. Toward the end of our (approximately 45-minute) time and space, I warmly offer participants the option of sharing something brief about their experience.
We will end with a reminder that what has been shared in this service is private and confidential and that this promise is upon all of us to keep for each other.
Zoom info:
Second Session of Rabbi Kravitz's Class on Mindfulness
Wednesday, July 8 at 7:45 PM
We sincerely apologize for the Zoom issue last night that prevented the second session of Rabbi Kravitz's class from happening. We have rescheduled the session for Wednesday, July 8 at 7:45 PM. Please join us then. See the new Zoom link below; it is the same link as the evening minyan link.
Session 2: We will explore various opportunities in daily life and davening (prayer) for using mindfulness and guided imagery to enhance your experience and develop a deeper connection to the Holy Blessed One -- HaKadosh Baruch Hu. We will explore how mindfulness, values, and self-compassion practices can be used to manage stress, including the stress of multiple pandemics.
The session includes experiential learning so come prepared to actively participate.

We ask that you kindly sign in promptly at 7:45 PM to avoid distractions during the program.
There is no prerequisite to taking the second session.
AJMA Sports Memory Event
Wednesday, July 15 at 8:00 PM via Zoom

YO! All AJ men!
Let's "
zoom
" with our
best sports memories
(
and lift spirits a little while we're at it!
)
Recall when you hit a homerun to win the game?
Scored a touchdown eluding dozens of tacklers?
Or have you attended a nail biting playoff or championship game?
Seen the Eagles upset the Cowboys?
Old enough to have seen Wilt Chamberlain play?
Let's share our stories (since live sports seems a bit out of reach) and in the process,
stay connected
as we men should! No RSVP necessary.
By phone:

Please dial 929.436.2866 or 301.715.8592.


Meeting ID#: 944 5167 2095
First Meeting of AJ's New Grandparents Group Scheduled
Thursday, July 16 at 7:30 PM
Grandparents! Come one, come all -- both current AND future grandparents and acting ones!
We are initiating a Grandparents' group at AJ for all our AJ grandparents, including great-grandparents, significant others, and even parents who want to find out the secrets of of effective and fun grandparenting. All are welcome.
We are excited to announce our kick-off program:
Zoom Away Grandparents -- Techniques and Activities for Enhancing the Zoom Experience with Your Grandchildren
. Our guest speaker will be Lisa Litman, Director of jkidphilly, which is a part of the Jewish Learning Venture. The program is scheduled for
Thursday, July 16 at 7:30 PM
, following minyan. We think you will find this a helpful, interesting, and fun zoom.
We see this new grandparents' group as providing informative programming. What are some tips and techniques for sustaining our loving and fun relationships with grandkids and for helping us address challenges.
Please RSVP to AJ (
office@adathjeshurun.info
) if you can attend, and we will send you the Zoom link after we receive your RSVP.
Email Barbara Shotz (
barbshotz@gmail.com
) or Sheva Cohen (
cohen409@comcast.net
) with your interest in being a part of this group, even if you are unable to attend our first meeting, or with any questions or comments.
The Jewish Grandparents' Network has been a wonderful resource. Check out their website (
https://jewishgrandparentsnetwork.org
) for some good information. The Network carried out a national demographic study on grandparenting that we think you will enjoy reading.
Devotion by the Ocean!
Thursday, July 19 at 6:00 PM

Kabbalat Shabbat at the beach, with a live band...what could be better? We'll start at 6:00 PM at

Newport Avenue Beach, Ventnor, NJ, 08406.

For more information, please visit www.ShiratHayamNJ.org or call 609.822.7116. Presented by Shirat Hayam Downbeach Synagogue, Ventnor, NJ. In case of rain, the service will be indoors at Shirat Hayam. Other Devotion by the Ocean dates this summer: August 16 and 30.
Kabbalat Shabbat with Strings Attached
Summer Dates Scheduled!
Hazzan Glantz has scheduled three Strings Attached dates to add some fun to Friday nights this summer:
July 24, August 14, and September 11
. Please plan to join us!
Ongoing Virtual Events
All events, except where noted, will use this Zoom link:
By phone:
Please dial 929.436.2866 or 301.715.8592.
Meeting ID#:
109428724
On Tuesdays and Thursdays
Adult
Ed with Rav Shai: Introduction to Judaism
UPDATED!
Continuing on Tuesday nights
, at 7:45 PM, Rav Shai will teach a 24-part
Introduction to Judaism. ***Note: Classes will be held on Tuesday nights only until the series is finished in August.***
Zoom information:
By phone: Please dial 929.436.2866 or 301.715.8592.
Meeting ID#: 969452689
On Thursdays
Learn from Alef with Hazzan Glantz.*
Maximum class size is four; first registered, first served. Hazzan will gladly add times as needed.
Learn to read in Hebrew starting with the Alef-Bet. Prerequisite:

Only the desire to be able to read the letters and vowels from the Hebrew texts.

9:00 AM - 9:45 AM
Talmud Class with
Hazzan Glantz.* Hazzan will share what he is learning in Talmud Class. No prerequisites, geared toward adults. 9
:45 AM - 10:45 AM
On Fridays
Mesibat Shabbat with Hazzan Glantz. These events will not be held during the summer since Camp Kitov celebrates Mesibat Shabbat in its own way. Mesibat with Hazzan Glantz will return in the fall!
*Preregistration for these classes is appreciated; just send an email to
hglantz@gmail.com.
Of Blessed Memory
Mary Bressler (from OCJCC and AJ), aunt of Arthur Steiger, passed away on Friday, June 19, 2020. She was 102.
Jewish Changemakers Fellowship
Are you, or is someone you know, between 20 and 25 years of age, with an interest in connecting with the Jewish community, networking and career development, and making a difference?
The
Jewish Changemakers Fellowship
is a 3-week interactive online leadership experience for Jewish students and recent graduates. Connect with top mentors. Propel your future. Earn $500.
The Changemakers sessions run from August 3 to August 21. The curriculum has three focus areas: 1) Professional Development (your career), 2) Service & Advocacy (your community), and 3) Global Jewish Community (your world).
Fellows earn credits for each online session completed, for volunteering, and for participating in their small group cohort. Cohorts develop their own projects to tackle a challenge caused by the global health pandemic.
Those who achieve the total credit goal and meet the program requirements (approximately 15 hours/week) earn a certificate of completion + $500 stipend.
The Jewish Federation of Greater Philadelphia is providing this experience in collaboration with JFNA and more than 20 global partners. If you are interested in joining the Philadelphia cohort or for more information, please contact Max Moline a
t
mmoline@jewishphilly.org
.
Do You Know a Young Leader?
Every year, the Jewish Federation of Greater Philadelphia recognizes a few distinguished young leaders in our communities. You are invited to submit nominations for the Young Leadership Awards:
Myer and Rosaline Feinstein Young Leadership Award
Mrs. Isadore Kohn Young Leadership Award
Jack Goldenberg Young Leadership Award
Eligible candidates should be between the ages of 25 and 45 and have the following qualifications:
An exemplary record of participation and performance in the Jewish Federation of Greater Philadelphia and Philadelphia's Jewish communal affairs;
Leadership giving to the Jewish Federation of Greater Philadelphia's annual campaign and Philadelphia Jewish communal organizations;
Demonstrated potential for significant future growth within the leadership ranks of the Jewish Federation of Greater Philadelphia and its partner agencies, Jewish organizations and synagogues.
Know someone who fits the description? Please fill out the nomination form by c
licking here
; nominations are due July 17.
Learn and Live in Israel -- Programs for High School Students and Recent Grads
From Ramah:
With the great uncertainty surrounding the beginning of the 2020-2021 academic year, many families are considering alternatives to traditional high school and college programs. Ramah is delighted to share news about two exciting Israel experiences for high school students and 2020 high school graduates. Both programs are based in Jerusalem.
Tichon Ramah Yerushalayim (TRY) is a transformational high school semester in Israel for students entering grades 10-12! TRY offers both a fall and spring semester. Click here for more info.
Nativ, the Conservative Movement's leadership training gap-year program, is offering a new Ramah Hadracha Leadership Track. Click here for more info.
From Jewish Federation: Make Sure You Know How the CARES Act
Affects Charitable Gift Planning
The CARES Act, designed to help the nation recover from the pandemic, has five important implications for charitable giving.
New Charitable Deduction for Non-Itemizers:

Taxpayers who take the standard deduction can nevertheless claim a charitable deduction of up to $300 for cash donations in 2020.

Higher Deduction Limits:

Individuals will be able to deduct cash gifts in 2020 to the extent of their entire adjusted gross income rather than a cap at 60%.

Increased Deduction Limits for Corporations:

The contribution limit for corporations has been raised to 25% for cash contributions this year.

Required Minimum Distributions Waived:

For the year 2020, there will be no mandatory distributions from retirement accounts, thus allowing those accounts to recover. Once they do recover, retirement funds are a tax-wise giving strategy.

Waiver of Penalties When Retirement Funds Are Used for Coronavirus Purposes:

If you are under the age of 59½ and withdraw money from your retirement plan to cover expenses incurred by you or a family member related to treatment of the coronavirus, the 10% tax penalty will not apply. In the future you may consider a retirement fund gift.
Two
Great Opportunities for High School Students!

JTS
JustCity and CityStage: Transformational Summer Programs for High School Students
The pre-college summer institutes of JTS,
JustCity and CityStage, hold transformational summer programs for high school students. This summer, they are offering an online course entitled "Justice and Art in Moments of Crisis" from June 28 through July 12.
Course Description:
Explore the intersection of Judaism and justice, earning 1 college credit. As part of this online program, you'll let your creative juices flow and produce your own works of art, while building friendships with teens from across the country.
Schedule:
Monday-Friday:
1:00 PM -- 2:30 PM ET: Judaism & Justice Deep Dive
3:00 PM -- 4:30 PM ET: Creative Arts Workshop
8:00 PM -- 9:00 PM ET: Community Time: Learning from each other and guests from the field
Shabbat and Sunday programming, too!
Cost:
$500
Hartman Fellowship for Emerging Jewish Thought Leaders: Together@Home

Another program for teens is the Hartman Fellowship for Emerging Jewish Thought Leaders: Together@Home. This program is for graduating current seniors and rising juniors and rising seniors.

It will be a four-week exploration of Jewish peoplehood, at-homeness, and contemporary challenges facing North American Jewish identity for high school students.
The Jewish people are facing important questions about citizenship, nationalism, democracy and the societies in which we live. COVID-19 has already reshaped our attitudes about collective community and what it means to be 'at-home,' and is raising issues of theology, spirituality, and social responsibility.
Join this national cohort of exceptional high school students and meet virtually with top Hartman scholars like Tal Becker, Elana Stein Hain, Yehuda Kurtzer, and Mijal Bitton to grapple with these issues through interactive webinars, study groups, and intimate discussions for a month-long exploration of Jewish peoplehood, at-homeness, and the contemporary challenges facing North American Jewish identity in this moment.
Please click here for more information.
Let Hazzan Glantz Help You Celebrate!
Do you know someone who is having a birthday and could use help celebrating? If so, contact Hazzan Glantz at
hglantz@gmail.com
and he'll record a birthday song for your child or relative!
Thursday, July 16: Gratz@home Webinar:

Racial Equality & Inequality in America: A Historical Perspective.
Join Gratz president, Dr. Paul Finkelman, as we explore the history of racial equality and inequality in America. The program will start with slavery, take us through Reconstruction and end with the Civil Rights Movement from the 1950s to the 1970s. There will be some discussions of Jewish participation in Civil Rights and struggles for equality in America. Cost: $10.
7:30 PM to 8:30 PM. Click here to register.
Two Online Summer 2020 Gratz Advance Courses For Teens
Jews in Medieval Christendom

and the Orbit of Islam
Live webinar classes meet 8 consecutive weeks, from 11:00 AM - 1:00 PM
Thursdays, July 9, 2020 to August 27, 2020
Tuition: $900.00
For high school students and recent grads only
Virtual Israel 360˚
Join us for this Virtual Teen Tour!
July 6 to July 16, 2020
Daily two-part excursions:
10:00 AM to 11:00 AM and 1:00 PM to 2:00 PM
Tuition: $360.00
Click here for more information about either class.
Sunday Afternoons: The Bible Players.
Looking for a Family-Friendly Event?
The Bible Players present "Live and Inside," a streaming improv comedy event, every Sunday at 4:00 PM. You can get more info about these events on their
Facebook page
, and about The Bible Players, in general, on their
website
.
AJ's Virtual Services
Through the Zoom platform, congregants can attend services virtually. You can find information about how to use the system
here
.
We have two links for AJ's servic es:
For Saturday evening services:
By computer:
https://zoom.us/j/933131679
By phone:
Please dial 929.436.2866 or 301.715.8592.
Meeting ID#: 933131679
For all other services (Sunday through Friday morning and evening services, and Shabbat services):
By computer:
https://zoom.us/j/109428724
By phone:
Please dial 929.436.2866 or 301.715.8592.
Meeting ID#: 109428724
You can find
PDFs
of Seder
Avodah
here
.
Please note:

To avoid the possibility that any of our services will be interrupted by hackers or other unwelcome interlopers ("Zoombombing"), we are making a couple of changes in how we use Zoom. There will now be a virtual waiting room and the host will welcome each guest into the meeting.

You may want to call or log in a few

minutes

ahead of the start time so that the host has time to welcome each guest.

There will also be a co-host assigned so that any interlopers can be removed from the service quickly.
Changes at AJ Due to the Coronavirus (COVID-19)
This is a reminder that we have added a page to the AJ website that explains our actions and policies for dealing with the virus to date.
Here is the direct link to the COVID-19 page on the AJ website:
Needed! Homemade Masks for Einstein Patients
The City of Philadelphia has a significant number of new COVID-19 cases & hospitalizations continue to rise. Inner city neighborhoods are being hit harder by this highly communicable disease. Masks help stop the spread. Einstein is in need of hand-crafted masks to give to our patients to help keep others safe and preserve medical grade masks for staff. Can you help?
You can download the instructions
here
. Y

our support would be much appreciated!
Are You Suffering From Loneliness?
The social distancing required to defeat the coronavirus has upended our lives. We have been separated from family, friends, and coworkers. If
you are experiencing loneliness or know of someone who is, please let us know how we can help
. You can reach Rav Shai at 215.992.4112 or ravshai@adathjeshurun.info, or Hazzan Glantz at 215.439.5033 or hglantz@gmail.com.
Update Regarding the AJ Website
Some congregants have inquired
about
the words "Log In" that appear in the upper right corner. The ability to log in to the website is a feature that is not activated, and can only be used by the site administrator at this time. The congregation will be advised if this feature is activated in the future.
Kosher Meals from Betty the Caterer
Betty the Caterer is offering kosher meals for pickup at MBIEE. The menu for June 18 through July 2 is
here
. The menu for July 9 through July 23 is
here
. And they have just created offerings for weekend meals called "Weekend in a Box" and you can find the flyer
here
. You can find out more about Betty the Caterer
here
.
Kosher Foods Available Through KMF Food Distribution
KMF Food Distribution is a locally owned family business with over 35 years of experience in Kosher food service distribution. Our commitment to customer service and high-quality products have allowed us to be a reliable source for Kosher consumers nationwide. COVID-19 has effected our community in numerous ways including severe interruptions in our food supply. As a result, we are offering p
oultry, beef, lamb, veal, deli, fish, cheese, Heat N' Serve, and other traditional items.
In partnering with Congregation Adath Jeshurun, KMF Food Distribution
would like to offer a special group delivery order. Orders placed by
Sunday will be delivered to Melrose B'nai Israel Emanu-El on Wednesday
between 11:30 AM and 12:30 PM. The minimum order has been reduced to $100.
KMF Food Distribution: 615 Deer Road Cherry Hill, NJ 08034
Phone: (856) 444-0143 - Email: retail@koshermartfoods.com
Jewish Federation Needs You!
The Jewish Federation's Emergency Fund is currently raising money for food, counseling, and other basic necessities for our Jewish social safety-net agencies. We anticipate that the funds will go to additional needs as they arise, and as funds are raised. Jewish Federation is uniquely situated to assess the needs, raise money, and distribute funds quickly, as the needs change. All of our Jewish safety-net agencies serve both Jews and non-Jews throughout Greater Philadelphia. Please consider making a donation to Jewish Federation's COVID-19 Emergency Fund
.
Helpful Resources
Looking for things to do while you "Stay at Home"?
Here is a
link
to a number of resources our Director of Programming, Ilana McAfoos, has compiled. You can also find it on the
COVID-19 page
on the AJ website.
US Senator for Pennsylvania Bob Casey has links to a wide range of resources that can

help you, your family, and your community navigate the challenges of this difficult time

. They include easy-to-understand descriptions of provisions from the

Coronavirus Aid, Relief, and Economic Security Act (CARES) Act just passed by Congress.

You can find those links here.
Donations and Notification Cards
We want to let you know that all donations are being processed but until the AJ building is opened again, we will be delayed in sending out cards. We appreciate your continuing donations.
KleinLife: Montgomery County
Programs for Seniors at AJ
KleinLife will be closed until further notice.
KleinLife: Montgomery County Dr. Gabriel z"l and Alma Elias Center operates at AJ on Tuesdays, Wednesdays, and Thursdays, from 9:45 AM to 2:00 PM, in the Braemer Auditorium. Anyone 60 and older is invited to join us. The program is free of charge but space is limited. Please call to sign up! For more information, contact Gail Korostoff at 215.635.5244 or
gkorostoff@kleinlife.org
. You can download the current newsletter with programs and activities
here
and a general flyer
here
.
In Case You Missed It...
Below are some stories that were in previous weekly emails. We still think they are important enough to include for those who missed them or didn't need the info at the time they were originally published!
Eradicating D
omestic Abuse
is a J
ewish R
esponsibility.
15-20%
of all Jewish households experience some form of abuse or violence and Jewish survivors stay in abusive relationships twice as long as the national average.
If you are concerned about your safety or the safety of a loved one, please contact us at
info@dinahphilly.org
to talk with one of our intake volunteers.
Dinah is a comprehensive legal services center providing low-cost and pro bono legal representation to survivors of domestic abuse in the Jewish Community of Greater Philadelphia. By partnering with existing Jewish social service providers, Dinah
combats intimate partner violence through advocacy, education and representation.
Visit dinahphilly.org for more information.
Lunch and Learn Noontime Torah Now Being Held at AJ
CANCELED until further notice.
Feed your soul at Noontime Torah!
The Rabbinical Assembly-Mid-Atlantic Region invites you to join us weekly at noon for the study of Torah on Tuesdays at AJ from noon to 1:00 PM. A Rabbi and other like-minded individuals await you to engage in exciting discussion and thoughtful analysis of the weekly Torah portion or other stimulating topic. Each class is self-contained so you can plug in at any given week, in any given location.
Join Us and Grow!

Bring your dairy or pareve lunch and a Bible, drinks will be provided. All are welcome. Classes are not held on major Jewish holidays. For more information, call at any of the locations for details or the main coordinating office of Rabbi Gary Charlestein (610.239.6003).

You can also attend Noontime Torah in Center City at the Offices of Cozen & O'Conner on Tuesdays from noon to 1:00 PM, or in Plymouth Meeting/Norristown at the Offices of Premier Dental Products on Wednesdays from 12:30 PM to 1:30 PM. Download a flyer for more info.
Laurel House Shelter Needs Your Donations!

AJ Caring Community
Committee
We all experience times of need. For many of us, family and friends step in to provide support. For others, those resources are less present, less apparent and asking for help can be embarrassing and complicated. This is where the AJ Caring Community Committee (AJCCC) comes in with varying levels of support, anything from a phone call to a meal.
Should you know of someone who has such a need or if you find yourself in a difficult situation please get in touch with us. You can leave a message with Beryl (215.635.6611) in the office, or with Rav Shai at ravshai@adathjeshurun.info or Naomi Atkins, the chair of the AJCCC at nrsa@comcast.net.
Your AJ family is here to help you.
College Connection

We Would Like to Connect with Your College Student!
Surprise your college student with a taste of home! College students enrolled in the AJ College Connection Program will receive the monthly AJ News and enjoy holiday packages sent to school. Children of member families only. Please send the following information to Sandra Goldberg at sgoldberg430@gmail.com or call the synagogue office at 215.635.6611: Student Name, School Address, Student Email Address, Parent Email Address and Expected Year of Graduation. This program is enthusiastically sponsored by AJWA Sisterhood.