Members receive a 15% discount on Nature Store purchases!
Friends of Aransas Board of Directors
Fred Lanoue - President
Amanda Rocha - Secretary
Linda Lanoue - Treasurer
Linda Frank - Director
Ellen Reisinger - Director
Irma Hernandez Schreiner - Director
Linda Swiggett - Director
A Word from the President
Earlier this month, I attended the city of Rockport's 28

th

annual Whooping Crane Strut. This is a 5K / 2K / 2 mile walk event, which this year attracted over 200 participants. This was the second year that Friends of Aransas has partnered with the city for this event, and I'm happy to report that the Strut has become a great fundraiser for our friends group. Five dollars from every entrance fee is donated by the city to Friends of Aransas for deposit to our "Water for Wildlife" fund. This fund is used to develop new drinking water sources for whooping cranes and other wildlife at Aransas NWR, or to rehabilitate existing watering sources which have become unusable. It's a fun event, and our wonderful crane mascot from the Aransas National Wildlife Refuge, "Super Whooper" was, as always, a huge crowd pleaser. Super Whooper, assisted by Jim Panaccione, USFWS, gave the signal to start the race, cheered racers at the finish, handed out door prizes, and posed for photos with fans of all ages. Next year, come out and join us so you can support the whooping cranes and have a fun day at the same time!
You can see more photos in our website gallery.

By Laura Bonneau, Visitor Services Manager
Spring has arrived here at Aransas National Wildlife Refuge! The wildflowers are blooming and birds have begun their spring migration. We've accomplished a lot here in the last few months. Here are a few of the things we've been up to:
We burned approximately 7,000 acres during winter 2015-2016 for the benefit of whooping cranes. What was most interesting about this year's burns was the congregation of cranes on the units immediately after a burn. Refuge staff documented on more than one occasion more than 30 cranes in one area after a burn. (See photo below.)
Cattle grazing was implemented on the Myrtle-Foester-Whitmire Unit of the refuge as a method to manage vegetation in moist soil units and upland sites for the benefit of migratory birds. Refuge volunteers and staff constructed fences to subdivide the Whitmire unit into small management units.
Construction of the new Rail Trail bridge was completed in January. Special thanks to Refuge volunteers and staff for a wonderful structure that is receiving a lot of visitor use.
The refuge hosted two woulnded warrior feral hog hunts which were operated by Serve Outdoors. Special thanks to FAMI for providing meals for the participants of the hunt.
Refuge staff and volunteers participated in a one day crab trap clean-up project on Matagorda Island. Approximately 50 traps were retrieved and discarded. In addition, we assisted the San Antonio Bay Foundation with the removal of about 30 traps in San Antonio Bay. Thanks to all involved!
JEB Stuart, new employee in the refuge's fire program began work in March. JEB, a native of Virginia, transferred to Aransas from the U.S. Forest Service in Montana. Welcome JEB!
Photo by Jeff Adams, USFWS

Photo by Gary Ertl
Aransas National Wildlife Refuge was one of 20 sites nominated for "Best Place for Birding" in the USA Today Readers Poll. The results just came in, and Aransas is #1!
Throughout the contest, photos were posted on Facebook to remind people to vote. Many thanks to the photographers that shared their amazing photos: Kevin Sims, Gary Ertl, Steve Reisinger, Fred Lanoue, Laura Bonneau, Jen Brown, and Butch Andreozzi. We've posted some of the photos in our gallery; you can see them at
10 Best Campaign
. You'll notice that the great majority of the photos are by Kevin Sims. Kevin's support was tremendous and his photos are amazing.
The runner-up was
Ottawa National Wildlife Refuge
.
Friends of Ottawa NWR
waged a fierce campaign, but we prevailed due to those mentioned above. The fact that both the top spots are National Wildlife Refuges is significant. Ottawa NWR would be a wonderful place to visit. In fact, ANY National Wildlife Refuge that allows visitors is well worth the time & effort. Each Refuge is special in its own way.
Thank you again to everyone for helping Aransas NWR win the top spot.

Whooping Crane Update March 29th
Photo by Laura Bonneau, USFWS
Wintering Whooping Crane Update, March 29, 2016
Wade Harrell, U.S. Whooping Crane Recovery Coordinator
Whooping crane spring migration has begun. It has been a tremendous winter season here at Aransas NWR, but the whooping cranes seem to be ready to get back up to Wood Buffalo National Park for another breeding season.
As of this morning, of 11 birds that have active satellite transmitters, 4 have departed Aransas NWR. The 4 marked cranes are spread out from Central Texas to South Dakota. Reports received over the last few weeks from states in the migration corridor indicate 31 whooping cranes have been spotted in migration from Kansas to South Dakota. The number of whooping cranes at Aransas will quickly dwindle over the next few weeks. Spring migration is typically shorter in duration than fall migration, usually taking about 30 days.

We had a great time at our Membership Meeting January 3oth.
Board Members for 2016 will be Fred Lanoue, President; Amanda Rocha, Secretary; Linda Lanoue, Treasurer; and Directors at Large Linda Frank, Ellen Reisinger, Irma Schreiner, & Linda Swiggett.
Our speaker was Lee Ann Johnson Linam, whose father was Frank Johnson, a Refuge Manager at Aransas NWR. Lee Ann grew up on National Wildlife Refuges, and lived at Aransas NWR for several years. She gave us a fascinating look at life on the refuge, and her father's work with Whooping Cranes & other wildlife. Her program was both informative and entertaining.
Lee Ann also assisted us by drawing for door prizes. There were items donated by the Nature Store as well as T-shirts donated by Captain Tommy Moore &
Rockport Birding & Kayak Adventures.
Captain Tommy also donated our grand prizes, 3 birding trips for 2 on the Skimmer. We really appreciate Captain Tommy's support. Every member attending received a reusable water bottle from the Nature Store.
After lunch, those that wished were led on a tour to Burgentine Lake.
It was wonderful to have a chance to visit with members. We are all excited by the many positive things going on at the refuge.
Read more about the meeting, and see more photos on our website.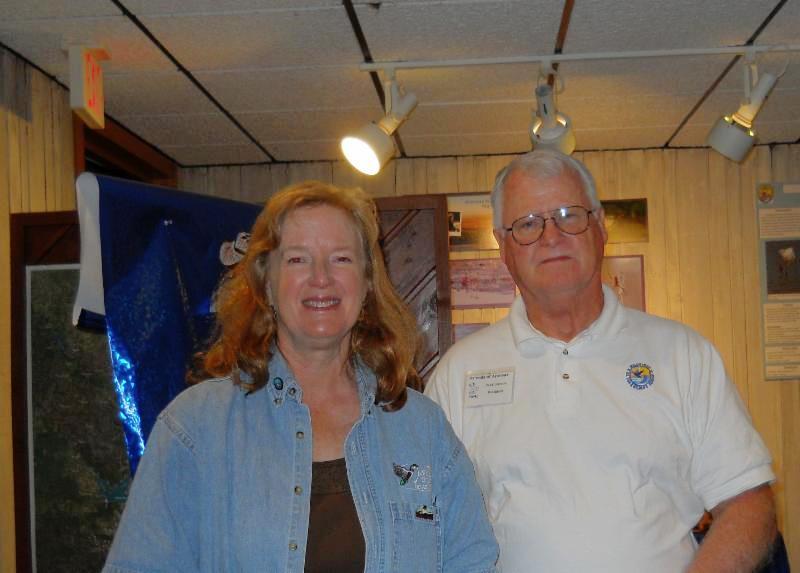 Lee Ann Johnson Linam with FAMI President Fred Lanoue


Interpretive Pollinator Garden
Thanks to Kent & Lynn Sayre, and other volunteers, we're making progress on the new pollinator garden. The fence and pathway have been completed and we're now planning a planting party! We'll be gathering at 8:30 a.m., April 5th, and everyone is invited. If 8:30 is too early, just come when you can. You don't have to be a gardener or plant expert; Ellen Reisinger and Linda Frank will be supervising. Bring gloves, sun protection, and a refillable water bottle; we'll supply the rest. There will even be a free hot dog / hamburger lunch

! Please email us if you plan to help, so we'll know how much food to prepare.
Thank you to all the volunteers that have helped so far. As always, we appreciate the help & support we receive from Refuge staff, espcially Greg Birkenfeld, who has been involved from the very beginning.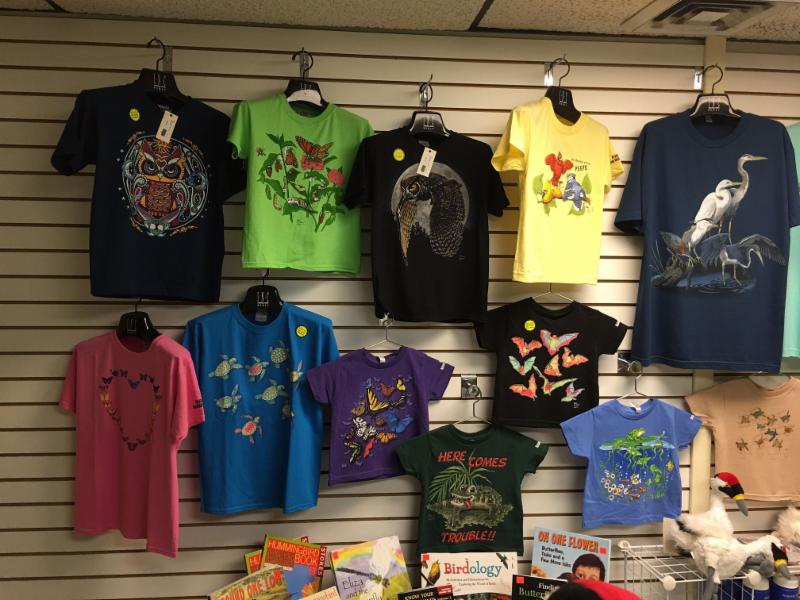 Photo by Irma Schreiner
By Irma Schreiner, Store Manager
Spring has arrived and with it spring cleaning in our store. Yes, it has. A large selection of children and adult books are now on sale to make room for incoming and new inventory. Be sure to check out the book sale table when you visit.
And speaking of new inventory, we just received a selection of new children's T-shirts. We now have some in a size smaller than those typically stocked; we continue to search for suppliers that can provide us with a smaller size shirt for your new children and grandchildren.
Keeping our store stocked with new and exciting educational inventory poses a challenge when we consider our limited display and storage spaces. Sometimes it is somewhat of a difficult task, but one we strive to surmount. Please know we welcome your suggestions to help us maintain and improve the level and quality of our inventory.
However, our greatest challenge is finding volunteers to staff our shop when refuge's Visitor Center is open. The distance that volunteers must travel to participate can be a hindrance, but it is a lovely drive this time of year as the wildflowers are popping up all over the sides of the roads. At times it is also difficult to keep your eyes on the road as birds capture your attention. If you have time to volunteer, please consider helping out at our nature store. Bring a friend to keep you company. Training is provided, you can help make a difference in our store, customers are friendly, and lots of fun to meet folks from all over United States. You will be amazed by the number of overseas visitors. Please contact me directly
. I would be glad to give you specific details about this volunteer opportunity.
Photo by Irma Schreiner

Dustin Roberts, winner of the February FAMI drawing, with Jonny Giles, USFWS.
We were honored to provide funding for meals for the two Serve Outdoors wounded warrior hog hunts held at the Refuge. We also held drawings for Academy gift cards after each hunt. The veterans have our sincere appreciation and gratitude for their service. Thank you to everyone that participated in the hunts.
Junior Munoz, USFWS, and James Kabela (with service dog Bo just out of the picture), winner of the March drawing.

Work crew on new Rail Trail bridge
Wonderful things are happening on Rail Trail! Thanks to the folks pictured above, there is a new bridge that is already getting a lot of use. Refuge visitors use it both as a bridge from the road to Rail Trail, and as a platform to view alligators, birds, and some very interesting fish. The trail has also been extended on the north end, and now goes up to the fence line. A few openings have been created to give better views of Thomas Slough and the critters that might be in there. More improvements are planned. Come check it out!

| | |
| --- | --- |
| | |
| | New end of trail |


Photo by Joe Wiatt
by Irma Schreiner, Store Manager
With the help of special volunteers we were able to take our nature store to the 20th Annual Whooping Crane Festival in Port Aransas the last weekend in February. The event and our nature store booth were a great success with gross sales over $4,300. Participation in this three-day event is one of the largest for FAMI, one that requires lots of planning, set-up, and break-down times plus a three-day commitment to staff our booth. Thank you to our extra-ordinary volunteers! I think you would all agree that in addition to working hard, we also had fun especially when Hope arrived. (See photo of our Lindas with Hope) From start to finish, I wish to thank our WCF volunteers. Behind the scene: Linda Lanoue, Treasurer; Thursday transporter: Ron Smudy; Set-up: Ron Smudy, Vera and Joe Wiatt; Booth staffers on Friday: Penni Phillips, Vera and Joe Wiatt; on Saturday: Linda Frank, Linda Swiggett; on Sunday: Ellen Reisinger, Linda Swiggett; Break-down: Larry Henneke, Ellen and Steve Reisinger, Ron Smudy, Linda Swiggett; Monday transporter: Ron Smudy. Sharing our booth throughout the event were our friends from Aransas National Wildlife Refuge: Jennifer Brown, Environmental Education Specialist; Hanna Plumpton and Kevin Son, Visitor Services Interns; Cindy Catalano Resident volunteer. As we say in Texas: Y'all made it all happen! And, y'all have my sincere gratitude.
Photo by Irma Schreiner

April 4 - Pollinator Garden
Planting Party
April 9 -
Earth Day Bay Day
, Corpus Christi, TX
April 9 -
Nature Fest
, Coleto Creek Park
April 15 -
Aransas NWR Visitor Center
begins summer hours. The
Visitor Center will be open Wednesday through Sunday
9:00 a.m. - 4:00 p.m. The Refuge is always open every
day from 30 minutes before sunrise until 30 minutes after
sunset.

Thank you to:
Our Corporate Sponsor, Hilcorp Energy for their continued support.
City of Rockport, TX for allowing us to partner with them in the Whooping Crane Strut.
Captain Tommy Moore & Rockport Birding & Kayak Adventures for their support & donations for our annual meeting.
Kevin Sims for invaluable photos and support in the USA Today 10 Best Places for Birding campaign.
Friends of the Wild Whoopers, Aransas Bay Birding Charters, Aransas Bird & Nature Club, Rockport-Fulton Chamber of Commerce, City of Rockport, TX, Victoria Advocate, and craniacs everywhere for promoting Aransas NWR in the 10 Best campaign.
We do not list individual donors without permission, but we greatly appreciate everything we receive. You can contribute to our general fund, or specify that you want your donation go to a special purpose, such as the Whooping Crane or Connecting Kids with Nature Fund.
Thank you to everyone that donated by using the Smile program when shopping at Amazon.com. Each purchase through the Smile program earns a small contribution to FAMI. You pay the same price for the same goods & services as using regular Amazon.
As always, we thank everyone for helping us help Aransas National Wildlife Refuge.