Today Advent Calendars come in all shapes and sizes, filled and unfilled, yet the German Advent Calendars made of paper and sometimes decorated in glitter of gold and silver are as special today as they were hundreds of years ago.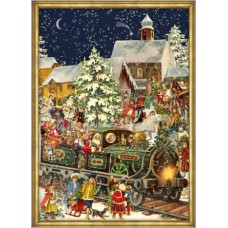 I remember as a ch
ild waiting eagerly for our Advent Calendars to arrive from Germany each year, thanks to our generous German grandparents.
Even though in retrospect I realize that behind each tiny door was, well, just a picture, it was a thrill to open each one each day as the excitement built to the final door on Christmas Eve!