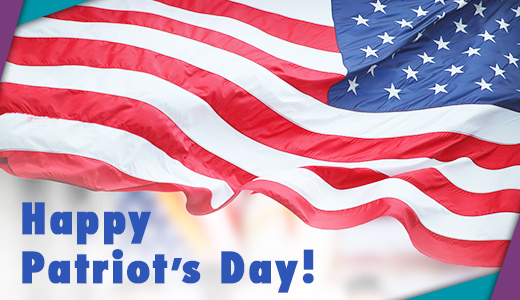 Closed for Patriot's Day
PCT Federal Credit Union will be closed on Monday, April 17th for Patriot's Day.
Regular business hours will resume on Tuesday, April 18th.
Children's Book Drive

For the past few years, PCT has taken part in the Children's Book Drive put on by Massachusetts Credit Unions and the Massachusetts Coalition for the Homeless. The Children's Book Drive celebrates the value of reading by providing thousands of books that give children hours of reading to open their imagination and become inspired. We are proud to announce that we are participating in the book drive again this year! The Children's Book Drive will last throughout the entire month of April. New and Used books can be donated at both our Main Branch and our Viking Branch. The books will then be donated to local elementary schools throughout the community. While the drive is for children's books, we will be taking young adult/adult genre books as well and donating them to the local library. You do not have to be a member to donate and anyone who donates will be eligible to enter into a raffle for a $25 Amazon Gift Card! (One raffle entry per person).
National Credit Union Youth Month

April is National Credit Union Youth Month! In order to celebrate and encourage kids to open youth savings accounts to save money, we will be giving away quarter saving folders at our Main Branch! Stop by to collect your folder starting April 1st. Give them to your children, grandchildren, friends' children, whoever you'd like! When a child brings back their folder full of quarters, they will have $5.00 to start a savings account. And guess what? We will MATCH that $5.00 so the child has $10.00 to put in their savings account! Don't miss out on this wonderful opportunity to share the importance of saving money with the youth of our community, as it is never too early to start saving! Also, since youth month is the same month as the book drive, we will offer any child who donates a book a quarter for every book they donate (up to $2.00 or 8 quarters).
Offer lasts throughout the month of April only. We will match a child's $5.00 deposit up until Saturday, April 29th, 2017 at 12:00 pm. The match has to go into a savings account, cannot be given in cash. Membership eligibility required.
Short Term First Mortgage Special
Are you thinking about refinancing your mortgage? Why wait? Refinance now! Take advantage of our Short Term First Mortgage offer and enjoy a Special Rate as well as NO closing costs. This is a limited time offer, so be sure to call 508-291-0777 to inquire about our Special Rate and learn more today!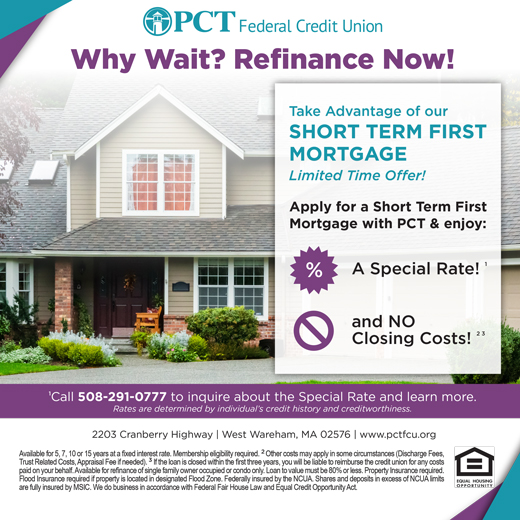 PCT Federal Credit Union's Annual Meeting will take place on Friday, April 28th at 4:15 pm. The meeting will be held at our Main Branch, 2203 Cranberry Highway, West Wareham MA, 02576. All members are welcome to attend!
April Employee Birthday

Happy birthday to Marie Garrity, one of our wonderful tellers, on April 10th! We hope you have a wonderful birthday and enjoy celebrating!
Keep Up with Us on Social Media!
Want to stay up to date with our important announcements, fun activities and helpful financial tips? Like us on Facebook and follow us on Twitter – you won't regret it!