Welcome New




Lori MacDonald
Meagan St. Laurent
Lawrence Libby







Deb Giordano President
Nowell Francis Treasurer
Paula Botch (Secretary)
Guy Biechele
Chuck Heidorn
Bethany Price
Susan Ellis

Georgia Griffin








GALA was organized to promote the arts as an essential component of a healthy community. We believe that artistic expression is a community's greatest legacy for future generations. GALA will increase awareness and appreciation of the arts by way of exhibits, instruction, theater productions, musical programs and provision of scholarships to students in local schools.

Gardner, MA 01440
a 501(c)(3) nonprofit organization


Massachusetts Cultural Council







Hello my dear friends,

Spring is finally here! We have all been waiting patiently and the days are starting to get warmer. We are now in full gear planning our Spring Show and filling this year's calendar with new events and classes. The break is over.



We have added something NEW to our Spring Show in April. We will have a food truck in the parking lot, available all weekend long, (Friday, Saturday, Sunday) to sell delicious food if you are hungry. We will still have our light refreshments Friday night, but if you are still hungry, there will be food right outside that you may bring in to eat while you listen to the fantastic music we have lined up for you. So, come back each day to listen to great music, watch art demos, and have some good food.



We need physical help in moving our panels over to the American Legion on Wednesday, April 24 and setting up chairs before the drop off. We could also use help with hanging the show on Thursday. Please let me know if you can help.



We still have the months of August and October available for group shows! If you would like to do a group show or be a part of one, register online.



Would you like to teach a class? Contact me with what you would like to do.



We are still seeking artists, artisans, and crafters to rent tent space for our July Music & Arts Festival. We already have 4 food trucks coming, and a local brewery. The music lineup is looking sweet with great art in the gallery. Mark your calendars for this event!



Upcoming Events:


More information, applications and deadlines can be obtained on our website.



GALA Spring Art Show- April 26th - 28th


May- Arts Gallery Art Show: all the award winners from the Spring Show


June- Group Show: Sitka Gallery PopUp (Sitka's artists)


July- Theme Show: "Art of the Animals"


July- Music & Arts Festival: artist and craft vendors, food trucks art show and more


August- Group Show


September- Group Show: Theme "Rust"


October- Group Show


November- Theme Show: "Small Works"



We are looking to fill the following positions:


Treasurer
Marketing
En Plein Air events coordinator

Deb Giordano


GALA President
978-407-1419








GALA Events/Announcements

GALA 2019 Spring Art Show with Live Music




295 School Street (Route 12), Winchendon, MA 01475

Opening Reception Fri., 6-9 pm (Art Awards at 7 pm)

Two options for entering the show: Option 1: Online entry

which submits your information & payment to GALA electronically.

Option 2: Paper entry form

. A PDF Call for Entries which includes a form that you print & mail with payment to GALA, PO Box 664, Gardner, MA 01440. ** Please allow enough time for mailing so that your entry is received by the deadline. **

With either option, your entry is due by April 14th Please support GALA by donating to the "Off the Wall Art Sale" and/or Artwork Raffle. See the Call for Entries for details on these important fundraising events.

NEW & Upcoming!


The Art Show in the GALA Gallery for the month of MAY will be all the ribbon holders of the Spring Show.



Please consider demonstrating your creative process at the show. Indicate your interest on your entry form.

You will

need to renew your GALA membership

on your entry form unless you are a current member. If in doubt, please email

membership@galagardner.org

.


Advice on How to Write an Artist Statement


Photography Specific Advice







Call for Artists: Art of the Animals




"Art of the Animals" Theme Art Show - Call for Artists


Show runs July 6th-Aug 2nd


Opening Reception: Saturday, July 13th


GALA Arts Gallery


135 Front Street, Winchendon, MA 01475



Entry Deadline: June 30th

Register online

or

download an entry form

.

GALA's artists are teaming up with Ahimsa Haven Animal Rescue for a theme art show to benefit both artists and the animals. Proceeds will be split between the artists and Ahimsa Haven Animal Rescue.

The theme is Animals, which includes all media, photography, and 3D. Animals can be pets, nature, wildlife, birds, farm, and other small or large creatures.

Join us in supporting a wonderful cause. GALA's art sales will raise funds to help pay medical bills for animals in need. This is your chance to help local animals and do what you love to do...create!

Call For Artists & Artisans




Music & Arts Festival


Saturday, July 20th 1:00 - 6:30pm



GALA Arts Gallery 135 Front Street, Winchendon, MA 01475

GALA is seeking applications from New England craft artists and Fine Art artists making original work. Festival is a one-day outdoor show featuring work of artists from the area.

Booth, one side open - $25

Booth, corner two sides open - $40

Free Wi-Fi

If you are interested in selling your art, please see the

Application Form

for more details.

This is a hard copy Artist Application Form that you print & mail with payment to

GALA, PO Box 664, Gardner, MA 01440

** Please allow enough time for mailing so that your entry is received by the deadline. ** Applications are Due by May 12th

You do not have to be a member of GALA.

Questions? Call 978-407-1419




RUST

, a proposed group show in September at the GALA Gallery, 135 Front St., Winchendon, has openings for more artist members to join in exhibiting their presentations of rust in art forms. Currently the exhibitors are Alicia Drakiotes, Susan Ellis, Louise Parmenter Hammerman, and Brad Willard who have previously exhibited their rust creations as a group at the Jaffrey Civic Center, Jaffrey, NH, and the Heywood Library in Gardner.

We are seeking other members who find the beauty in rust and thus create photographs, paintings, sculpture and innovative art works from this intriguing remnant of civilization. Please keep in mind the limitations of the gallery space. If interested, please submit 3 images of your works and label: Lastname_Firstname_Title_Image #jpg to

gallery@galagardner.org

. Images should be no larger than 300kb. Please include a brief statement about your interest in this subject and your contact information.




For more information please call the "Rust" group coordinator: Louise Parmenter Hammerman at 978-874-2660 or email

parmen-hammer@comcast.net



Rick Flematti
Spring Thyme Extravaganza, Gardner, MA

Come join me, Rick Flematti, at the Spring Thyme Extravaganza event on Thursday, May 2 from 6 to 9pm. Located at the PACC on Kendall Pond in Gardner, MA. There will be plenty of vendors to offer their wares in time for Mothers Day.

For more information contact Rick Flematti at ricardflematti@gmail.com


Tower Hill Botanic Garden, 11 French Drive, Boylston, MA

This spring Tower Hill Botanic Gardens will celebrate heroes from the plant world in order to encourage viewers to become heroes in their own communities. This exhibit will feature portraits by local artists of diverse leaders of horticulture. Carrin Culotta was selected as one of the ten participating artists and completed a portrait of the "Plant Doctor", Cynthia Westcott. The "Horticultural Heroes Exhibit" is on view through May 12 in the Milton Gallery at Tower Hill.



Richard Boyd Art Gallery, 15 Epps Street, Peaks Island Portland, ME



Richard Boyd Art Gallery opens an annual exhibition of original paintings and drawings on
Tuesday, April 2 at 10:00 a.m. The exhibition explores works by artists creating art
on a time honored raw product - paper. An unforgiving surface around for centuries, paper
reveals the artist's proficiency in creating visual art. The show includes a selection of original works in watercolor, acrylic, graphite, mixed media and pastels created en plein air and in studio settings depicting a range of scenes in a variety of styles. The exhibit features works by gallery artists' Patricia Chandler - acrylic, graphite and mixed media; Carrin Culotta - watercolor; Randy Eckard - watercolor; Julianne Garvey - watercolor; Scarlet Kinney - watercolor and pastel; and Bob Santandrea - pastels.

Works on Paper is on view free of charge between the hours of 10:00 a.m. and 5:00 p.m. daily through April 29, 2019


Len Haug
Center for Wound Care, Heywood Hospital, Gardner, MA

| | |
| --- | --- |
| | |
| | Mountain River Sunset by Len Haug |
The art of Len Haug will be on display during regular business hours at the Center for Wound Care, in Heywood Hospital, 242 Green Street, Gardner, through May, 2019. The show, with original art for sale, will include a selection of his cut paper mosaic and collage paintings created over the past five or ten years.


Alicia Drakiotes: Creating a Series
New Hampshire Institute of Art, Sharon, NH

| | |
| --- | --- |
| | |
| | Winter Stream |
Join Alicia Drakiotes at Sharon Arts Center for "Creating A Series"

Through April 23



Level: Special Topic
Prerequisite: None
Sharon Campus / PTN001SA
Instructor: Alicia Drakiotes
Through April 23
Tuesdays, 10am-1pm

Sometimes it takes more than one work of art to convey an idea or technique. In this class, you will identify your artistic longing and formulate realistic goals for a series of paintings or drawings to express it. You will work towards those goals in a supportive group environment, producing pieces both in and outside of class.

All 2D media are welcome. Participants should have basic skills in their chosen medium and should be prepared to share work and works-in-progress with the class.

Register here

For more information please visit the NHIA website.



Exhibit:


Alicia Drakiotes is the featured artist through March 31st at Ramunto's Pizza
176 Main St, Keene, NH


Princeton Arts Society's 28th Annual May Gallery Show
Princeton Arts Society, Princeton, MA


Come and surround yourself with art. The Princeton Arts Society's 28th Annual May Gallery Show is the perfect opportunity to view inspiring works of art and perhaps add a piece to your personal collection.

The Annual May Gallery Show is free and open to the public:


Friday, May 3, 6:30-8:30PM - Opening Reception & Live Music


Saturday, May 4, 10 AM to 4 PM


Sunday, May 5, 10 AM to 4 PM


Princeton Community & Senior Center, 206 Worcester Rd. (Post Office Place) Princeton, MA


All work is by the Society's members, many of whom are award winning artists widely recognized in their fields. The show includes works in oils, acrylics, watercolors, pastels, photography, and more, including three-dimensional works, with subject matter as varied as our artists.

Our Opening Reception will include refreshments and live music by Tim Loftus and Mary Carfagna. Ms Carfagna is a cellist with the New England Symphony Orchestra and a cello teacher. Mr Loftus is an instrumentalist (flute, guitar, and tenor banjo) performing often as a soloist, sharing stories, music, and visual presentations on Irish culture.

The Princeton Arts Society is a nonprofit 501(c)3 organization encouraging and supporting area visual, literary and performing artists.

www.princetonarts.org
Facebook: PrincetonArtsSociety


Amy Klausmeyer: Variations in Blue
ArtsWorcester, Worcester, MA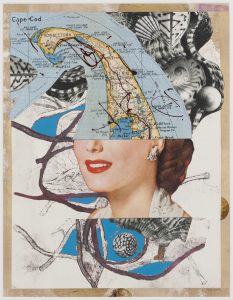 Opening reception: Tuesday, April 2, 2019

6:00 - 8:00 PM


at the Hanover Theatre


2 Southbridge Street, Worcester



ArtsWorcester presents Variations in Blue, a collection of works by Amy Klausmeyer. The artist's medium of choice is paper--using monotype, ephemera, altered images, and handmade papers, Klausmeyer creates mixed media assemblages and collages. An artist talk will take place during the opening reception at 6:30 PM. This exhibition will be on view March 19 through July 10, 2019 in the Franklin Square Salon Gallery at the Hanover Theatre.

The opening reception is free and open to all. Parking for the opening and viewing appointments is available in the City's Federal Square lot, across Main Street from the Hanover Theatre. Other viewings are available by appointment through July 10, 2019. To schedule an appointment, please contact ArtsWorcester at info@artsworcester.org or call 508-755-5142.

ArtsWorcester
508.755.5142
www.artsworcester.org


April Events at the Jaffrey Civic Center
Jaffrey Civic Center, Jaffrey, NH

Mixed Media Exhibit by Susie Choate



Local resident and artist, Susie Choate will exhibit her mixed media artwork in the Display Case Gallery at the Jaffrey Civic Center through April 19. Susie specializes in colored pencil, water soluble oils and Pysanky (Ukrainian decorated eggs). Her paintings and pencil-works can be seen throughout the year at various shows and auctions, and her Pysanky work has been recognized in area newspapers, as well as local and international magazines. Her goal is to never stop learning and creating. There will be an Opening Reception for Susie's work on Saturday, March 23rd from 5 pm to 7 pm. Free and open to the public.



April Fundraiser to be held at the Jaffrey Civic Center



The Jaffrey Civic Center invites you to join us for a unique and engaging fundraiser celebrating Spring, music and art. The event, Notes on Canvas: transforming music to art, will feature concert pianist, Virginia Eskin playing the piano and visual artist, Jill Fischman painting what she hears to create a unique work of art dedicated to Spring. Virginia Eskin is a native of San Diego, California, and has performed as a soloist with many orchestras, throughout the United States and Europe. She is adjunct professor music at Keene State College, which in 2009 awarded her an honorary Doctorate of Humane Letters in recognition recognize her contributions to women's music. Jill Fischman, a New York City native, studied Commercial Art at the School of Visual Arts (SVA) in New York City. Her bold designs led her to a successful twenty-year career in Publishing, as an editorial Art Director and Graphic Designer. Jill's journey took her down the pages of: Harper's Bazaar, Glamour, Mirabella, European Travel & Life, and Parents magazines

The event will be held Saturday, April 27th from 5 pm to 7 pm. An auction of the newly created painting and reception will follow the concert. *Only 50 tickets available for this event.* Tickets are $25 and can be purchased at the Civic Center, or online at: https://ticketelf.com/events/notes-on-canvas-transforming-music-to-art

The Jaffrey Civic Center is located at 40 Main Street, Jaffrey, New Hampshire, next to Library, parking in rear. Hours are Monday through Friday, 10 am- 12 noon, 1 pm to 5 pm and Sat 10-2. Admission is always free. For more information about us, call 603-532-6527, e-mail us at info@jaffreyciviccenter.com find our website, www.jaffreyciviccenter.com, or "Like" us on Facebook.


April Events at Gallery Sitka
Gallery Sitka

Tuesday, April 2, 2019

5:30-7:30PM


1011 Third Ave., NY, New York



Kate Shaffer at Zavo
Join us for an Art Opening at Zavo Mediterranean Restaurant from 5:30-7:30 PM to see new work by artist Kate Shaffer. Light refreshments will be provided. Hope to see you there!



Wednesday, April 3, 2019


4:30-6:30PM


215 Great Rd., Shirley, MA



Amanda MacDonald at the Bull Run
Join us at the Bull Run Restaurant in Shirley, MA for our April Bull Run Artist's Walkway featured artist, Amanda MacDonald. Light refreshments will be provided.



Friday, April 5, 2019


5:30-8:30 PM


Studio East, 58 Elliot St., Brattleboro, VT



Brattleboro Gallery Walk Pop-Up Show
Join us for our third gallery walk in Brattleboro, VT. This will be at 58 Elliot Street in Downtown Brattleboro, VT. It will be from 5:30-8:30 PM. Light refreshments will be provided. Artists Included: Melissa Richard, Dawn Morton, Dug Morton, Roberto Perotti, and Mia Scheffey.



Saturday, April 6, 2019


3-5 PM


2 Shaker Rd. Suite D 101, Shirley, MA



Jonathan Route at Gallery Sitka East
Join us for an Art Opening at Gallery Sitka East from 3-5 PM to see new work by artist Jonathan Route. Light refreshments will be provided. Hope to see you there!



SAVE THE DATE:


Friday, May 3, 2019


5:30-8:30 PM


Studio East, 58 Elliot St., Brattleboro, VT



Brattleboro Gallery Walk Pop-Up Show
Join us for our fourth gallery walk in Brattleboro, VT. This will be at 58 Elliot Street in Downtown Brattleboro, VT. It will be from 5:30-8:30 PM. Light refreshments will be provided. Artists included: Jonathan Route, Roberto Mazzonetto, Mia Scheffey, Jeanne Borofsky, and Kate Shaffer.

For more information contact Meagan St. Laurent, Gallery Assistant
Gallery Sitka East at Sitka Creations
2 Shaker Rd., D101
Shirley, MA 01464

Phone: 978.425.6290
Fax: 978.425.6280
office@gallerysitka.com
gallerysitka.com


Spontaneous Combustion: The Improvisatory Art of Adam Bosse
Nina's Nook, Turners Falls, MA

Nina's Nook is pleased to present "Spontaneous Combustion: The Improvisatory Art of Adam Bosse," during April. Bosse is exhibiting some of the visual art that he has created since the fall of 2017, work that he feels visually represents the work he has done as an improvising musician. It is his first gallery show in the area.

Adam Bosse is a local electric guitarist and music educator at the Northampton Community Music Center, teaching guitar as well as group courses on blues performance, ukulele choir, and most notably, free-form improvisation. For the past decade, he has been active in the Western Massachusetts music scene, performing, improvising and recording with a number of local artists. He currently performs with his noise rock guitar and drum duo Fred Cracklin, and the free jazz group 23 Ensemble.

Meet Adam Bosse at an afternoon reception on Sunday, April 14.

Nina's Nook is located at 125A Avenue A in Turners Falls, next to the Black Cow Burger Bar. For more information: 4513.834.8800 or ninasnook.com.


Awakenings: Petersham Art Show 2019
Petersham Town Hall, Petersham, MA




An Art Show and Sale by Regional Artists in the North Quabbin Area



April 5-7
Public Opening Reception Friday, April 5, 7 to 9pm
Live music by Isaac Richardson
Hors d'ouevres

Friday, April 5, 7 - 9pm
Saturday, April 6, 11am - 4pm
Sunday, April 7, 12 - 4pm

Petersham Town Hall
1 South Main Street
Petersham, MA 01366

petershamculturalcouncil@gmail.com


NightScapes in Pastel
River Valley Artisans, Keene, NH

NightScapes in Pastel

Christine Ivers


Saturday & Sunday, April 6 & 7, 2019


10:00am - 4:30pm


Stone Arch Village Community Room

835 Court St.

Keene, NH





This is a two-day workshop that explores texture, temperature and the medium of pure pigment. Students will have the opportunity to paint from their own photos or photos that will be available. They will also be able to purchase pre-prepared boards that incorporate the surface that I work on. All levels are invited.

The registration fee for this 2-day workshop is $300. This fee is non-refundable unless the minimum number of students is not met or the class is cancelled by this art group or the instructor.

Please contact rivervalleyartisans@tpdi.biz for more information or a registration form.

Workshop with Antonio Masi
New England Watercolor Society, Boston, MA

Three days:
May 29, 30 & 31, 2019
9am - 4pm
at Strawbery Banke, Portsmouth, NH





Download the flyer

Antonio Masi is President of the American Watercolor Society. He has developed a novel way to use watercolor thickly, in the same way that others use oils thickly. It is an approach that produces exceptional results. Masi's use of watercolor allows him to capture mass, power, and delicacy.

The workshop will be limited to 20 participants. Tuition for the 3 day workshop:

$450 for NEWS & HNE members
$525 for non-members.
A $100 deposit holds your space, Full payment by April 15, 2019.

Register on the NEWS website or mail your registration and check to:

New England Watercolor Society
P.O. Box 170140
Boston, MA 02117

Upcoming 2019 Workshops
Monadnock Area Artists Association, Keene, NH

April 14 - Steve Previte - Hurry Up & Paint (oil), 9:00am-4:00pm


The purpose of this workshop is to completely remove you from your normal comfort zone and methods of painting. It is designed to force you into growth as an artist in the following ways:

* Thinking and approach
* Use of color
* Brushwork and paint application
* Ability to make a quick statement
* Help you to dominate your painting
* Have more fun and satisfaction with the painting process.

You will work on 5 or 6 paintings during the day with a time limit of 1/2 hour each. Expect to do great things and maybe even finish some paintings. I will paint 2 demos as well. Only 8-10 students for this workshop.

More information on registration form



April 27 & 28 - Jim Murphy - Impressionism (acrylic), 9:00am-4:00pm


This is a two-day workshop at Jim's studio in Keene, NH. There will be both indoor and outdoor possibilities to paint the landscape.

Impressionist Influenced Painting- There will be emphasis on loose, spontaneous, visible brushstrokes, emphasis on the depiction of light in its changing qualities, the inclusion of movement and bright and varied use of color. There will also be emphasis on expressing an internal energy and an emotional connection to your subject matter. Only 6-8 students for this workshop.

More information on registration form



Lisa Ober-November 2 & 3, 2019


Artist Lisa Ober, PSA, will teach a color-filled workshop on how to create beautifully detailed still life paintings in pastel. Lisa will take a step-by-step approach through her unique still life technique, from the first sketch to the finished piece using a photo reference (provided). Short demonstrations followed by plenty of class work time will ignite a passion for still life painting as students see their colorful paintings take shape. Participants will learn the skills needed to create believable and realistic still life paintings that are loaded with impressive details. Lisa will discuss developing keen observation skills, color selection, pastel application, and she will disclose her secrets for handling difficult surfaces such as glass or metal-giving special attention to this area.

Students will get plenty of personal attention, and Lisa's enthusiasm for still life painting is as contagious for the beginner as it is for the experienced painter. Regardless of favorite subject matter, students will leave with some hot tips for making their future paintings stand out in a crowd. If those in the class aren't already in love with still life painting, they will be by the end of this one!

For registration forms write pastels@tpdi.biz to be notified when ready.

Monadnock Area Artists Association
Keene, NH

Life Drawing
Mount Wachusett Community College, Gardner, MA

Life Drawing
Wednesdays, April 3 through May 8, 6:30 - 9:00pm
$129

Join a talented artist for a life drawing class using a live model. Bring your own supplies and draw or paint independently of the instructor. The model will be set up for different lengths of time for various poses. The instructor will be available if help is needed. Completed work will be shown during the last session. Space is limited. Model fees are included in the cost of the course.

Instructor: Corrine Goodrich

No waivers accepted for this class.

Visit our website to learn more about our program, facilities, and student work.

Contact Thomas Matsuda at t_matsuda@mwcc.mass.edu for more information.

Call for Artists
Princeton Arts Society, Princeton, MA




2019 Princeton Arts Society May Gallery Show & Sale



EVENT DATES: Opening Reception - Friday, May 3, 6:30 to 8:30 PM
Gallery hours - May 4 and 5, 10 AM to 4 PM
LOCATION: 206 Worcester Road, Princeton MA

This will be our 28th annual spring show, showcasing the work of 40-plus artists.

Call for Artist and Entry Form

Questions? Reach us at contact@princetonarts.org or phone 508-746-4175.


Call for Artists: Spring Fair and Fairy House Stroll
Unitarian Universalist Society, Gardner, MA




Spring Fair & Fairy House Stroll


Unitarian Universalist Society


66 Elm Street, Gardner, MA



Event Date: Saturday, May 18 - 9 AM to 2 PM

The UU Society is seeking Fairy Houses from the public to be included in our Annual Spring Fair and Fairy House Stroll. Your fairy house can be made of any combination of materials - natural, found objects, pre-made items, or whatever suits your fancy (and of course the fairies)! Use a tray or other material for a base. Your fairy house can be any size, but it must be able to be easily picked up and moved by mere mortals. The fairy houses will be displayed outside in the gardens and grounds where guests will stroll along through our gardens and grounds, discovering and admiring your fairy house.

To learn more and to arrange for drop off or pick up of your fairy house, visit www.uusg.net/fairyhouse or email fairyhouse@uusg.net.





Join over 60 New Hampshire artists as downtown Keene is turned into an outdoor gallery


May 31st - June 9th


Main Street, Keene, NH



Starting Friday, May 31st, art in mediums such as oil, pastel, photography, watercolor, mixed media and more will take over storefront windows to connect artists of all ages with the community of Keene. Live painting, music events, and more are available for the whole family during Art Walk.

Download the artist application

For more information visit keeneartwalk.com


2019 New England Regional Juried Exhibition
Historic New England, Portsmouth, NH

Over $5,000 in Awards

Hosted by Historic New England
Governor John Langdon House
143 Pleasant St.
Portsmouth, NH 03801
historicnewengland.org

Show dates: June 1, 2019-October 13, 2019
Deadline for entries: April 15

Download the prospectus

Open to any artist age 18 and older residing in New England or represented by a New England gallery. All work must be painted with aqua media. These include watercolor, acrylic, casein, egg tempera, gouache and inks on unvarnished paper or synthetic paper such as Yupo. Please see the prospectus or the NEWS website for full details.

New England Watercolor Society
PO Box 170140
Boston, MA 02117
newenglandwatercolorsociety.org


Call for Artists: Made in Mass
The Brick Room Gallery, Gardner, MA

Rome Furniture, at 562 Main St. in Gardner, MA, is looking for art to fill The Brick Room gallery. We are interested in any art and craft works "Made in Mass." For more information call Linda Ruscio at 978-632-0687, or email inquiries to
linda@romefurniture.com
. This opportunity is in the beginning stages.
Amherst Town Hall Gallery
Amherst Public Art Commission, Amherst, MA

The Amherst Public Art Commission invites area artists or groups of artists to submit work for consideration for exhibition in the Amherst Town Hall Gallery in 2019-2020 (July 2019-June 2020.) Both established and emerging artists are encouraged to apply. Exhibitions are on display for two months, and artists are asked to participate in the monthly Amherst Arts Night Plus (first Thursday of the month) during their show.
Various hanging media including painting, photography, drawing, printmaking, pastels, mixed media, fiber and illustration will be considered.
Submission requirements: Completed application, artist statement and/or resume, and 5 digital images. A $20 entry fee is payable upon acceptance to exhibit. Applications must be received no later than January 20, 2019. Artists will be notified of the jury's decision by February 5, 2019.
Applications may be completed online
Please send questions to Amy at
amy@amyacrawley.com
The Art Exhibit Committee
Athol Public Library
Athol Public Library
The Art Exhibit Committee of the Athol Public Library invites area artists to submit work for consideration for exhibition in the library's conference room.

The committee will review work for one person shows on an ongoing basis.

Various hanging media including painting, drawing, printmaking, illustration, photography, textiles and mixed media are eligible.
The Fitchburg Cultural Alliance
Go to our website to sign up for our newsletter and check out our calendar of events in the North Central region.
A vibrant force advancing arts and culture in the Fitchburg community and in the North Central Massachusetts region.
www.fitchburgculturalalliance.org
The Central Mass Chapter of the Women's Caucus for Art
The Central Mass chapter of the Women's Caucus for Art (CMWCA) is accepting new memberships. We are a national organization that supports, develops and celebrates art making by women. We create exhibition opportunities; network with artists regionally, nationally and internationally; and offer educational programs locally. We are organized as an artists' collective where each member contributes to our vision and works as needed to carry our mission forward.

For more information, see our websites: www.centralmasswca.org and www.nationalwca.org.


Art Support & Other

Art Support is a website dedicated to providing support and resources for artists of all types.

The following is just a small list of support provided to artists: Organizations Helping Visual Artists, US Government Art Organizations, State Agencies and Art Commissions, Non Governmental Art Organizations, Volunteer Lawyers for the Arts, Laws Regarding Visual Arts, Artist Consultants, Grants for Artists & Grant Assistance, Artist Health Insurance, and many other legal support and resources for Massachusetts artists.



________________



Massachusetts Cultural Council (MCC) and check out the MCC blog ArtSake

The Painter's Keys where you can subscribe to twice weekly letters from artist Robert Genn.

Visit the Arts Marketing Project website for info, ideas, tools and training on marketing art.

Princeton Arts Society Blog

Mini Grants for Professional Development are available through NewVue Communities. More information.


Exhibit Opportunities
The Arts Alliance has quarterly exhibits at the Hudson Town Hall, so if you are interested in a solo exhibit of your work, contact Danielle Moskowitz at (978) 562-1646 or dmoskowitz@upwitharts.org.
The Library is always looking for exhibitors to show their work in the Art Gallery. If you are interested in exhibiting as an individual or a group, please
contact the Library Director, Kathleen D. Leslie at 978-632-5298
or
kleslie@cwmars.org
The bank offers the opportunity for a small display of artwork at the 171 Main St. branch in Gardner. For more info, contact Monica Whitehouse at 978-632-9207.
Art & Music Instruction Opportunity
Donating a portion of the course fee to the WBAF to support school arts & music would be most welcome.
If interested, please contact Mark Baldi (508) 767-2803 - work (508) 835-6489 - home
We Need Your Help!
(Ongoing)
There are many ways to volunteer! Please email
info@galagardner.org
to express your interest in helping out with our organization.
Have news about exhibits, awards, events, classes, call for artists
or other art info?
Please send your news "publication ready" to
news@galagardner.org
. See
previous newsletters
for example formats and the type of info to provide.
We strongly recommend that you include a digital image related to the news
as well as your website address & links to any venues.
Image filenames should include the name of the artist and the work.
Please post your press releases online whenever possible and submit a link.
Submission deadline is the 23rd of each month
for publication on the 1st of the following month.

Inclusion of items/announcements is always at the discretion of GALA, but inclusion of submissions from non-members is limited to information deemed to be of benefit to
GALA members.
All Star Award
GALA has achieved Constant Contact's All Star Award for 10 years in a row (2009-2018) for demonstrating best practices in the use of email marketing.


Award winners were selected from over 500,000 organizations in recognition for setting the standard of being a responsible, engaged, professional, and successful online marketer.


GALA continues its efforts to put out an informational, entertaining newsletter every month to inform its members of recent, current and future art news.