April Events

Relief Events for Japan
at TS Dupont Circle
Friday, April 1, 7:00 pm
Kirtan w/ Wynne Paris
Register here

Saturday, April 2, 2:00 pm
Balancing Loss with Healing Energy w/ Dave Kidney
Register here




Self Care Week
April 11-17
25% off most spa treatments
More information here, or book now



Lunafest
April 21, 6:30-9:00pm
Short Film Festival Benefitting
Tranquil Space Foundation
Info and Ticket Purchase


Upcoming Retreats
Costa Rica Yoga Retreat
July 2-9, 2011
with Kimberly + Pari


Registration and more at tranquilspace.com/costarica

Dupont Circle
1632 17th Street, NW
Washington, DC 20009
202.328.9642
Arlington
3528 Wilson Boulevard
Arlington, VA 22201
Featured TS Sponsored Animal of the Month
Rory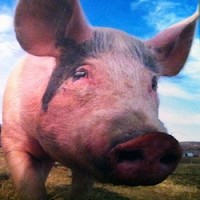 Sponsored at Farm Sanctuary in Watkins Glen, NY

Founder's Muse

Happy April and happy spring. A glorious, transformative time of the year. As I reflect on the transitions taking place, it's as if DC is coming alive after months of stagnation. Cherry blossoms are blooming, birds are singing, and from time to time we're able to don open-toed shoes to yoga class. Read more.
Dupont Circle Studio Scoop

Start your April with two events to send healing energy to those in Japan while we also raise money to help in the relief efforts. Learn how your practice can help with anxiety, stress and insomnia. And join Anne for how yoga can prepare you for childbirth. See all our workshops and events!
Arlington Studio Scoop

Happy April, TSA! As the seasons change and the weather continues to get warmer (we hope!), we have a number of special offerings to help you blossOM into spring with a bit of tranquility. We look forward to seeing you on and off of the mat in our sunlit studio this month... Read more.
Asana of the Month


This month, it's Salamba Sirsasana I (Basic Headstand Pose), known as the king or father of all asanas. According to Light on Yoga, mastery of headstand pose gives one balance and poise, both physically and mentally. Read more.
Teacher Training

Tranquil Space is pleased to offer a variety of teacher trainings designed to deepen your yoga practice, introduce you to the world of teaching yoga, and expand your gift of teaching. We have guest teachers in May and our level 1 teacher training coming up in June. Read more.
Team Player of the Month


Julie serves as Recruiter and HR Generalist for the nonprofit

international public health organization, Management Science for Health. Her work includes sourcing and securing global health experts to work with local stakeholders, both within the public and private sector, to improve the health of the world's poorest and most vulnerable people.
Read more
Yogi of the Month


I am so honored to be Yogi of the Month! A friend brought me to Tranquil Space a year ago and I completely fell in love. My practice here has done so much for me physically and mentally. I'm a dancer from way back, but was no longer dancing when I first started at TS because of injuries and, frankly, a weak core. Read more.
Teacher Feature


Over the past month or so, the crazy weather in DC has really caught me off guard. Being from the south, I'm not used to drastic ups and downs like this, and it's been doing a number on my balance--both mentally and physically. Similarly, with the change in time (yes, I'm still adjusting from "springing forward"), I've felt a bit off-kilter for the past couple of weeks.

Read More

.



Boutique

The boutique at Tranquil Space carries a delightful selection of treats to enhance your practice on and off the yoga mat - mala beads, books, aromatherapy spray, soy candles, eco-friendly mats, and handmade mat bags. Read more.
Spa

Take your tranquility from the mat to the massage table... three treatment rooms and a luxurious spa menu beckon those sore muscles in need of attention. Give your health a boost and your body, mind and spirit a holistic treat. This month treat yourself during Self Care Week, April 11-17 with 25% off most treatments. Our spa spotlight this month focuses on massage therapist Barbara Jazzo.
Karma Yoga


Join Tranquil Space for our charity classes every 2nd Sunday. Use your class pass or drop in for $5.

Our next charity class is April 10th from 3:30 - 4:30pm. Join Susanna for this all levels class to benefit the DC Rape Crisis Center. Register here.