April 2019 | vol. ii, #4
_________________________________________________________________

_________________________________________________________________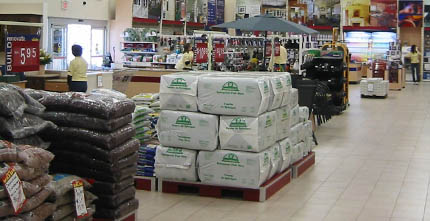 INDEPENDENTS KEEP GROWING DESPITE BIG BOXES, SLOW ECONOMY
Hardware and home improvement retailing in Canada is a $48 billion industry. Buying groups, representing the bulk of independent dealers in the country, account for 45% of the industry. In fact, independents make up more than half the industry overall, and this number is considerably higher than the ratio of independents in the U.S.
Dealers operating within LBM buying groups experienced net sales growth that exceeded the industry average in 2017. The retail home improvement industry grew by 5.1% in 2017, while buying groups grew by 5.9%, above the industry average.
South of the border, the independent dealer does not account for as large a piece of the market. There, the big box stores dominate. Just two companies―Home Depot and Lowe's ―account for about half the industry's sales, along with, to a lesser extent, that country's one privately owned big box retailer, Menards. In Canada, the market penetration of the big boxes is much smaller. Here, barely 25% of all sales at retail by hardware and home improvement dealers come from Home Depot and Lowe's stores, along with RONA big boxes and a number of Kent big boxes in Atlantic Canada.

These statistics are a testament to the enduring strength of the independent and the viability of local retail operations under strong retail managers.

(Wonder where the 2018 stats are? We need your help! We develop this research thanks to input from you. Please fill out our confidential business survey. We'll give out three prizes of a gift card for WestJet each worth $300. Hey, we know you're busy, but this confidential survey will only take a few minutes. Really!)
_________________________________________________________________
_________________________________________________________________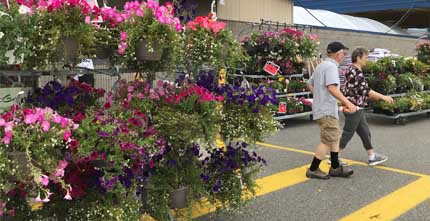 LAWN AND GARDEN CAN BE LUCRATIVE, DESPITE POTENTIAL RISKS

Retail sales of garden products, equipment and plants in Canada totaled $4.45 billion in 2017. While there's scant data tracking the size of Canada's retail landscape market specifically, what's clear is there is an avid customer base for home beautification.

Homeowners "want to turn their yards into their oasis to entertain family and friends," says Bill Corbett, co-owner of RONA Parry Sound in Ontario, which recently added a full garden centre.

Dealers agree that when it comes to landscaping, going half-way on either the depth or breadth of their inventory doesn't cut it.

The conventional wisdom among home improvement dealers is that their stores must stock multiple brands of landscape products to compete with specialty garden centres and to attract pros. Landscapers can account for anywhere from 50% to 80% of a garden centre's business.

However, one of the challenges of selling landscape products is customers' fickleness about colours and styles: Carlo Guido of Lakeview RONA in North Bay, Ont., notes that tumbled pavers, which once accounted for half of his store's paver sales, now make up only 15%. "It's hard to anticipate trends," he concedes, which makes inventory commitments riskier.
_________________________________________________________________
_________________________________________________________________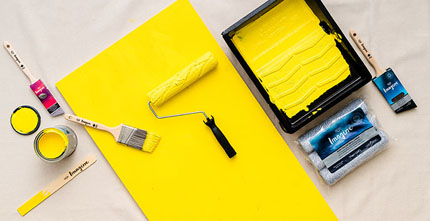 PRODUCTS "MADE BY US" ARE HELPING FCL'S HOME CENTRE STORES
Cody Smith is the director of home and building solutions at Federated Co-operatives Ltd. The Saskatoon-based co-op operates home centres across the West, and Smith is enthusiastic about the improvements being made at the stores to better serve their respective communities. "We really connected last year with the farm and ag customer more than we had in the past," he says.

In addition, FCL continued to grow its range of house brands, which now number 380 products for the hardware and building materials side of the business. "Made by Us" is a campaign launched in 2017 to promote Canadian-made products. It originally featured the company's Imagine brand of paint and was expanded to showcase six more premium products last year.

These included paint applicators under the Imagine brand and made by Bennett Tools, a family business in Concord, Ont. Other lines included long-handled tools, bird seed and some automotive products.

"It was a huge win for our house brands and a lot of big categories were launched," says Smith.
________________________________________________________________