art + culture news // february 20, 2017
Big Sky Film Festival Venue Changes //

Website

→

All screenings originally planned to take place at the Silver Theater will show in the following venues on the following days instead:




Mon., Feb. 20 + Sun., Feb. 26 / Missoula Children's Theatre

Tue., Feb. 21-22 / The Wilma

Thu., Feb. 23 + Sat., Feb. 25 / Public House

Fri., Feb. 24 / The Roxy Theater




To view a complete schedule of all events happening for the festival, visit this

link →




Public Art Committee Meeting // Jack Reidy Conference Room, 140 W Pine

Tue., Feb. 21, 4pm / Website →

The Missoula Public Art Committee is hosting their monthly meeting, which is always open to the public. On the docket this month is discussion on the documentary MCAT made about the traffic signal boxes, updates on the grant being written to secure lighting for the George Ybarra sculpture in Silver Park, and so much more! The committee always welcomes new faces.







Readings at Fact & Fiction // Website

→

Tue., Feb. 21, 7pm

/ Timothy O'Leary reading and signing

Dick Cheney Shot Me in the Face

Sun., Mar. 5, 1:30pm / Dana Fitz Gale reading and signing Spells for Victory and Courage

Tue., Mar. 7, 7pm / Kevin Canty reading and signing The Underworld

Wed., Mar. 15, 7pm / Gwen Florio reading and signing Reservations







Lecture by Professor Eric Schluessel // Dell Brown Room, Turner Hall, UM


Wed., Feb. 22, 4pm /

Contact →
The Humanities Institute at the University of Montana will host this lecture as part of the institute's New Faculty Lecture Series. Schluessel will deliver his lecture entitled, "When the World Fell Apart: Translations of Trauma in Turn-of-the-Century Chinese Central Asia." He arrived at UM from Harvard, where he earned his doctorate in history and East Asian languages.








Thinner Than Water by Melissa Ross // Masquer Theatre, PARTV Center, U of M

Feb. 22 - 25 + Mar. 1-3, 7:30pm / Feb. 26 + Mar. 4-5, 4pm /

Website

→

The University of Montana's School of Theatre presents this production of Melissa Ross's new play Thinner Than Water, which is a special occasion due to the fact that the Montana Repertory Theatre's summer playwriting program was one of the first to recognize and support Melissa's talent. This production will complete the circle that began five years ago when Melissa first came to Missoula.




7th Annual Winter Brewfest // Caras Park

Fri., Feb. 24, 5pm /

Website

→

The Missoula Downtown Association and KettleHouse Brewing will host the Winter BrewFest, which will feature live entertainment, beer, wine, food, and more. The public is invited to sample a variety of over 40 Montana-only winter brew. Entertainment will be provided by Jimmy Smith and the Jimmy Smith System, and upcoming Missoula band Rotgut Whines.





Reading with Anna Blackburn // Theta Ro Room, Mansfield Library, UM




Fri., Feb. 24, 5pm /

Website

→


University of Montana Creative Writing Program graduate student Anna Blackburn will give this reading as the winner of 2017 Merriam-Frontier Award. Her poetry submission was selected because she "demonstrates a mastery of form with her submission of poems of varying styles and lengths that are united by a tethering narrative." The award includes a $500 prize and funds to publish the winning entry as a chapbook.






10 Questions with David Hiltner // Radius Gallery

Sat., Feb. 25, 1pm

/ Website

→

Join Radius Gallery for this exclusive time with David Hiltner, one of the tree artists whose work is currently on display at the gallery along with Hadley Ferguson and Bobbie McKibbin. Refreshments will be served. To view more of David's work, visit this

link

→













Readings at Shakespeare & C0. // Website

→

Mon., Feb. 27, 7pm / Mark Sundeen reading The Unsettlers

Tue., Mar. 14, 7pm / Beth Judy reading Bold Women in Montana History










classes, workshops, + tours




Workshops

with Missoula Art Museum

- Drawing for Kids with Steve Krutek

Ages 8-12

Wednesdays through Feb. 22, 3:30-5pm

- After School Art Adventure II: Fantastic Houses with Jolena Ryan

Ages 7-11

Tuesdays, Feb. 21 - Apr. 4 (no class Mar. 21), 3:45-5:15pm

Modern Dance Class

with Bare Bait Dance

Open Space, 005, PARTV Building, U of M

For ages 7-11

Tuesdays, 5:30-7pm

African Dance Class

with Unity Dance & Drum

Missoula Senior Center

Tuesdays, 7-8:30pm










Nurturing Pathways: Winter 2017

with Downtown Dance Collective

Thursdays, 8:30-11am

Parents + children up to age 3

First Friday's Coming Up! //

Fri., Mar. 3 /

Gallery Guide

→

Here's just a tiny sampling of what you can expect!

4-6pm / Summer StARTS at Missoula Children's Theatre: Check out summer day camp opportunities, with treats from Loose Caboose and Big Dipper / Website

→

12-12:50pm / Tracy Kidder: "Another Set of Eyes" in Gallagher Business Building, Room 123: Pulitzer Prize-winner lecture, sponsored by UM's Creative Writing Program and the President's Writers-in-Residence Series / Contact

→

4pm / Opening for LeAnn Boyd, Crista Ann Ames, Ric Genron, & Doug Turman at Radius Gallery / Website

→

7pm / Gallery Talk about Ryan! Feddersen: Resistance Exhibition at Missoula Art Museum / Website

→




Thinner Than Water by Melissa Ross // Masquer Theatre, PARTV Center, U of M

Feb. 22 - 25 + Mar. 1-3, 7:30pm / Feb. 26 + Mar. 4-5, 4pm /

Website

→

The University of Montana's School of Theatre presents this production of Melissa Ross's new play Thinner Than Water, which is a special occasion due to the fact that the Montana Repertory Theatre's summer playwriting program was one of the first to recognize and support Melissa's talent. This production will complete the circle that began five years ago when Melissa first came to Missoula!







A Lecture by Professor Sukanta Chaudhari // Liberal Arts Building Room 103A-B, U of M

Mon., Mar. 13, 3:30pm /

Contact

→

Professor Chaudhari on Jadavpur University, Calcutta, India, will present his lecture, "The Wood and the World: Negotiating A Midsummer Night's Dream." Chaudhari is an eminent Renaissance scholar, author of many books, including Infirm Glory: Shakespeare and the Renaissance Image of Man. The 1999 film version of A Midsummer Night's Dream will be screened on Monday, March 6th, same venue, at 6pm.




Art Associates Meeting // Missoula Art Museum

Wed., Mar. 12, 10am

/

Contact: Susie (544-0891)

→

Join Art Associates for their monthly meeting at MAM. This time, master weaver Bonnie Tarses will inspire with "Fifty Years & Counting: A Weaver's Journey." Art Associates meetings are always free and open to the public.







Live Storytelling: "Don't Look Back" // The Wilma

Tue., Mar. 21, 7pm /

Website

→

Tell Us Something is a celebration of storytelling, of the Missoula community, and of each other. Nine storytellers share their true personal stories based on the theme "Don't Look Back." Each storyteller has ten minutes to share their story from memory. Tickets are $8 in advance, $10 day of.







Janitor at ZACC

Must have work-study award from University of Montana

10 hours/week

$11/hour




Attendant at University Center Gallery

Must be a registered student at the University of Montana




Art Teachers at Missoula Art Museum

-Seeking teachers for afterschool classes, weekend program, and summer art classes

-Teaching experience and art expertise necessary

-Send resume, teaching philosophy, and artwork images to

Renee Taaffe

→

Missoula People's Market

Accepting applications to become permanent members

Run Dates: May 13 - Sep. 30

Deadline: Feb. 20 ( today!)




Missoula Community Theatre's The Wizard of Oz

Holding auditions on Feb. 26, 12:30-4pm, 3rd floor of MCT Center




2017 Missoula Historic Preservation Awards

Accepting nominations for exceptional building restorations that maintain historical integrity

Deadline: Mar. 2




Emerson Center for the Arts & Culture Juried Exhibition

Open only to students, grades 9-12

Deadline: Mar. 3

Exhibition Dates: Mar. 24 - April 28




Glacier Symphony & Chorale Music Scholarships

Requirements: Grades 9 -12, played with Glacier Symphony for at least 3 concerts during 2016-2017 season, being

Deadline: Mar. 17




New Playwright Festival (Jackson, WY)

Accepting short plays and seeking judges

Deadline: Mar. 30

To submit a play, visit the

website

→

To request to be a judge, contact

Cynthia

→




VonCommon Open Art Call

Theme: "Post-Prom: Systems & Solutions"

Deadline: Apr. 15

Send at least 1 jpg + brief description of why piece fits theme




Summer MADE fair

Accepting vendor applications

Date: Jun. 25, 10am-5pm

Deadline: May 1




University Center Gallery Art Call for Fall 2017/Spring 2018

Open only to UM students, staff, or faculty

Fee: None

Deadline: Apr. 7




Zootown Brew Accepting proposals for art shows for Winter/Spring 2017

Send your idea, inquiry, portfolio, or website to the email below.




Aja Sherrard: The Accumulation of Endlessness




at University Center Gallery




Nature: Surface, Form, Content

at The Clay Studio of Missoula

Through Feb. 24













Lisa Gibson & Merle Ann Loman: Communicating Nature




at E3 Convergence Gallery
















Intimate West: Women Artists in Montana 1880-1944

at Montana Museum of Art & Culture

Through May 27





EVITA // Dulcie Theatre, Shane Lalani Center for the Arts, Livingston

Mar. 10 - Apr. 2 /

Tickets

→

Andrew Lloyd Webber's explosive Evita hits the stage this spring. Evita brings to life the passionate persona of Eva Peron, wife of former Argentine dictator Juan Peron. The charismatic Evita captivated a nation by championing the working class. This exuberant production creates a gripping theatrical experience, and features Andrew Lloyd Webber's compelling Latin, jazz, and pop-influenced score.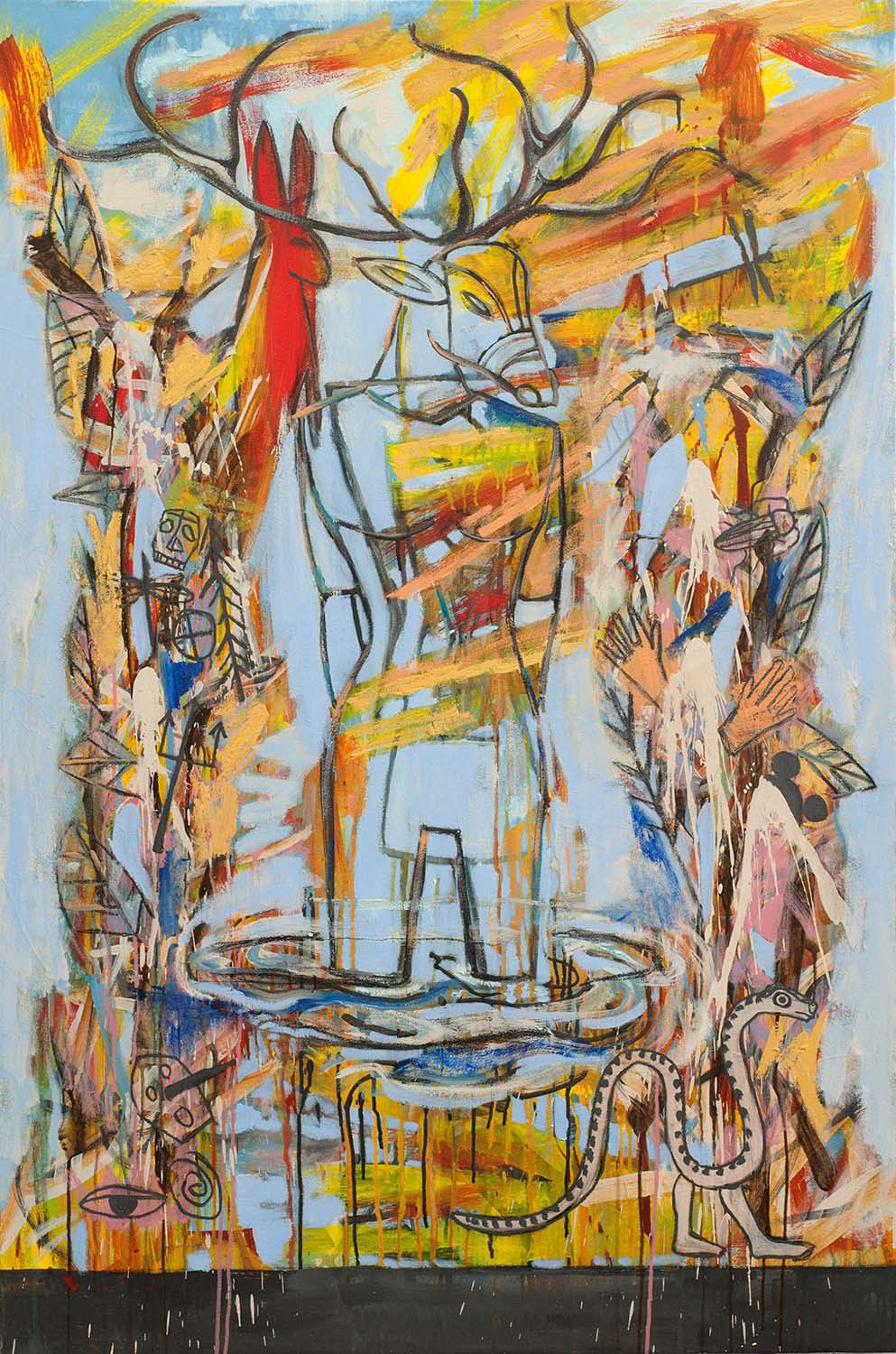 Jaune Quick-to-See Smith:

In the Footsteps of My Ancestors // Yellowstone Art Museum, Billings
This major exhibition by Jaune Quick-to-See Smith will be on view through July 16, and will travel subsequently to Missoula and Colorado Springs. Smith is one of the US's finest Indigenous talents, and this will be the first solo exhibition of the artist's work in her native state of Montana in a generation. This exhibition will examine themes that perennially recur in her work, including conflict, compassion, peace, the cycle of life, irony, and identity.


ARTS Missoula | (406) 541-0860 |
www.artsmissoula.org
327 East Broadway
P.O. Box 7662
Missoula, MT 59807