Art & Culture eNews || October 17, 2016
Welcome to another week of Missoula events and art happenings! Our friends with

Missoula Public Art

are starting an eNewsletter to inform the interested community about public art opportunities and events. We encourage you to sign up

HERE

to stay informed!




- Tue., Oct. 18 @ 5pm

Justin Boening reading from his book, Not on the Last Day, but on the Very Last

- Tue., Oct. 18 @ 7pm

Pete Fromm will read from his new memoir, The Names of the Stars: A Life in the Wilds

-

Thu., Oct. 20 @ 7pm

Beverly Lowry reading her new book,

Who Killed These Girls? Cold Case: The Yogurt Shop Murders




For more information, visit Shakespeare & Co.'s website.




Fact & Faction Downtown

Wed., Oct. 19 @ 7pm

Charley Henley reading from his book, The Deep Code




For more information, visit Fact & Fiction's website.

Art Associates of Missoula Meeting //

Wed., Oct. 19 @ 10am /

Radius Gallery

The Art Associates of Missoula monthly meeting will be held, with generous conversation from exhibiting artists Megan Moore and Jim Todd. Art Associates meetings are free and open to the public. For more information, call Susie at 544-0891.

Dracula //

Oct. 19-22 & Oct. 26-29 @ 7:30pm | Oct. 23 & 30 @ 2pm /

Montana Theatre, PARTV Center, U of M





The University of Montana School of Theatre & Dance

presents Dracula in an adaptation that reintroduces audiences to the urbane and calculating Count Dracula. For more information and tickets, visit this link

.




Artist Talk with Josh DeWeese //

Thu., Oct. 20 @ 5:30pm /

Radius Gallery

Join the Radius Gallery for a talk with exhibiting artist Josh DeWeese, who is one of Montana's preeminent ceramicists. For more information, visit the

Radius Gallery's website.

Tarzan, The Stage Musical //

Oct. 20-23 & Oct. 26-30 /

MCT Center for the Performing Arts

MCT presents

Tarzan,

a theatre production based on the animated Disney film, and action-packed for the whole family.

For more information and tickets, visit MCT's website

.




32nd Annual American Conference of Irish Studies //

Thu., Oct. 20 - Sat., Oct. 22 /

Holiday Inn Downtown

Irish Studies at the University of Montana, in partnership with the President's Lecture Series, will host this western regional conference. The theme is "Her Exiled Children, Ireland and Irish America."

For more information, contact

Traolach O

'

Riordain

at 243-6359.




Eric Tollefson //

Fri., Oct. 21 @ 7pm /

Dennison Theatre, U of M





U of M Alumni Association and Entertainment Management Program will host singer/ songwriter and UM graduate Eric Tollefson, who has shared the stage with the likes of G. Love and Special Sauce and Donavon Frankenreiter. For more information, contact

Thomas Webster.




Fall Family Fest //

Sat., Oct. 22, 1-4pm /

McCormick Park

Missoula Parks and Recreation invites kids and their families to the 16th Annual Fall Family Fest, where there will be hayrides, cider pressing, face painting, and much more. For more information, visit

missoulaparks.org

.

Workshops, Classes, & Tours

Tapestry Class

with

Turning the Wheel Missoula

Fiddle Class

with Grow Music Missoula

For Ages 2+!

Docent Tours

with

Montana Museum of Art & Culture

Thursdays @ 2pm

Modern Dance Class with Bare Bait Dance

in the Open Space, 005, PARTV Building, U of M

Family Workshops with Clay Studio of Missoula

Art Workshops with Nancy Seiler

featuring:




- Freeform Painting with Fluid Acrylics, Thu., Oct. 20, 10am-1pm




- Nature Journaling: Lakes and Creeks, Sat., Oct. 22, 1-4pm




Workshops with Zootown Arts Community Center

featuring:




- Storytelling Spectacular / Tuesdays starting Oct. 18, 3:15-5:30pm




- Collaborative Parade Prop Building / Tuesdays in Oct., 6-8pm




- Sugar Skull Workshop / Wed, Oct. 19, 3-6pm




- Explorations of Art Around the World / Thursdays starting Oct. 20, 2:15-5pm




- Papel Picado & Paper Marigolds / Thu., Oct. 20, 6-8pm & Sat., Oct. 22, 2-4pm




- Roller Prints / Sun., Oct. 23, 11am-2pn



End of the World Masquerade & Costume Party //

Thu., Oct. 27 @ 7pm /

Missoula Art Museum




Join the MAM in celebrating the 200-year anniversary of the eruption of Mount Tambora, which was a huge inspiration to Courtney Blazon's current exhibition at the museum. Partygoers are encouraged to dress as a character from one of Blazon's illustrations. For more information, contact Cassidy.

Brand New //

Thu., Oct. 27 /

U of M Adams Center

Brand New, The Front Bottoms, and Modern Baseball will be playing at the end of the month, following Brand New's co-headlining tour with Modest Mouse. This is sure to sell out fast, so get your tickets soon at

GrizTix.
The Aliens //

Nov. 4-6 /

Roxy Theater




BetweenTheLines Theatre brings you a production by Annie Baker, in which two angry young men welcome an awkward high-schooler into their back-alley friendship to teach him everything they know. You can donate or reserve your season tickets at this link.

Great Russian Nutcracker //

Sun., Nov. 6 /

U of M Dennison Theatre

The Moscow Ballet will perform its celebrated

Great Russian Nutcracker.

Forty dancers, a 60-foot Christmas tree, and hand-painted sets by Academy Award nominee Carl Sprague. It's sure to be an impressive evening! For tickets, visit

GrizTix.
2017 Merriam-Frontier Award Submissions
Deadline: Oct. 18 @ 5pm
The University of Montana's Creative Writing Program is now accepting submissions for the Merriam-Frontier Award, which is open to all undergraduate and graduate students enrolled at the University this fall. Entries may be poetry, fiction, or creative nonfiction. Entries may be delivered to Liberal Arts Building, Room 133.
For more information regarding rules and guidelines, visit
this link.
Missoula Art Museum Benefit Auction
Deadline: Oct. 20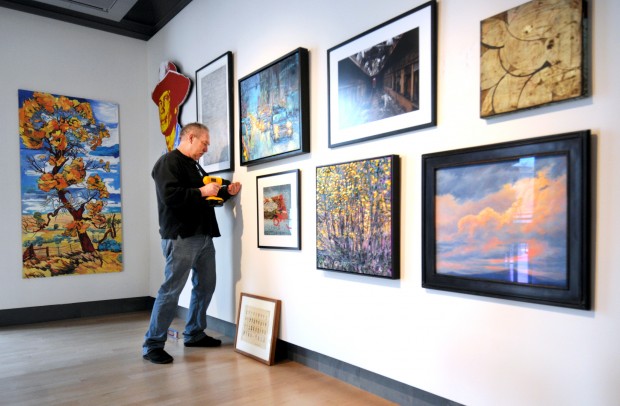 MAM welcomes all artists to support free expression and free admission with an art submission to the 45th Benefit Art Auction. A jury selection will take place on November 15th, and bidding for artwork begins at 50% declared value. The Auction Exhibition Opening Reception will take place on January 6th, and the auction itself takes place on February 4th in the UC Ballroom.
For more information regarding rules and guidelines, visit
this link.
E3 Gallery Winter Group Exhibit
The E3 Gallery is excepting submissions to its winter group exhibit,
White,
which runs Dec. 2 - 31. Artists are invited to create work inspired by the color white. Work can incorporate the actual color white, or can channel white however the artist likes. E3 is looking for creativity within the concept.
Click here for details about the art call.
International Wildlife Film Festival
Early Deadline: November 18
The Roxy Theater is now accepting submissions for the 40th annual International Wildlife Film Festival. The mission of this event is to promote awareness, knowledge and understanding of wildlife, habitat, people and nature through film. To apply, visit
Film Freeway.
For more information, contact
Jeri Rafter.
Ghost Tours
//
Oct. 22, 29, & 31 /
Ravalli County Museum, Hamilton
Become a paranormal investigator for the night, gather evidence, and explore rooms in the Museum that are not on the regular tour. Rune and Numerology readings are also available. For more information, contact Krista Smith at 363-3338.
Shakespeare's MacBeth
//
Oct. 21 - Nov. 13 /
Shane Lalani Center for the Arts, Livingston
The Shane Center kicks off the community theatre season with its version of
MacBeth.
This will be a 21st-century update to Shakespeare's tragedy of self-promotion, betrayal, and murder. For more information, and tickets, visit
The Shane Center's website.
Masquerade Party //
Sat., Oct. 22 @ 7pm /
Yellowstone Art Museum, Billings
Join the Yellowstone Art Museum for its 2nd Annual Masquerade Party, featuring Billings AlternaCirque performances, aerial wine-pouring, a costume contest, and tarot card readings.
Necessary misses: Best Fail Ever celebrates artistic blunders
Real Good Art Space's collaborative show "Best Fail Ever" was actually quite the
opposite. Missoula artists were invited to share their failed artwork, whether they be rejections from juried exhibits or work that didn't live up to personal expectations.
Creative placemaking at its core is an excellent way to involve art in the broader sphere of community improvement and social betterment, but it is important to understand the challenges that come with such projects.
ARTS Missoula | (406) 541-0860 |
www.artsmissoula.org
327 East Broadway
P.O. Box 7662
Missoula, MT 59807

Membership
When you become a member of Arts Missoula, you support all of our wonderful events and our creative community. As a member, you demonstrate a shared commitment to our mission. Most importantly, your contribution helps to ensure the future of the arts in our community.
Whether you share a passion for the performing arts, visual arts, or the humanities, Arts Missoula has it all. Join us today!
The da Vinci

Dennis & Phyllis Washington Foundation

The Beethoven


The Rembrandt


Missoula Parking Commission

Missoula Federal Credit Union

Gallagher Western Montana Charitable Foundation

Charles Engelhard Foundation

The Rudolf Nureyev


Advanced Imaging at Community Medical Center

Pepsi


Montana Cultural Trust

Phil Hamilton & Janet Whaley


Sun Mountain Sports


Max & Betty Swanson Foundation


L.E.A.W. Family Foundation


PayneWest Insurance

The Beverly Sills

Beaudette Consulting Engineers




The Mark Twain


Republic Services of Montana




The Louis Armstrong
4 Ravens Gallery


Brink Gallery


e3 Convergence Gallery


Hide & Sole


Doug & Caryl Klein


MCT, Inc.


Missoula Children's Theatre


Missoula Community Theatre


Missoula Writing




UM Gallery of Visual Arts

The Clay Studio of Missoula

Flaherty Financial Services

Historical Museum at Fort Missoula

L.A. Design & Pirnie Art Showroom

Missoula Downtown Partnership

String Orchestra of the Rockies

Missoula Area Chamber of Commerce


Missoula Economic Partnership


Montana Public Radio


Montana PBS


Opportunity Resources
Terrazas Law Offices


Zootown Arts Community Center


Boyle, Deveny, & Meyer


Doc's Sandwich Shop


Mark Heyka


International Choral Festival


Missoula Art Museum


Missoula Independent




Montana Museum of Art & Culture

Portico Real Estate


The Bookstore at UM

Radius Gallery

Mauka Gallery

MCAT

Lake Missoula Tea Co.

Downtown Dance Collective

Berkshire Hathaway Montana Properties




The Katharine Hepburn

Cathy Capps

John Combs

Flamenco Montana

Jim and Mary's RV Park

Fern Hart

Tony Beltramo

Western Montana Clinic

Zip Beverage




The Elvis

Hiltrud Arens

Ann Franke

Friendship Force of Missoula

Montana A Cappella Society

Faye and George Olsen

Nancy Seiler Studio

Betsy and Warren Wilcox












Board of Directors & Staff
Vice President|| Katie Patten

Immediate Past President|| Frankie Flaherty

Treasurer|| Micki Frederikson

Secretary|| Gwen Landquist

Executive Director|| Tom Bensen
Program Director|| Matt Anglen
Public Art Coordinator|| Brianna McLean
SPARK! Director|| Jackalynn Snow
MT Book Festival Director|| Rachel Mindell
Board of Directors
Laura Bovard, John Combs, Greg Johnson,
Robin Checota, Heidi Starrett, Inay Todd, and
Jacque Walawander