Greetings!
Welcome to the Second Quarter 2013 BCSP
e
Newsletter.
No matter which certification or designation you hold with BCSP, or if you are in the process of attaining one, we've included news and information that will help you in your professional safety career.
See the
In This Issue
section to the right to navigate to the stories of most interest to you.
If your email address is going to change and you would like to continue to receive this
e
Newsletter, please click on the "Update Profile/Email Address" link at the very bottom of this email or contact
customer service
to update your contact information.
Looking to the Future
Rixio Medina, CSP, STS, CMIOSH

BCSP just concluded its
second annual awards ceremony
. It was a great pleasure to recognize the accomplishments of our Award of Excellence and Roger Brauer Lifetime Achievement Award recipients with such a supportive group as those who attended Safety 2013.

In the same week we celebrated the accomplishments of these safety professionals, the BCSP International Advisory Committee convened and discussed methods of promoting SH&E professionalism in new areas around the world. As part of this effort, we have recently removed the $100 surcharge thus far paid by international applicants.
BCSP Board Members and staffs' efforts at ensuring quality safety practice have had tremendous results in the past few years. You can read about the growth of BCSP in our recently published 2012 Annual Report. Since I joined the Board in 2009, over 10,000 persons achieved a BCSP certification and our annual administration of examinations increased by 18.5 percent. I am confident this trend will continue into the future.
In looking to the future, BCSP has started a few other important initiatives to advance the profession. For those passing on knowledge, we have reduced the examination fee for the Certified Environmental, Safety and Health Trainer (CET) from $300 to $150 for the remainder of 2013. For those looking to learn SH&E skills, we have expanded the list of Qualifying Academic Programs in which graduates may achieve the Graduate Safety Practitioner (GSP) designation.
Finally, I was glad to have met many safety professionals aspiring to certification, including one of our
BCSP scholarship winners
, at the recent Safety 2013. Bright, driven individuals like these represent the future of our profession.
A
dvancing Safety Professionalism by Design
An Interview with David MacCollum, CSP No. 3

Hazards are often treated as natural occurrences which are to be eliminated as they are encountered. This is inefficient, as resources are allocated to the creation of hazardous workstations or processes which must then be dismantled; and it is dangerous, allowing a window of opportunity for harm. If the knowledge to prevent unsafe conditions exists, any good business leader would rely on foresight to avoid creating the conditions for workplace injury.
Safety ought to be a component of organizational leadership, considered in planning. This can be better ensured when safety practice is recognized as a professional practice.
BCSP has long advocated the recognition of safety professionalism as a key component in advancing the protection of people, property, and the environment. "Professions have three key elements in common: education, based on a defined body of knowledge; experience in the given field; and certification by accredited credentialing bodies," stated Dr. Treasa Turnbeaugh, CSP, CET, BCSP's CEO, in the first 2013 issue of EHS Today. "The greatest opportunity for EHS in 2013 is movement toward a united front of recognizing EHS as a profession, not as an administrative function."
How the safety professional participates in this advancement has been of particular interest to David MacCollum, P.E., CSP. MacCollum has over 60 years of experience in safety and was the third person to achieve the CSP certification.
MacCollum feels that knowledge of safety has developed faster than recognition of safety as a professional occupation. "We have persons who rely on us for our expert knowledge, often in litigation," says MacCollum. "People often become interested in safety only after someone is hurt. This is wrong. Safety professionals need to be involved at the start. Hazards can and should be overcome by design."
In articles he writes for the International System Safety Society's Journal of System Safety, MacCollum has set about highlighting the barriers to safety and pinpointing ways to advance the profession. He is working at advancing safety professionalism by design. "If we are to be successful, we have to overcome traditional priorities - the conventional wisdoms that came about when little was known of safety but that people still believe," says MacCollum. He explains that part of this will come from well-reasoned explanation of how safety surpasses traditional priorities, but that it also requires respect to make an impact. "We must move forward and become one of the professions that stands tall."
Part of advancing a profession is independent organization. "The great professions of today grew out of associations, where practice developed through learning, asking questions and establishing connections," MacCollum explains. Another part is maintaining a method of education and making knowledge and experience easily identifiable through professional license or certification.

"We should be spokespeople for our profession," emphasizes MacCollum. "A real need exists for safety professionals to reach out to the broader interests of the general public and tell them about our safety profession." McCollum has plowed fresh ground in this regard with a recent novel, Murder by Electrocution, available through ASSE. The novel, published last year, is a work of fiction which describes the aftermath of a workplace death in such detail that the reader can tell it is built on MacCollum's real life experience.
"There is no excuse for a person to be harmed at work today," states MacCollum. The safety professional knows this. With a strong professional practice we can make sure everyone else knows this to be true as well.
Second Annual Award of Excellence Ceremony Celebrates Certificants Contributions to Safety
Safety Professionals Receive Awards at Safety 2013

Four BCSP certificants were honored with awards at the second Award of Excellence (AoE) Ceremony, held during the American Society of Safety Engineers' (ASSE) Safety 2013 conference's Thursday luncheon June 27, 2013.
L-R: Rixio Medina, CSP, STS; John Rawlings, CSP, CHST; Richard Sesek, PhD, CSP, CPE; and Treasa Turnbeaugh, PhD, CSP, CET
John S. Rawlings, CSP, CHST received the 2013 Construction Health and Safety Technician (CHST) Award of Excellence for his impressive safety record as Director of Safety (National) at John J. Kirlin Special Projects, LLC, as well as his willingness to share his SH&E skills with others.
Richard F. Sesek, PhD, CSP, CPE received the 2013 Certified Safety Professional (CSP) Award of Excellence in recognition of his demonstrated commitment to the advancement of safety knowledge. Sesek is in his fifteenth year as an occupational safety and ergonomics educator, and has mentored countless safety professionals in the course of his serving on 16 SH&E-related doctoral committees and advising over 100 SH&E-related Master's committees.
Fred A. Manuele, P.E., CSP received the Roger Brauer Lifetime Achievement Award for his extensive work in safety, building to his leadership as an author of an expansive number of award winning papers, books which are fundamental components of SH&E programs, and his chairing the committee that developed ANSI/ASSE Z590.3: the American National Standard approved in 2011 for Prevention through Design. "For the Board of Certified Safety Professionals, a prestigious organization, to decide that my work deserves an achievement recognition is so personally rewarding. In a sense, they have approved the beneficial effect of my work," Manuele said. "To every one - I say - thank you."
Finally, BCSP honored the late Pat L. Clemens, P.E., CSP with a Roger Brauer Lifetime Achievement Award for his incredible devotion to our field. Clemens was a dedicated system safety engineer who inspired many. Daniel L. Clemens, MD, PhD, Mr. Clemens son, accepted the award on behalf of the Clemens' family. "My father was very committed to this organization and its mission, so this award means a lot to my family," Dr. Clemens said. "Thank you for honoring my father with the Lifetime Achievement Award."
Over 800 people attended the BCSP AoE ceremony this year. More about the ceremony and the 2013 award recipients can be found on BCSP's Award of Excellence webpage.


BCSP Award of Excellence 2013
International Advisory Committee Discusses Path to Global Safety Certification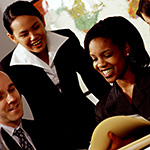 The BCSP International Advisory Committee met June 25, 2013 to coordinate activities that will better promote safety around the world. BCSP followed this meeting with further networking at Safety 2013.

Certificant representatives from Australia, Jamaica, and the Republic of Korea joined in discussion with BCSP Board Members and executives at the ASSE PDC regarding how they and BCSP could best work together.

A recent decision to eliminate the $100 surcharge for non-US applicants was met with solid support. As safety professionals' salaries differ based on the region where they work, BCSP will be further investigating these differences to be able to most effectively advance safety globally.



In an effort to perform better outreach, BCSP will also seek opportunities to establish certificant ambassadors in nations where there is significant interest in advancing professional safety.



"There is a strong demand for internationally recognized safety certification," said Rixio Medina, CSP, STS, BCSP Board President. "BCSP received many well-conceived ideas, and will diligently examine how we may use them to assist international safety professionals advance their careers."



BCSP and members of the advisory committee agreed to follow up on these issues and continue to work together in creating policy and structure to facilitate global use and recognition of BCSP certifications.

BCSP Scholarships go to Determined Students of Safety
BCSP's 2013 ASSE Foundation scholarships were awarded to Carrie Stindt and Evan Hall.

Stindt, who is studying Occupational Safety and Health at Murray State University, received the Fred A. Manuele Professional Scholarship. "Receiving the BCSP - Fred A. Manuel scholarship is such an honor," said Stindt. "Manuel was recently awarded the Lifetime Achievement Award from BCSP. I had the pleasure of meeting him and hope that someday, I will be such a positive influence in the field of Occupational Safety and Health. It is my goal to graduate from Murray State University with my Bachelor of Science in Occupational Safety and Health by May of 2015, receive my GSP desgination and eventually receive my Master's degree and CSP. Thank you so much to BCSP for helping me along my path to success."
Hall received the Kevin Moorhead Technician/Technologist, Supervisory Scholarship for his study of Safety Sciences at the Indiana University of Pennsylvania. "I am extremely grateful to be awarded the Kevin Moorhead Technician/Technologist, Supervisory Scholarship. This award has helped to finance my educational goals and moved me closer to achieving my professional goal of becoming a Certified Safety Professional," Hall said.

"We believe in the importance of education in strengthening safety practice and are committed to rewarding safety scholars like Stindt and Hall," says Dr. Treasa Turnbeaugh, CSP, CET, BCSP's CEO.
GSP Program Expands, BCSP Launches New Collegiate eNewsletter
The list of Qualifying Academic Programs (QAPs), whose graduates are eligible for BCSP's GSP designation, has expanded from 16 programs to a total of 56. Graduates from these programs, which are accredited by the Applied Science Accreditation Commission of ABET (ABET-ASAC) or the Aviation Accreditation Board International (AABI), may apply for the GSP rather than the ASP when seeking the CSP.

In conjunction with the growth of this list, BCSP has launched the Collegiate eNewsletter. The new enewsletter connects aspiring SH&E students to quality academic programs, shares information on developments in SH&E education and certification, and provides the safety profession with its important educational component.

BCSP eNewsletter readers can subscribe to the BCSP Collegiate eNewsletter by updating their subscriber profile.
2012 Annual Report Illustrates BCSP Growth, Milestones
BCSP certifications' growth continued to trend in 2012, with the family of certifications maintaining steady expansion and the rate of person's achieving the CSP increasing.

Many important achievements were made by BCSP in 2012 as well, including the CHST and STS's revalidation, the CET's integration into BCSP's family of certifications, BCSP's Partnership Agreement with the National Institute of Occupational Safety and Health (NIOSH), participation in the International Safety and Health Practitioner Organization (INSHPO), and the First Annual Award of Excellence ceremony.

You can find greater details on the development of BCSP in the 2012 Annual Report.
The Board of Certified Safety Professionals (BCSP) extends application fee waivers to faculty, graduates from ABET accredited academic programs, military and government employees in an effort to promote the advancement of the safety profession among different professional domains as well as to show our appreciation for the service and sacrifice these individuals have made for their communities.

Application fee waivers were initially created for university faculty. With the increased demand for knowledgeable safety professionals and the military's encouraging those in service to achieve certification, BCSP felt expanding application fee waivers was the right thing to do.

Military personnel may be able to achieve BCSP certification at no cost, using the BCSP application fee waiver program and applying U.S. Department of Veterans Affairs' reimbursements to their examination fees.

To learn more about application fee waivers and other certification-related opportunities you can refer to BCSP's Application Fee Waivers brochure.


Retired CSPs May Soon Note Their Achievement Without Paying Renewal Fees
By the end of the year, CSP-Retired status will be discontinued. Before January 1, 2014, all CSPs currently using retired status must choose either to reinstate their CSP or note the time period they held the CSP.
Rather than citing themselves as Robert A. Smith, CSP (Retired) or Robert A. Smith, CSP-Retired, those in retired status will now be using the citations Robert A. Smith (CSP held 1978-1992) or Robert A. Smith, CSP 1978-1992.

While the ability to pay a reduced renewal fee is no longer an option when a CSP anticipates that they are within their last Recertification Cycle, this change allows retired CSPs to continue citing that they held the CSP without paying any renewal fees.
CET Examination Offered at Special Rate
Part of Many Changes, Including Updated Documentation of Study Materials
BCSP has reduced the rate of the Certified Environmental, Safety and Health Trainer (CET) certification's examination fee from $300 to $150 for SH&E practitioners who schedule and sit for the examination by December 31, 2013. If you hold the CSP, ASP, OHST or CHST you may also pursue the CET through FastTracking, waiving the application fee.
The CET is a certification for SH&E professionals with expertise in developing, designing, and delivering SH&E training.
The current CET examination has 110 questions which test candidates' knowledge of developing and delivering training programs. In 2014, the examination will be enhanced, have more questions, and will no longer be available at the reduced rate.
In conjunction with this offer, it is now possible to find books related to the CET in the BCSP Library of Safety Practice and a list of known CET preparation resources on the BCSP Review and Study Sources webpage.
Interested safety professionals should visit BCSP's CET webpage for more information.
BCSP
Board of Directors
Rixio E. Medina, CSP, STS


(President)



Lon H. Ferguson, Ed.D., CSP


(Vice President)



David B. West, CSP, P.E.


(Treasurer)

Treasa M. Turnbeaugh, Ph.D., CSP, CET
(Secretary and CEO)



Carl W. Heinlein, CSP, OHST, STS


(Past President)
Jack H. Dobson, Jr., CSP


James A. Gentry

Bruce Guiliani, CSP, CET, CIT

John E. Hodges, CSP, OHST

Edward J. Jones, CSP


Cece M. Weldon, CSP, CHST, STS
Newsletters and Annual Report Archives
BCSP maintains a PDF or web-based archive of our past newsletters and annual reports. Visit the About BCSP webpage and on the right sidebar you will find links to BCSP and former CCHEST newsletters and annual reports.

If you require something older than what is archived online, please give us a call at +1 217-359-9263.


Current Changes Index
Over the course of the year, a range of policy changes, procedure updates and other modifications occur. We want to make everyone aware of these changes on a regular basis, as well as keep an archive of the announcements.

Visit the Current Changes Index page on our website to find the most up-to-date policy and procedure information.
Unauthorized Use of Our Credentials
BCSP pursues cases of individuals claiming to hold our credentials without permission. We pursue those cases in which there is clear evidence of the unauthorized use and the individual has a clear responsibility, control, or knowledge of the use. Evidence may be a business card, resume, letter, website, or other publication. If there is no clear evidence, BCSP cannot act on the case.

Unauthorized Use PDF Directory
Mentor Program
The BCSP Mentor Program recognizes CSPs, OHSTs, and CHSTs who assist the career development of other safety practitioners.

Credential holders who are interested in mentoring an applicant, should visit the BCSP Mentoring webpage.

Those currently mentoring are honored in the Mentoring Honor Roll.
Promoting the
Value of Certification
BCSP will be exhibiting at the following conferences in the remainder of 2013:
International System Safety Society (ISSS)
Booth 8
August 12-16
Boston, MA


Click

here

for more information on the ISSS conference


Voluntary Protection Programs Participation Association (VPPPA)
Booth #520
August 26-29
Nashville, TN

Alliance of Hazardous Materials Professionals (AHMP)
Booth #109
September 15-18
Orlando, FL

National Safety Council (NSC)
Booth TBD
September 28-October 4
Chicago, IL


Please stop by our booth. We'd love to meet you!
BCSP's Toolkit for Advancing the Safety Profession
Tabletop displays

are a great way to promote BCSP certifications and earn Recertification credit. A display is available to any certificate holder for use at chapter meetings, regional or local conferences, career fairs, and other safety-related seminars, meetings, and presentations. BCSP ships to and from any U.S. venue and provides literature at no cost.
If you would like to borrow a display, fill out a Tabletop Display Request form and email it to Anne Price.
Displays are first come, first serve.



Presentations

on safety certification can also be done for Recertification points, and BCSP has many resources that can be used for presentations, including pre-made PowerPoints, on our Articles and Presentations webpage.



Item writing

illustrates your safety knowledge, earning you Recertification points as well. Find out more on our Item Writing webpage.
Learn How You Can
Use BCSP Certification Logos
As a BCSP certificant, a person may use their corresponding certification logo(s) on certain materials.

For details on how you might do this, please see the webpage on BCSP Logo Use.

BCSP's certification logos are each registered or pending marks with the U.S. Patent and Trademark Office.
CSP 2013 Anniversaries
Do you know any CSP's who will meet their 10, 20, 30 or 40 year anniversaries of certification? Check the list of 2012 CSP Anniversaries.
BCSP 2012 Certificants
Congratulations to everyone who achieved certification last year.

New CSP Certificants | 2012
New OHST Certificants | 2012
New CHST Certificants | 2012
New STS Certificants | 2012


Career Center
The BCSP Career Center connects job seekers with prospective employers in the safety, health and environmental industry. Results are just a click away!

The Career Center allows job seekers who hold any of our credentials to post an anonymous resume in our resume bank for free.

For companies looking to hire individuals who hold our credentials this is your direct route to qualified individuals.