If this week's news stories and headlines seem to be a little behind it is because I am actually preparing this issue on November 12th for release on the 25th. The reason for the early preparation is because, hopefully, as you receive this, I will be in Mexico - and I will NOT have an internet connection.
This issue will hit your eMail box and/or Facebook on BLACK FRIDAY. So much of this issue will be the Dixie Heritage Black Friday Event! That's right, we are deeply discounting our books and other heritage products so that you can give them as Christmas presents to yourself or to others.
Unlike most Black Friday events, you will not have to go to your favorite store at 4 am only to find out that they had already sold out of everything at 3:59. We will honor the prices for our BLACK FRIDAY event though December 9th. If you will order your stuff by December 9th we will be able to ship in time for Christmas. If you order after December 9th we may honor your purchase but there will be ni guarantee of Christmas delivery. If you order after December 9th and we decide not to honor the sale we will issue a FULL refund. So you can order without fear.
You will definitely want to scroll through the entire issue because we close out with a great parody submitted by one of our favorite contributors, Howling Dawg Editor and SCV Commander John Wayne Handley of Georgia.
Lets start with the NEWS:
THE MONUMENT WILL HAVE A NEW HOME
The fate of the Louisville, Kentucky monument honoring Confederate soldiers has finally been determined. It will be moved to a nearby town of Brandenburg, officials said.

Brandenburg, about 45 miles southwest of Louisville, is where Confederate General John Hunt Morgan crossed the Ohio River into Indiana in 1863 as part of his raid into northern territory.

Louisville officials chose to move the monument there because Brandenburg, which hosts a biennial Civil War Re-enactment, plans to place it in a prominent spot along the river.

TEXAS MARKS CONFEDERATE ANNIVERSARY WITH COMMISSIONER'S MEETING
Georgetown, Texas recently marked the 100th anniversary of the unveiling of the Confederate statue on the south side of their courthouse.
The group Courageous Conversations used the occasion to petition the county commissioners to put a plaque next to the statue addressing slavery as part of the "Civil War." Members say the statue, in its current state, represents slavery.
Ten speakers in support of the plaque spoke before the commissioners court Tuesday, asking them to approve their application for the plaque. Three people spoke against the plaque.
After hearing from both sides, commissioners did not vote on the application, saying they didn't have enough time to review it before a midnight deadline to submit the paperwork to the state. The commissioners court must approve the application before it can be sent to the state to review and the window to submit applications to the state began in September. The Texas Historical Commission has the final say on whether a marker gets approved.
The group Courageous Conversations says they'll re-apply next year.
"We're going to keep pushing this agenda as much as we can," the group's leader said, "because it's more than about a Confederate statue. It's about us showing the world that Williamson County is diverse."
Bus tour takes Columbians on trip back through time

Echoes of the War Between the States resound throughout Columbia, South Carolina and Historic Columbia is taking folks
on a trip back in time to visit some of those WBTS sites.
The 90-minute tour begins at 2 p.m. Sunday.
"The War shaped Columbia culturally, physically and psychologically in ways that remain apparent today in our cityscape," said John Sherrer, Historic Columbia's director of cultural resources. "Historic Columbia's WBTS tour highlights people, places and events of this important era."
Columbia's antebellum and Reconstruction era structures - including churches, hospitals, armories, governmental buildings and private homes - offer testimony to this tumultuous chapter in American history.
On the tour, visitors will learn about Columbia dur
ing the early years of the war and about the fateful night of Feb. 17, 1865 when 30 percent of the city's structures were lost to fire. Folks can stop at the State House and count the iron stars marking where Union cannonballs hit the building.
"Contrary to popular belief, the entire city was not destroyed in February 1865," Sherrer said. "Though about one-third of the city burned, a great deal of antebellum Columbia remained. Other forces, including urban renewal in the 1960s, led to further losses."
People may be surprised to learn the history in their everyday lives.
"Today, reminders of the War, the city's burning, and how the era was memorialized, can be found throughout downtown," Sherrer says. "You may buy your groceries at a former Confederate printing plant, or perhaps your favorite bar is in a former antebellum train station; maybe you take classes in what once was a Confederate hospital. The past is everywhere."
Bus tour tickets may be purchased at the Robert Mills Carriage House, at 1616 Blanding St. in Columbia.
The items in this section will be ordered through the LULU distribution system. So when you click on the book you will be taken to the LULU website:
The History of the 19th Texas Infantry is Dixie Heritage Press' newest offering. We have not yet even had a chance to announce it. The book had previously been available as a paperback but is now available in hardback.
Our next offering is also BRAND NEW. It is the first-ever hardback
printing
of Dr. J. M. Carroll's classic:
Our BLACK FRIDAY EVENT PRICING has us dropping the prices on GLORY IN GREY to just $27.00 per volume. This is the absolute lowest we can go. We are literally letting them go at 11 cents over cost.
We have also deeply discounted the biography of General Lee:
Some of our long-time readers will recognize our next offering. Jack was one of our first subscribers. He wrote this interesting account of his life which we helped him to publish just weeks before he went to be with the Lord:
And while my recently released coaching manual may not be WBTS related, well, I want to make it available to you at a deep discount. When you click the link below you will also have an option to purchase the paperback (also at a deep discount):
If you have an Apple device and an Apple ID you can click the image below and receive the book Prayer is Simple absolutely FREE:
We are also making an electronic version of Glory in Grey (both volumes) available through the Apple Store:
The following paperback books are being offered directly. This means that when you order they will be shipped directly from my office. The donations include postage to anywhere in the US and Canada.
Order for $5:
Order for $5:
Order for $5:
Order for $5:
Order for $5:
Order for $5:
The next book is being offered below printing cost and offered with free postage to boot:
Order for $3.95:
Use
this link
to see many of these books and more
@ Amazon.com
- the prices
@ Amazon
will not be discounted but this link will give you the convenience of shopping through Amazon.

The following DVDs will ship in time for Christmas.
DVDs will ship out brand new, in beautiful cases, sealed in plastic. These will be presentation ready and make great Christmas gifts.
When you donate $10 to Dixie Heritage we will ship one DVD - postage paid to anywhere in the US and Canada.
Donate $70 and we will ship 10 DVDs - thats just $7 each. You could give them as Christmas gifts or use them as a heritage organization fund-raiser.
SONG OF THE SOUTH
General Spanky
is a full-length (not a short) comedy film released to theatres on December 11, 1936.
Spanky (George McFarland), Alfalfa (Carl Switzer), Buckwheat (Billie Thomas) and others form an army called "The Royal Protection of Women and Children Regiment Club of the World and Mississippi River." The group sees unexpected action when Union troops approach, engaging in battles more farcical than fierce. Using clowning tactics instead of military tactics, the kids stop the advance...and later save an adult friend from the firing squad.
When you donate $10 to Dixie Heritage we will ship one DVD - postage paid to anywhere in the US and Canada.
Donate $70 and we will ship 10 DVDs - thats just $7 each. You could give them as Christmas gifts or use them as a heritage organization fund-raiser.
Order
General Spanky
DVD:
Order 10
General Spanky
DVDs:
A SOUTHERN YANKEE
A Southern Yankee
(1948) is an American comedy film starring Red Skelton and Arlene Dahl, and released by Metro-Goldwyn-Mayer. It is also known as The Spy.
In 1865, Aubrey Filmore works as a bell boy at the Palmer Hotel in St. Louis. Aubrey works as a spy for both the Yankee and Rebel governments in a truly comedic manner that can opnly be portrayed by Red Skelton.
When you donate $10 to Dixie Heritage we will ship one DVD - postage paid to anywhere in the US and Canada.
Donate $70 and we will ship 10 DVDs - thats just $7 each. You could give them as Christmas gifts or use them as a heritage organization fund-raiser.
ADVANCE TO THE REAR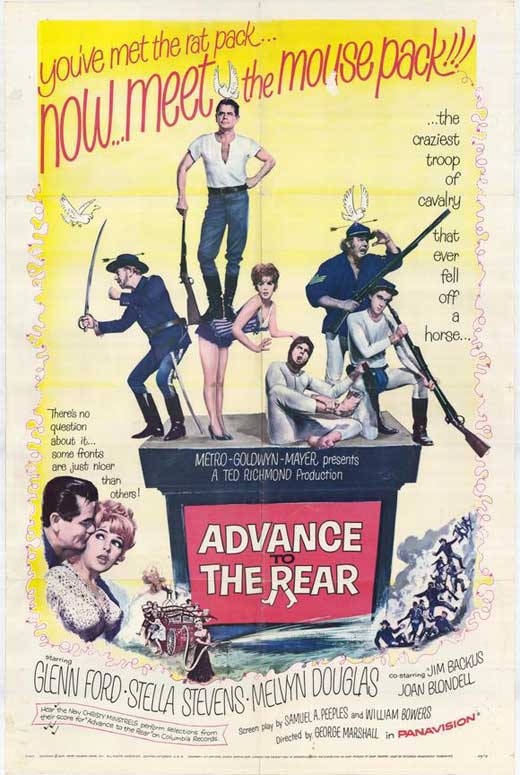 Advance to the Rear
is a light-hearted 1964 American western comedy film set in the War between the States. It stars Glenn Ford, Stella Stevens and Melvyn Douglas and is directed by George Marshall. The film is based on the 1957 novel Company of Cowards by Jack Schaefer, with the film having that title in pre-production and when released in the United Kingdom. However, the novel had none of the comedic elements of the film which retained only the basic idea of a unit formed out of men who had been court-martialed for cowardice and sent out west as well as some character names.
Union Colonel Claude Brackenbury has a cozy arrangement with his Confederate counterpart. They fire a few artillery rounds in each other's general direction at precisely the same time each morning, then go back to contentedly waiting for the war to end.
Captain Jared Heath, however, disturbs the status quo one day by going out and capturing some of the enemy. The Confederates feel obliged to retaliate. One thing leads to another and a military fiasco results. As punishment, Brackenbury and Heath are demoted, placed in charge of all the misfits General Willoughby can find and shipped west, where they can (hopefully) do no further damage.
The Confederates are suspicious. So they too go west to find out the "real" mission. Out West, the soldiers are captured by Thin Elk, an Indian chief in league with the Confederates.
In my mind, the big star of this film is Alan Hale, Jr. (remember him as The Skipper on Gilligan's Island). You'll laugh through this whole DVD!
UNCIVIL WARRIORS
AND UNCIVIL WAR BIRDS
Uncivil Warriors is a 1935 WBTS film starring The Three Stooges (Moe Howard, Larry Fine and Curly Howard). Uncivil Warbirds was a short film released in 1946 and, because of a stroke, was one of the last times Curley would appear as a Stooge.
You will receive BOTH films on DVD!
In both films the Stooges fight for both armies at the SAME time as only the Stooges could. But in the end we discover that their allegiance was always to The South!
In Uncivil Warriors they manage to pass safely between fighting armies by creatively singing Dixie to the tune of The Battle Hymn of the Republic. This resulted in both armies hearing their song and allowing the Stooges to safely pass. It is also the first film in which the Stooges mention "Good Time Charlie." In later films and shorts, when the Stooges meet a guard, they often reference Charlie. The guard asks who Charlie is, and a Stooge replies that "everybody knows Charlie. He walks like this." The Stooges then demonstrate a silly walk until they get clear of the guard, at which point they take off running. This will become a recurring joke in the Stooge films. In Uncivil Warriors, they actually meet a soldier named Charlie, who asks the Stooges, "Are you all looking for me?"
In Uncivil Warbirds, Moe and Larry accidentally join the Union Army, while Curly manages to correctly sign up with the Confederate. Before the error can be corrected, several Union soldiers order Moe and Larry to lock up their "prisoner." A few moments later, a Confederate general sees Curly being released and, upon seeing Moe and Larry, thinks he has captured two Union soldiers. This mix up goes back and forth several times, until Moe and Larry finally find Confederate uniforms, only to be caught in Union army headquarters. They eventually escape by performing minstrel song-and-dance routine in blackface, with Curly playing a Mammy-type character and Larry strumming a banjo.
Order
Three Stooges Uncivil War
films on DVD:
Order 10 Copies of
The Three Stooges Uncivil War
films on DVDs:
For the remaining titles we will forgo descriptions.
THE BIRTH OF A NATION:
Order The Birth of a Nation on DVD:
Order 10 copies of The Birth of a Nation on DVDs:
Order The Great Locomotive Chase on DVD:
Order 10 copies of The Great Locomotive Chase on DVDs:
Order Drums in the Deep South on DVD:
Order 10 copies of Drums in the Deep South on DVDs:
Order Red Runs the River on DVD:
Order 10 copies of Red Runs the River on DVDs:
Order
Judge Priest
on DVD:
Order 10 copies of
Judge Priest
on DVDs: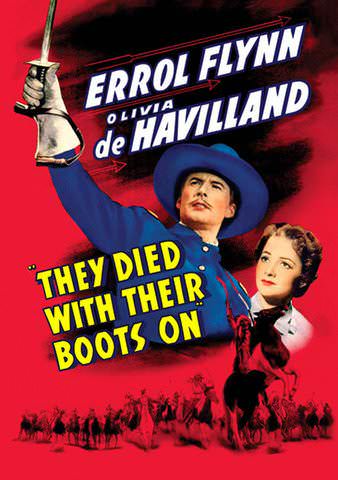 Order
They Died with Their Boots On
on DVD:
Order 10 copies of
They Died with Their Boots On
on DVDs:
Order
Cavalry Charge
on DVD:
Order 10 copies of
Cavalry Charge
on DVDs:
BIG DVD SPECIAL:
Order 1 copy of all 12 of the above movies on DVDs for just $72:
And we are also offering 7
lectures on DVDs, from our Southern History Roundtable series. Includes:
The Christian Testimony of General Robert E. Lee
,
The Christian Testimony of "Stonewall" Jackson
,
The Christian Testimony of J.E.B. Stuart
.
The History of the Confederate Battle Flag
,
Secession and the Law of God
,
The Destruction of Southern Churches by the United States Army
, and
How the Yankees Stole Christmas
. Each video lecture is approx. 1-hour.
Order
Southern History Roundtable
DVDs set for $10:
REACH THOUSANDS EACH WEEK - BLACK FRIDAY ADVERTISING OFFER:
Would you like to advertise in all 52 of the 2017 issues of the Dixie Heritage Letter? Our BLACK FRIDAY offer for advertising will expire on November 30th!
Receive 57 banner ads (one for all 5 weeks of December 2016 and 52 more in 2017) for just $350. Thats only $6.14 cents per banner. Dixie Heritage reaches thousands each week and our subscriber base grows every week!
Order 57 Banner Ads (Dec 2016 - all of 2017):
We will even help you to design an attractive banner using your logos. The banner will link to your website, Facebook page, or eMail address.
General Lee has often been quote:
"In all my perplexities and distresses, the Bible has never failed to give me light and strength."


LARGE PRINT KJV BIBLES FOR JUST $15
These Bibles have SUPER-SIZED 11.25pt type for very easy reading.
Order Large Print KJV Bible:
The flood of Trump-fearing American liberals sneaking across the border into Canada has intensified in the past week.
The Republican presidential campaign is prompting an exodus among left-leaning Americans who fear they'll soon be required to hunt, pray, pay taxes, and live according to the Constitution.
Canadian border residents say it's not uncommon to see dozens of sociology professors, liberal arts majors, global-warming activists, and "green" energy proponents crossing their fields at night.
"I went out to milk the cows the other day, and there was a Hollywood producer huddled in the barn," said southern Manitoba farmer Red Greenfield, whose acreage borders North Dakota. "He was cold, exhausted and hungry, and begged me for a latte and some free-range chicken. When I said I didn't have any, he left before I even got a chance to show him my screenplay, eh?"
In an effort to stop the illegal aliens, Greenfield erected higher fences, but the liberals scaled them. He then installed loudspeakers that blared Rush Limbaugh across the fields, but they just stuck their fingers in their ears and kept coming. Officials are particularly concerned about smugglers who meet liberals just south of the border, pack them into electric cars, and drive them across the border, where they are simply left to fend for themselves after the battery dies.
"A lot of these people are not prepared for our rugged conditions," an Alberta border patrolman said. "I found one carload without a single bottle of Perrier water, or any gemelli with shrimp and arugula. All they had was a nice little Napa Valley cabernet and some kale chips. When liberals are caught, they're sent back across the border, often wailing that they fear persecution from Trump high-hairers.
Rumors are circulating about plans being made to build re-education camps where liberals will be forced to drink domestic beer, study the Constitution, and find jobs that actually contribute to the economy.
In recent days, liberals have turned to ingenious ways of crossing the border. Some have been disguised as senior citizens taking a bus trip to buy cheap Canadian prescription drugs. After catching a half-dozen young vegans in blue-hair wig disguises, Canadian immigration authorities began stopping buses and quizzing the supposed senior citizens about Perry Como and Rosemary Clooney to prove that they were alive in the '50s.
"If they can't identify the accordion player on The Lawrence Welk Show, we become very suspicious about their age," an official said.
Canadian citizens have complained that the illegal immigrants are creating an organic-broccoli shortage, are buying up all the Barbara Streisand CD's, and are overloading the internet while downloading jazzercise apps to their cell phones.
"I really feel sorry for American liberals, but the Canadian economy just can't support them," an Ottawa resident said. "After all, how many art-history majors does one country need?
SUPPORT THE ONGOING BATTLE TO ADVANCE "THE CAUSE"
Your direct donation of even the smallest amount enables Dixie Heritage and other pro-confederate organizations in the never-ending battles to preserve and advance our common heritage.
ADD DIXIE HERITAGE TO YOUR ADDRESS BOOK
This will ensure that your weekly newsletter does not end up in a SPAM folder by accident.

LIKE US ON FACEBOOK


If you have not already done so please take the quick moment to like our Dixie Heritage Page on Facebook:
And then, more importantly, click this link to our website:
When you are there request a free copy of my book The Truth About the Confederate Battle Flag. When you do, not only will you receive a copy of the book - you will also be subscribed to receive the weekly Dixie Heritage Letter by eMail. This will ensure that you never miss an issue.
Until Next Week,
Deo Vindice!
Chaplain Ed