Hello, Sunday!
The Sunday Digest features the latest content from TheEastsiderLA.com
---
Welcome to the Good Reads Edition of our Sunday Digest!
Here we celebrate the good things happening in our neighborhoods, inspirational stories that uplift us, and fun tidbits about why we love living here on the Eastside.
Please share if you know of an "ordinary person" doing something remarkable, a milestone celebration, a story from the past that deserves to be told, an artist enriching our world, and more.
Thanks for reading - and Happy Sunday!
Brenda Rees, Editor
---
Did someone forward you this newsletter?
• Sign up here for your own Daily Digest
---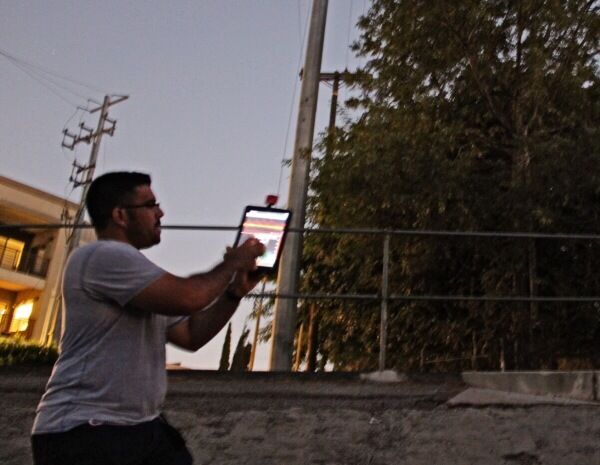 Miguel Ordeñana from the county's Natural History Museum, using his bat detector to find a bat roost in the tree.
By Barry Lank
ELYSIAN VALLEY
Drinking beer and looking for bats along the L.A. River
One thing I learned about bats on a recent night: I am not a good enough photographer to get a picture of one.
Bats are too fast.
"There it is!" a woman yelled as a swarm of us stood by the banks of the L.A. River just south of the 2 Freeway. I quickly pointed my camera at the night sky and, once again, took a picture of nothing.
This was the Bats and Brews tour, sponsored by the Friends of the Los Angeles River. People checked in at the Frogtown Brewery and, after enough time for a pint or two, wandered down to the river to learn about our friends, the flying mice.
Bats like water, said Liliana Griego with Friends of the L.A. River. There is not only water here but roosts under bridges and insects, which emerge around sunset during the warmer months and make for a yummy meal (at least for bats).
So that's why we were here at the river, a little after 7 p.m. on an August evening.
Miguel Ordeñana from the County's Natural History Museum gave us some background on the bats we might see. It turns out that about 25% of all the mammal species are some kind of bat, Ordeñana said.
Bats are seldom rabid, Ordeñana said. They also generally try to keep away from people and prefer to be left alone to eat insects. Which is for the best.
"Without bats, we'd have a lot more mosquitos," Ordeñana said.
Along the river, we might see the western mastiff, the largest bat native to North America - with a wing span of up to two feet, and a squeak audible to the human ear. (Most bat squeaks are too high for us to detect.) The mastiff would seem relatively easy to spot if we had found one.
There is also the Mexican free-tailed bat, which can fly up to 100 miles an hour. That makes it not only the fastest bat, but the fastest mammal, far outpacing the cheetah.
This was one of the bats we would end up "seeing," according to Ordeñana when I talked to him later.
While half of the bat tour went upstream, the rest of us followed Ordeñana downstream, from one side of the freeway overpass to the other. He said a lot of bat activity had been noticed in this spot in the previous few days.
Ordeñana carried his computer with a bat detector app that scanned for the echolocation ultrasound signals emitted by the animals within a specific range - filtering out, for example, the roar of the freeway.
That led us back up the cement bank of the river toward a tree by the bike path. The signals on the bat detector indicated the presence of the free-tailed bat and another species, the Yuma myotis, Ordeñana told me later.
After pointing and shouting and trying to see something, our half of the tour group headed back to the brewery to look at bat displays and drink more beer.
There will be one more Bats and Brews meet-up this year in October. Check the FOLAR site for updates.
---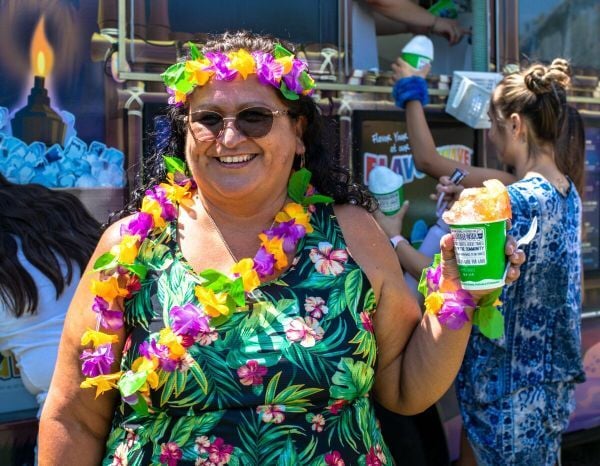 Rec center worker Isabel Justin is retiring after three decades.
Photo by Alyssa Herrera
EAGLE ROCK
Aloha, Isabel!
The field behind the Yosemite Recreation Center in Eagle Rock had a carnival vibe on a recent Saturday afternoon with games, inflatable slides and Hawaiian music.
Under an arc of colorful balloons, folks lined up to have a photo taken with Isabel Justin, a fixture at the rec center who was retiring after 33 years. Children and parents who experienced her non-nonsense yet fun approach to afterschool and camp programs came to send Justin off with memories and good wishes.
Among the activities that Justin oversaw – dancing, piano playing, crocheting, etc. – there's one thing that she hopes will continue. "I taught them how to be a family instead of just coming here to be babysat."
"She kept everyone in order, all the kids were assigned duties and they did it. Happily," explains Isabel Banduro who was on hand with her 31-year-old son Yakshini Guerra who attended the Yosemite programs from third grade up. Banduro admits her son was "a little spicy" as a kid. "But," she counters, "He's not spicy anymore because he learned how to be good because of this lady."
A fond farewell: Jennifer Rockwell, Senior Director of Recreation for LA Recreation and Parks, says her department rarely throws retirement parties. But Justin has been a mainstay, training generations of counselors, teaching them how to work with children.
"Whenever we have kids we have trouble connecting with, she's the one we reach out to," said Rockwell who watched Justin receive hugs and pose for photos. "She's the Mama Bear who can solve problems. We will miss her so much."
Do you have a fond memory of your experiences with Isabel Justin in the Yosemite Afterschool Club or camps? Let us know!
---
Sponsored by Tracy Do
All Signs Point to Homes in Echo Park, Eagle Rock and Mid City
Own a Spanish-style apartment house or perhaps a colorful Spanish abode. If Spanish isn't your style, then how about a Craftsman bungalow to call home?
---
LINCOLN HEIGHTS
Spotlight shines again on a forgotten actor
Next weekend, Turner Classic Movies will pay tribute to actor Lalo Rios, whose Hollywood career was one of promise and frustration.
The Mexican immigrant who grew up in Lincoln Heights and Boyle Heights was not trained as an actor. But Rios entered the film business with the help of director Joseph Losey.
The Lincoln High alum made his Hollywood debut playing a farmworker in "The Lawless," a 1950 Paramount Pictures movie. Two years later, Rios, playing a Mexican-American boxer seeking acceptance in white society, starred opposite Rita Moreno in "The Ring."
Most of Rios' films were about social problems, said Luis I. Reyes, a film historian and author of VIVA HOLYWOOD, which highlights Latinos in the film business. "He epitomized the working class hero," Reyes said.
In the 1960s, Rios worked mostly in TV, with appearances on "The Untouchables," "Gunsmoke" and "Marcus Welby, MD."
But Latinos actors had few roles. Rios had to work in construction to support his family, Reyes said. While working on a construction job, Rios was injured in an accident. Left with limited mobility, Rios found it harder to land acting jobs.
He died in 1973 at age 46.
Rios faded into obscurity, but his career will return to the spotlight, albeit briefly, once again.
On Sunday, Sept. 18 at 5 pm, Turner Classic Movies will air a tribute to Rios during Hispanic Heritage Month.
Well before the Chicano rights movement emerged, "Rios was the first young Chicano screen rebel hero," said Reyes, who will host the tribute. "He was a rebel with a cause."
---
EAGLE ROCK
Plant (Person)alities
Plants are not just a commodity at Cornerstone Dispensary; a recent Instagram post shared the names of their waiting room plants – Ignacío, Margaux, Claude Van Dank and more.
Cornerstone's "plant mom," Monica Panossian, says the plants have names just like the rest of their crew, honoring them as a nod to their favorite plant: cannabis.
"Communicating and playing with our plants keeps us connected to the pulse which is deeply inherent in plant life," shares Monica. "Tapping into that pulse is crucial for maintaining a fruitful and peaceful existence between humans and plants."
We've heard for years that talking to plants does help them grow faster. Does naming them make people more likely to converse? Let us know if you've named your outdoor or indoor plants, trees, bushes or flowers.
---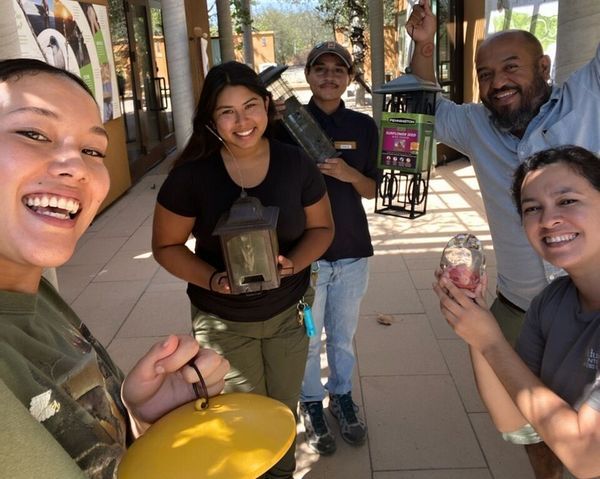 Photo courtesy Mika Perron
MONTECITO HEIGHTS
The birds thank you
Last issue, we shared how staff at the Audubon Center at Debs Park went to work one day to discover all their hummingbird feeders had been stolen.
We put the word out for bird feeder donations, and many of you responded.
Here's what we received from Evelyn Serrano, public programs manager:
"Our team wanted to say thank you to you and your [readers.] We received such an amazing amount of bird feeders, some were even squirrel-proof. We received so many that we now have them up in more places around the Center.
Our Center is feeling very loved and cared for in the community."
EastsiderLA readers rock!
---
More Good Reads
• Highland Park's historic puppet theater revives a "love letter to Latin America" for a new generation
• Mountain lion spotted on the streets of Los Feliz - The famed P-22?
• A small Echo Park school struggles to grow
---
What did you think of today's Sunday Digest?
Your feedback will help us improve the newsletter:
---
That's It For This Sunday
Wet stuff from the sky?
Hallelujah! Did this weekend's rain give you a sense of hope? In our household, rain has always been a cause of joy. The anticipation, the preparation (i.e., bring the laundry in!), those first wonderful drops hitting the roof. As a gardener, there is no sweeter satisfaction than an overflowing rain barrel!
Let's all have a hopeful week!
-- Brenda Rees
---
Did someone forward you this newsletter?
• Sign up here for your own Daily Digest
---
235 Supporters and Counting!
So far this year The Eastsider has received one-time and monthly contributions from 235 readers. Our goal is to have 500 contributors by the end of the year.
Help us reach our goal and support our mission to provide you with the Eastside news, stories and info you can't find anywhere else.